Nontoxic Goiter Clinical Presentation
Author: Stephanie L Lee, MD, PhD; Chief Editor: George T Griffing, MD more...
Updated: Feb 04, 2013
What would you like to print?
History
The thyroid gland usually grows outward because of its location anterior to the trachea (see the image below). Occasionally, the thyroid wraps around and compresses the trachea and/or esophagus or extends inferiorly into the anterior mediastinum.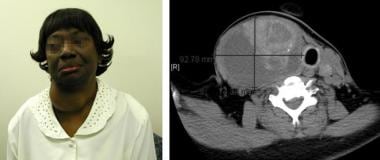 Multinodular goiter. On visual inspection of the neck (image on left), this patient appears to have a goiter. The computed tomography scan (image on right) shows the asymmetrical goiter, measuring 9.3 x 7.4 cm, with tracheal deviation, although no tracheal obstruction is present.
Growth pattern
Determining whether the goiter has been present for many years and whether a change has occurred in the recent past is important.
Recent or accelerated growth of a discrete nodule or thyroid lobe should raise the suspicion of malignancy.
Goiters associated with unilateral adenopathy should raise the suspicion of malignancy.[1]
Goiters rarely are painful or grow quickly unless recent hemorrhage into a nodule has occurred.
Obstructive symptoms (see the image below)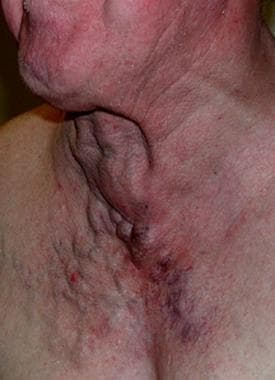 Intrathoracic goiter causing obstruction. This patient has a visible goiter on physical examination. In addition, he has distension of his left external jugular vein, facial erythema (when compared with his shoulder), and cutaneous varicosities of venous blood draining from his head into his chest because of jugular obstruction from his goiter.
Tracheal compression is generally asymptomatic until critical narrowing has occurred.
Patients develop a dry cough, dyspnea, and stridor, especially with exertion. In patients with intrathoracic goiter, the dyspnea and stridor may be nocturnal or positional (ie, occurring when the patient's arms are raised) when the thoracic outlet is narrowed.
Hemorrhage into a nodule or cyst or development of bronchitis may acutely worsen the respiratory symptoms in a patient with tracheal narrowing.
The esophagus is more posterior in the neck, and a goiter occasionally extends posteriorly and causes solid food and pill dysphagia.
Compression of the recurrent laryngeal nerve by a goiter or invasion by a thyroid malignancy results in vocal cord dysfunction and may cause hoarseness. The superior laryngeal nerve controls the pitch of the voice. An expanding goiter may cause a change in the character of the voice, especially in individuals who use their voice extensively (eg, in certain occupations).
Compression of the venous outflow through the thoracic inlet by a mediastinal goiter results in facial plethora and dilated neck and upper thoracic veins.
Iodine intake
Obtain a careful diet history for iodine deficiency, iodine excess from medications (eg, amiodarone), health food store supplements, or seaweed.
History of radiation
Record any history of head and neck radiation exposure, especially during childhood, which significantly increases the risk of benign and malignant nodular thyroid disease and thyroid dysfunction (hypothyroidism and hyperthyroidism).[2, 1]
Family history
Family history is very important in the evaluation of the patient with goiter. Investigate inherited forms of dyshormonogenesis in the pediatric patient, as well as familial papillary carcinoma of the thyroid and familial forms of medullary thyroid cancer (multiple endocrine neoplasia and familial medullary carcinoma of the thyroid).[2, 1]
Physical
Pertinent physical findings are limited to the evaluation of the shape, asymmetry, size, and consistency of nontoxic goiters; ultrasonographic characteristics of individual nodules within the goiter; lymphadenopathy; and assessment of thyroid function.[2, 1]
The thyroid evaluation starts with inspection of the neck for thyroid enlargement. Often, the thyroid enlargement can be detected only when the patient swallows.
The thyroid isthmus is usually located at or just below the level of the cricoid cartilage of the trachea. The lobes of the thyroid extend laterally and, if enlarged, may extend posterior to the sternocleidomastoid muscles. Up to 80% of thyroid glands may have a pyramidal lobe extending superiorly from the isthmus.
Assess the gland for overall size; in the United States, the normal weight is 15-20 grams.
Assess the thyroid for asymmetry and determine whether a dominant nodule is present in an overall nodular goiter or whether a solitary nodule is present in an otherwise normal gland. Evaluate dominant nodules that are bigger than 1-1.5 cm or a solitary nodule of the same size by a thin-needle aspiration biopsy.[3] Diffuse or nodular goiters without a dominant nodule do not require a biopsy for evaluation.
Obstruction
Examine patients with dyspnea and cough, especially with exertion, for tracheal obstruction. Note any tracheal deviation from midline.
The patient's voice is assessed for hoarseness.
Venous outflow obstruction of the head and neck can be elicited by the Pemberton maneuver by raising the patient's arms above the head until they touch the sides of the head for 1 minute. A positive finding occurs with facial plethora or engorgement of the neck veins.
Physical assessment of thyroid dysfunction
Examine patients for signs of thyroid dysfunction.
Hypothyroidism is indicated by a sallow complexion, dysarthric speech, mental slowing, weight gain without change in appetite, cold intolerance, constipation, hypersomnia, and delayed relaxation of deep tendon reflexes.
Hyperthyroidism is indicated by tachycardia, atrial arrhythmia (eg, atrial fibrillation), diaphoresis, weight loss without change in appetite, heat intolerance, hyperdefecation, palmar erythema, lid lag, tremor, and brisk reflexes.
Lymphadenopathy
Carefully examine the neck to identify any lymphadenopathy.
Causes
The most common worldwide cause of endemic nontoxic goiter is iodine deficiency. However, in patients with sporadic goiter, the cause is usually unknown. Nontoxic goiters have many etiologies, including the following:
Iodine deficiency - Goiter formation occurs with moderately deficient iodine intake of less than 50 mcg/d. Severe iodine deficiency associated with intake of less than 25 mcg/d is associated with hypothyroidism and cretinism.

Iodine excess - Goiter formation due to iodine excess is rare and usually occurs in the setting of preexisting autoimmune thyroid disease.

Goitrogens

Drugs - Propylthiouracil, lithium, phenylbutazone, aminoglutethimide, iodine-containing expectorants
Environmental agents - Phenolic and phthalate ester derivatives and resorcinol found downstream of coal and shale mines
Foods - Vegetables of the genus Brassica (eg, cabbage, turnips, brussels sprouts, rutabagas), seaweed, millet, cassava, and goitrin in grass and weeds

Dyshormonogenesis - A defect in the thyroid hormone biosynthetic pathway is inherited.

Childhood head and neck radiation - Radiation exposure during childhood results in benign and malignant nodules.
References
Bahn RS, Castro MR. Approach to the patient with nontoxic multinodular goiter. J Clin Endocrinol Metab. 2011 May. 96(5):1202-12. [Medline].

Cooper DS, Doherty GM, Haugen BR, et al. Revised American Thyroid Association management guidelines for patients with thyroid nodules and differentiated thyroid cancer. Thyroid. 2009 Nov. 19(11):1167-214. [Medline].

Baloch ZW, LiVolsi VA. Fine-needle aspiration of the thyroid: today and tomorrow. Best Pract Res Clin Endocrinol Metab. 2008 Dec. 22(6):929-39. [Medline].

Agarwal G, Aggarwal V. Is total thyroidectomy the surgical procedure of choice for benign multinodular goiter? An evidence-based review. World J Surg. 2008 Jul. 32(7):1313-24. [Medline].

Weetman AP. Radioiodine treatment for benign thyroid diseases. Clin Endocrinol (Oxf). 2007 Jun. 66(6):757-64. [Medline].

Baczyk M, Pisarek M, Czepczynski R, Ziemnicka K, Gryczynska M, Pietz L, et al. Therapy of large multinodular goitre using repeated doses of radioiodine. Nucl Med Commun. 2009 Mar. 30(3):226-31. [Medline].

Bonnema SJ, Hegedus L. A 30-year perspective on radioiodine therapy of benign nontoxic multinodular goiter. Curr Opin Endocrinol Diabetes Obes. 2009 Oct. 16(5):379-84. [Medline].

Duntas LH, Cooper DS. Review on the occasion of a decade of recombinant human TSH: prospects and novel uses. Thyroid. 2008 May. 18(5):509-16. [Medline].

Medeiros-Neto G, Marui S, Knobel M. An outline concerning the potential use of recombinant human thyrotropin for improving radioiodine therapy of multinodular goiter. Endocrine. 2008 Apr. 33(2):109-17. [Medline].

Braverman L, Kloos RT, Law B Jr, Kipnes M, Dionne M, Magner J. Evaluation of various doses of recombinant human thyrotropin in patients with multinodular goiters. Endocr Pract. 2008 Oct. 14(7):832-9. [Medline].

Fast S, Nielsen VE, Grupe P, et al. Optimizing 131I uptake after rhTSH stimulation in patients with nontoxic multinodular goiter: evidence from a prospective, randomized, double-blind study. J Nucl Med. 2009 May. 50(5):732-7. [Medline].

Bahn Chair RS, Burch HB, Cooper DS, et al. Hyperthyroidism and other causes of thyrotoxicosis: management guidelines of the American Thyroid Association and American Association of Clinical Endocrinologists. Thyroid. 2011 Jun. 21(6):593-646. [Medline].

Yetkin G, Uludag M, Onceken O, et al. Does unilateral lobectomy suffice to manage unilateral nontoxic goiter?. Endocr Pract. 2010 Jan-Feb. 16(1):36-41. [Medline].

Phitayakorn R, McHenry CR. Follow-up after surgery for benign nodular thyroid disease: evidence-based approach. World J Surg. 2008 Jul. 32(7):1374-84. [Medline].

Barczynski M, Konturek A, Hubalewska-Dydejczyk A, et al. Five-year Follow-up of a Randomized Clinical Trial of Total Thyroidectomy versus Dunhill Operation versus Bilateral Subtotal Thyroidectomy for Multinodular Nontoxic Goiter. World J Surg. 2010 Feb 20. [Medline].

Worni M, Schudel HH, Seifert E, et al. Randomized controlled trial on single dose steroid before thyroidectomy for benign disease to improve postoperative nausea, pain, and vocal function. Ann Surg. 2008 Dec. 248(6):1060-6. [Medline].

Erbil Y, Barbaros U, Temel B, et al. The impact of age, vitamin D(3) level, and incidental parathyroidectomy on postoperative hypocalcemia after total or near total thyroidectomy. Am J Surg. 2009 Apr. 197(4):439-46. [Medline].

Berghout A, Wiersinga WM, Drexhage HA, et al. Comparison of placebo with L-thyroxine alone or with carbimazole for treatment of sporadic non-toxic goitre. Lancet. 1990 Jul 28. 336(8709):193-7.

Bonnema SJ, Bertelsen H, Mortensen J, et al. The feasibility of high dose iodine 131 treatment as an alternative to surgery in patients with a very large goiter: effect on thyroid function and size and pulmonary function. J Clin Endocrinol Metab. 1999 Oct. 84(10):3636-41. [Medline]. [Full Text].

Braverman LE, Utiger RD, Hermus AR, Huysmans DA:. Clinical manifestations and treatment of nontoxic diffuse and nodular goiter. In: Werner & Ingbar's The Thyroid. Baltimore, Md: Lippincott Williams & Wilkins;. 2000. 866-871.

Hegedus L, Gerber H. Multinodular goiter. In: DeGroot LJ, Jameson JL, eds. Endocrinology. 2001. 2:1517-1528.

Hermus AR, Huysmans DA. Treatment of benign nodular thyroid disease. N Engl J Med. 1998 May 14. 338(20):1438-47. [Medline].

Hollowell JG, Staehling NW, Hannon WH, et al. Iodine nutrition in the United States. Trends and public health implications: iodine excretion data from National Health and Nutrition Examination Surveys I and III (1971-1974 and 1988-1994). J Clin Endocrinol Metab. 1998 Oct. 83(10):3401-8. [Medline]. [Full Text].

Huysmans D, Hermus A, Edelbroek M, et al. Radioiodine for nontoxic multinodular goiter. Thyroid. 1997 Apr. 7(2):235-9. [Medline].

Huysmans DA, Hermus AR, Corstens FH, et al. Large, compressive goiters treated with radioiodine. Ann Intern Med. 1994 Nov 15. 121(10):757-62. [Medline].

Huysmans DA, Nieuwlaat WA, Erdtsieck RJ, et al. Administration of a single low dose of recombinant human thyrotropin significantly enhances thyroid radioiodide uptake in nontoxic nodular goiter. J Clin Endocrinol Metab. 2000 Oct. 85(10):3592-6. [Medline]. [Full Text].

Netterville JL, Coleman SC, Smith JC, et al. Management of substernal goiter. Laryngoscope. 1998 Nov. 108(11 Pt 1):1611-7. [Medline].

Perrild H, Hansen JM, Hegedus L. Triiodothyronine and thyroxine treatment of diffuse non-toxic goitre evaluated by ultrasonic scanning. Acta Endocrinol (Copenh). 1982 Jul. 100(3):382-7. [Medline].

Rios A, Rodriguez JM, Canteras M, et al. Surgical management of multinodular goiter with compression symptoms. Arch Surg. 2005 Jan. 140(1):49-53. [Medline]. [Full Text].

Ross DS. Thyroid hormone suppressive therapy of sporadic nontoxic goiter. Thyroid. 1992 Fall. 2(3):263-9. [Medline].
Medscape Reference © 2011 WebMD, LLC