Complications and Management of Glaucoma Filtering
Author: Jacqueline Freudenthal, MD; Chief Editor: Hampton Roy, Sr, MD more...
Updated: Oct 13, 2014
What would you like to print?
Background
Glaucoma is an increasingly important cause of blindness as the world's population ages. Statistics gathered by the World Health Organization (WHO) in 2002 showed that glaucoma is the second leading cause of blindness worldwide, after cataracts. However, glaucoma presents perhaps an even greater public health challenge than cataracts because the blindness it causes is irreversible. Therefore, WHO officials are looking for ways to address the problems glaucoma causes.
In the United States alone, glaucoma has been diagnosed in more than 2 million people, who are at risk of becoming blind.
Glaucoma is statistically linked to elevated intraocular pressure (IOP), which is thought to be due to decreased flow of fluid (aqueous humor) from the eye. Treatments for decreasing IOP focus on either reducing the production of aqueous humor or on increasing the ability of the aqueous humor to drain from the eye. Treatments for reducing fluid production include the use of drugs to inhibit the production and the destruction of the ciliary processes that produce aqueous humor. These treatments are often ineffective at controlling IOP over many years.
Surgical techniques may be used to increase drainage. These techniques include using lasers (laser trabeculectomy) to treat the trabecular meshwork (the main drainage passageway), implanting artificial drainage valves, and surgically cutting additional passageways to drain the fluid. The image below depicts the traditional filtering surgery.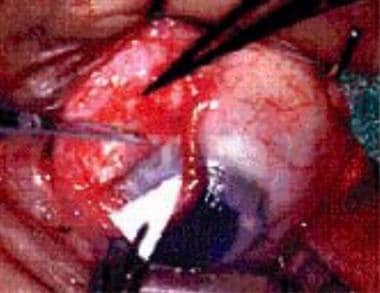 Traditional glaucoma-filtering surgery.
Risks associated with these surgical procedures include infection, cataracts, bleeding, and hypotony. Even if the surgery is initially successful, scarring may close the drainage channels at the surface layers in the course of months to years.
History of the Procedure
In 1857, von Graefe found that removing a large piece of the iris helped many patients with glaucoma. von Graefe's early work on this subject was translated into English and published by the New Sydenham Society in 1859. Eserine eye drops, made from the Calabar bean, were used before iridectomy to produce a miosis so that the iridectomy could be done peripherally in the iris. Occasionally, patients with glaucoma seemed better after using the eserine eye drops, so surgery was not needed. von Graefe also suggested that patients undergo a visual field examination in the office. Toward the end of the 19th century, glaucoma was considered to be identical to elevated IOP (and vice versa). Low-tension glaucoma, by definition, did not exist.
In 1909, Elliot, who was working at the Government Ophthalmic Hospital in Madras, India, used a trephine to make an anterior sclerectomy under a conjunctival flap, coupled with a peripheral iridectomy, in the attempt to improve on the operation of Lagrange (in Bordeaux). When Elliot reported 50 cases in 1909, he did not know that Fergus (in Glasgow) and Holth (in Christiania) had recently reported similar findings. Elliot's first book, Sclero-corneal Trephining in the Operative Treatment of Glaucoma, appeared in 1913 after he completed 900 cases, and the procedure received worldwide publicity.
Elliot participated in a discussion about glaucoma with Lagrange and Smith (the English-language glaucoma expert) at the International Congress of Medicine in London. Elliot then traveled to America, where he visited many ophthalmic centers and performed his operation 135 more times. Elliot's trephining procedure was more effective than iridectomy in treating patients with chronic glaucoma. For the next 40 years, his trephining procedure took its place beside Holth's iridencleisis as one of the most popular glaucoma operations.
Elliot followed up his first book with annual progress summaries on glaucoma in the Ophthalmic Yearbooks of 1913-1916 and a short book, Glaucoma: A Handbook for the General Practitioner, in 1917. In 1918, he published Glaucoma: A Textbook for the Student of Ophthalmology; in 1922, the enlarged second edition of this book, now called Treatise on Glaucoma, was a significant contribution to ophthalmology, as it improved the quality of teaching about glaucoma and posed questions about the mechanisms of the disease process.
Iridencleisis was eventually abandoned because of fear of sympathetic ophthalmia, and postoperative complications of cyclodialysis made it fall from favor. Variations of Elliot's trephining procedure are still in use; Scheie's thermal sclerectomy was popular for a while; and Cairns' trabeculectomy, developed in 1968, turned out to be another external filtering operation that worked well.
Problem
The definition of glaucoma has evolved to include more than just increased IOP. Glaucoma is defined as "the final common pathway of a group of diseases with decreased retinal ganglion cell sensitivity and function, retinal ganglion cell death, optic nerve axonal loss and concurrent cup enlargement, incremental reduction in visual fields, and blindness. Most of these diseases either result in or are associated with increased IOP in their mid to late stages." Although this definition is complicated, it highlights the fact that the understanding of the various clinical manifestations of glaucoma is expanding. The most clinically tangible aspect of this disease remains increased IOP.
Epidemiology
Frequency
Glaucoma is typically associated with aging; its frequency increases as people reach their sixth decade of life. The disease is estimated to affect 1-2% of the US population and an estimated 67 million people worldwide. Glaucoma is the second leading cause of blindness in whites and the leading cause of blindness in blacks.
The frequency of glaucoma-filtering complications depends on the technique used, as follows: trabeculectomy without antimetabolites, 8.3-28%; trabeculectomy with 5-fluorouracil (5-FU), 2.6-18.7%; and trabeculectomy with mitomycin-C (MMC), 0-29%. An example of an eye that has undergone trabeculectomy is shown in the image below.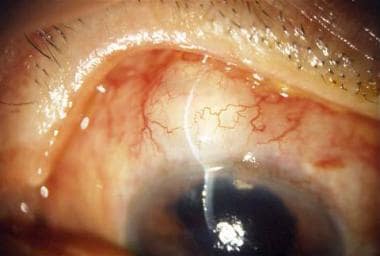 Eye that has undergone a trabeculectomy. The aqueous humor drains more easily after a small section of the trabecular meshwork was removed.
Etiology
Primary glaucoma is characterized by elevated IOP in the absence of signs of concurrent ocular disease. Some patients with primary glaucoma have narrow-angle glaucoma, in which the iridocorneal angle progressively closes over time, resulting in obstruction of aqueous humor outflow through the iridocorneal angle, which is shown in the image below.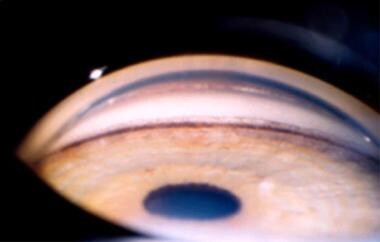 Iridocorneal angle. Structures of the angle are well recognized stereoscopically. From top to bottom: posterior surface of the cornea, Schwalbe line, nonpigmented trabecular meshwork, pigmented trabecular meshwork, scleral spur, ciliary body band, and iris root.
Primary open-angle glaucoma, the most common form of glaucoma, is characterized by a chronic insidious onset. Primary glaucoma (either narrow angle or primary open angle) is a bilateral disease, with the other eye being affected within 6-12 months of the initial diagnosis. Therefore, patient education regarding the eventual prognosis is a crucial part of the clinical management of primary glaucoma. Educating patients about the heritability of primary glaucoma is also important. Prophylactic therapy for the other eye increases the time to onset of glaucoma but does not prevent glaucoma.
Secondary glaucoma is characterized by elevated IOP associated with concurrent ocular disease. The most commonly associated ocular diseases are uveitis, intraocular hemorrhage, neoplasia, and lens displacement, as is shown in the image below.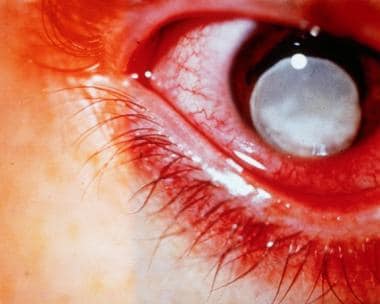 Secondary glaucoma is characterized by elevated intraocular pressure associated with concurrent ocular disease, such as lens dislocation.
Depending on its cause, uveitis can be unilateral or bilateral. In uveitis, inflammatory mediators are liberated into the eye, resulting in changes of the iridocorneal angle. Preiridial fibrovascular membranes and inflammatory cells cause obstruction of the angle, impeding aqueous humor egress. Peripheral anterior synechiae may block the angle. Treatment is directed toward controlling inflammation with topical steroids and atropine. Intraocular hemorrhage is similarly managed to uveitis.
Glaucoma secondary to intraocular neoplasia carries a grave prognosis for saving the eye because of the relatively limited options of successfully treating intraocular tumors.
Although classically considered a form of secondary glaucoma, lens luxation shares many of the characteristics of primary glaucoma. Although removing the lens provides the best opportunity to preserve vision and prevent glaucoma, glaucoma may still develop or persist after surgery.
Pathophysiology
Glaucoma is a group of ocular diseases characterized by progressive damage to the optic nerve. The disease is usually chronic and can lead to visual field loss and blindness. Cupping of the optic disc and loss of retinal nerve fibers signal damage to the optic nerve. The loss of nerve fibers results in a corresponding loss of visual field. High IOP is a major risk factor for glaucoma.
The rate of aqueous humor production, the resistance in outflow routes, and episcleral venous pressure regulate IOP. Aqueous humor, produced by the ciliary processes, flows into the anterior chamber and leaves the eye by 2 pathways: trabecular (conventional) outflow and uveoscleral outflow. Most aqueous humor exits the eye through the trabecular meshwork, the Schlemm canal, and the episcleral veins; the remaining 10-20% exits via the uveoscleral route, passing between the ciliary muscle bundles.
In a healthy eye, the production and outflow of aqueous humor maintain an IOP in the range of 10-21 mm Hg. Pressure is usually similar in both eyes and shows diurnal variations. In most patients with glaucoma, the resistance to aqueous humor outflow increases, resulting in elevated IOP.
Glaucoma is categorized as open angle or closed angle. Open-angle glaucoma, the most common type, includes primary glaucoma, capsular glaucoma, pigmentary glaucoma, normal-tension glaucoma, and some types of congenital glaucoma and secondary glaucoma. Closed-angle glaucoma results from partial or total obstruction of the anterior chamber angle, which blocks the trabecular network. Acute closed-angle glaucoma causes severe ocular and facial pain and requires immediate medical intervention.
In primary open-angle glaucoma, elevated IOP likely results from low-grade obstruction of aqueous humor outflow in the trabecular meshwork. Elevated IOP, in turn, can produce mechanical and/or ischemic damage to the optic nerve. The onset is usually insidious and asymptomatic, with changes in the visual field not generally affected until late in the disease, when cupping of the optic disc can be seen.
Patients with normal-tension glaucoma have pathologic optic disc cupping and visual field loss but normal IOP (< 21 mm Hg). In these patients, reducing IOP significantly delays glaucomatous changes.
Patients with ocular hypertension have elevated IOP (>21 mm Hg) but a normal visual field and optic disc. The relationship between ocular hypertension and glaucoma is not clear, but patients with ocular hypertension should be regularly monitored for visual field loss or changes in the head of the optic nerve.
Presentation
The evaluation of patients with glaucoma is the single most important aspect of their initial care. Glaucoma specialists can perform more specialized examinations, such as Koeppe gonioscopy and tonography, as well as automated or manual perimetry, stereo disc photography, scanning laser imaging of the optic nerve (eg, optical coherence tomography [OCT], tests with a nerve fiber layer analyzer [NFLA]), and color Doppler imaging.
Glaucoma is a neuropathy associated with the following: optic nerve abnormalities, excavation of the optic disc, changes in the visual field (eg, reduced peripheral acuity, as is shown in the image below), and elevated IOP.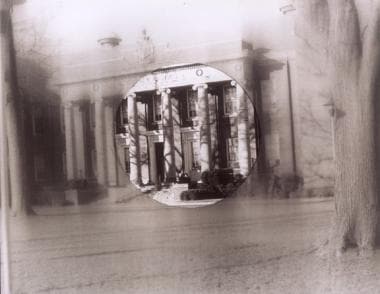 Reduced peripheral acuity in early glaucoma.
Because eyes with early glaucoma are often still visual or have the potential for vision, it is crucial to identify these cases early and to treat them aggressively. Clinical signs of late glaucoma include corneal striae, cupping of the optic disc (as is shown in the image below), and retinal degeneration.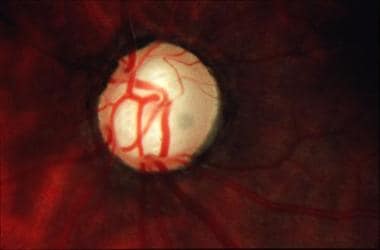 Cupping of the optic disc in late glaucoma.
Indications
An oversimplification is to state that a trabeculectomy is indicated in a patient with uncontrolled intraocular pressure (IOP) on maximum tolerated medical therapy in the presence of significant changes in the optic disc and/or visual field.
General indications are insufficient control of glaucoma with medical and laser therapies and rapid deterioration rate of visual function (enough to damage patient's quality of life).
Critical factors for decision are the amount of functional loss, the rapidity of visual deterioration, and the patient's life expectancy.
Objectives of trabeculectomy are to maintain useful vision and to avoid further glaucomatous damage by lowering IOP.
Success versus failure is judged in terms of the effect of surgery on the patient's visual function and quality of life, not just a numeric result.
Relevant Anatomy
The 2 primary types of disease, open-angle glaucoma and angle-closure glaucoma, are classified according to the anatomy of the anterior chamber angle and are shown in the image below.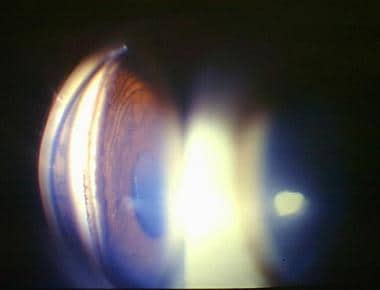 Open-angle glaucoma and angle-closure glaucoma are classified according to the anatomy of the anterior chamber angle, as determined on visual inspection of the angle by using a special lens. This image is seen through a 3-mirror gonioscope.
This classification is determined on visual inspection of the angle by using a special lens, called a goniolens, on the slit lamp biomicroscope. Patients with open-angle glaucoma can be treated with glaucoma-filtering surgery.
Contraindications
Relative contraindications to glaucoma-filtering surgery are intraocular neoplasia, hyphema, anterior lens luxation, and elevated episcleral venous pressure.
References
Moradian K, Daneshvar R, Saffarian L, Esmaeeli H, Hosseinnezhad H. The efficacy of viscocanalostomy for uncontrollable primary open-angle glaucoma in a developing country. Indian J Ophthalmol. 2013 Feb. 61(2):71-3. [Medline]. [Full Text].

O'Brart DP, Shiew M, Edmunds B. A randomised, prospective study comparing trabeculectomy with viscocanalostomy with adjunctive antimetabolite usage for the management of open angle glaucoma uncontrolled by medical therapy. Br J Ophthalmol. 2004 Aug. 88(8):1012-7. [Medline].

Wamsley S, Moster MR, Rai S. Results of the use of the Ex-PRESS miniature glaucoma implant in technically challenging, advanced glaucoma cases: a clinical pilot study. Am J Ophthalmol. 2004 Dec. 138(6):1049-51. [Medline].

Jiraskova N, Rozsival P, Pozlerova J, Ludvikova M, Burova M. Expulsive hemorrhage after glaucoma filtering surgery. Biomed Pap Med Fac Univ Palacky Olomouc Czech Repub. 2009 Sep. 153(3):221-4. [Medline].

Asrani SG, Wilensky JT. Management of bleb leaks after glaucoma filtering surgery. Use of autologous fibrin tissue glue as an alternative. Ophthalmology. 1996 Feb. 103(2):294-8. [Medline].

Ulrich GG, Proia AD, Shields MB. Clinicopathologic features and surgical management of dissecting glaucoma filtering blebs. Ophthalmic Surg Lasers. 1997 Feb. 28(2):151-5. [Medline].

Wang J, Harasymowycz P. Subconjunctival bevacizumab injection in glaucoma filtering surgery: a case control series. ISRN Ophthalmol. 2013. 2013:384134. [Medline]. [Full Text].

Freiberg FJ, Matlach J, Grehn F, Karl S, Klink T. Postoperative subconjunctival bevacizumab injection as an adjunct to 5-fluorouracil in the management of scarring after trabeculectomy. Clin Ophthalmol. 2013. 7:1211-7. [Medline]. [Full Text].

[Guideline] AGIS Investigators. The advanced glaucoma intervention study (AGIS): 7. The relationship between control of intraocular pressure and visual field deterioration. Am J Ophthalmol. 2000 Oct. 130(4):429-40. [Medline].

Bellows AR, Chylack LT Jr, Hutchinson BT. Choroidal detachment. Clinical manifestation, therapy and mechanism of formation. Ophthalmology. 1981 Nov. 88(11):1107-15. [Medline].

Cohn H. Indications for trabeculectomy in open angle glaucoma. Bull Soc Belge Ophtalmol. 1992. 244:155-60. [Medline].

Costa VP, Smith M, Spaeth GL, et al. Loss of visual acuity after trabeculectomy. Ophthalmology. 1993 May. 100(5):599-612. [Medline].

Dietlein TS. Perspectives in glaucoma surgery. Ophthalmologe. 2002 Feb. 99(2):74-84. [Medline].

Elliot RH. A Treatise on Glaucoma. New York: Hodder & Stoughton; 1922.

Hamard P, Lachkar Y. Non penetrating filtering surgery, evolution and results. J Fr Ophtalmol. 2002 May. 25(5):527-36. [Medline].

Hirvela H, Laatikainen L. Visual acuity in a population aged 70 years or older; prevalence and causes of visual impairment. Acta Ophthalmol Scand. 1995 Apr. 73(2):99-104. [Medline].

Khalili MA, Diestelhorst M, Krieglstein GK. Long-term follow-up of 700 trabeculectomies. Klin Monatsbl Augenheilkd. 2000 Jul. 217(1):1-8; discussion 9. [Medline].

Negrel AD, Avognon Z, Minassian DC, et al. Blindness in Benin. Med Trop (Mars). 1995. 55(4 Pt 2):409-14. [Medline].

Nouri-Mahdavi K, Hoffman D, Gaasterland D. Prediction of visual field progression in glaucoma. Invest Ophthalmol Vis Sci. 2004 Dec. 45(12):4346-51. [Medline].

Sacca S, Marletta A, Pascotto A. Daily tonometric curves after cataract surgery. Br J Ophthalmol. 2001 Jan. 85(1):24-9. [Medline].

Sacca S, Pascotto A, Siniscalchi C. Ocular complications of latanoprost in uveitic glaucoma: three case reports. J Ocul Pharmacol Ther. 2001 Apr. 17(2):107-13. [Medline].

Shields MB. Reflections and projections on crossing the millennium: Tenth American Glaucoma Society Lecture honoring Marvin L. Sears, MD. J Glaucoma. 2001 Apr. 10(2):136-43. [Medline].

Weinreb RN, Zangwill L, Berry CC. Detection of glaucoma with scanning laser polarimetry. Arch Ophthalmol. 1998 Dec. 116(12):1583-9. [Medline].
Medscape Reference © 2011 WebMD, LLC