Aniridia
Author: Daljit Singh, MBBS, MS, DSc; Chief Editor: Hampton Roy, Sr, MD more...
Updated: Mar 16, 2016
What would you like to print?
Background
Aniridia is a congenital, hereditary, bilateral, extreme form of iris hypoplasia that may be associated with other ocular defects.[1, 2, 3, 4] It describes an extreme form of iris hypoplasia in which the iris appears absent on superficial clinical examination. However, gonioscopy shows the presence of the iris root. Aniridia is not just an isolated defect in iris development but is a panocular disorder with macular and optic nerve hypoplasia, cataract, and corneal changes that are other anomalies that lead to decreased vision and nystagmus. Visual acuity is generally low but is unrelated to the degree of iris hypoplasia. Glaucoma is a secondary problem causing additional visual loss over time.[5]
Patients with aniridia usually lack a foveal reflex, indicating poor macular development. True aplasia of the optic nerve also can occur. All these patients need specialized management of each individual problem. Because of poor visual acuity and nystagmus, low vision aids are very helpful. Lifelong regular follow-up care is necessary for the early detection of any new problems, especially glaucoma, lens, and systemic problems, so that timely treatment is given.[6] Since the condition has a dominant transmission, proper genetic counseling should be obtained.
Aniridia is shown in the images below.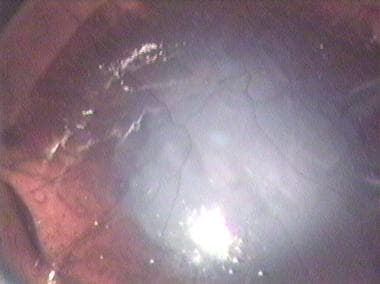 Aniridia with a vascularized corneal opacity in a young patient.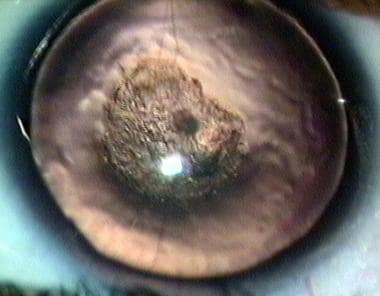 Centrally placed cataractous lens and aniridia in a pediatric patient.
Clinical manifestation
See the list below:
Aniridia alone

Aniridia in association with ocular defects

Albinism
Ectopia lentis (50%)
Spontaneous lens dislocation
Arcus juvenilis
Keratoconus
Cataract (50-85%)
Glaucoma (30-50%)
Nystagmus
Strabismus
Optic nerve hypoplasia (75%)
Pathophysiology
The pathogenesis of aniridia is attributed to a primary developmental arrest of the neuroectoderm and a secondary alteration of all 3 neural crest waves of the mesenchyme. The functional development of the anterior segment is a complex interrelationship between the neural ectoderm and the neural crest waves of the mesenchyme. The pathogenesis may involve defective formation or excessive regression of various layers of the anterior segment caused by cellular or biochemical aberrations. This explains the combined anterior and posterior segment neural ectodermal and mesenchymal defects. The iris stroma is hypoplastic, indicating an altered third neural crest wave of mesenchyme.
Aniridia occurs as the following:
An identifiable chromosome deletion of the short arm of chromosome 11, including band p13

[12]

Sporadic case
The exact defect in iris morphogenesis giving rise to aniridia is unknown. Because the iris pigment epithelium, the iris musculature, the retina, and the optic nerve are derived from neuroectoderm, there may be a common embryologic origin for these anomalies. As an isolated ocular malformation, aniridia is an autosomal dominant disorder, which is caused by a mutation in the PAX6 (paired box gene family) gene.[13, 14, 15]
Patients with aniridia who have a positive family history are not at an increased risk for Wilms tumor. Two genetic loci for aniridia have been identified: one (AN1) on chromosome arm 2p and one (AN2) on chromosome 11.
Patients with aniridia without a positive family history have a 30% chance of developing Wilms tumor, and they represent new mutations for the autosomal dominant gene. About one third of such patients have a mutation that affects the WT and AN2 loci, causing the patient to develop Wilms tumor; the other two thirds of patients have a mutation of just the AN2 locus. Because of the high mortality from Wilms tumor, those patients with the WT and AN2 mutations have a low probability of reproducing, whereas those with just AN2 mutations have normal fertility and, hence, a 50% risk to pass the aniridia gene mutation to each child.
Epidemiology
Frequency
United States
At present, aniridia strikes 1 in 60,000 individuals; in Canada, this would represent only 475 individuals based on a present population of 28.5 million. In the United States, studies have shown the incidence to be 1 in 90,000. Based on a population of 265 million, this would represent 2945 people.
International
Aniridia is rare and has an incidence of 1 per 64,000 to 1 per 96,000 live births. About two thirds of these cases are familial.
Mortality/Morbidity
All patients with aniridia are visually handicapped for a lifetime. This already reduced vision is threatened further by such complications as cataract and glaucoma. Those patients with Wilms tumor have a reduced span of life.
Race
No racial predisposition exists.
Age
Congenital glaucoma and aniridia usually are not associated at birth. The glaucoma develops at either the preteen or the teenage level.
Significant cataracts may occur before puberty. The risk for cataract increases with age, with lens opacities observed in 50-85% of patients during the first 2 decades of life.
References
Hittner HM. Aniridia. Robert ED, Shields MB, et al, eds. The Glaucomas. St. Louis: Mosby; 1989. 869-884.

Nelson LB, Spaeth GL, Nowinski TS, Margo CE, Jackson L. Aniridia. A review. Surv Ophthalmol. 1984 May-Jun. 28(6):621-42. [Medline].

Roy FH. Ocular Syndromes and Systemic Disease. 3rd ed. Lippincott Williams & Wilkins; 2002.

Elsas FJ, Maumenee IH, Kenyon KR, Yoder F. Familial aniridia with preserved ocular function. Am J Ophthalmol. 1977 May. 83(5):718-24. [Medline].

Grant WM, Walton DS. Progressive changes in the angle in congenital aniridia, with development of glaucoma. Am J Ophthalmol. 1974 Nov. 78(5):842-7. [Medline].

Jastaneiah S, Al-Rajhi AA. Association of aniridia and dry eyes. Ophthalmology. 2005 Sep. 112(9):1535-40. [Medline].

Francois J, Coucke D, Coppieters R. Aniridia-Wilms' tumour syndrome. Ophthalmologica. 1977. 174(1):35-9. [Medline].

Green DM, Breslow NE, Beckwith JB, Norkool P. Screening of children with hemihypertrophy, aniridia, and Beckwith-Wiedemann syndrome in patients with Wilms tumor: a report from the National Wilms Tumor Study. Med Pediatr Oncol. 1993. 21(3):188-92. [Medline].

Pilling GP. Wilms' tumor in seven children with congenital aniridia. J Pediatr Surg. 1975 Feb. 10(1):87-96. [Medline].

Nevin NC, Lim JH. Syndrome of partial aniridia, cerebellar ataxia, and mental retardation--Gillespie syndrome. Am J Med Genet. 1990 Apr. 35(4):468-9. [Medline].

Pearce WG. Variability of iris defects in autosomal dominant aniridia. Can J Ophthalmol. 1994 Feb. 29(1):25-9. [Medline].

Riccardi VM, Sujansky E, Smith AC, Francke U. Chromosomal imbalance in the Aniridia-Wilms' tumor association: 11p interstitial deletion. Pediatrics. 1978 Apr. 61(4):604-10. [Medline].

Glaser T, Walton DS, Maas RL. Genomic structure, evolutionary conservation and aniridia mutations in the human PAX6 gene. Nat Genet. 1992 Nov. 2(3):232-9. [Medline].

Vincent MC, Pujo AL, Olivier D, Calvas P. Screening for PAX6 gene mutations is consistent with haploinsufficiency as the main mechanism leading to various ocular defects. Eur J Hum Genet. 2003 Feb. 11(2):163-9. [Medline].

Dharmaraj N, Reddy A, Kiran V, Mandal A, Panicker S, Chakrabarti S. PAX6 gene mutations and genotype-phenotype correlations in sporadic cases of aniridia from India. Ophthalmic Genet. 2003 Sep. 24(3):161-5. [Medline].

Roy FH. Ocular Differential Diagnosis. 7th ed. Lippincott Williams & Wilkins; 2002.

Friedman AL. Wilms' tumor detection in patients with sporadic aniridia. Successful use of ultrasound. Am J Dis Child. 1986 Feb. 140(2):173-4. [Medline].

Wong VW, Lam PT, Lai TY, Lam DS. Black diaphragm aniridia intraocular lens for aniridia and albinism. Graefes Arch Clin Exp Ophthalmol. 2005 May. 243(5):501-4. [Medline].

Akpek EK, Harissi-Dagher M, Petrarca R, et al. Outcomes of Boston keratoprosthesis in aniridia: a retrospective multicenter study. Am J Ophthalmol. 2007 Aug. 144(2):227-231. [Medline].

Walton DS. Aniridic glaucoma: the results of gonio-surgery to prevent and treat this problem. Trans Am Ophthalmol Soc. 1986. 84:59-70. [Medline]. [Full Text].

Fantes JA, Bickmore WA, Fletcher JM, Ballesta F, Hanson IM, van Heyningen V. Submicroscopic deletions at the WAGR locus, revealed by nonradioactive in situ hybridization. Am J Hum Genet. 1992 Dec. 51(6):1286-94. [Medline]. [Full Text].

Schroeder HW, Orth U, Meyer-Konig E, Gal A. [Hereditary foveal hypoplasia - clinical differentiation]. Klin Monbl Augenheilkd. 2003 Aug. 220(8):559-62. [Medline].
Medscape Reference © 2011 WebMD, LLC