Dacryocystitis
Author: Grant D Gilliland, MD; Chief Editor: Edsel Ing, MD, FRCSC more...
Updated: Feb 01, 2016
What would you like to print?
Background
The lacrimal excretory system is prone to infection and inflammation for various reasons. This mucous membrane-lined tract is contiguous with 2 surfaces (conjunctival and nasal mucosal) that are normally colonized with bacteria. The functional purpose of the lacrimal excretory system is to drain tears from the eye into the nasal cavity. Stagnation of tears in a pathologically closed lacrimal drainage system can result in dacryocystitis.
Acquired dacryocystitis can be acute or chronic.[1] Acute dacryocystitis is heralded by the sudden onset of pain and redness in the medial canthal region. An insidious onset of epiphora is characteristic of chronic inflammation or infection of the lacrimal sac.
See the image below.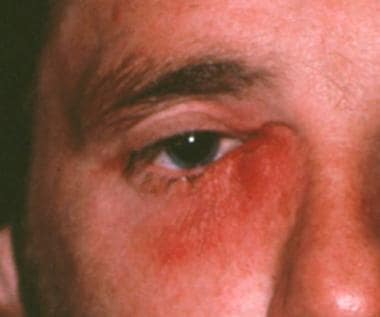 Acute dacryocystitis.
A special form of inflammation of the lacrimal sac is that of congenital dacryocystitis, the pathophysiology of which is intimately related to the lacrimal excretory system embryogenesis.
Dacryocystitis has long been noted to occur more frequently on the left side than on the right side. In many instances, the nasolacrimal duct and lacrimal fossa formed a greater angle on the right side than on the left side.
Epidemiology
Frequency
United States
Individuals with brachycephalic heads have a higher incidence of dacryocystitis than dolichocephalic or mesocephalic skulls. This is because brachycephalic skulls demonstrate a narrower diameter of inlet into the nasolacrimal duct, the nasolacrimal duct is longer, and the lacrimal fossa is narrower. Furthermore, patients with a flat nose and narrow face are at a higher risk for developing dacryocystitis, presumably because of the narrow osseous nasolacrimal canal.
In 1883, Nieden noted a 9% incidence of hereditary lacrimal excretory system inflammation. This is significantly higher than what has been found by the author in studies.
Mortality/Morbidity
Dacryocystitis occurs in the following 3 forms: acute, chronic, and congenital.
In acute dacryocystitis, patients can experience severe morbidity and rarely mortality. Morbidity is related primarily to the lacrimal sac abscess and spread of the infection.
Chronic dacryocystitis is rarely associated with severe morbidity unless caused by a systemic disease. The primary morbidity is associated with chronic tearing, mattering, and conjunctival inflammation and infection.
Congenital dacryocystitis is a very serious disease associated with significant morbidity and mortality. If not treated promptly and aggressively, newborn infants can experience orbital cellulitis (because the orbital septum is formed poorly in infants), brain abscess, meningitis, sepsis, and death. Congenital dacryocystitis can be associated with an amniotocele, which, in severe cases, can lead to airway obstruction. More indolent forms of congenital dacryocystitis can be difficult to diagnose and can be associated with chronic tearing, mattering, amblyopia, and failure to thrive.
Race
Blacks rarely develop dacryocystitis because the nasolacrimal ostium into the nose is large. In addition, the lacrimal canal is shorter and straighter in blacks than in whites.
Sex
In adults, females are afflicted more commonly by dacryocystitis. Most studies demonstrate that 70-83% of cases of dacryocystitis occur in females. Congenital dacryocystitis occurs with equal frequency in both sexes.
Age
Lacrimal sac infections and inflammations commonly occur in 2 discrete age categories, infants and adults older than 40 years. Acute dacryocystitis in newborns is rare, occurring in fewer than 1% of all newborns. Acquired dacryocystitis is primarily a disease of females and is most common in patients older than 40 years, with a peak in patients aged 60-70 years.
Embryology and Anatomy
The naso-optic fissure is the source of origin of the lacrimal drainage system. The ectoderm in this region thickens and becomes embedded in the mesenchyme between the lateral nasal and maxillary processes. This cord of ectoderm subsequently canalizes and opens into the conjunctival fornix prior to opening into the nasal vestibule. Frequently, this opening into the nasal cavity is incomplete at birth. Canalization of the lacrimal excretory system begins in the superior portion first and is segmental, only later coalescing to form a continuous lumen. The canaliculi, which develop as outpouchings from the solid cord of ectodermal tissue prior to canalization, also canalize prior to the vertical portions of the nasolacrimal duct.
Many variations in the anatomy of the lacrimal drainage system have been noted. Normally, tears drain into the lacrimal system through two puncta, one present in the upper lid and the other in the lower lid. More commonly, the lower punctum lies slightly temporal to the upper punctum.
The connections from the puncta to the lacrimal sac are called canaliculi. These canaliculi have a short vertical segment, averaging 2 mm in length, and a longer horizontal segment, averaging 10-12 mm in length.
An ampulla connects the vertical and horizontal segments. The individual canalicular horizontal segments join to form a common canaliculus in 90% of patients. This common canaliculus dilates, forming the sinus of Maier just lateral to the lacrimal sac.
A fold of mucosa known as the valve of Rosenmüller marks the junction of the lacrimal sac and the common canaliculus. The lacrimal sac lies in the bony lacrimal fossa derived from the lacrimal and maxillary bones. The average width of the sac is approximately 6-7 mm and the length varies from 12-15 mm. The mucosa of the sac is lined by pseudostratified columnar epithelium with substantial amounts of lymphoid and elastic tissue interposed within the connective tissue layer. The sac is normally irregular and flat in shape with a collapsed lumen.
The lacrimal sac is covered on its outer surface by the lacrimal fascia of the periorbita. This fascia splits to envelop the lacrimal sac between the attachments of the lacrimal fascia to the anterior and posterior lacrimal crests. The lacrimal sac mucosa only loosely adheres to the lacrimal fascia. However, posterior to the sac are the deep heads of the pretarsal and preseptal orbicularis muscles. Anteriorly, the medial canthal tendon covers the upper two fifths of the lacrimal sac.
The nasolacrimal duct averages 18 mm in length and 4.5-5 mm in diameter. Multiple valves are present in the nasolacrimal duct, representing analog from the segmental canalization of the ectodermal cord that develops into the nasolacrimal duct. Of these, the most prominent valves are the valve of Taillefer, the valve of Krause, and the valve of Hasner (located at the junction of the duct with the nasal mucosa). Like the lacrimal sac, the nasolacrimal duct is lined by pseudostratified columnar epithelium.
The lacrimal, maxillary, and ethmoid bones form the bony nasolacrimal canal. The bulk of the duct is contributed by the maxilla, anteriorly, laterally, and posteriorly. The lacrimal bone forms the medial wall superiorly, and the inferior concha of the ethmoid bone forms the medial wall of the canal inferiorly. The mucosal opening of the nasolacrimal duct under the inferior turbinate lies 5-8 mm from the anterior tip of the inferior turbinate. The lacrimal bone and the nasal process of the maxilla make up the lacrimal fossa equally. The anterior and posterior lacrimal crests form the anterior and posterior borders of the lacrimal fossa, respectively.
The dimensions of the lacrimal fossa are 4-8 mm in width, 15 mm in height, and 2 mm in depth. Ethmoid air cells in approximately 40-60% of patients separate the lacrimal fossa from the nasal cavity, although considerable variability exists in the number and location of these air cells. The lacrimal sac fossa lies at the level of the anterior tip of the middle turbinate.
References
Mills DM, Bodman MG, Meyer DR, Morton AD 3rd. The microbiologic spectrum of dacryocystitis: a national study of acute versus chronic infection. Ophthal Plast Reconstr Surg. 2007 Jul-Aug. 23(4):302-6. [Medline].

Pinar-Sueiro S, Sota M, Lerchundi TX, Gibelalde A, Berasategui B, Vilar B, et al. Dacryocystitis: Systematic Approach to Diagnosis and Therapy. Curr Infect Dis Rep. 2012 Jan 29. [Medline].

Burduk PK, Dalke K, Olejarz E. [Dacryocystitis as a complication of maxillofacial fracture repair with reconstruction]. Otolaryngol Pol. 2008. 62(5):536-9. [Medline].

Batra R, Mudhar HS, Sandramouli S. A unique case of IgG4 sclerosing dacryocystitis. Ophthal Plast Reconstr Surg. 2012 May-Jun. 28(3):e70-2. [Medline].

Mazow ML, McCall T, Prager TC. Lodged intracanalicular plugs as a cause of lacrimal obstruction. Ophthal Plast Reconstr Surg. 2007 Mar-Apr. 23(2):138-42. [Medline].

Ghose S, Chhabra MS, Thakar A, et al. Nasal endoscopy in congenital dacryocystitis. J Pediatr Ophthalmol Strabismus. 2006 Nov-Dec. 43(6):341-5. [Medline].

Baskin DE, Reddy AK, Chu YI, Coats DK. The timing of antibiotic administration in the management of infant dacryocystitis. J AAPOS. 2008 Oct. 12(5):456-9. [Medline].

Spielmann PM, Hathorn I, Ahsan F, Cain AJ, White PS. The impact of endonasal dacryocystorhinostomy (DCR), on patient health status as assessed by the Glasgow benefit inventory. Rhinology. 2009 Mar. 47(1):48-50. [Medline].

Konuk O, Ilgit E, Erdinc A, Onal B, Unal M. Long-term results of balloon dacryocystoplasty: success rates according to the site and severity of the obstruction. Eye. 2008 Dec. 22(12):1483-7. [Medline].

Merkonidis C, Brewis C, Yung M, Nussbaumer M. Is routine biopsy of the lacrimal sac wall indicated at dacryocystorhinostomy? A prospective study and literature review. Br J Ophthalmol. 2005 Dec. 89(12):1589-91. [Medline].

Wu W, Yan W, MacCallum JK, et al. Primary treatment of acute dacryocystitis by endoscopic dacryocystorhinostomy with silicone intubation guided by a soft probe. Ophthalmology. 2009 Jan. 116(1):116-22. [Medline].

Liang WH, Liang YQ, Deng XY, Yuan HZ. Spherical Headed Silicone Intubation in the Treatment of 26 Cases (31 eyes) of Chronic Dacryocystitis under Nasal Endoscopy. Yan Ke Xue Bao. 2011 Dec. 26(4):217-20. [Medline].

Miquel T, Abad S, Badelon I, et al. Successful treatment of idiopathic orbital inflammation with infliximab: an alternative to conventional steroid-sparing agents. Ophthal Plast Reconstr Surg. 2008 Sep-Oct. 24(5):415-7. [Medline].

Barmettler A, Ehrlich JR, Erlich J, Lelli G Jr. Current preferences and reported success rates in dacryocystorhinostomy amongst ASOPRS members. Orbit. 2013 Feb. 32(1):20-6. [Medline].

Vicinanzo MG, McGwin G, Boyle M, Long JA. The consequence of premature silicone stent loss after external dacryocystorhinostomy. Ophthalmology. 2008 Jul. 115(7):1241-4. [Medline].

Huang J, Malek J, Chin D, Snidvongs K, Wilcsek G, Tumuluri K, et al. Systematic review and meta-analysis on outcomes for endoscopic versus external dacryocystorhinostomy. Orbit. 2014 Apr. 33 (2):81-90. [Medline].

Owji N, Khalili MR. Normalization of conjunctival flora after dacryocystorhinostomy. Ophthal Plast Reconstr Surg. 2009 Mar-Apr. 25(2):136-8. [Medline].

Artenstein AW, Eiseman AS, Campbell GC. Chronic dacryocystitis caused by Mycobacterium fortuitum. Ophthalmology. 1993 May. 100(5):666-8. [Medline].

Asiyo MN, Stefani FH. Pyogenic granulomas of the lacrimal sac. Eye. 1992. 6 (Pt 1):97-101. [Medline].

Atkinson PL, Ansons AM, Patterson A. Infectious mononucleosis presenting as bilateral acute dacryocystitis. Br J Ophthalmol. 1990 Dec. 74(12):750. [Medline].

Avasthi P, Misra RN, Sood AK. Clinical and anatomical considerations of dacryocystitis. Int Surg. 1971 Mar. 55(3):200-3. [Medline].

Bareja U, Ghose S. Clinicobacteriological correlates of congenital dacryocystitis. Indian J Ophthalmol. 1990 Apr-Jun. 38(2):66-9. [Medline].

Berkefeld J, Kirchner J, Muller HM, Fries U, Kollath J. Balloon dacryocystoplasty: indications and contraindications. Radiology. 1997 Dec. 205(3):785-90. [Medline].

Berlin AJ, Rath R, Rich L. Lacrimal system dacryoliths. Ophthalmic Surg. 1980 Jul. 11(7):435-6. [Medline].

Brook I, Frazier EH. Aerobic and anaerobic microbiology of dacryocystitis. Am J Ophthalmol. 1998 Apr. 125(4):552-4. [Medline].

Cassady JV. Developmental anatomy of nasolacrimal duct. Arch Ophthalmol. 1952.

Cernea P, Talea L. [Congenital bilateral dacryocystitis and craniofacial dysraphia]. Oftalmologia. 1992 Apr-Jun. 36(2):135-9. [Medline].

Coden DJ, Hornblass A, Haas BD. Clinical bacteriology of dacryocystitis in adults. Ophthal Plast Reconstr Surg. 1993 Jun. 9(2):125-31. [Medline].

Dryden RM, Wulc AE. Lacrimal inflammations and infections. Oculoplastic, Orbital and Reconstructive Surgery. Vol. 2: 1417-23.

Ducasse A, Hannion X, Adam R, Segal A. [Neonatal dacryocystitis. A case report]. Bull Soc Ophtalmol Fr. 1990 Jun-Jul. 90(6-7):595-7. [Medline].

Dutton JJ. Standardized echography in the diagnosis of lacrimal drainage dysfunction. Arch Ophthalmol. 1989 Jul. 107(7):1010-2. [Medline].

Eshraghy B, Raygan F, Tabatabaie SZ, Tari AS, Kasaee A, Rajabi MT. Effect of mitomycin C on success rate in dacryocystorhinostomy with silicone tube intubation and improper flaps. Eur J Ophthalmol. 2012 May-Jun. 22(3):326-9. [Medline].

Ffooks OO. Dacryocystitis in Infancy. Br J Ophthalmol. 1962 Jul. 46(7):422-34. [Medline]. [Full Text].

Filipowicz-Banachowa A. [Pathological changes found in the lacrimal sac during nasolacrimal duct surgery]. Klin Oczna. 1991 Feb-Mar. 93(2-3):89-90. [Medline].

Flanagan JC, Stokes DP. Lacrimal sac tumors. Ophthalmology. 1978 Dec. 85(12):1282-7. [Medline].

Garfin SW. Etiology of dacryocystitis and epiphora. Arch Ophthalmol. 1942. 27:167-88.

Ghose S, Mahajan VM. Fungal flora in congenital dacryocystitis. Indian J Ophthalmol. 1990 Oct-Dec. 38(4):189-90. [Medline].

Goldberg SH, Fedok FG, Botek AA. Acute dacryocystitis secondary to exudative rhinitis. Ophthal Plast Reconstr Surg. 1993. 9(1):51-2. [Medline].

Harley RD. Diseases of the lacrimal apparatus. Pediatr Clin North Am. 1983 Dec. 30(6):1159-66. [Medline].

Hartikainen J, Lehtonen OP, Saari KM. Bacteriology of lacrimal duct obstruction in adults. Br J Ophthalmol. 1997 Jan. 81(1):37-40. [Medline].

Hawes MJ. The dacryolithiasis syndrome. Ophthal Plast Reconstr Surg. 1988. 4(2):87-90. [Medline].

Heirbaut AM, Colla B, Missotten L. Silicone intubation for congenital obstruction of nasolacrimal ducts. Bull Soc Belge Ophtalmol. 1990. 238:87-93. [Medline].

Hurwitz JJ, Rodgers KJ. Management of acquired dacryocystitis. Can J Ophthalmol. 1983 Aug. 18(5):213-6. [Medline].

Karesh JW, Perman KI, Rodrigues MM. Dacryocystitis associated with malignant lymphoma of the lacrimal sac. Ophthalmology. 1993 May. 100(5):669-73. [Medline].

Lieb WE, Mohr A, Bruhl K. [The value of digital subtraction dacryocystography]. Fortschr Ophthalmol. 1989. 86(6):679-81. [Medline].

Liu X. [Culture of anaerobic bacteria and antibiotic sensitivity test in ocular infectious diseases]. Zhonghua Yan Ke Za Zhi. 1991 Mar. 27(2):80-3. [Medline].

Mainville N, Jordan DR. Etiology of tearing: a retrospective analysis of referrals to a tertiary care oculoplastics practice. Ophthal Plast Reconstr Surg. 2011 May-Jun. 27(3):155-7. [Medline].

Mandal R, Banerjee AR, Biswas MC, Mondal A, Kundu PK, Sasmal NK. Clinicobacteriological study of chronic dacryocystitis in adults. J Indian Med Assoc. 2008 May. 106(5):296-8. [Medline].

Marx JL, Hillman DS, Hinshaw KD, Olson JJ, Putterman AM, Lam S. Bilateral dacryocystitis after punctal occlusion with thermal cautery. Ophthalmic Surg. 1992 Aug. 23(8):560-1. [Medline].

Mauriello JA Jr, Palydowycz S, DeLuca J. Clinicopathologic study of lacrimal sac and nasal mucosa in 44 patients with complete acquired nasolacrimal duct obstruction. Ophthal Plast Reconstr Surg. 1992. 8(1):13-21. [Medline].

McNab AA, Potts MJ, Welham RA. The EEC syndrome and its ocular manifestations. Br J Ophthalmol. 1989 Apr. 73(4):261-4. [Medline].

Morgan S, Austin M, Whittet H. The treatment of acute dacryocystitis using laser assisted endonasal dacryocystorhinostomy. Br J Ophthalmol. 2004 Jan. 88(1):139-41. [Medline].

Rosen N, Sharir M, Moverman DC, Rosner M. Dacryocystorhinostomy with silicone tubes: evaluation of 253 cases. Ophthalmic Surg. 1989 Feb. 20(2):115-9. [Medline].

Schenck NL, Ogura JH, Pratt LL. Cancer of the lacrimal sac. Presentation of five cases and review of the literature. Ann Otol Rhinol Laryngol. 1973 Mar-Apr. 82(2):153-61. [Medline].

Singh M, Jain V, Singh SP, Gupta SC. Endoscopic dacryocystorhinostomy in cases of dacryocystitis due to atrophic rhinitis. J Laryngol Otol. 2004 Jun. 118(6):426-8. [Medline].

Sodhi PK. Early and late assessment of internal drainage of chronic dacryocystitis. Ophthalmologica. 2004 Jul-Aug. 218(4):288; author reply 289. [Medline].

Stefanescu-Dima A, Petria I, Craitoiu S. [Carcinoma of the lacrimal sac]. Rev Chir Oncol Radiol O R L Oftalmol Stomatol Ser Oftalmol. 1989 Jul-Sep. 33(3):231-4. [Medline].

Tarbet KJ, Custer PL. External dacryocystorhinostomy. Surgical success, patient satisfaction, and economic cost. Ophthalmology. 1995 Jul. 102(7):1065-70. [Medline].

Udovicki J. [Rhinolithiasis complicated by purulent dacryocystitis]. Med Pregl. 1989. 42(9-10):329-31. [Medline].

Valenzuela AA, McNab AA, Selva D, O'Donnell BA, Whitehead KJ, Sullivan TJ. Clinical features and management of tumors affecting the lacrimal drainage apparatus. Ophthal Plast Reconstr Surg. 2006 Mar-Apr. 22(2):96-101. [Medline].

van Bijsterveld OP, Klaassen-Broekema N. Lacrimal conjunctivitis. Bull Soc Belge Ophtalmol. 1990. 238:61-9; discussion 69-70. [Medline].

Vegh M, Nemeth J. [Ultrasound diagnosis of the lacrimal sack]. Fortschr Ophthalmol. 1990. 87(6):638-40. [Medline].

Viers R. Lacrimal disorders. Diagnosis and Treatment. St. Louis: CV Mosby; 1976. 72-88.

Wong SC, Healy V, Olver JM. An unusual case of tuberculous dacryocystitis. Eye. 2004 Sep. 18(9):940-2. [Medline].

Zapala J, Bartkowski AM, Bartkowski SB. Lacrimal drainage system obstruction: management and results obtained in 70 patients. J Craniomaxillofac Surg. 1992 May-Jun. 20(4):178-83. [Medline].
Medscape Reference © 2011 WebMD, LLC