Entropion Clinical Presentation
Author: Christopher DeBacker, MD; Chief Editor: Hampton Roy, Sr, MD more...
Updated: Aug 11, 2015
What would you like to print?
History
The first order of business when assessing the patient with entropion is to determine the etiology and place it into an appropriate classification.
Physical
Congenital entropion
Dysgenesis of the lower eyelid retractors may be present creating instability in the eyelid with consequent entropion, or a paucity of tissue may be present vertically in the posterior lamella of the eyelid. Structural defects in the tarsal plate also may result in a tarsal kink syndrome, with entropion in the upper eyelid.[1]
Acute spastic entropion
Spastic closure of the eyelids allows the orbicularis oculi muscle to overwhelm the oppositional action of the lower eyelid retractors, resulting in an inturning of the eyelid margin and further irritation of the ocular surface from the inturned eyelashes. Most of these patients often have an involutional component as well.
Involutional entropion
The patient may exhibit horizontal laxity of the medial and/or lateral canthal tendons.
The snap test is a useful diagnostic maneuver. The eyelid margin is pulled away from the globe, with poor resultant snap back to the globe surface. Make sure the patient does not blink the lid back. If entropion is suspected but not elicited when the patient is in an upright position, lay the patient in a supine position and have him or her squeeze the eyelids closed. This will often manifest the entropion by allowing the orbital soft tissues to settle posteriorly, allowing the eyelid to turn inward. Patients usually have an involution of the posterior eyelid retractors, with the eyelid inturning in much the same manner as with spastic entropion. Involution of the soft tissues of the orbit, particularly the orbital fat, may lead to involutional enophthalmos, which in turn can lead to unstable eyelid position with entropion.
Cicatricial entropion
These patients usually will display scar tissue of the conjunctiva, usually a result of trauma, chemical burns, Stevens-Johnson syndrome, ocular cicatricial pemphigoid (OCP), infections, or local response to topical medication. Digital eversion of the eyelid margin is difficult in cases of cicatricial entropion, whereas it is quite easy in cases of involutional entropion. Examination of the tarsus and palpebral conjunctiva usually will point to the diagnosis in these cases. See the image below.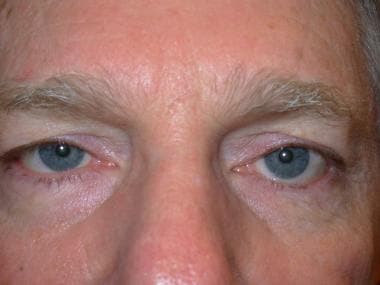 Left lower eyelid cicatricial entropion with lower eyelid retraction.
Causes
Entropion can be divided into the following classes: congenital, acute spastic, involutional, and cicatricial.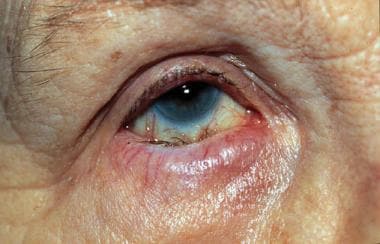 Involutional entropion. Note overriding orbicularis oculi muscle, eyelid margin entropion, and relative enophthalmos with deep superior sulcus.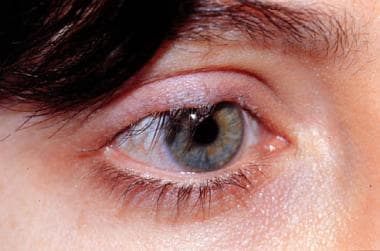 Cicatricial entropion of upper eyelid. Note eyelid margin inversion.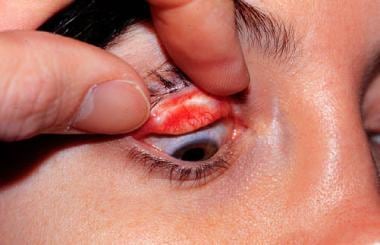 Cicatricial entropion of the upper eyelid with eyelid everted. Note scar tissue involving tarsal conjunctiva.
The congenital form of entropion is very rare. It may arise due to a number of underlying developmental abnormalities, usually in the lower eyelid. Facial nerve paralysis in the pediatric population has been shown to be associated with lower lid entropion.[2]
Acute spastic entropion usually occurs as a result of ocular irritation, which may be due to infectious, inflammatory, or traumatic (eg, surgical) processes.
Involutional entropion usually is due to a constellation of problems.
Cicatricial entropion occurs as a result of scarification of the palpebral conjunctiva, with consequent inward rotation of the eyelid margin.
Other diagnostic considerations
Entropion must be distinguished from a number of other conditions that may simulate entropion.
Epiblepharon is a congenital condition in which the pretarsal orbicularis muscle and the skin covering the eyelid override the eyelid margin and push the eyelashes vertically or inwards. The eyelid margin in these cases actually is in a normal position. This condition most commonly is seen in the lower eyelids and is more common in Asians. Compared to congenital entropion, epiblepharon usually resolves spontaneously as the face matures.
Eyelid retraction also may simulate entropion in both the upper and lower eyelids. However, the eyelid margins in these cases display a normal apposition to the globe.
Trichiasis and distichiasis are conditions in which misdirected eyelashes are directed toward the globe. While trichiasis may coexist with entropion, particularly in cicatricial cases, it is a distinct entity and requires its own treatment approach.
References
Awan MA, Chadha V, Gonzalez P, Diaper CJ, Cauchi P, Kemp EG. Small tarsal plates causing recurrent lower lid entropion in a young adult. Eye. 2009 Feb 6. [Medline].

Pasco NY, Kikkawa DO, Korn BS, Punja KG, Jones MC. Facial nerve paralysis: an unrecognized cause of lower eyelid entropion in the pediatric population. Ophthal Plast Reconstr Surg. 2007 Mar-Apr. 23(2):126-9. [Medline].

Maycock NJ, Sahu DN, Mota PM, Gaston H, Hodgkins PR. Conservative management of upper eyelid entropion. J Pediatr Ophthalmol Strabismus. 2008 Nov-Dec. 45(6):377-8. [Medline].

Gu J, Wang Z, Sun M, Yuan J, Chen J. Posterior lamellar eyelid reconstruction with acellular dermis allograft in severe cicatricial entropion. Ann Plast Surg. 2009 Mar. 62(3):268-74. [Medline].

Swamy BN, Benger R, Taylor S. Cicatricial entropion repair with hard palate mucous membrane graft: surgical technique and outcomes. Clin Experiment Ophthalmol. 2008 May. 36(4):348-52. [Medline].

Hintschich C. Correction of entropion and ectropion. Dev Ophthalmol. 2008. 41:85-102. [Medline].

DeBacker CM. Entropion and Ectropion Repair. Medscape Reference. Available at http://emedicine.medscape.com/article/1844045-overview. Accessed: May 2011.

McCord CD Jr, Chen WP. Tarsal polishing and mucous membrane grafting for cicatricial entropion, trichiasis and epidermalization. Ophthalmic Surg. 1983 Dec. 14(12):1021-5. [Medline].

Koreen IV, Taich A, Elner VM. Anterior lamellar recession with buccal mucous membrane grafting for cicatricial entropion. Ophthal Plast Reconstr Surg. 2009 May-Jun. 25(3):180-4. [Medline].

Bartley GB, Kay PP. Posterior lamellar eyelid reconstruction with a hard palate mucosal graft. Am J Ophthalmol. 1989 Jun 15. 107(6):609-12. [Medline].

Cheung D, Sandramouli S. Consecutive ectropion after the Wies procedure. Ophthal Plast Reconstr Surg. 2004 Jan. 20(1):64-8. [Medline].

Christiansen G, Mohney BG, Baratz KH, Bradley EA. Botulinum toxin for the treatment of congenital entropion. Am J Ophthalmol. 2004 Jul. 138(1):153-5. [Medline].

DeBacker CM. Entropion and Ectropion Repair. Medscape Reference. September 23, 2011. [Full Text].

Dortzbach RK, McGetrick JJ. Involutional entropion of the lower eyelid. Ophthalmic Plast Reconstr Surg. 1983. 2:257-267.

Ho SF, Pherwani A, Elsherbiny SM, Reuser T. Lateral tarsal strip and quickert sutures for lower eyelid entropion. Ophthal Plast Reconstr Surg. 2005 Sep. 21(5):345-8. [Medline].

Khan SJ, Meyer DR. Transconjunctival lower eyelid involutional entropion repair: long-term follow-up and efficacy. Ophthalmology. 2002 Nov. 109(11):2112-7. [Medline].

Millman AL, Katzen LB, Putterman AM. Cicatricial entropion: an analysis of its treatment with transverse blepharotomy and marginal rotation. Ophthalmic Surg. 1989 Aug. 20(8):575-9. [Medline].

Quickert MH, Rathbun E. Suture repair of entropion. Arch Ophthalmol. 1971 Mar. 85(3):304-5. [Medline].
Medscape Reference © 2011 WebMD, LLC