Entropion Treatment & Management
Author: Christopher DeBacker, MD; Chief Editor: Hampton Roy, Sr, MD more...
Updated: Aug 11, 2015
What would you like to print?
Medical Care
Medical therapy may be warranted for patients who decline surgery and as a temporizing maneuver in patients who may improve spontaneously.[3]
Ocular lubrication and tear preparations are helpful for protecting the ocular surface and also may break the cycle in patients with spastic entropion due to dry eye syndrome.
Eyelid hygiene, antibiotics, and corticosteroids are useful for the treatment of blepharitis, which may cause spastic entropion.
Small amounts of botulinum toxin (BOTOX®) (approximately 5 U) are quite effective for the treatment of spastic entropion by weakening the pretarsal orbicularis oculi muscle.
Patients with cicatricial entropion secondary to ocular cicatricial pemphigoid may benefit from systemic chemotherapy, usually dapsone.
Surgical Care
Multiple surgical procedures have been described for the management of entropion.[4, 5, 6, 7] The procedure chosen must be appropriate for the class of entropion being treated.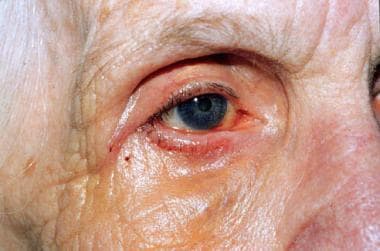 Involutional entropion. Correction of entropion with eyelid retractor reattachment and lateral canthopexy.
The most common procedures utilized in the management are discussed below.[7]
Temporizing Quickert-Rathbun sutures
They are effective for many cases of spastic entropion, as well as for some cases of involutional entropion in which the patient refuses or is medically unable to undergo more definitive procedures.
Full-thickness eyelid sutures (usually gut suture) from the inferior fornix anteriorly toward the lashes are used to torque the eyelid margin away from the globe. Tissue reaction to the gut suture helps to create a cicatrix in the eyelid that maintains the eyelid in the everted position.
Repair of involutional entropion
It may require repair of the horizontal laxity via medial and/or lateral canthal tightening.
The vertical component is best repaired by vertically shortening or reattaching the lower eyelid retractors to the inferior border of the tarsus via a lower eyelid transcutaneous approach.
A small amount of the pretarsal orbicularis oculi can be resected concurrently to prevent further overriding of the tarsus.
Procedures for the repair of cicatricial entropion
They will depend on the degree of scarring and entropion, the etiology of the cicatricial changes, and the status of the tarsal plate.[8, 9]
Mild cases can be treated with a transverse blepharotomy with marginal rotation (Wies procedure).
More extensive scarring may require oral mucous membrane (eg, buccal mucosa) or cadaveric dermis (eg, Alloderm) grafts.
It is important that the inflammatory process is in a quiescent state in OCP patients prior to any procedure that violates the conjunctiva. Any manipulation of the conjunctiva in these patients may cause a recurrence of inflammation with failure of the procedure.
Assess the status of the tarsal plate in all cases of cicatricial entropion. If it is distorted, place a facsimile of tarsus following excision of the distorted portions of the tarsal plate. Materials such as autologous tarsus, hard palate grafts, and chondromucosal grafts have been used successfully for this purpose.
Consultations
Consultation with an internist or a hematologist is recommended for OCP patients requiring immunosuppressive medications, as well as for systemic evaluation to rule out other autoimmune diseases.
References
Awan MA, Chadha V, Gonzalez P, Diaper CJ, Cauchi P, Kemp EG. Small tarsal plates causing recurrent lower lid entropion in a young adult. Eye. 2009 Feb 6. [Medline].

Pasco NY, Kikkawa DO, Korn BS, Punja KG, Jones MC. Facial nerve paralysis: an unrecognized cause of lower eyelid entropion in the pediatric population. Ophthal Plast Reconstr Surg. 2007 Mar-Apr. 23(2):126-9. [Medline].

Maycock NJ, Sahu DN, Mota PM, Gaston H, Hodgkins PR. Conservative management of upper eyelid entropion. J Pediatr Ophthalmol Strabismus. 2008 Nov-Dec. 45(6):377-8. [Medline].

Gu J, Wang Z, Sun M, Yuan J, Chen J. Posterior lamellar eyelid reconstruction with acellular dermis allograft in severe cicatricial entropion. Ann Plast Surg. 2009 Mar. 62(3):268-74. [Medline].

Swamy BN, Benger R, Taylor S. Cicatricial entropion repair with hard palate mucous membrane graft: surgical technique and outcomes. Clin Experiment Ophthalmol. 2008 May. 36(4):348-52. [Medline].

Hintschich C. Correction of entropion and ectropion. Dev Ophthalmol. 2008. 41:85-102. [Medline].

DeBacker CM. Entropion and Ectropion Repair. Medscape Reference. Available at http://emedicine.medscape.com/article/1844045-overview. Accessed: May 2011.

McCord CD Jr, Chen WP. Tarsal polishing and mucous membrane grafting for cicatricial entropion, trichiasis and epidermalization. Ophthalmic Surg. 1983 Dec. 14(12):1021-5. [Medline].

Koreen IV, Taich A, Elner VM. Anterior lamellar recession with buccal mucous membrane grafting for cicatricial entropion. Ophthal Plast Reconstr Surg. 2009 May-Jun. 25(3):180-4. [Medline].

Bartley GB, Kay PP. Posterior lamellar eyelid reconstruction with a hard palate mucosal graft. Am J Ophthalmol. 1989 Jun 15. 107(6):609-12. [Medline].

Cheung D, Sandramouli S. Consecutive ectropion after the Wies procedure. Ophthal Plast Reconstr Surg. 2004 Jan. 20(1):64-8. [Medline].

Christiansen G, Mohney BG, Baratz KH, Bradley EA. Botulinum toxin for the treatment of congenital entropion. Am J Ophthalmol. 2004 Jul. 138(1):153-5. [Medline].

DeBacker CM. Entropion and Ectropion Repair. Medscape Reference. September 23, 2011. [Full Text].

Dortzbach RK, McGetrick JJ. Involutional entropion of the lower eyelid. Ophthalmic Plast Reconstr Surg. 1983. 2:257-267.

Ho SF, Pherwani A, Elsherbiny SM, Reuser T. Lateral tarsal strip and quickert sutures for lower eyelid entropion. Ophthal Plast Reconstr Surg. 2005 Sep. 21(5):345-8. [Medline].

Khan SJ, Meyer DR. Transconjunctival lower eyelid involutional entropion repair: long-term follow-up and efficacy. Ophthalmology. 2002 Nov. 109(11):2112-7. [Medline].

Millman AL, Katzen LB, Putterman AM. Cicatricial entropion: an analysis of its treatment with transverse blepharotomy and marginal rotation. Ophthalmic Surg. 1989 Aug. 20(8):575-9. [Medline].

Quickert MH, Rathbun E. Suture repair of entropion. Arch Ophthalmol. 1971 Mar. 85(3):304-5. [Medline].
Medscape Reference © 2011 WebMD, LLC