Distichiasis Treatment & Management
Author: Soheila Rostami, MD, FAACC; Chief Editor: Hampton Roy, Sr, MD more...
Updated: Oct 14, 2015
What would you like to print?
Medical Care
Lubricants and bandage contact lenses can be used temporarily to relieve symptoms. Definitive treatment is removal of the abnormal eyelashes. Mechanical epilation of lashes has been used, but the eyelashes regrow within 4-6 weeks.
Surgical Care
Multiple procedures have been described for treating distichiasis, to include the following: combination of lid splitting and cryotherapy, direct surgical excision by wedge resection, or tarsoconjunctival approach. Moosavi described a simple procedure that could be used to treat severe trichiasis.[3] In this procedure, the anterior lamella is removed, and the eyelid is allowed to heal by the laissez-faire technique.[3]
Complications of surgical interventions are hemorrhage, infection, wound dehiscence, lid margin deformities, entropion or ectropion, and regrowth. Adequate electrocautery, especially for marginal arcade vessel, can reduce the chance of hemorrhage.
Performing the procedure in a sterile environment should reduce the chance of infection, and the ability to close the defect can be reduced with a lateral superior or inferior cantholysis with or without Tenzel semicircular flap.
The permanent treatments of distichiasis include the following:
Electrolysis
This method is ideal for cases with few aberrant eyelashes. Topical with local anesthesia or general anesthesia may be used according to the age of the patient.
A fine 30-gauge electrode is used to deliver low current to each hair follicle. Visualization of the hair shaft is crucial.
Other recommended techniques involve use of the operating microscope, use of surgical loops, and use of the slit lamp.
If the treatment is adequate, the eyelashes should be easily wiped with a cotton swab or epilated with a forceps. Recurrent rate with this method is high.
Eyelid notching and focal madarosis can be seen with aggressive treatment.
Cryotherapy
This method results in a more permanent treatment of misdirected eyelashes. Since treatment is not very localized, the area of aberrant cilia should be at least slightly larger than the beveled-tipped cryoprobe.
Permanent destruction of follicles can be achieved with freezing the follicles to the temperature of –20°C. A thermocouple, if is available, should be used (see following image). The tip should be placed directly on the anterior tarsal surface for distichiasis.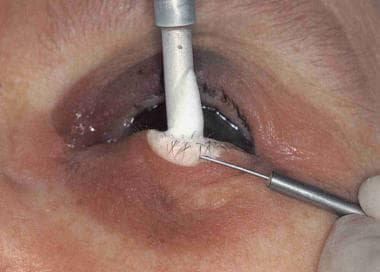 This picture demonstrates the cryotherapy of the lower lid with distichiasis. From Ophthalmic Plastic Surgery: Prevention and Management of Complications by Dortzbach.
Protect the globe by placing a shield and lubricants. The lid also should be held away from the globe.
Nitrous oxide or carbon dioxide has been used as a cryogen. Effective cryosurgical treatment requires a double application of the probe and slow thaw. Complications of this procedure include depigmentation of the skin, eyelid notching, madarosis, severe postoperative pain, edema, symblepharon, necrosis, and regrowth. Cryotherapy, especially with the double freeze-thaw technique, may have a success rate of 95%.
Argon laser ablation
This procedure is not widely used, and it is only useful for few aberrant cilia.
The patient receives topical, local, or no anesthesia, and sits at the slit lamp that is equipped with an argon laser. The laser settings are as follows: power of 1000-1500 mW; spot size of 50-100 µm; and duration of 0.1-0.2 s.
The lid margin is rotated outward, and the laser is aimed at the hair shaft. A total of 12-30 shots are needed per lash.
The complications of this procedure are very similar to complications of electrolysis. Recurrence rate for electrolysis and argon laser ablation vary from 12-41%.
Diode laser
The 810 nm diode laser has been used to treat abnormal lashes. This laser has also been shown to be safe in the periorbital region. The pulse length used is approximately 50 ms, and the energy intensity is approximately 50 J/cm2.
For best results, 4-5 treatments are needed 4-6 weeks apart.
An efficacy study on diode laser treatment of trichiasis has been conducted, and, according to this study, diode laser treatment is an effective tool in treating trichiasis.[4]
Trephination
McCracken and Kikkawa described a new technique, in which they use a Sisler ophthalmic microtrephine 1.0 mm to cut the lash follicles.[5]
This technique seems to be safe and much faster than other surgical procedures for the treatment of trichiasis or distichiasis, with less complication and scarring.[5]
Consultations
Some comprehensive ophthalmologists are capable of taking care of simple cases of distichiasis. However, most patients with this disorder should be referred to an ophthalmic plastics and reconstructive surgeon.
References
Allen RC. Genetic diseases affecting the eyelids: what should a clinician know?. Curr Opin Ophthalmol. 2013 Sep. 24(5):463-77. [Medline].

Butler MG, Dagenais SL, Garcia-Perez JL, Brouillard P, Vikkula M, Strouse P, et al. Microcephaly, intellectual impairment, bilateral vesicoureteral reflux, distichiasis, and glomuvenous malformations associated with a 16q24.3 contiguous gene deletion and a Glomulin mutation. Am J Med Genet A. 2012 Apr. 158A(4):839-49. [Medline]. [Full Text].

Moosavi AH, Mollan SP, Berry-Brincat A, et al. Simple surgery for severe trichiasis. Ophthal Plast Reconstr Surg. 2007 Jul-Aug. 23(4):296-7. [Medline].

Pham RT. Treat of trichiasis using 810 nm diode laser: an efficacy study. Paper presented at: Annual Meeting of the American Society of Ophthalmic Plastic and Reconstructive Surgery; New Orleans, La. October 22-23, 2004.

McCracken MS, Kikkawa DO, Vasani SN. Treatment of trichiasis and distichiasis by eyelash trephination. Ophthal Plast Reconstr Surg. 2006 Sep-Oct. 22(5):349-51. [Medline].

Anderson RL. Surgical repair for distichiasis. Arch Ophthalmol. 1977 Jan. 95(1):169. [Medline].

Bosniak S. Principles and Practice of Ophthalmic Plastic and Reconstructive Surgery. WB Saunders Co; 1996. Vol 1: 409.

Dortzbach RK. Ophthalmic Plastic Surgery: Prevention and Management of Complications. Lippincott-Raven Publishers; 1994. 42-8.

Fein W. Surgical repair for distichiasis, trichiasis, and entropion. Arch Ophthalmol. 1976 May. 94(5):809-10. [Medline].

Hill JC. Trichiasis and distichiasis. Can J Ophthalmol. 1976 Oct. 11(4):353-4. [Medline].

Pham RT, Biesman BS, Silkiss RZ. Treatment of trichiasis using an 810-nm diode laser: an efficacy study. Ophthal Plast Reconstr Surg. 2006 Nov-Dec. 22(6):445-7. [Medline].

Scheie HG, Albert DM. Distichiasis and trichiasis: origin and management. Am J Ophthalmol. 1966 Apr. 61(4):718-20. [Medline].
Medscape Reference © 2011 WebMD, LLC