Xanthelasma
Author: Andrew A Dahl, MD, FACS; Chief Editor: Edsel Ing, MD, FRCSC more...
Updated: May 18, 2016
What would you like to print?
Background
Xanthelasma are yellowish plaques that occur most commonly near the inner canthus of the eyelid, more often on the upper lid than the lower lid. Xanthelasma palpebrarum is the most common cutaneous xanthoma. See the image below.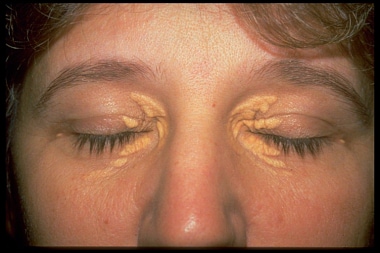 Xanthelesma of four eyelids in patient with hyperlipidemia.
Xanthelasma can be soft, semisolid, or calcareous. Frequently, they are symmetrical. The upper lids are more frequently involved than the lower lids. Often, 4 lids are involved. Xanthelasma have a tendency to progress, coalesce, and become permanent.
The term xanthelasma is derived from the Greek xanthos (yellow) and elasma (beaten metal plate).
See Can You Recognize Benign Skin Lesions From Cancerous Ones?, a Critical Images slideshow, to help identify various skin lesions.
Pathophysiology
Xanthelasma are a type of xanthoma appearing on the eyelids. Xanthomas are depositions of yellowish cholesterol-rich material that can appear anywhere in the body in various disease states. They are cutaneous manifestations of lipidosis in which lipids accumulate in foam cells within the skin. They are often associated with hyperlipidemias, of both primary and secondary types. Some occur with altered lipoprotein composition or structure, such as lowered high-density lipoprotein (HDL) levels. They frequently occur in patients with type II hyperlipidemia and in the type IV phenotype.
Epidemiology
Frequency
United States
Xanthelasma are rare.
International
Xanthelasma are rare in the general population.
Mortality/Morbidity
These lesions have no premalignant potential; however, see Differentials.
A study by Christoffersen et al finds that xanthelasmata can be a predictor of risk for myocardial infarction, ischemic heart disease, severe atherosclerosis, and death in the general population, independent of well-known cardiovascular risk factors (eg, plasma cholesterol, triglyceride concentrations). On the other hand, arcus senilis of the cornea has been found not to be an important independent predictor of risk.[1]
Sex
In case studies of patients with xanthomatosis, a predominance of xanthelasma in women has been seen; women, 32%, and men, 17.4%.
Age
The age of onset ranges from 15-73 years, with a peak in the fourth and fifth decades.
References
Christoffersen M, Frikke-Schmidt R, Schnohr P, et al. Xanthelasmata, arcus corneae, and ischaemic vascular disease and death in general population: prospective cohort study. BMJ. 2011 Sep 15. 343:d5497. [Medline]. [Full Text].

Santaella RM, Ng JD, Wilson DJ. Carbon Dioxide Laser-Induced Combustion of Extravasated Intraocular Silicone Oil in the Eyelid Mimicking Xanthelasma. Ophthal Plast Reconstr Surg. 2011 Feb 22. [Medline].

Doi H, Ogawa Y. A new operative method for treatment of xanthelasma or xanthoma palpebrarum: microsurgical inverted peeling. Plast Reconstr Surg. 1998 Sep. 102(4):1171-4. [Medline].

Haygood LJ, Bennett JD, Brodell RT. Treatment of xanthelasma palpebrarum with bichloracetic acid. Dermatol Surg. 1998 Sep. 24(9):1027-31. [Medline].

Basar E, Oguz H, Ozdemir H, et al. Treatment of xanthelasma palpebrarum with argon laser photocoagulation. Argon laser and xanthelasma palpebrarum. Int Ophthalmol. 2004 Jan. 25(1):9-11. [Medline].

Bergman R. Xanthelasma palpebrarum and risk of atherosclerosis. Int J Dermatol. 1998 May. 37(5):343-5. [Medline].

Egan CA, Patel BC, Morschbacher R, et al. Atypical lymphoid hyperplasia of the eyelids manifesting as xanthelasma-like lesions. J Am Acad Dermatol. 1997 Nov. 37(5 Pt 2):839-42. [Medline].

Gladstone, Geoffrey, Myint, Shoib. Xanthelasma. Roy FH and Fraunfelder FT, eds. Current Ocular Therapy. 2000. Vol. 5.: 452-3.

Howard GR. Xanthelasma. Roy FH, ed. Masters Technique in Ophthalmic Surgery. 1995. 520-2.

Ozdol S, Sahin S, Tokgozoglu L. Xanthelasma palpebrarum and its relation to atherosclerotic risk factors and lipoprotein (a). Int J Dermatol. 2008 Aug. 47(8):785-9. [Medline].

Usatine RP. A cutaneous manifestation of a systemic disease. West J Med. 2000 Feb. 172(2):84. [Medline].

Ustunsoy E, Demir Z, Coskunfirat K, et al. Extensive bilateral eyelid ptosis caused by xanthoma palpebrarum. Ann Plast Surg. 1997 Feb. 38(2):177-8. [Medline].

Ribera M, Pintó X, Argimon JM, Fiol C, Pujol R, Ferrándiz C. Lipid metabolism and apolipoprotein E phenotypes in patients with xanthelasma. Am J Med. 1995 Nov. 99 (5):485-90. [Medline].

Bergman R, Kasif Y, Aviram M, Maor I, Ullman Y, Gdal-On M, et al. Normolipidemic xanthelasma palpebrarum: lipid composition, cholesterol metabolism in monocyte-derived macrophages, and plasma lipid peroxidation. Acta Derm Venereol. 1996 Mar. 76 (2):107-10. [Medline].

Watanabe A, Yoshimura A, Wakasugi T, Tatami R, Ueda K, Ueda R, et al. Serum lipids, lipoprotein lipids and coronary heart disease in patients with xanthelasma palpebrarum. Atherosclerosis. 1981 Feb-Mar. 38 (3-4):283-90. [Medline].
Medscape Reference © 2011 WebMD, LLC