Childhood Optic Neuritis Clinical Presentation
Author: Martha P Schatz, MD; Chief Editor: Hampton Roy, Sr, MD more...
Updated: Nov 30, 2015
What would you like to print?
History
In general, obtaining an accurate history from children may be difficult. Young children may not notice unilateral visual loss and may not report bilateral visual loss until their behavior indicates visual loss to parents or teachers.
Optic neuritis produces a subacute loss of vision, reaching its maximum deficit in a few days to 2-3 weeks. In many cases, recovery is already underway at 2-3 weeks.
Headache is common in children with optic neuritis. Periorbital pain, especially if it worsens with eye movements, supports a diagnosis of optic neuritis.
Visual symptoms reflect the expected deficit observed in any optic neuropathy, including loss of visual acuity, change in color perception, change in brightness sense, and loss of portions of the visual field.
In reviewing neurologic symptoms, prior resolved neurologic symptoms imply a recurrent process, such as MS, whereas ongoing neurologic symptoms may indicate MS, acute disseminated encephalomyelitis, or neuromyelitis optica.
A review of systemic symptoms should be aimed at detecting recent vaccinations, infections, or vasculitis.
Physical
Decreased visual acuity: Visual acuity is not the most sensitive indicator of optic nerve injury and may be normal; however, most children with optic neuritis have some loss of visual acuity. Occasionally, patients with optic neuritis have severe loss of vision that includes no light perception.
Decreased color acuity: A deficit in color vision is a more sensitive indicator of optic nerve injury, and, when checked, a deficit is expected that is out of proportion to any loss of visual acuity.
Afferent pupil defect: In unilateral cases of optic neuritis, an afferent pupil defect should be present. In bilateral cases of optic neuritis, this sign is less reliable unless the 2 nerves are asymmetrically affected.
Subjective light brightness difference between the 2 eyes is also common in asymmetric or unilateral cases of optic neuritis.
Fundus examination
In children, most cases (60-70%) of optic neuritis involve the optic disc with disc edema (as shown below), as compared to 35% in adults.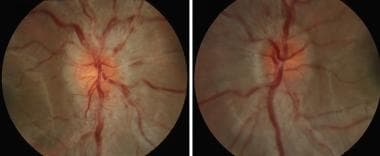 Optic disc swelling in the right eye and left eye in a child with bilateral optic neuritis.
In retrobulbar optic neuritis, the optic disc should be normal. Atrophy of the disc implies a prior episode of optic neuritis or another more chronic process, such as an optic nerve glioma, a craniopharyngioma, or other compressive process.
If macular edema or a macular star (as shown below) is associated, a diagnosis of neuroretinitis rather than optic neuritis should be made.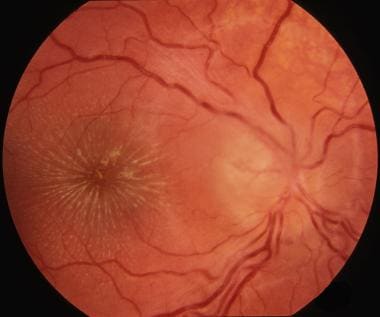 Neuroretinitis in the right eye of an adolescent with cat scratch disease. The optic nerve is swollen, and a deposition of yellowish exudate in the nerve fiber layer of the macula produces a macular star.
Causes
See the list below:
Immune mediated

In children, as many as 85% of cases of optic neuritis are associated with a recent immunization or an infection, usually a viral infection.
Optic neuritis can be associated with a preceding nonviral infection, such as pertussis, infectious mononucleosis, toxoplasmosis, or brucella.

Multiple sclerosis

Neuromyelitis optica (Devic disease)

Idiopathic

Lyme disease in endemic areas

Specific meningeal infections and infiltrations involving the optic nerves, including cryptococcus, tuberculosis, and sarcoidosis

Vasculitis, such as systemic lupus erythematosus

Syphilis

Leukemia

Associated with bee and wasp stings

Several cases of optic neuritis have been seen in patients on anti-tumor necrosis factor (anti-TNF) drugs.

Causes of neuroretinitis

Following a viral syndrome
Cat scratch disease
Toxoplasmosis
Toxocariasis and helminths (The finding of a discrete white inflammatory mass overlying the optic disc is suggestive of toxocariasis and helminths.)
Lyme disease, usually stage 2
Syphilis, especially secondary syphilis as part of a meningitis
References
Dell'Avvento S, Sotgiu MA, Manca S, Sotgiu G, Sotgiu S. Epidemiology of multiple sclerosis in the pediatric population of Sardinia, Italy. Eur J Pediatr. 2015 Jul 10. [Medline].

Langer-Gould A, Zhang JL, Chung J, Yeung Y, Waubant E, Yao J. Incidence of acquired CNS demyelinating syndromes in a multiethnic cohort of children. Neurology. 2011 Sep 20. 77(12):1143-8. [Medline].

Pérez-Cambrodí RJ, Gómez-Hurtado Cubillana A, Merino-Suárez ML, Piñero-Llorens DP, Laria-Ochaita C. Optic neuritis in pediatric population: a review in current tendencies of diagnosis and management. J Optom. 2014 Jul-Sep. 7 (3):125-30. [Medline].

Wan MJ, Adebona O, Benson LA, Gorman MP, Heidary G. Visual outcomes in pediatric optic neuritis. Am J Ophthalmol. 2014 Sep. 158 (3):503-7.e2. [Medline].

Waldman AT, Stull LB, Galetta SL, Balcer LJ, Liu GT. Pediatric optic neuritis and risk of multiple sclerosis: Meta-analysis of observational studies. J AAPOS. 2011 Oct. 15(5):441-6. [Medline].

Wilejto M, Shroff M, Buncic JR, et al. The clinical features, MRI findings, and outcome of optic neuritis in children. Neurology. 2006 Jul 25. 67(2):258-62. [Medline].

Lucchinetti CF, Kiers L, O'Duffy A, et al. Risk factors for developing multiple sclerosis after childhood optic neuritis. Neurology. 1997 Nov. 49(5):1413-8. [Medline].

Banwell B, Tremlett H. Coming of age: the use of immunomodulatory therapy in children with multiple sclerosis. Neurology. 2005 Mar 8. 64(5):778-9. [Medline].

Beck RW. Optic neuritis. Miller NR, Newman NJ, ed. Walsh and Hoyt's Clinical Neuro-ophthalmology. 5th ed. Baltimore: Lippincott Williams & Wilkins; 1998.

Beck RW, Trobe JD. What we have learned from the Optic Neuritis Treatment Trial. Ophthalmology. 1995 Oct. 102(10):1504-8. [Medline].

Bonhomme GR, Liu GT, Balcer LJ. Isolated pediatric optic neuritis. Brain MRI abnormalities and risk of multiple sclerosis. Paper presented at: Annual Meeting of the North American Neuro-ophthalmology Society; 2005.

Carroll DM, Franklin RM. Leber's idiopathic stellate retinopathy. Am J Ophthalmol. 1982 Jan. 93(1):96-101. [Medline].

Dreyer RF, Hopen G, Gass JD, et al. Leber's idiopathic stellate neuroretinitis. Arch Ophthalmol. 1984 Aug. 102(8):1140-5. [Medline].

Farris BK, Pickard DJ. Bilateral postinfectious optic neuritis and intravenous steroid therapy in children. Ophthalmology. 1990 Mar. 97(3):339-45. [Medline].

Gass JD. Diseases of the optic nerve that may simulate macular disease. Trans Sect Ophthalmol Am Acad Ophthalmol Otolaryngol. 1977 Sep-Oct. 83(5):763-70. [Medline].

Hierons R, Lyle TK. Bilateral retrobulbar optic neuritis. Brain. 1959. 82:56-67.

Keast-Butler J, Taylor D. Optic neuropathies in children. Trans Ophthalmol Soc U K. 1980 Apr. 100:111-8. [Medline].

Kennedy C, Carroll FD. Optic neuritis in children. Arch Ophthalmol. 1960. 73:747-755.

King MH, Cartwright MJ, Carney MD. Leber's idiopathic stellate neuroretinitis. Ann Ophthalmol. 1991 Feb. 23(2):58-60. [Medline].

Koraszewska-Matuszewska B, Samochowiec-Donocik E, Rynkiewicz E. [Optic neuritis in children and adolescents]. Klin Oczna. 1995 Jun. 97(6):207-10. [Medline].

Kriss A, Francis DA, Cuendet F, et al. Recovery after optic neuritis in childhood. J Neurol Neurosurg Psychiatry. 1988 Oct. 51(10):1253-8. [Medline].

Maitland CG, Miller NR. Neuroretinitis. Arch Ophthalmol. 1984 Aug. 102(8):1146-50. [Medline].

Meadows SP. Doyne memorial lecture (1969). Retrobulbar and optic neuritis in childhood and adolescence. Trans Ophthalmol Soc U K. 1970. 89:603-38. [Medline].

Morales DS, Siatkowski RM, Howard CW, et al. Optic neuritis in children. J Pediatr Ophthalmol Strabismus. 2000 Sep-Oct. 37(5):254-9. [Medline].

Nakao Y, Omoto T, Shimomura Y. Optic neuritis in children. Folia Ophthalmol Jpn. 1983. 34:496-498.

Neetens A, Smets RM. Leber's neurogenic stellate maculopathy. Neuro Ophthalmol. 1987. 7:315-328.

Pohl D, Rostasy K, Gartner J, et al. Treatment of early onset multiple sclerosis with subcutaneous interferon beta-1a. Neurology. 2005 Mar 8. 64(5):888-90. [Medline].

Riikonen R, Donner M, Erkkilä H. Optic neuritis in children and its relationship to multiple sclerosis: a clinical study of 21 children. Dev Med Child Neurol. 1988 Jun. 30(3):349-59. [Medline].

Rothermel H, Hedges TR 3rd, Steere AC. Optic neuropathy in children with Lyme disease. Pediatrics. 2001 Aug. 108(2):477-81. [Medline].

Rush JA. Idiopathic optic neuritis of childhood. J Pediatr Ophthalmol Strabismus. 1981 May-Jun. 18(3):39-41. [Medline].
Table 1. Comparison of Features of Optic Neuritis in Adults and Children
| | |
| --- | --- |
| Adult Optic Neuritis | Pediatric Optic Neuritis |
| Unilateral | Bilateral |
| Retrobulbar optic neuritis | Papillitis |
| Commonly associated with pain on eye movements | Commonly associated with headache |
| Most often idiopathic | Most often postinfectious or postimmunization |
| High probability of recurrent inflammatory demyelinating events in the CNS and a diagnosis of MS | Low probability of recurrent demyelinating events and a diagnosis of MS |
Table 2. Equivalent Doses of Commonly Used Corticosteroid Medications
| | |
| --- | --- |
| Corticosteroid Drug | Approximate Equivalent Dose |
| Prednisone | 5 mg |
| Prednisolone | 5 mg |
| Methylprednisolone | 4 mg |
| Dexamethasone | 0.75 mg |
Table 3. Life-Table Analysis of the Risk for Development of MS in Children With an Isolated Attack of Optic Neuritis
[7]
| | |
| --- | --- |
| Age | Risk for Development of MS |
| 10 years | 13% |
| 20 years | 19% |
| 30 years | 22% |
| 40 years | 26% |
Medscape Reference © 2011 WebMD, LLC