Floor Orbital Fracture Workup
Author: Geoffrey M Kwitko, MD, FACS, FICS; Chief Editor: Hampton Roy, Sr, MD  more...
Updated: Jun 28, 2016
What would you like to print?
Laboratory Studies
The only lab studies are those needed for clearance for surgery (eg, CBC count, sequential multiple analysis, chest x-ray, bleed times).
Imaging Studies
For most orbital fractures, the imaging study of choice is CT scan. A CT scan with axial and coronal views is optimal. Ask for thin cuts (2-3 mm) with specific attention to the orbital floor and optic canal.[6, 7] See the image below.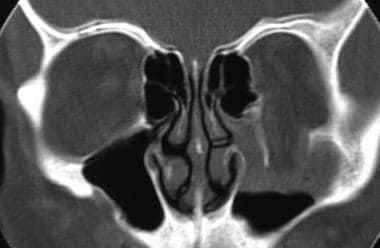 Coronal CT scan of orbits demonstrating loss of orbital floor on the left in contrast to the normal orbital floor on the right.
When the patient has severe head and neck trauma, the radiologist may have difficulty positioning the patient to obtain coronal views. Because these views are generally the most helpful for evaluating the integrity of the orbital floor, the surgeon may ask the radiologist to obtain very thin axial cuts to allow reconstructed coronal views to be obtained.
Procedures
Forced duction testing may be performed in the office to confirm that limited extraocular movements are due to restriction of the inferior rectus muscle instead of third nerve branch palsy. Testing should be performed after the orbital edema subsides, usually 10 days to 2 weeks after the trauma.
Testing should be performed at the beginning of a surgery to repair the floor fracture as well as at the end of the case. This will assure the surgeon that he has completely reduced the herniated tissue and that any residual motility deficit is neurologic and not mechanical.
References
Della Rocca RC, Nassif JM. Blowout fractures. Linberg JV, ed. Oculoplastic and Orbital Emergencies. Appleton & Lange; 1990. 155-165.

Green RP Jr, Peters DR, Shore JW, et al. Force necessary to fracture the orbital floor. Ophthal Plast Reconstr Surg. 1990. 6(3):211-7. [Medline].

Kersten RC. Blowout fracture of the orbital floor with entrapment caused by isolated trauma to the orbital rim. Am J Ophthalmol. 1987 Feb 15. 103(2):215-20. [Medline].

Bansagi ZC, Meyer DR. Internal orbital fractures in the pediatric age group: characterization and management. Ophthalmology. 2000 May. 107(5):829-36. [Medline].

Rubin PAD, Bilyk JR, Shore JW. Management of orbital trauma: fractures, hemorrhage, and traumatic optic neuropathy. Focal Points: Clinical Modules for Ophthalmologists. 1994. 12:7.

Gilbard SM, Mafee MF, Lagouros PA, et al. Orbital blowout fractures. The prognostic significance of computed tomography. Ophthalmology. 1985 Nov. 92(11):1523-8. [Medline].

Tan Baser N, Bulutoglu R, Celebi NU, Aslan G. Clinical management and reconstruction of isolated orbital floor fractures: The role of computed tomography during preoperative evaluation. Ulus Travma Acil Cerrahi Derg. 2011 Nov. 17(6):545-53. [Medline].

Smith B, Regan WF. Blow-out fractures of the orbit: mechanism and correction of internal orbital fracture. Am J Ophthalmol. 1957. 44:733.

Piombino P, Iaconetta G, Ciccarelli R, Romeo A, Spinzia A, Califano L. Repair of orbital floor fractures: our experience and new technical findings. Craniomaxillofac Trauma Reconstr. 2010 Dec. 3(4):217-22. [Medline]. [Full Text].

Jordan DR, Allen LH, White J, et al. Intervention within days for some orbital floor fractures: the white-eyed blowout. Ophthal Plast Reconstr Surg. 1998 Nov. 14(6):379-90. [Medline].

Egbert JE, May K, Kersten RC, et al. Pediatric orbital floor fracture : direct extraocular muscle involvement. Ophthalmology. 2000 Oct. 107(10):1875-9. [Medline].

Magaña FG, Arzac RM, De Hilario Avilés L. Combined use of titanium mesh and resorbable PLLA-PGA implant in the treatment of large orbital floor fractures. J Craniofac Surg. 2011 Nov. 22(6):1991-5. [Medline].
Medscape Reference © 2011 WebMD, LLC