Zygomatic Orbital Fracture
Author: Stuart Seiff, MD, FACS; Chief Editor: Hampton Roy, Sr, MD  more...
Updated: Aug 19, 2014
What would you like to print?
Background
The zygomatic bone occupies a prominent and important position in the facial skeleton. The zygoma forms a significant portion of the floor and lateral wall of the orbit and forms a portion of the zygomatic arch, otherwise known as the malar eminence, which plays a key role in the determination of facial morphology. Fractures of the zygomatic complex occur because of the rotation of the zygoma associated with the disarticulation of the zygomatic bone at the zygomaticofrontal suture (along the lateral orbital rim), the zygomaticomaxillary suture (medially), and along the zygomatic arch to the temporal bone (see below).[1, 2]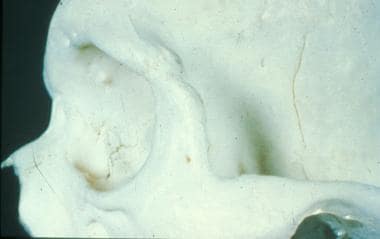 The zygoma forms a firm buttress for the orbit and typically fractures at its sutures.
Anatomically, the zygomatic bone contains foramina that allow for the passage of zygomaticofacial and zygomaticotemporal arteries and corresponding nerves of the second division of the trigeminal nerve that supply sensation to cheek and anterior temple. Similarly, the infraorbital nerve also courses the floor of the orbit and exits the infraorbital foramen or notch. Consequently, fractures of the zygomatic arch can lead to hypoesthesia in the corresponding dermatome. Muscle attachments along the zygomatic arch include the origin of the masseter, the zygomaticus major, and some fibers of the temporalis fascia. The Whitnall tubercle, which serves a critical role in the maintenance of eyelid contour as the attachment site for the lateral canthal tendon, is located on the zygomatic bone 2 mm behind the lateral orbital rim.[3]
Pathophysiology
The zygoma is the main buttress between the maxilla and the skull, but, in spite of its sturdiness, its prominent location makes it prone to fracture. The mechanism of injury usually involves a blow to the side of the face from a fist, from an object, or secondary to motor vehicle accidents. Moderate force may result in minimally or nondisplaced fractures at the suture lines. More severe blows frequently result in inferior, medial, and posterior displacement of the zygoma. Comminuted fractures of the body with separation at the suture lines are most often the result of high-velocity motor vehicle accidents.
In general, displaced fractures involve the inferior orbital rim and orbital floor, the zygomaticofrontal suture, the zygomaticomaxillary buttress, and the zygomatic arch. However, occasionally, a direct blow to the arch results in an isolated depressed fracture of the arch only.[3]
Epidemiology
Frequency
United States
Zygomatic fractures are the second most common fracture of the facial bones following nasal bone fractures.[4]
Mortality/Morbidity
As many as 5% of patients with zygomatic fractures have associated ophthalmic injuries.
Sex
Males are afflicted with zygomatic fractures more commonly than females by a 4:1 ratio.
Age
Most cases of zygomatic fractures occur in young patients in their second to third decades of life.
Medscape Reference © 2011 WebMD, LLC