Orbital Dermoid
Author: Anna G Gushchin, MD; Chief Editor: Hampton Roy, Sr, MD  more...
Updated: Sep 10, 2014
What would you like to print?
Background
Dermoid and epidermoid cysts are examples of choristomas, tumors that originate from aberrant ectodermal tissue. These tumors contain normal-appearing tissue in an abnormal location. As two suture lines of the skull close during embryonic development, dermal or epidermal elements may be pinched off and form cysts, which are adjacent to the suture line (this is shown in the image below). Approximately 50% of dermoids that involve the head are found in or adjacent to the orbit.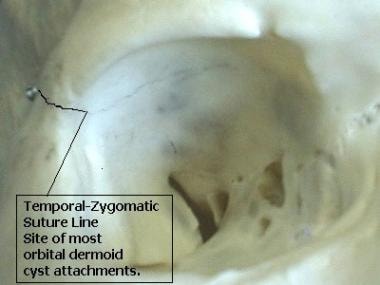 Temporal-zygomatic suture line on the lateral orbital wall. The location of the periosteal attachment of most orbital dermoids.
Pathophysiology
Orbital dermoid cysts may displace structures in the orbit, causing proptosis, motility abnormalities, or optic nerve compression. Significant displacement may interfere with vision by compression of the optic nerve or disturb ocular motility, resulting in diplopia. Rupture of the dermoid, either spontaneously or with a trauma, may lead to an intense inflammatory reaction that could mimic orbital cellulitis.
Epidemiology
Frequency
United States
At an ocular oncology center, dermoid tumors were found to comprise 2% of the orbital tumors that came to surgery.[1] Shields et al reported that dermoid cysts comprised of 24% of 645 consecutive orbital biopsies among all age groups and 46% of 250 consecutive biopsies in patients younger than 18 years.[2, 3]
Mortality/Morbidity
Orbital dermoid cysts almost never cause death.
Morbidity is usually of a cosmetic nature; occasionally, loss of vision, diplopia, or orbital inflammation may occur.
Race
Dermoid tumors show no racial predilection.
Sex
Dermoid tumors have an equal incidence in males and females.
Age
These tumors are most often noted in young children; however, they may appear or grow at any age.
References
Shields JA, Shields CL, Scartozzi R. Survey of 1264 patients with orbital tumors and simulating lesions: The 2002 Montgomery Lecture, part 1. Ophthalmology. 2004 May. 111(5):997-1008. [Medline].

Shields JA, Bakewell B, Augsburger JJ, Flanagan JC. Classification and incidence of space-occupying lesions of the orbit. A survey of 645 biopsies. Arch Ophthalmol. 1984 Nov. 102(11):1606-11. [Medline].

Shields JA, Bakewell B, Augsburger JJ, Donoso LA, Bernardino V. Space-occupying orbital masses in children. A review of 250 consecutive biopsies. Ophthalmology. 1986. 93(3):379-84.

Cavazza S, Laffi GL, Lodi L, Gasparrini E, Tassinari G. Orbital dermoid cyst of childhood: clinical pathologic findings, classification and management. Int Ophthalmol. 2011 Apr. 31(2):93-7. [Medline].

Jung BY, Kim YD. Orbital dermoid cysts presenting as subconjunctival fat droplets. Ophthal Plast Reconstr Surg. 2008. 24(4):327-9. [Medline].

Chawda SJ, Moseley IF. Computed tomography of orbital dermoids: a 20-year review. Clin Radiol. 1999 Dec. 54(12):821-5. [Medline].

Shields JA, Kaden IH, Eagle RC Jr, Shields CL. Orbital dermoid cysts: clinicopathologic correlations, classification, and management. The 1997 Josephine E. Schueler Lecture. Ophthal Plast Reconstr Surg. 1997. 13(4):265-76. [Medline].

Chung EM, Smirniotopoulos JG, Specht CS, Schroeder JW, Cube R. From the archives of the AFIP: Pediatric orbit tumors and tumorlike lesions: nonosseous lesions of the extraocular orbit. Radiographics. 2007 Nov-Dec. 27(6):1777-99. [Medline]. [Full Text].

Neudorfer M, Leibovitch I, Stolovitch C, Dray JP, Hermush V, Nagar H, et al. Intraorbital and periorbital tumors in children--value of ultrasound and color Doppler imaging in the differential diagnosis. Am J Ophthalmol. 2004 Jun. 137(6):1065-72. [Medline].

Golden RP, Shields WE 2nd, Cahill KV, Rogers GL. Percutaneous drainage and ablation of orbital dermoid cysts. J AAPOS. 2007 Oct. 11(5):438-42. [Medline]. [Full Text].

Prabhakaran VC, Hsuan J, Selva D. Endoscopic-Assisted Removal of Orbital Roof Lesions via a Skin Crease Approach. Skull Base. 2007 Sep. 17(5):341-5. [Medline]. [Full Text].

Golden BA, Jaskolka MS, Ruiz RL. Craniofacial and orbital dermoids in children. Oral Maxillofac Surg Clin North Am. 2012 Aug. 24(3):417-25. [Medline].

McNab A. Manual of Orbital and Lacrimal Surgery. Butterworth-Heinemann Medical; 1998.

Rootman J. Orbital Surgery: A Conceptual Approach. Raven Press; 1995.

Schick U, Hassler W. Pediatric tumors of the orbit and optic pathway. Pediatr Neurosurg. 2003 Mar. 38(3):113-21. [Medline].

Shields JA, Shields CL. Orbital cysts of childhood--classification, clinical features, and management. Surv Ophthalmol. 2004 May-Jun. 49(3):281-99. [Medline].

Sreetharan V, Kangesu L, Sommerlad BC. Atypical congenital dermoids of the face: a 25-year experience. J Plast Reconstr Aesthet Surg. 2007. 60(9):1025-9. [Medline]. [Full Text].
Medscape Reference © 2011 WebMD, LLC