Hypoglycemia Workup
Author: Osama Hamdy, MD, PhD; Chief Editor: Romesh Khardori, MD, PhD, FACP more...
Updated: Jul 05, 2016
What would you like to print?
Approach Considerations
Search for a source of infection. Studies should be considered to rule out the possibility of a concurrent occult infection contributing to the new hypoglycemic episode (eg, complete physical examination, chest radiography (particularly in diabetic patients presenting with hypoglycemia), urinalysis, blood cultures).
Check liver function tests, serum insulin levels, and cortisol and thyroid levels. Proinsulin normally represents less than 20% of total immunoreactive insulin; in patients with islet-cell tumors, proinsulin may contribute as much as 70% of insulin immunoreactivity.
Provocative tests involving the administration of arginine, leucine, calcium, glucagon, or tolbutamide are generally of limited value, because their sensitivity or specificity is inadequate.[15]
Other causes of hypoglycemia should be properly investigated (see Differentials). For example, a morning cortisol level determination and/or adrenocorticotropic hormone (ACTH) stimulation testing should be performed if adrenal insufficiency is suspected.
See a diagnostic algorithm for hypoglycemia below.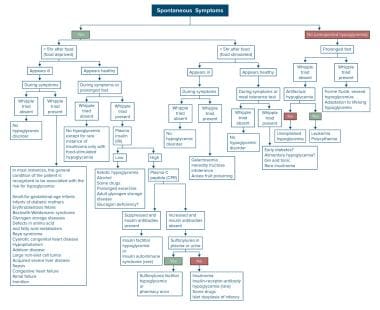 Diagnostic algorithm. A systematic approach is often required to establish the true cause of hypoglycemia, using an algorithmic approach.
Glucose and Insulin Levels
During hypoglycemic episodes, patients should test their glucose at home to document hypoglycemia that is occurring with the episodes. Take into consideration that meter readings may not be accurate enough to establish the diagnosis.
Test glucose and insulin levels simultaneously to document low glucose levels occurring in conjunction with inappropriate insulin levels.
Keep in mind that whole blood glucose values may be spuriously low in polycythemia rubra vera because of the unequal distribution of glucose between erythrocytes and plasma, excessive glycolysis by erythrocytes, or both. Low blood glucose values in leukemia are due to excessive glycolysis by leukocytes and in hemolytic crisis from excessive glycolysis by nucleated erythrocytes. In the polycythemic patient or in serum of the leukemic or hemolytic patient, prompt measurement of glucose in plasma to which an antiglycolytic agent has been added should provide accurate results.
Oral glucose tolerance test
Administer an oral glucose tolerance test if reactive hypoglycemia is suspected. An oral glucose tolerance test provides little benefit for the evaluation of fasting hypoglycemia. Perform the test for 5 hours while simultaneously testing glucose and insulin levels. To be meaningful, low blood sugar (< 50 mg/dL [< 2.78 mmol/L]) during the test should be accompanied by typical symptoms. Response to a mixed meal may be more representative.
72-Hour fasting plasma glucose
A supervised fast is the most reliable diagnostic test for the evaluation of fasting hypoglycemia. Continue the fast for as long as 72 hours or until symptoms develop in the presence of hypoglycemia (blood sugar < 45 mg/dL (2.5 mmol/L) for women; < 55 mg/dL (3.05 mmol/L) for men). Obtain simultaneous insulin levels every 6 hours, when glucose is low and when symptoms develop. Also measure the beta-hydroxybutyrate serum level. Glucose and/or glucagon must be administered after blood sample withdrawal to abort hypoglycemic symptoms. The diagnosis of insulinoma is likely if the patient, at the conclusion of the fast, has neuroglycopenic symptoms, a fall in plasma glucose to less than 45 mg/dL (< 2.5 mmol/L), inappropriately elevated beta-cell polypeptides (insulin, proinsulin, and C-peptide levels), and a beta-hydroxybutyrate level of less than 2.7 mmol/L.
For overnight fasting plasma glucose levels, symptoms of hypoglycemia may develop when the blood sugar is below 60 mg/dL (3.33 mmol/L).
C-Peptide Levels
Obtain C-peptide levels any time an elevated insulin level is obtained. Endogenous hyperinsulinemia from insulinoma is associated with elevated C-peptide concentrations with concurrent hypoglycemia. Exogenous hyperinsulinemia from injected insulin results in low concentrations of C-peptide, both because of the effect of the associated hypoglycemia and because of the direct suppressive effect of insulin on the pancreatic beta cell.[11]
C-peptide levels are elevated in insulinoma, normal or low with exogenous insulin, and elevated with oral sulfonylureas.
Radiologic Studies
For the evaluation of insulinomas, computed tomography (CT) scanning and ultrasonography often are not helpful, because most of these tumors are small. Magnetic resonance imaging (MRI) may yield better results.
Selective percutaneous transhepatic venous sampling often is helpful for localizing an insulinoma to the head, body, or tail of the pancreas, and selective arteriography is also often helpful in localizing insulin-secreting lesions. Octreotide scanning localizes insulinomas in approximately 50% of cases.
Retroperitoneal tumors that are producing insulinlike growth factor (IGF) are usually imaged easily using a CT scan.
References
Pugh SK, Doherty DA, Magann EF, et al. Does hypoglycemia following a glucose challenge test identify a high risk pregnancy?. Reprod Health. 2009 Jul 14. 6:10. [Medline]. [Full Text].

Hughes S. Pain Med Linked to Hypoglycemia. Medscape Medical News. Dec 11 2014. [Full Text].

Fournier JP, Azoulay L, Yin H, et al. Tramadol Use and the Risk of Hospitalization for Hypoglycemia in Patients With Noncancer Pain. JAMA Intern Med. 2014 Dec 8. [Medline].

Eriksson JW, Bodegard J, Nathanson D, Thuresson M, Nystrom T, Norhammar A. Sulphonylurea compared to DPP-4 inhibitors in combination with metformin carries increased risk of severe hypoglycemia, cardiovascular events, and all-cause mortality. Diabetes Res Clin Pract. 2016 Jul. 117:39-47. [Medline].

Gautier JF, Monguillon P, Verier-Mine O, et al. Which oral antidiabetic drug to combine with metformin to minimize the risk of hypoglycemia when initiating basal insulin?: A randomized controlled trial of a DPP4 inhibitor versus insulin secretagogues. Diabetes Res Clin Pract. 2016 Jun. 116:26-8. [Medline].

Hill NR, Thompson B, Bruce J, et al. Glycaemic risk assessment in children and young people with Type 1 diabetes mellitus. Diabet Med. 2009 Jul. 26(7):740-3. [Medline].

Turnbull FM, Abraira C, Anderson RJ, et al. Intensive glucose control and macrovascular outcomes in type 2 diabetes. Diabetologia. 2009 Aug 5. [Medline].

Prolonged Nocturnal Hypoglycemia Is Common During 12 Months Of Continuous Glucose Monitoring In Children And Adults With Type 1 Diabetes. Diabetes Care. 2010 Mar 3. [Medline]. [Full Text].

Swinnen SG, Dain MP, Aronson R, et al. A 24-week, randomized, treat-to-target trial comparing initiation of insulin glargine once-daily with insulin detemir twice-daily in patients with type 2 diabetes inadequately controlled on oral glucose-lowering drugs. Diabetes Care. 2010 Mar 3. [Medline].

Ito T, Otsuki M, Igarashi H, et al. Epidemiological Study of Pancreatic Diabetes in Japan in 2005: A Nationwide Study. Pancreas. 2010 Feb 22. [Medline].

Chen L. A literature review of intensive insulin therapy and mortality in critically ill patients. Clin Nurse Spec. 2010 Mar-Apr. 24(2):80-6. [Medline].

Garza H. Minimizing the risk of hypoglycemia in older adults: a focus on long-term care. Consult Pharm. 2009 Jun. 24 Suppl B:18-24. [Medline].

Boucai L, Southern WN, Zonszein J. Hypoglycemia-associated Mortality Is Not Drug-associated but Linked to Comorbidities. Am J Med. 2011 Nov. 124(11):1028-35. [Medline]. [Full Text].

Feil DG, Rajan M, Soroka O, et al. Risk of hypoglycemia in older veterans with dementia and cognitive impairment: implications for practice and policy. J Am Geriatr Soc. 2011 Dec. 59(12):2263-72. [Medline].

Lin YY, Hsu CW, Sheu WH, Chu SJ, Wu CP, Tsai SH. Use of therapeutic responses to glucose replacement to predict glucose patterns in diabetic patients presenting with severe hypoglycaemia. Int J Clin Pract. 2009 Aug. 63(8):1161-6. [Medline].

Egi M, Bellomo R, Stachowski E, et al. Hypoglycemia and outcome in critically ill patients. Mayo Clin Proc. 2010 Mar. 85(3):217-24. [Medline]. [Full Text].

New Guidelines Stress Hypoglycemia Affects All Diabetics. Medscape Medical News. Available at http://www.medscape.com/viewarticle/802949?nlid=30763_1621. Accessed: May 2, 2013.

Seaquist ER, Anderson J, Childs B, Cryer P, Dagogo-Jack S, Fish L, et al. Hypoglycemia and diabetes: a report of a workgroup of the american diabetes association and the endocrine society. Diabetes Care. 2013 May. 36(5):1384-95. [Medline]. [Full Text].

Goh HK, Chew DE, Miranda IG, Tan L, Lim GH. 24-Hour observational ward management of diabetic patients presenting with hypoglycaemia: a prospective observational study. Emerg Med J. 2009 Oct. 26(10):719-23. [Medline].

Goto A, Arah OA, Goto M, Terauchi Y, Noda M. Severe hypoglycaemia and cardiovascular disease: systematic review and meta-analysis with bias analysis. BMJ. 2013 Jul 29. 347:f4533. [Medline].

Lowry F. Severe Hypoglycemia Boosts CVD Risk in Type 2 Diabetes. Medscape Medical News. Available at http://www.medscape.com/viewarticle/808863. Accessed: August 12, 2013.

McMahon MM, Nystrom E, Braunschweig C, Miles J, Compher C. A.S.P.E.N. clinical guidelines: nutrition support of adult patients with hyperglycemia. JPEN J Parenter Enteral Nutr. 2013 Jan. 37(1):23-36. [Medline].

Sinert R, Su M, Secko M, Zehtabchi S. The utility of routine laboratory testing in hypoglycaemic emergency department patients. Emerg Med J. 2009 Jan. 26(1):28-31. [Medline].

Kong AP, Chan JC. Hypoglycemia and Comorbidities in Type 2 Diabetes. Curr Diab Rep. 2015 Oct. 15 (10):646. [Medline].
Medscape Reference © 2011 WebMD, LLC