Overview
Background
First described by Gass in 1968, acute posterior multifocal placoid pigment epitheliopathy (APMPPE) is an acquired inflammatory disorder affecting the retina, retinal pigment epithelium, and choroid of otherwise young healthy adults. [1] The disease is self-limited and is characterized by multiple yellow-white placoid subretinal lesions of the posterior pole, as shown below. The lesions are frequently bilateral and in various stages of evolution, typically resolving in weeks to months and leaving circumscribed areas of retinal pigment epithelial disturbance.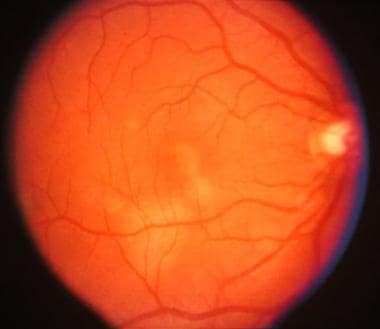 Posterior pole of right eye. Early acute posterior multifocal placoid pigment epitheliopathy lesion shows yellowish-white placoid lesion involving the macula and an area just inferior temporal to the macula.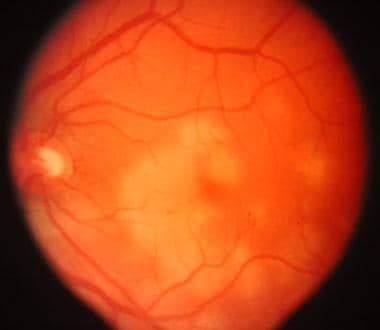 Posterior pole of left eye of same patient showing acute posterior pole placoid lesion.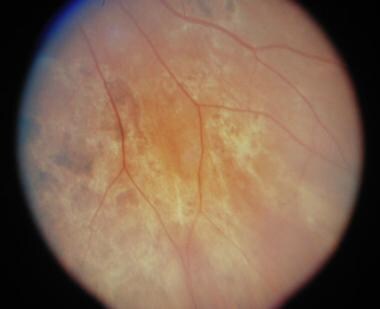 Inferior nasal of right eye of the same patient approximately 2 months later, showing scattered areas of retinal pigment epithelium atrophy and hyperplasia.
Visual acuity may be affected significantly if the macula is involved, but recovery is the rule with or without systemic therapy, with 80% of those eyes affected achieving a visual acuity of 20/40 or better. The cause is unknown but believed to be a hypersensitivity-induced vasculitis involving not only terminal choroidal lobules but also diffuse systemic large and small vessels.
Pathophysiology
The pathophysiology of APMPPE is somewhat speculative, but the basic underlying mechanism is believed to be an obstructive vasculitis, causing nonperfusion of the terminal choroidal lobules in the posterior pole of the eye and inducing secondary ischemic injury of the overlying retinal pigment epithelium and neuroreceptors, which may be partially transient in nature with variable recovery of function.
Other findings suggestive of vasculitis include episcleritis, erythema nodosum, microvascular nephropathy, thyroiditis, optic neuritis, labyrinthitis, hearing loss, and cerebral angiitis. Meningoencephalitis occasionally has been observed.
Epidemiology
Frequency
United States
The incidence and prevalence of APMPPE is unknown. However, since the landmark description of Gass, APMPPE has been reported frequently and widely from ophthalmic centers, primarily in the United States and Western Europe. Most US patients reported in the literature reside in the northern and midwestern states.
International
Reports in the international literature have included patients from northwestern European countries, such as England, Scotland, France, Belgium, the Netherlands, and Denmark. Several reports have originated from Japan. Reports from other geographic areas have been sparse.
Mortality/Morbidity
APMPPE usually affects healthy adults, and, other than ocular involvement, systemic manifestations are relatively uncommon. When they do occur, many systemic manifestations are usually mild and transient in nature; however, the presence of cerebral vasculitis has been associated with permanent neurologic sequelae, such as hemiparesis and even death from intracerebral edema and brain herniation in rare instances.
Race
Almost 80% of the recorded cases include whites, with the remainder being Japanese, African American, Nepalese, and from the Indian subcontinent. Whether this racial distribution represents a predilection of APMPPE for whites or a reporting bias is unclear.
Sex
Earlier reports of APMPPE suggested a slight preponderance of women with this disease, but more recent publications suggest no sexual predilection, with equal frequency between both men and women.
Age
The mean age of onset is approximately 27 years. The documented age range of onset is 7-66 years. The most frequent age range of occurrence of APMPPE is in those patients aged 16-40 years, representing approximately 85% of cases. About 50% of patients present in the third decade of life.
What would you like to print?