Iodine Deficiency Workup
Author: Stephanie L Lee, MD, PhD; Chief Editor: George T Griffing, MD more...
Updated: Dec 16, 2015
What would you like to print?
Approach Considerations
There has been particular interest in monitoring iodine sufficiency in pregnant women and school-aged children. These populations are important, because they are easily accessible and are particularly vulnerable to the adverse effects caused by iodine deficiency.
Surveillance techniques to monitor iodine sufficiency in a population include assessment of thyroid volume, urinary iodine concentration, dried whole-blood spot thyroglobulin (Tg) levels, and dietary questionnaires; the last method is the least reliable. No test that can reliably diagnose iodine deficiency in individual patients is available.
Results from thyroid function studies are usually within the reference range in the presence of mild iodine insufficiency. However, in patients with euthyroidism and iodine deficiency, serum TSH levels may be normal to increased, T3 levels may be normal or slightly elevated, and T4 levels may be normal or decreased. Only in very extreme iodine deficiency does hypothyroidism develop, accompanied by an elevated serum TSH value and decreased T3 and T4 levels.
Population studies have shown that newborns with iodine deficiency disorder (IDD) have elevated TSH levels at birth that normalize when evaluated again several weeks later. The extent of their transient hypothyroidism correlates with the severity of the iodine deficiency.
Measurement of a dried whole-blood spot level of Tg can be a useful indicator of the thyroid function in children and may be a more sensitive early measure of iodine repletion than serum TSH or thyroxine (T4).[18] International reference standards have recently been established for serum thyroglobulin values in school-aged children.[19] Current limitations to the use of dried blood spot Tg measurements include assay complexity and the unknown utility of measuring antithyroglobulin antibody levels in children.
Imaging studies
The 24-hour radioactive iodine uptake value is increased substantially in the presence of iodine deficiency disorder because of increased TSH stimulation and reduction in the nonisotopic iodine pool. Therefore, thyroid uptake values in iodine-sufficient areas, such as the United States, are significantly lower than in areas with iodine deficiency, as in many regions of Europe.
Thyroid size estimated on ultrasonograms has been shown to reflect the iodine sufficiency of a population. When goiter appears in more than 5% of a regional population, iodine deficiency should be considered.[20]
Urinary Iodine Evaluation
The kidneys excrete approximately 90% of ingested iodine. Therefore, the best diagnostic test to identify IDD in a population is a median 24-hour urine iodine collection. If a 24-hour urine collection is not practical, a random urinary iodine-to-creatinine ratio can be used instead. In this case, a median of 50-100 mcg of iodine per liter is consistent with mild iodine deficiency, 20-49 mcg of iodine per liter is consistent with moderate deficiency, and less than 20 mcg of iodine per liter is consistent with severe deficiency.
Histologic Findings
In young patients with iodine deficiency, the usual finding is diffuse hyperplasia of the thyroid gland. Histologically, extreme hyperplasia can be seen with little or no colloid, as shown in the image below.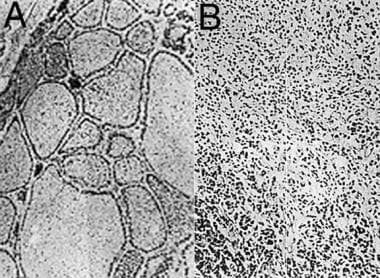 Histologic sections from a normal thyroid and from an endemic goiter that was removed because of compressive symptoms. The normal thyroid (A) contains thyroid cells arranged in a monolayered sheet around a storage form of thyroid hormone, colloid, while the endemic goiter (B) shows intense hyperplasia with no colloid. Image courtesy of F. DeLange.
With aging, the diffuse goiter of iodine deficiency becomes more nodular. Histologically, the nodular goiter develops from areas of hyperplasia separated by areas of degeneration and fibrosis. In older patients, the thyroid gland tends to be extremely heterogeneous, with colloid-containing vesicles, hyperplastic areas, degenerating areas, and fibrosis.
References
Zimmermann MB, Jooste PL, Pandav CS. Iodine-deficiency disorders. Lancet. 2008 Oct 4. 372 (9645):1251-62. [Medline].

Pearce EN, Andersson M, Zimmermann MB. Global iodine nutrition: Where do we stand in 2013?. Thyroid. 2013 May. 23(5):523-8. [Medline].

Liu L, Wang D, Liu P, Meng F, Wen D, Jia Q, et al. The relationship between iodine nutrition and thyroid disease in lactating women with different iodine intakes. Br J Nutr. 2015 Sep 14. 1-9. [Medline].

Zimmermann MB. Iodine deficiency in pregnancy and the effects of maternal iodine supplementation on the offspring: a review. Am J Clin Nutr. 2009 Feb. 89(2):668S-72S. [Medline].

WHO Secretariat, Andersson M, de Benoist B, Delange F, Zupan J. Prevention and control of iodine deficiency in pregnant and lactating women and in children less than 2-years-old: conclusions and recommendations of the Technical Consultation. Public Health Nutr. 2007 Dec. 10(12A):1606-11. [Medline].

Delange F. Optimal iodine nutrition during pregnancy, lactation and neonatal period. Int J Endocrinol Metab. 2004. 89:3851.

Azizi F, Smyth P. Breastfeeding and maternal and infant iodine nutrition. Clin Endocrinol (Oxf). 2009 May. 70(5):803-9. [Medline].

Pearce EN, Pino S, He X, Bazrafshan HR, Lee SL, Braverman LE. Sources of dietary iodine: bread, cows' milk, and infant formula in the Boston area. J Clin Endocrinol Metab. 2004 Jul. 89(7):3421-4. [Medline].

Hollowell JG, Staehling NW, Hannon WH, et al. Iodine nutrition in the United States. Trends and public health implications: iodine excretion data from National Health and Nutrition Examination Surveys I and III (1971-1974 and 1988-1994). J Clin Endocrinol Metab. 1998 Oct. 83(10):3401-8. [Medline]. [Full Text].

Caldwell KL, Jones R, Hollowell JG. Urinary iodine concentration: United States National Health And Nutrition Examination Survey 2001-2002. Thyroid. 2005 Jul. 15(7):692-9. [Medline].

Caldwell KL, Miller GA, Wang RY, Jain RB, Jones RL. Iodine status of the U.S. population, National Health and Nutrition Examination Survey 2003-2004. Thyroid. 2008 Nov. 18(11):1207-14. [Medline].

Caldwell KL, Pan Y, Mortensen ME, Makhmudov A, Merrill L, Moye J. Iodine status in pregnant women in the National Children's Study and in U.S. women (15-44 years), National Health and Nutrition Examination Survey 2005-2010. Thyroid. 2013 Aug. 23(8):927-37. [Medline].

Zimmermann MB, Aeberli I, Torresani T, et al. Increasing the iodine concentration in the Swiss iodized salt program markedly improved iodine status in pregnant women and children: a 5-y prospective national study. Am J Clin Nutr. 2005 Aug. 82(2):388-92. [Medline]. [Full Text].

Bath SC, Steer CD, Golding J, Emmett P, Rayman MP. Effect of inadequate iodine status in UK pregnant women on cognitive outcomes in their children: results from the Avon Longitudinal Study of Parents and Children (ALSPAC). Lancet. 2013 Jul 27. 382(9889):331-7. [Medline].

Williams GR. Neurodevelopmental and neurophysiological actions of thyroid hormone. J Neuroendocrinol. 2008 Jun. 20(6):784-94. [Medline].

Zimmermann MB, Wegmuller R, Zeder C, et al. Rapid relapse of thyroid dysfunction and goiter in school-age children after discontinuation of salt iodization. Am J Clin Nutr. 2004 Apr. 79(4):642-5. [Medline]. [Full Text].

Santiago-Fernandez P, Torres-Barahona R, Muela-Martínez JA, et al. Intelligence quotient and iodine intake: a cross-sectional study in children. J Clin Endocrinol Metab. 2004 Aug. 89(8):3851-7. [Medline]. [Full Text].

Zimmermann MB, Moretti D, Chaouki N, et al. Development of a dried whole-blood spot thyroglobulin assay and its evaluation as an indicator of thyroid status in goitrous children receiving iodized salt. Am J Clin Nutr. 2003 Jun. 77(6):1453-8. [Medline]. [Full Text].

Zimmermann MB, Aeberli I, Andersson M, Assey V, Yorg JA, Jooste P. Thyroglobulin is a sensitive measure of both deficient and excess iodine intakes in children and indicates no adverse effects on thyroid function in the UIC range of 100-299 µg/L: a UNICEF/ICCIDD study group report. J Clin Endocrinol Metab. 2013 Mar. 98(3):1271-80. [Medline].

Krejbjerg A, Pedersen IB, Laurberg P. Can Elastography Predict Growth of Incidental Thyroid Nodules? A Pilot Two-Year Follow-Up Study. Ultrason Imaging. 2015 Sep 7. [Medline].

Zimmermann MB. Iodine requirements and the risks and benefits of correcting iodine deficiency in populations. J Trace Elem Med Biol. 2008. 22(2):81-92. [Medline].

Cerqueira C, Knudsen N, Ovesen L, et al. Association of iodine fortification with incident use of anti-thyroid medication - A Danish nationwide study. J Clin Endocrinol Metab. 2009 Apr 14. [Medline].

Leung AM, Lamar A, He X, Braverman LE, Pearce EN. Iodine status and thyroid function of Boston-area vegetarians and vegans. J Clin Endocrinol Metab. 2011 Aug. 96(8):E1303-7. [Medline]. [Full Text].

Zimmermann MB, Boelaert K. Iodine deficiency and thyroid disorders. Lancet Diabetes Endocrinol. 2015 Apr. 3 (4):286-95. [Medline].
Table.
Iodine Deficiency
None
Mild
Moderate
Severe
Median urine iodine, mcg/L
>100
50-99
20-49
< 20
Goiter prevalence
< 5%
5-20%
20-30%
>30%
Neonatal thyroid-stimulating hormone (TSH),



>5 IU/mL whole blood




< 3%
3-20%
20-40%
>40%
Cretinism
0
0
+
+
Adapted from the World Health Organization (WHO)/United Nations Children's Fund (UNICEF)/International Council for Control of Iodine Deficiency Disorders (ICCIDD).
Medscape Reference © 2011 WebMD, LLC