Valsalva Retinopathy Clinical Presentation
Author: Robert S Duszak, OD, FAAO; Chief Editor: Hampton Roy, Sr, MD  more...
Updated: Oct 13, 2014
What would you like to print?
History
Individuals with a history of vascular disease, such as diabetes, hypertension, sickle cell disease, anemia, idiopathic thrombocytopenic purpura, or other blood dyscrasias, and those with a history of ocular venous occlusions are at increased risk for retinopathy to occur following a Valsalva maneuver.[8, 9, 10]
Patients with Valsalva retinopathy initially present after recently performing a Valsalva maneuver. The severity of the Valsalva maneuver is not directly correlated with the severity of Valsalva retinopathy.

Patients present with unilateral or bilateral manifestations, generally within 2 days after onset.

Patients may complain of floating spots, cloudy or hazy vision, a reddish tinge over their vision, or a complete loss of vision.
Physical
See the list below:
Overall signs of regurgitation of blood at the capillary level include subconjunctival hemorrhages and skin petechia in the head and neck region.

A dilated ocular examination with special attention to visual acuity and pupil testing and a thorough evaluation of the anterior and posterior segments of the eye are recommended.

Ocular findings are classically described as preretinal hemorrhages, although vitreous hemorrhages have been reported.
Valsalva retinopathy has a predilection for the macula. Often, the ruptured vessels in the perifoveal capillaries cause a sudden and painless loss of central vision.
Retinal edema, ranging from barely recognizable localized edema to marked edematous patches, edematous transudates, and superficial intraretinal hemorrhages, is not uncommon.
A glistening light reflex reflected from the retina's internal limiting membrane can often be observed overlying the hemorrhage.
Hemorrhages are not associated with retinal, choroidal, or systemic disease, but they have a higher incidence in individuals with predisposing risk factors, such as diabetes, hypertension, sickle cell disease, anemia, idiopathic thrombocytopenic purpura, or other blood dyscrasias, and in individuals with previous episodes of ocular venous occlusions.
Ocular findings are dependent on both the magnitude of the compressive force and the status of the retinal vessels. Hemorrhages usually vary in size from a punctate spot to one half a disc diameter in size, although a larger hemorrhage encompassing several disc diameters may be observed.
Causes
Valsalva retinopathy occurs following a Valsalva maneuver. Reported causes of a Valsalva maneuver include straining and physical activities, most commonly during the following: coughing, weight lifting, vomiting, bungee jumping, aerobic exercise, sexual activity, end-stage labor, colonoscopy procedures, fiberoptic gastroenteroscopy, constipation, blowing musical instruments, and compressive injuries.[11, 12, 13, 14, 15, 16, 17, 18, 19, 20, 21, 22] See the image below.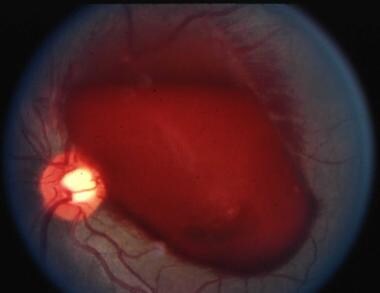 A large preretinal hemorrhage in a 42-year-old man following a Valsalva maneuver. This image was taken 2 days after he underwent heavy straining while lifting weights.
This 58-year-old man with uncontrolled diabetes presented with complaints of a spot in his vision following straining during a bowel movement. He had active proliferative diabetic retinopathy, and the hemorrhage shown in this image stems from a broken neovascularized blood vessel secondary to a Valsalva maneuver.
Medscape Reference © 2011 WebMD, LLC