Valsalva Retinopathy
Author: Robert S Duszak, OD, FAAO; Chief Editor: Hampton Roy, Sr, MD more...
Updated: Oct 13, 2014
What would you like to print?
Background
Valsalva retinopathy was first described in 1972 by Thomas Duane as "a particular form of retinopathy, pre-retinal and hemorrhagic in nature, secondary to a sudden increase in intrathoracic pressure."[1]
Immediately following a Valsalva maneuver, a sudden rise in intraocular venous pressure causes retinal capillaries to spontaneously rupture. The prognosis for Valsalva retinopathy is generally good, with newer treatment modalities speeding recovery time. See the images below.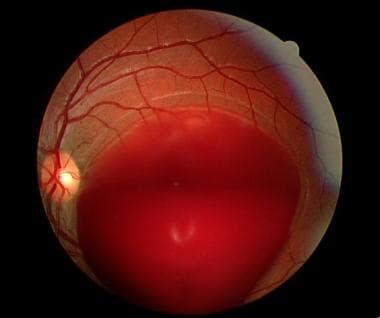 Initial presentation of a Valsalva retinopathy less than 24 hours following a Valsalva maneuver in an 18-year-old man. Note the large preretinal hemorrhage. Vision was finger counting at 5 feet.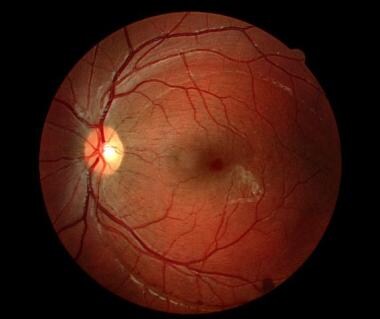 At 4-month follow-up of the same patient as in the image above, most of the large preretinal hemorrhage had cleared with observation alone. Note the wrinkled internal limiting membrane temporal to the macula and the resolving hemorrhage at the edge of the demarcation line of the stretched internal limiting membrane inferiorly. Vision had returned to 20/20.
Pathophysiology
Increasing intrathoracic pressure against a closed glottis diminishes venous return to the heart, decreasing stroke volume and subsequently increasing the venous system pressure.[2, 3, 4, 5, 6]
The process occurs in 4 separate and distinct phases. First, a sudden increase in intrathoracic pressure decreases venous return to the right side of the heart. Second, diminished cardiac filling lowers the mean arterial pressure, slowing the pulse, leading to reflex tachycardia and peripheral vasoconstriction. Third, release of the strain causes a prompt reduction in the intrathoracic pressure, further lowering the blood pressure and simultaneously increasing the cardiac pressure. Finally, an abrupt increase in blood pressure occurs as venous blood surges back to the heart, inducing reflex bradycardia.
During a Valsalva maneuver, blood pressure in the peripheral portions of the body increases rapidly. As the sudden rise in intraocular venous pressure occurs, a spontaneous rupture of retinal capillaries ensues.
Epidemiology
Frequency
United States
The incidence of Valsalva retinopathy in the United States has not been reported.
International
Worldwide incidence has not been reported.
Mortality/Morbidity
Unilateral manifestations are most commonly seen, but bilateral findings have been reported.
Decreased vision occurs in the affected eyes, ranging from complaints of floating spots to complete loss of central vision. Vision often improves over weeks to months, depending on the severity of the retinal findings.
Race
No racial predilection exists.
Sex
No sexual predilection exists.
Age
Any age can be affected.[7]
Medscape Reference © 2011 WebMD, LLC