Lateral Humeral Condyle Fracture Treatment & Management
Author: Janos P Ertl, MD; Chief Editor: Harris Gellman, MD more...
Updated: Feb 10, 2016
What would you like to print?
Approach Considerations
Operative management is essential for all displaced fractures and in those demonstrating joint instability or the potential for delayed joint instability.
Stage I, or type I, lateral condyle fractures with less than 2 mm of displacement may be treated with immobilization. If there is a question of stability or the possibility of delayed displacement in these type I fractures, percutaneous pinning is recommended. If the degree of fracture displacement is questioned, anatomic reduction and surgical stabilization are needed. Open reduction is indicated for all displaced type II and type III fractures.
With prompt and appropriate treatment and a satisfactory reduction, good results may be expected with full elbow range of motion (ROM).
Nonoperative Management
Stage I fractures with less than 2 mm of displacement may be treated with immobilization. Maintain cast immobilization for 3-4 weeks at 90° of flexion and forearm supination. Close follow-up is necessary because of the high incidence of late displacement and subsequent malunion. Obtain follow-up radiographs with the arm out of plaster for better fracture evaluation and assessment of possible displacement.
If any question remains regarding joint stability or the possibility of delayed displacement, perform closed pinning.
Fractures that are not greatly displaced and are identified after a delay longer than 3 weeks should not undergo surgical intervention. Healing has progressed to a point where extensive dissection would be required to achieve reduction, leading to a high incidence of avascular necrosis (AVN) of the lateral condyle. If fracture identification is delayed by 6 weeks or longer, continue closed treatment regardless of displacement.
Operative Management
Operative management is required in type I fractures that demonstrate delayed displacement or instability. Fragment stabilization is most frequently performed through percutaneous placement of two smooth Kirschner wires (K-wires).[15, 16] Open reduction and fragment stabilization are required for all type II and III fracture patterns.[17]
Procedural details
With operative treatment, an anatomic reduction should be achieved. An anterior approach is utilized to avoid the posterior vascular pedicle to the fracture fragment. This is important to avoid AVN of the fragment.
Before performing an open reduction, make a preoperative plan.
Place the patient supine on the operating table; place a tourniquet. Use a radiolucent hand table. Ensure C-arm availability. Mark the anatomic landmarks.
With the anterolateral approach, the incision is 1 cm anterior to the lateral superior condylar ridge. Identify the fracture tear through the brachioradialis (anterior), the extensor carpi radialis (posterior), or both. Irrigate the fracture, and remove any hematoma from the fracture site so as to facilitate reapproximation. Reduce the fracture.
Place the smooth K-wires percutaneously under fluoroscopic control (see the image below). The pins should engage the opposite cortex.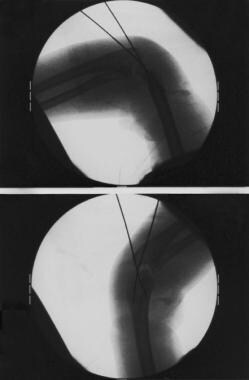 Intraoperative fluoroscopic radiograph of Kirschner-wire fixation of lateral condyle fracture.
Deflate the tourniquet, and achieve hemostasis. Suture the periosteal flap into place to prevent lateral spur formation and pseudo cubitus varus. Close the wound with absorbable suture. Bend the pins. Apply a long arm splint with the arm in supination.
Elevate the operated extremity above the heart level, and apply ice to the splint at the fracture site. A sling may be applied for support and comfort.
Arthroscopic approaches
Arthroscopic-assisted reduction with internal fixation offers direct visualization of the articular fragment, ensuring articular congruity, and percutaneous fixation avoids an extended dissection. This option provides a more biologic approach to treatment of this fracture.[18] Cross-training in arthroscopic techniques and fracture management is necessary.[19, 20, 21]
Complications
Complications of lateral condylar fracture management include the following:
Lateral condylar overgrowth or spur formation (30%)

Cubitus varus

Nonunion

Malunion

Valgus angulation

Ulnar nerve palsy

AVN
These complications are either biologic problems, arising from the healing process, or technical problems, arising from management errors.[22]
Biologic problems include lateral condylar overgrowth or spur, which is due to overgrowth of the avulsed periosteal flap from the proximal fragment. This spur may give the appearance of a cubitus varus (pseudovarus) and cause difficulty in patients with a small carrying angle. In general, it should not cause a cosmetic or functional problem. This overgrowth usually undergoes remodeling and disappears over time.
Cubitus varus occurs in approximately 42% of patients sustaining a lateral condylar fracture, regardless of treatment. The cause of cubitus varus is not clearly evident. However, it probably is due to lateral condylar physeal stimulation or to slight reduction incongruence. Deformities usually are mild, and surgical correction is not necessary.
Technical problems related to lateral condyle fracture treatment include delayed union, nonunion, and cubitus valgus. Delayed union of lateral condyle fractures usually occurs in patients treated nonsurgically. The elbow usually is not painful. The fragment usually is stable and undergoes uneventful union over time.
A nonunion is considered present if no healing is evident at 12 weeks following injury. This may be caused by the pull of the extensor musculature, inadequate fixation or stabilization (immobilization), and failure to recognize the fracture. When the fragment is nondisplaced and is diagnosed relatively early, treatment with a compression screw can be performed. If the nonunion is well established, exploration and removal of the interposed fibrous tissue is recommended, followed by insertion of one or two compression screws. Perform bone grafting if significant fragment separation exists. Definitive treatment can safely be delayed until the patient becomes symptomatic or reaches skeletal maturity.
Occasionally, a fishtail deformity of the distal humerus is seen because of the loss of ossific contact between the capitellum and trochlea. This results in a gap or a deficiency of the lateral trochlear buttress. This deformity usually does not result in any significant dysfunction and is treated nonoperatively.
A cubitus valgus deformity may occur if there is nonunion or malunion of a lateral condyle fracture. The deformity rarely is caused by lateral condylar epiphysiodesis. In simple valgus malunion cases, a medial closing wedge osteotomy is performed. In cases of angular deformity and nonunion, treatment is complex and difficult. Address and stabilize the nonunion, and perform a medial closing wedge osteotomy to correct the angular malalignment. This may be performed simultaneously, or it may be staged sequentially. Care must be given to the amount of dissection performed so as to avoid AVN of the lateral fragment.[23]
AVN of the lateral fragment in lateral condylar fractures is iatrogenic and most often occurs in cases treated late or in nonunions and delayed unions. This complication is the result of aggressive dissection during open reduction.
Acute neurologic injuries are rare. Tardy ulnar nerve palsy occurs late in the treatment and follow-up of lateral condyle fractures and usually is due to cubitus valgus. The average time for presentation of ulnar nerve neuropathy is 22 years following the fracture. This ulnar neuropathy can be treated with ulnar nerve transposition, cubital tunnel release, or medial epicondylectomy.
Myositis ossificans may occur, albeit rarely.
Long-Term Monitoring
Follow-up care is performed at 7 days with anteroposterior (AP) and lateral radiographs, with the arm out of plaster, to assess maintenance of reduction. A long arm cast is applied in supination. The patient then is seen at 3-4 weeks postoperatively, and the K-wires are removed. Physical therapy is initiated, and gentle active ROM is begun. The patient is next seen at 6 weeks, and AP and lateral radiographs are obtained. Return to full activity is allowed once the fracture is healed radiographically.[24, 25, 26]
Medscape Reference © 2011 WebMD, LLC