Kohler Disease Workup
Author: Bernardo Vargas, MD; Chief Editor: Anthony E Johnson, MD more...
Updated: Jul 26, 2016
What would you like to print?
Imaging Studies
Radiography is indicated in the workup of Köhler disease (see the first image below). The lateral view shows a flat tarsal scaphoid (see the second image below). The space between the talus and the cuneiforms is not decreased. Frequently, there is an irregular ossification of the tarsal navicular bone or radiologic changes that resemble Köhler disease, but the diagnosis must not be made in the absence of clinical signs.[9, 10]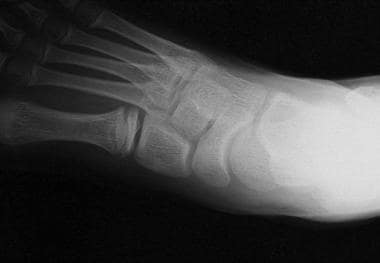 Radiograph from 16-year-old patient who had Köhler disease. Normal x-rays at adulthood are the rule for Köhler disease.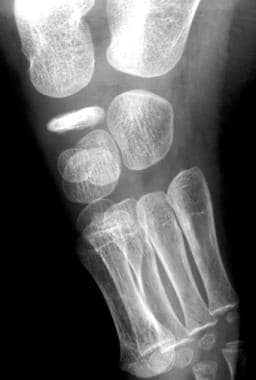 Radiograph from patient with Köhler disease. Image is typical for this disease. Note flat aspect of tarsal scaphoid.
Bone scanning reveals decreased uptake of radionuclide in the right midtarsal area.[11] This study is not necessary for the diagnosis. In view of the radiation dose involved in nuclear medicine imaging, coupled with the limited diagnostic and prognostic benefit, bone scans should be considered contraindicated for the evaluation of this condition.[12]
If pain persists for 6 months after appropriate treatment to include casting, magnetic resonance imaging (MRI) or computed tomography (CT) should be considered for the purpose of excluding a tarsal coalition.[13]
References
Kohler A. Uben eine häubige bisher ansheinend unbekannte Erkrankung einzelner kindlicher Knochen Verh deutsch Röntg-Ges 1908;4:110.

DiGiovanni CW, Patel A, Calfee R, Nickisch F. Osteonecrosis in the foot. J Am Acad Orthop Surg. 2007 Apr. 15(4):208-17. [Medline].

Khan AQ, Sherwani MA, Gupta K, Siddiqui YS, Hali NZ. Kohler's disease. Saudi Med J. 2008 Sep. 29(9):1357-8. [Medline].

Waugh W. The ossification and vascularisation of the tarsal navicular and their relation to Köhler's disease. J Bone Joint Surg Br. 1958 Nov. 40-B(4):765-77. [Medline]. [Full Text].

Dharamsi AS, Carl RL. Bilateral osteochondrosis of the primary patellar ossification centers in a young athlete: a case report. Clin J Sport Med. 2014 Jan. 24(1):80-2. [Medline].

Köhler disease. National Organization for Rare Disorders. Available at http://http://rarediseases.org/rare-diseases/kohler-disease. 2004; Accessed: July 23, 2016.

Tsirikos AI, Riddle EC, Kruse R. Bilateral Köhler's disease in identical twins. Clin Orthop Relat Res. 2003 Apr. 195-8. [Medline].

Borges JL, Guille JT, Bowen JR. Köhler's bone disease of the tarsal navicular. J Pediatr Orthop. 1995 Sep-Oct. 15(5):596-8. [Medline].

Berard J, Fournet-Fayard J. [Idiopathic ostonecrosis of the scaphoid tarsal bone (Köhler's second disease)] [French]. Rev Rhum Mal Osteoartic. 1983 Feb. 50(2):163-5. [Medline].

Williams GA, Cowell HR. Köhler's disease of the tarsal navicular. Clin Orthop Relat Res. 1981 Jul-Aug. 158:53-8. [Medline].

Khoury J, Jerushalmi J, Loberant N, Shtarker H, Militianu D, Keidar Z. Kohler disease: diagnoses and assessment by bone scintigraphy. Clin Nucl Med. 2007 Mar. 32(3):179-81. [Medline].

Wall BF, Hart D. Revised radiation doses for typical X-ray examinations. Report on a recent review of doses to patients from medical X-ray examinations in the UK by NRPB. National Radiological Protection Board. Br J Radiol. 1997 May. 70 (833):437-9. [Medline].

Gips S, Ruchman RB, Groshar D. Bone imaging in Kohler's disease. Clin Nucl Med. 1997 Sep. 22(9):636-7. [Medline].

Ertel AN, O'Connell FD. Talonavicular coalition following avascular necrosis of the tarsal navicular. J Pediatr Orthop. 1984 Aug. 4(4):482-4. [Medline].

Ippolito E, Ricciardi Pollini PT, Falez F. Köhler's disease of the tarsal navicular: long-term follow-up of 12 cases. J Pediatr Orthop. 1984 Aug. 4(4):416-7. [Medline].

Ramachandran KR, Sasidharan K, Kusumakumary P, Ittiyavirah AK, Krishnakumar AS. Osteochondritis of the tarsal navicular bone (Kohler's disease) occurring in a child with acute lymphoblastic leukemia. Indian J Radiol Imaging. 1999. 9:153-4.
Medscape Reference © 2011 WebMD, LLC