Bunionette Workup
Author: Christopher Brown, MBBS, FRCSC, FRACS, FAOrthA; Chief Editor: Vinod K Panchbhavi, MD, FACS more...
Updated: Apr 07, 2016
What would you like to print?
Laboratory Studies
Obtain standard preoperative hematology tests. Investigation of arthropathy or diabetes also may be necessary. Cultures may be obtained for infected lesions. More accurate bacteriologic diagnoses of infected lesions are obtained from operative specimens.
Imaging Studies
Obtain standing weightbearing views of both feet. These films should be recent, especially in rheumatoid and arthropathic cases. Deformities can be classified into three types on the basis of their appearance on plain films, as follows:
A type 1 lesion has an enlarged head as an isolated lesion (see the first image below)

A type 2 lesion has an abnormal lateral bowing of the fifth metatarsal (MT; see the second image below)

A type 3 lesion has a 4-5 intermetatarsal angle (IMA) in excess of the normal 6º-8° (see the third image below)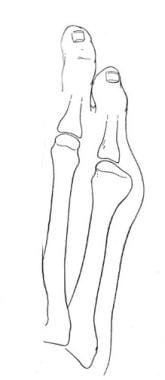 Type 1 bunionette. Note enlarged head without marked angulation.

Type 2 bunionette. Note abnormal bowing of metatarsal and secondary angulation of metatarsophalangeal joint.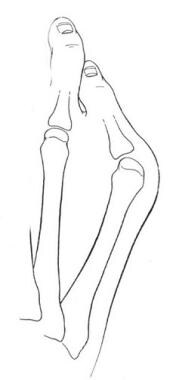 Type 3 bunionette. Note increased angle between fourth and fifth metatarsals. Angulation at metatarsophalangeal joint is secondary to medial pressure on phalanx.
Attenuation of the intermetatarsal ligament between the fourth and fifth MT shafts usually is found in type 2 and 3 lesions. Type 1 bunionettes with an enlarged head may not have significant capsular attenuation, and they do not necessarily have increased IMAs or even angulation at the metatarsophalangeal (MTP) joint (MTPJ).
In a retrospective comparative study of 112 feet with symptomatic deformity and 123 asymptomatic control feet, Shimobayashi et al described the use of a radiographic image-mapping system to analyze the morphologic characteristics of the entire foot, including forefoot width and splaying of all MTs, rather than focusing solely on the fourth and fifth MTs.[6] They suggested that this broader analytic approach would be useful in planning surgery.
Vascular studies are prudent in patients with questionable vascularity.
Staging
Aside from the pathoanatomic classification (see Imaging Studies), no specific staging classifications for the lesion exist. Some authors have categorized the deformity as either mild or severe, but no indication is given to define the limits used.
References
Davies H. Metatarsus quintus valgus. Br Med J. 1949. 1:664-5.

Ajis A, Koti M, Maffulli N. Tailor's bunion: a review. J Foot Ankle Surg. 2005 May-Jun. 44(3):236-45. [Medline].

Cooper PS. Disorders and deformities of the lesser toes. In: Myerson M, ed. Foot and Ankle Disorders. 2000:335-340.

Coughlin MJ. Etiology and treatment of the bunionette deformity. Instr Course Lect. 1990. 39:37-48. [Medline].

Cohen BE, Nicholson CW. Bunionette deformity. J Am Acad Orthop Surg. 2007 May. 15(5):300-7. [Medline].

Shimobayashi M, Tanaka Y, Taniguchi A, Kurokawa H, Tomiwa K, Higashiyama I. Radiographic Morphologic Characteristics of Bunionette Deformity. Foot Ankle Int. 2016 Mar. 37 (3):320-6. [Medline].

Laffenêtre O, Millet-Barbé B, Darcel V, Lucas Y Hernandez J, Chauveaux D. Percutaneous bunionette correction: results of a 49-case retrospective study at a mean 34 months' follow-up. Orthop Traumatol Surg Res. 2015 Apr. 101 (2):179-84. [Medline].

Legenstein R, Bonomo J, Huber W, Boesch P. Correction of tailor's bunion with the Boesch technique: a retrospective study. Foot Ankle Int. 2007 Jul. 28(7):799-803. [Medline].

Kitaoka HB, Holiday AD Jr, Campbell DC 2nd. Distal Chevron metatarsal osteotomy for bunionette. Foot Ankle. 1991 Oct. 12(2):80-5. [Medline].

Giannini S, Faldini C, Vannini F, Digennaro V, Bevoni R, Luciani D. The minimally invasive osteotomy "S.E.R.I." (simple, effective, rapid, inexpensive) for correction of bunionette deformity. Foot Ankle Int. 2008 Mar. 29(3):282-6. [Medline].

Vienne P, Oesselmann M, Espinosa N. Modified Coughlin procedure for surgical treatment of symptomatic tailor's bunion: a prospective followup study of 33 consecutive operations. Foot Ankle Int. 2006 Aug. 27(8):573-80. [Medline].

Weitzel S, Trnka HJ, Petroutsas J. Transverse medial slide osteotomy for bunionette deformity: long-term results. Foot Ankle Int. 2007 Jul. 28(7):794-8. [Medline].

Weil L Jr, Weil LS Sr. Osteotomies for bunionette deformity. Foot Ankle Clin. 2011 Dec. 16(4):689-712. [Medline].

Masquijo JJ, Willis BR, Kontio K, Dobbs MB. Symptomatic bunionette deformity in adolescents: surgical treatment with metatarsal sliding osteotomy. J Pediatr Orthop. 2010 Dec. 30(8):904-9. [Medline].

Guha AR, Mukhopadhyay S, Thomas RH. Reverse' scarf osteotomy for bunionette correction: Initial results of a new surgical technique. Foot Ankle Surg. 2012 Mar. 18(1):50-4. [Medline].

Magnan B, Samaila E, Merlini M, Bondi M, Mezzari S, Bartolozzi P. Percutaneous distal osteotomy of the fifth metatarsal for correction of bunionette. J Bone Joint Surg Am. 2011 Nov 16. 93(22):2116-22. [Medline].

Weil L Jr, Consul D. Fifth Metatarsal Osteotomies. Clin Podiatr Med Surg. 2015 Jul. 32 (3):333-53. [Medline].

Maher AJ, Kilmartin TE. Scarf osteotomy for correction of Tailor's bunion: mid- to long-term followup. Foot Ankle Int. 2010 Aug. 31 (8):676-82. [Medline].

Kitaoka HB, Holiday AD Jr. Lateral condylar resection for bunionette. Clin Orthop. 1992 May. (278):183-92. [Medline].

Radl R, Leithner A, Koehler W. The modified distal horizontal metatarsal osteotomy for correction of bunionette deformity. Foot Ankle Int. 2005 Jun. 26(6):454-7. [Medline].

Waizy H, Olender G, Mansouri F, Floerkemeier T, Stukenborg-Colsman C. Minimally Invasive Osteotomy for Symptomatic Bunionette Deformity Is Not Advisable for Severe Deformities: A Critical Retrospective Analysis of the Results. Foot Ankle Spec. 2012 Jan 31. [Medline].
Medscape Reference © 2011 WebMD, LLC