Turf Toe Workup
Author: Blake L Ohlson, MD; Chief Editor: Vinod K Panchbhavi, MD, FACS more...
Updated: Jun 13, 2016
What would you like to print?
Imaging Studies
Plain radiographs, including weightbearing anteroposterior (AP), lateral, and sesamoid axial views, are mandatory. Sesamoid impaction, avulsion, or diastasis may be observed on plain images.[14] Favinger et al, in a review of 671 foot radiograph series, concluded that in the appropriate clinical setting, sesamoid diastasis should be considered when the sesamoid interval in the bi- or multipartitie sesamoid of the hallux exceeds 2 mm on a routine AP radiograph.[15]
Contralateral views are highly recommended. These allow comparison of the sesamoid-to-joint distances on each side. The distal sesamoid-to-joint distance should be no greater than 3 mm (tibial) and 2.7 mm (fibular) when compared with those on the contralateral side. A separation of 10.4 mm or more on the tibial side or 13.3 mm on the fibular side is 99% predictive of rupture of the plantar plate.
A dorsiflexion stress view may provide additional clues in characterizing the injury. Joint subluxation, sesamoid migration, separation of a bipartite sesamoid bone, or disruption of the medial or lateral capsuloligamentous complex, as shown in the image below, is better depicted on a dorsiflexion stress radiograph.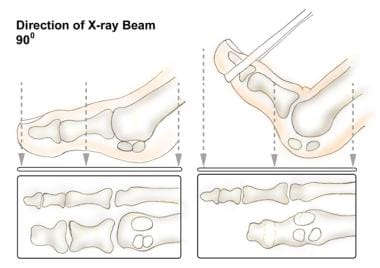 Typical method for obtaining stress radiograph.
Magnetic resonance imaging (MRI) is most often indicated in grade 2 and 3 injuries. T2-weighted sequences in particular can be of use in identifying soft-tissue injuries (eg, plantar plate disruption), as well as disruption of the articular surface.
Other Tests
Range-of-motion (ROM) testing is used to assess for instability, mechanical blockage, or hypermobility that may suggest tearing of the plantar plate.
Instability is assessed by performing a varus or valgus stress test and the dorsoplantar drawer test of the metatarsophalangeal (MTP) joint. Positive findings with the former suggest collateral ligament damage, whereas positive results with the latter suggest a plantar capsuloligamentous tear.
References
McCormick JJ, Anderson RB. The great toe: failed turf toe, chronic turf toe, and complicated sesamoid injuries. Foot Ankle Clin. 2009 Jun. 14(2):135-50. [Medline].

Crain JM, Phancao JP, Stidham K. MR imaging of turf toe. Magn Reson Imaging Clin N Am. 2008 Feb. 16(1):93-103, vi. [Medline].

Sanders TG, Rathur SK. Imaging of painful conditions of the hallucal sesamoid complex and plantar capsular structures of the first metatarsophalangeal joint. Radiol Clin North Am. 2008 Nov. 46(6):1079-92, vii. [Medline].

Kubitz ER. Athletic injuries of the first metatarsophalangeal joint. J Am Podiatr Med Assoc. 2003 Jul-Aug. 93(4):325-32. [Medline].

McCormick JJ, Anderson RB. Turf toe: anatomy, diagnosis, and treatment. Sports Health. 2010 Nov. 2(6):487-94. [Medline].

Coughlin MJ, Kemp TJ, Hirose CB. Turf toe: soft tissue and osteocartilaginous injury to the first metatarsophalangeal joint. Phys Sportsmed. 2010 Apr. 38(1):91-100. [Medline].

Brophy RH, Gamradt SC, Ellis SJ, Barnes RP, Rodeo SA, Warren RF, et al. Effect of turf toe on foot contact pressures in professional American football players. Foot Ankle Int. 2009 May. 30(5):405-9. [Medline].

Ryan AJ, Behling F, Garrick JG. Round table: artificial turf--pros and cons. Phys Sports Med. 1975. 3:41-50.

Bowers KD Jr, Martin RB. Turf-toe: a shoe-surface related football injury. Med Sci Sports. 1976. 8(2):81-3. [Medline].

Coker TP, Arnold JA, Weber DL. Traumatic lesions of the metatarsophalangeal joint of the great toe in athletes. Am J Sports Med. 1978 Nov-Dec. 6(6):326-34. [Medline].

Clanton TO, Butler JE, Eggert A. Injuries to the metatarsophalangeal joints in athletes. Foot Ankle. 1986 Dec. 7(3):162-76. [Medline].

George E, Harris AH, Dragoo JL, Hunt KJ. Incidence and risk factors for turf toe injuries in intercollegiate football: data from the national collegiate athletic association injury surveillance system. Foot Ankle Int. 2014 Feb. 35(2):108-15. [Medline].

Clanton TO, Ford JJ. Turf toe injury. Clin Sports Med. 1994 Oct. 13(4):731-41. [Medline].

Schein AJ, Skalski MR, Patel DB, White EA, Lundquist R, Gottsegen CJ, et al. Turf toe and sesamoiditis: what the radiologist needs to know. Clin Imaging. 2015 May-Jun. 39 (3):380-9. [Medline].

Favinger JL, Porrino JA, Richardson ML, Mulcahy H, Chew FS, Brage ME. Epidemiology and imaging appearance of the normal Bi-/multipartite hallux sesamoid bone. Foot Ankle Int. 2015 Feb. 36 (2):197-202. [Medline].

McCormick JJ, Anderson RB. Rehabilitation following turf toe injury and plantar plate repair. Clin Sports Med. 2010 Apr. 29(2):313-23, ix. [Medline].
Table 1. Classification Scheme for Tears of Capsuloligamentous Complex
| | | |
| --- | --- | --- |
| Grade | Resultant Injury | Associated Injury |
| 1 | Stretch injury or minor tearing of the capsuloligamentous complex of the first MTP joint | None |
| 2 | Partial tear of the capsuloligamentous complex of the first MTP joint without involvement of the articular surface | None |
| 3 | Complete tear of the capsuloligamentous complex; tearing of the plantar plate from its origin on the metatarsal head/neck with dorsal impaction of the proximal phalanx into the metatarsal head | Articular cartilage/subchondral bone bruise, sesamoid fracture, diastasis of the sesamoids, medial/lateral injury |
| Hyperflexion | Hyperflexion injury to the hallux MTP joint with possible concomitant injury to lesser MTP joints | Sprain or tearing of the dorsal capsule |
Medscape Reference © 2011 WebMD, LLC