Sever Disease Clinical Presentation
Author: Mark A Noffsinger, MD; Chief Editor: Jason H Calhoun, MD, FACS  more...
Updated: Sep 18, 2014
What would you like to print?
History
The typical clinical presentation is an active child (aged 9-10 years) who complains of pain at the posterior heel that is made worse by sports, especially those involving running or jumping. The onset is usually gradual. Often, the pain has been relieved somewhat with rest and consequently has been patiently monitored by the patient, parents, coaches, trainers, and family physicians, in the expectation that it will resolve. When the pain continues to interfere with sports performance and then with daily activities, further consultation is sought.
It should be kept in mind that failure to instruct patients and parents that continual pain, significant swelling or redness, and fever are not signs of Sever disease and therefore require further evaluation could result in failure to diagnose a condition with much more serious long-term consequences.
Physical
Physical examination varies depending on the severity and length of involvement. Bilateral involvement is present in approximately 60% of cases. Most patients experience pain with deep palpation at the Achilles insertion and pain when performing active toe raises. Forced dorsiflexion of the ankle also proves uncomfortable and is relieved with passive equinus positioning. Swelling may be present but usually is mild. In long-standing cases, the child may have calcaneal enlargement.
Causes
Sever disease, like other similar conditions (eg, Osgood-Schlatter disease, little-leaguer's elbow, and iliac apophysitis), is believed to be caused by decreased resistance to shear stress at the bone–growth plate interface. Studies have indicated that traction apophyses have a higher composition of fibrocartilage than epiphyses subjected more to axial load, which are composed predominantly of hyaline cartilage.[17]
The anatomy of the calcaneal apophysis lends to significant shear stress because of its vertical orientation and the direction of pull from the strong gastrocnemius-soleus muscle group (see the image below).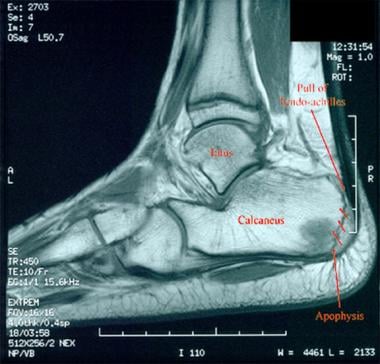 Labeled MRI depicts the anatomy and mechanical forces responsible for the development of Sever disease (shear stress at the calcaneal apophysis).
References
Sever JW. Apophysitis of the Os Calcis. New York Medical Journal. 1912. 95:1025-1029.

Sever JW. Apophysitis of the Os Calcis. American Journal of Orthopaedics. 1917. 15:659.

Pappas AM. The osteochondroses. Pediatr Clin North Am. 1967 Aug. 14(3):549-70. [Medline].

Katz JF. Nonarticular Osteochondroses. Clinical Orthopaedics and Related Research. 1981. 158:70.

Pizzutillo PD, Sullivan JA, Grana WA. Osteochondroses, Chapter in The Pediatric Athlete, American Academy of Orthopaedic Surgeons Seminar, Oklahoma City Oklahoma, November 1998.

Roy DR. Accessory Navicular and Osteochodroses of the Foot and Ankle in the Child and Adolescent. Foot and Ankle Clinics. Philadelphia: WB Saunders. 1998.

Scharfbillig RW, Jones S, Scutter SD. Sever's disease: what does the literature really tell us?. J Am Podiatr Med Assoc. 2008 May-Jun. 98(3):212-23. [Medline].

Lau LL, Mahadev A, Hui JH. Common lower limb sport-related overuse injuries in young athletes. Ann Acad Med Singapore. 2008 Apr. 37(4):315-9. [Medline].

Malanga GA, Ramirez-Del Toro JA. Common injuries of the foot and ankle in the child and adolescent athlete. Phys Med Rehabil Clin N Am. 2008 May. 19(2):347-71, ix. [Medline].

Weiner DS, Morscher M, Dicintio MS. Calcaneal apophysitis: simple diagnosis, simpler treatment. J Fam Pract. 2007 May. 56(5):352-5. [Medline].

Clemow C, Pope B, Woodall HE. Tools to speed your heel pain diagnosis. J Fam Pract. 2008 Nov. 57(11):714-23. [Medline].

Irving DB, Cook JL, Young MA, Menz HB. Impact of chronic plantar heel pain on health-related quality of life. J Am Podiatr Med Assoc. 2008 Jul-Aug. 98(4):283-9. [Medline].

Hendrix CL. Calcaneal apophysitis (Sever disease). Clin Podiatr Med Surg. 2005 Jan. 22(1):55-62, vi. [Medline].

Turek SL. Orthopaedics: Principles and Their Application. JB Lippincott Company. 1984: 1474.

Becerro-de-Bengoa-Vallejo R, Losa-Iglesias ME, Rodriguez-Sanz D. Static and dynamic plantar pressures in children with and without sever disease: a case-control study. Phys Ther. 2014 Jun. 94(6):818-26. [Medline].

Micheli LJ, Ireland ML. Prevention and management of calcaneal apophysitis in children: an overuse syndrome. J Pediatr Orthop. 1987 Jan-Feb. 7(1):34-8. [Medline].

Tu P, Bytomski JR. Diagnosis of heel pain. Am Fam Physician. 2011 Oct 15. 84(8):909-16. [Medline].

Rachel JN, Williams JB, Sawyer JR, Warner WC, Kelly DM. Is radiographic evaluation necessary in children with a clinical diagnosis of calcaneal apophysitis (sever disease)?. J Pediatr Orthop. 2011 Jul-Aug. 31(5):548-50. [Medline].

Brenner JS. Overuse injuries, overtraining, and burnout in child and adolescent athletes. Pediatrics. 2007 Jun. 119(6):1242-5. [Medline].
Medscape Reference © 2011 WebMD, LLC