Sever Disease Workup
Author: Mark A Noffsinger, MD; Chief Editor: Jason H Calhoun, MD, FACS  more...
Updated: Sep 18, 2014
What would you like to print?
Imaging Studies
Radiographic findings include increased sclerosis and fragmentation of the calcaneal apophysis. However, it should be stressed that these findings are nonspecific and also are observed in asymptomatic feet (see the image below). Radiographic evaluation is beneficial for excluding fracture or rare tumor. It is vital to remember that radiographic changes on plain x-ray films are neither diagnostic nor prognostic; their primary value in this setting is for exclusion of other causes of heel pain. This point should be clearly explained to patients and parents.[18]

Sever disease. Lateral radiograph of foot in symptomatic 9-year-old male soccer player. Sclerosis is not diagnostic of Sever disease but is a characteristic radiographic finding.
It must be kept in mind that if pain continues, becomes significant at rest, awakens the patient from sleep, or is associated with significant swelling, tests should be performed to look for other causes. Tarsal coalition is another hindfoot disorder that must be distinguished from Sever disease. Thus, if reduction of subtalar motion is found on physical examination, computed tomography (CT) can be helpful in differentiating this disease from failure of the bones of the hindfoot to separate.
In cases of high suspicion, magnetic resonance imaging (MRI) may be of use for ruling out osteomyelitis, as seen in the image below.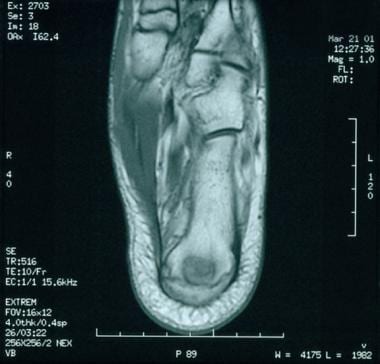 Transverse MRI of foot in symptomatic 11-year-old girl with heel pain showing osteomyelitis. Pain was increased with activity but more constant and with more associated night pain than expected with Sever disease. Treatment included surgical debridement and antibiotic therapy.
Histologic Findings
Sever disease is characterized by disorder of the normal process of enchondral ossification.
References
Sever JW. Apophysitis of the Os Calcis. New York Medical Journal. 1912. 95:1025-1029.

Sever JW. Apophysitis of the Os Calcis. American Journal of Orthopaedics. 1917. 15:659.

Pappas AM. The osteochondroses. Pediatr Clin North Am. 1967 Aug. 14(3):549-70. [Medline].

Katz JF. Nonarticular Osteochondroses. Clinical Orthopaedics and Related Research. 1981. 158:70.

Pizzutillo PD, Sullivan JA, Grana WA. Osteochondroses, Chapter in The Pediatric Athlete, American Academy of Orthopaedic Surgeons Seminar, Oklahoma City Oklahoma, November 1998.

Roy DR. Accessory Navicular and Osteochodroses of the Foot and Ankle in the Child and Adolescent. Foot and Ankle Clinics. Philadelphia: WB Saunders. 1998.

Scharfbillig RW, Jones S, Scutter SD. Sever's disease: what does the literature really tell us?. J Am Podiatr Med Assoc. 2008 May-Jun. 98(3):212-23. [Medline].

Lau LL, Mahadev A, Hui JH. Common lower limb sport-related overuse injuries in young athletes. Ann Acad Med Singapore. 2008 Apr. 37(4):315-9. [Medline].

Malanga GA, Ramirez-Del Toro JA. Common injuries of the foot and ankle in the child and adolescent athlete. Phys Med Rehabil Clin N Am. 2008 May. 19(2):347-71, ix. [Medline].

Weiner DS, Morscher M, Dicintio MS. Calcaneal apophysitis: simple diagnosis, simpler treatment. J Fam Pract. 2007 May. 56(5):352-5. [Medline].

Clemow C, Pope B, Woodall HE. Tools to speed your heel pain diagnosis. J Fam Pract. 2008 Nov. 57(11):714-23. [Medline].

Irving DB, Cook JL, Young MA, Menz HB. Impact of chronic plantar heel pain on health-related quality of life. J Am Podiatr Med Assoc. 2008 Jul-Aug. 98(4):283-9. [Medline].

Hendrix CL. Calcaneal apophysitis (Sever disease). Clin Podiatr Med Surg. 2005 Jan. 22(1):55-62, vi. [Medline].

Turek SL. Orthopaedics: Principles and Their Application. JB Lippincott Company. 1984: 1474.

Becerro-de-Bengoa-Vallejo R, Losa-Iglesias ME, Rodriguez-Sanz D. Static and dynamic plantar pressures in children with and without sever disease: a case-control study. Phys Ther. 2014 Jun. 94(6):818-26. [Medline].

Micheli LJ, Ireland ML. Prevention and management of calcaneal apophysitis in children: an overuse syndrome. J Pediatr Orthop. 1987 Jan-Feb. 7(1):34-8. [Medline].

Tu P, Bytomski JR. Diagnosis of heel pain. Am Fam Physician. 2011 Oct 15. 84(8):909-16. [Medline].

Rachel JN, Williams JB, Sawyer JR, Warner WC, Kelly DM. Is radiographic evaluation necessary in children with a clinical diagnosis of calcaneal apophysitis (sever disease)?. J Pediatr Orthop. 2011 Jul-Aug. 31(5):548-50. [Medline].

Brenner JS. Overuse injuries, overtraining, and burnout in child and adolescent athletes. Pediatrics. 2007 Jun. 119(6):1242-5. [Medline].
Medscape Reference © 2011 WebMD, LLC