Bennett Fracture Treatment & Management
Author: Mark E Baratz, MD; Chief Editor: Harris Gellman, MD more...
Updated: Jun 06, 2016
What would you like to print?
Approach Considerations
Closed reduction and thumb spica cast immobilization can be effective in the treatment of some Bennett fractures. Generally, cases characterized by small avulsion fractures and minimal articular incongruity and instability can be managed in this fashion. These patients must be carefully monitored with serial radiography. More than 1 mm of articular incongruity after closed reduction is an indication for operative intervention.
Contraindications for closed treatment include the following:
Open fracture

Unstable fracture

Unsuccessful closed reduction with residual articular incongruity greater than 1 mm

Instability and joint subluxation
Medical Therapy
Closed reduction and thumb spica cast immobilization are effective in the treatment of Bennett fractures if the reduction can be maintained. The closed reduction technique consists of thumb traction combined with metacarpal extension, pronation, and abduction. Direct downward pressure is applied to the dorsal radial metacarpal base.
The strong pull of the abductor pollicis longus (APL) frequently leads to displacement, necessitating open reduction and internal fixation (ORIF) or closed reduction with percutaneous pinning. More than 1 mm of articular incongruity or persistent carpometacarpal (CMC) joint subluxation after closed reduction indicates the need for surgical treatment.[2, 3, 5, 7, 8, 9] This degree of articular incongruity is associated with an increased rate of articular degeneration in the thumb CMC joint over time.[2, 3, 5, 10, 11]
Surgical Therapy
Generally, closed reduction utilizing the technique described above followed by percutaneous Kirschner wire (K-wire) fixation is successful. Two 0.045-in. K-wires are drilled through the dorsal radial thumb metacarpal base into the reduced volar ulnar fragment. If the fragment is very small, reduction may be maintained by placing the K-wire from the thumb metacarpal into the trapezium or the index metacarpal. Maintaining thumb abduction is essential to preserving the first web space.[12] (See the image below.)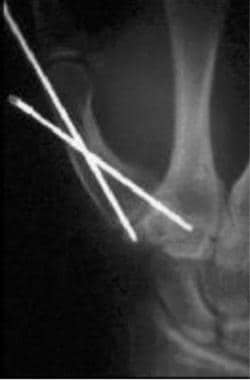 Percutaneous pinning of a Bennett fracture.
If adequate reduction cannot be achieved by means of this percutaneous technique, ORIF is performed. An L-shaped incision is made over the subcutaneous border of the thumb metacarpal. The incision is carried down radially to allow for subperiosteal reflection of the thenar musculature and direct visualization of the joint. Towel-clip forceps are extremely valuable in obtaining and temporarily maintaining reduction. Fixation is achieved by using either K-wires or mini-screws (2.0 mm).[2, 3, 5, 7, 8, 13, 14]
Zhang et al reported success with open tension band wiring as a fixation option for the treatment of Bennett fractures.[15] Mahmoud et al reported good results from performing ORIF of Bennett fractures in young, active manual laborers, using a K-wire and wire loop construct to achieve anatomic reduction.[16] Arthroscopically assisted percutaneous screw fixation has been described.[17, 18]
Postoperative Care
Capo et al, in a study of simulated Bennett fracture in cadavers, evaluated the accuracy of fluoroscopic examination in determining the adequacy of closed reduction after pinning of Bennett fracture.[9] They found that assessment of the articular gap, stepoff, and displacement, as detected by fluoroscopy, was often erroneous in comparison with the results of plain radiography and direct examination. The authors noted that restoration of joint congruity is an important factor in the prevention of arthritis in patients with Bennett fracture and that surgical management therefore is generally recommended for displaced intra-articular fractures of the base of the thumb metacarpal.
Complications
Displaced intra-articular fractures predispose the patient to arthritis and loss of motion within the affected joints. Unfortunately, even after restoration of articular congruity, some patients develop posttraumatic arthritis secondary to the osteocartilaginous injury sustained as a result of the initial trauma.
Loss of motion also occurs following prolonged immobilization. Rigid fixation enables patients to initiate movement sooner postoperatively, minimizing this problem.
Other potential postoperative complications include loss of reduction with recurrent joint subluxation and instability, infection, and sensory nerve injury.
Long-Term Monitoring
A well-molded thumb spica cast is utilized for 2-6 weeks, depending on the degree of stability obtained at surgery. Once the cast is discontinued, a thermoplastic splint is fabricated and a protected mobilization program is initiated until fracture healing is complete.
References
Bennett EH. Fractures of the Metacarpal Bones. Dublin Med Sci J. 1882. 73:72-75.

Green DP, Stern PJ. Fractures of the metacarpals and phalanges. In: Green's Operative Hand Surgery. New York, NY. Churchill Livingstone. 1999:711-772.

Peimer CA, Wolfe SW, Elliot AJ. Metacarpal and carpometacarpal trauma. In: Surgery of the Hand and Upper Extremity. 1st ed. New York, NY. McGraw-Hill. 1996:883-920.

Rockwood CA, Green DP, Butler TE Jr. Fractures and dislocations of the hand. In: Rockwood and Green's Fractures in Adults. Philadelphia, Pa. Lippincott-Raven. 1996:607-744.

Soyer AD. Fractures of the base of the first metacarpal: current treatment options. J Am Acad Orthop Surg. 1999 Nov-Dec. 7(6):403-12. [Medline].

Carlsen BT, Moran SL. Thumb trauma: Bennett fractures, Rolando fractures, and ulnar collateral ligament injuries. J Hand Surg Am. 2009 May-Jun. 34(5):945-52. [Medline].

Sawaizumi T, Nanno M, Nanbu A, Ito H. Percutaneous leverage pinning in the treatment of Bennett's fracture. J Orthop Sci. 2005. 10(1):27-31. [Medline].

Lutz M, Sailer R, Zimmermann R, Gabl M, Ulmer H, Pechlaner S. Closed reduction transarticular Kirschner wire fixation versus open reduction internal fixation in the treatment of Bennett's fracture dislocation. J Hand Surg [Br]. 2003 Apr. 28(2):142-7. [Medline].

Capo JT, Kinchelow T, Orillaza NS, Rossy W. Accuracy of fluoroscopy in closed reduction and percutaneous fixation of simulated Bennett's fracture. J Hand Surg Am. 2009 Apr. 34(4):637-41. [Medline].

Nagaoka M, Nagao S, Matsuzaki H. Trapeziometacarpal joint instability after Bennett's fracture-dislocation. J Orthop Sci. 2005 Jul. 10(4):374-7. [Medline].

Brownlie C, Anderson D. Bennett fracture dislocation - review and management. Aust Fam Physician. 2011 Jun. 40(6):394-6. [Medline].

Davis TR, Pace A. Trapeziectomy for trapeziometacarpal joint osteoarthritis: is ligament reconstruction and temporary stabilisation of the pseudarthrosis with a Kirschner wire important?. J Hand Surg Eur Vol. 2009 Jun. 34(3):312-21. [Medline].

Giannikas D, Karabasi A, Fotinopoulos E, Tyllianakis M. Open transtrapezial injuries of the thumb: operative treatment. J Trauma. 2008 Dec. 65(6):1468-70. [Medline].

Leclère FM, Jenzer A, Hüsler R, Kiermeir D, Bignion D, Unglaub F, et al. 7-year follow-up after open reduction and internal screw fixation in Bennett fractures. Arch Orthop Trauma Surg. 2012 Jul. 132(7):1045-51. [Medline].

Zhang X, Shao X, Zhang Z, Wen S, Sun J, Wang B. Treatment of a Bennett fracture using tension band wiring. J Hand Surg Am. 2012 Mar. 37(3):427-33. [Medline].

Mahmoud M, El Shafie S, Menorca RM, Elfar JC. Management of Neglected Bennett Fracture in Manual Laborers by Tension Fixation. J Hand Surg Am. 2014 Aug 5. [Medline].

Zemirline A, Lebailly F, Taleb C, Facca S, Liverneaux P. Arthroscopic assisted percutaneous screw fixation of Bennett's fracture. Hand Surg. 2014. 19 (2):281-6. [Medline].

Pomares G, Strugarek-Lecoanet C, Dap F, Dautel G. Bennett fracture: Arthroscopically assisted percutaneous screw fixation versus open surgery: Functional and radiological outcomes. Orthop Traumatol Surg Res. 2016 May. 102 (3):357-61. [Medline].
Medscape Reference © 2011 WebMD, LLC