Bennett Fracture Workup
Author: Mark E Baratz, MD; Chief Editor: Harris Gellman, MD  more...
Updated: Jun 06, 2016
What would you like to print?
Imaging Studies
Obtain standard posteroanterior, lateral, and oblique radiographs in patients with suspected fractures or dislocations of the thumb. Traction radiography may be used to assess the degree of comminution in appropriate fractures (eg, Bennett, Rolando, comminuted metacarpal base fractures; see the images below).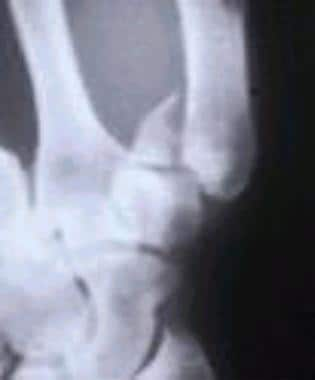 Radiograph of a Bennett fracture.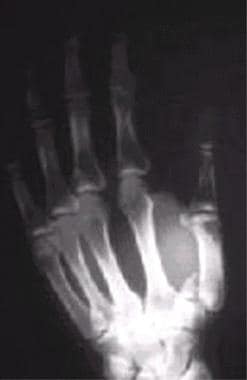 Rolando fracture. This is differentiated from a Bennett fracture because of the presence of intra-articular comminution.
Radiographs of the carpometacarpal (CMC) joint are obtained by placing the palmar surface of the hand flat on the imaging plate for a true lateral view, allowing accurate assessment of the CMC joint. Pronate the hand and wrist approximately 20-30º, and direct the imaging beam obliquely at 15º in a distal-to-proximal direction centered over the trapeziometacarpal joint. A broken V sign may be present on the lateral radiograph, indicating disruption of the normal V that is formed by the radial aspect of the trapeziometacarpal articulation. This may indicate undetected CMC joint subluxation.
Tomography or computed tomography (CT) can help define the degree of comminution within a fracture, as well as suspected impaction of the articular surface.
References
Bennett EH. Fractures of the Metacarpal Bones. Dublin Med Sci J. 1882. 73:72-75.

Green DP, Stern PJ. Fractures of the metacarpals and phalanges. In: Green's Operative Hand Surgery. New York, NY. Churchill Livingstone. 1999:711-772.

Peimer CA, Wolfe SW, Elliot AJ. Metacarpal and carpometacarpal trauma. In: Surgery of the Hand and Upper Extremity. 1st ed. New York, NY. McGraw-Hill. 1996:883-920.

Rockwood CA, Green DP, Butler TE Jr. Fractures and dislocations of the hand. In: Rockwood and Green's Fractures in Adults. Philadelphia, Pa. Lippincott-Raven. 1996:607-744.

Soyer AD. Fractures of the base of the first metacarpal: current treatment options. J Am Acad Orthop Surg. 1999 Nov-Dec. 7(6):403-12. [Medline].

Carlsen BT, Moran SL. Thumb trauma: Bennett fractures, Rolando fractures, and ulnar collateral ligament injuries. J Hand Surg Am. 2009 May-Jun. 34(5):945-52. [Medline].

Sawaizumi T, Nanno M, Nanbu A, Ito H. Percutaneous leverage pinning in the treatment of Bennett's fracture. J Orthop Sci. 2005. 10(1):27-31. [Medline].

Lutz M, Sailer R, Zimmermann R, Gabl M, Ulmer H, Pechlaner S. Closed reduction transarticular Kirschner wire fixation versus open reduction internal fixation in the treatment of Bennett's fracture dislocation. J Hand Surg [Br]. 2003 Apr. 28(2):142-7. [Medline].

Capo JT, Kinchelow T, Orillaza NS, Rossy W. Accuracy of fluoroscopy in closed reduction and percutaneous fixation of simulated Bennett's fracture. J Hand Surg Am. 2009 Apr. 34(4):637-41. [Medline].

Nagaoka M, Nagao S, Matsuzaki H. Trapeziometacarpal joint instability after Bennett's fracture-dislocation. J Orthop Sci. 2005 Jul. 10(4):374-7. [Medline].

Brownlie C, Anderson D. Bennett fracture dislocation - review and management. Aust Fam Physician. 2011 Jun. 40(6):394-6. [Medline].

Davis TR, Pace A. Trapeziectomy for trapeziometacarpal joint osteoarthritis: is ligament reconstruction and temporary stabilisation of the pseudarthrosis with a Kirschner wire important?. J Hand Surg Eur Vol. 2009 Jun. 34(3):312-21. [Medline].

Giannikas D, Karabasi A, Fotinopoulos E, Tyllianakis M. Open transtrapezial injuries of the thumb: operative treatment. J Trauma. 2008 Dec. 65(6):1468-70. [Medline].

Leclère FM, Jenzer A, Hüsler R, Kiermeir D, Bignion D, Unglaub F, et al. 7-year follow-up after open reduction and internal screw fixation in Bennett fractures. Arch Orthop Trauma Surg. 2012 Jul. 132(7):1045-51. [Medline].

Zhang X, Shao X, Zhang Z, Wen S, Sun J, Wang B. Treatment of a Bennett fracture using tension band wiring. J Hand Surg Am. 2012 Mar. 37(3):427-33. [Medline].

Mahmoud M, El Shafie S, Menorca RM, Elfar JC. Management of Neglected Bennett Fracture in Manual Laborers by Tension Fixation. J Hand Surg Am. 2014 Aug 5. [Medline].

Zemirline A, Lebailly F, Taleb C, Facca S, Liverneaux P. Arthroscopic assisted percutaneous screw fixation of Bennett's fracture. Hand Surg. 2014. 19 (2):281-6. [Medline].

Pomares G, Strugarek-Lecoanet C, Dap F, Dautel G. Bennett fracture: Arthroscopically assisted percutaneous screw fixation versus open surgery: Functional and radiological outcomes. Orthop Traumatol Surg Res. 2016 May. 102 (3):357-61. [Medline].
Medscape Reference © 2011 WebMD, LLC