Boutonniere Deformity Workup
Author: Wayne Reizner, MD; Chief Editor: Harris Gellman, MD  more...
Updated: Jan 11, 2016
What would you like to print?
Imaging Studies
A boutonnière (buttonhole) deformity (BD) can be assessed by means of plain radiography (see the image below). The lateral radiograph of the affected digit can define the degree of hyperextension at the distal interphalangeal (DIP) joint. Furthermore, radiographs may identify any osseous abnormality.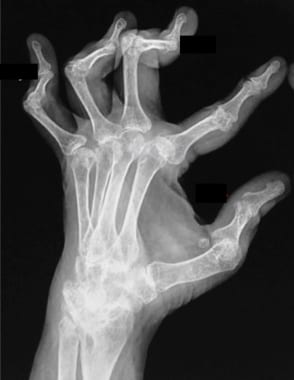 Radiographic evidence of boutonnière deformities. Image courtesy of Radiopaedia.org; case by Dr Aditya Shetty (http://radiopaedia.org/cases/rheumatoid-arthritis-13).
References
Souter WA. The boutonniere deformity. J Bone Joint Surg Br. 1967. 49B:710-21.

Coons MS, Green SM. Boutonniere deformity. Hand Clin. 1995 Aug. 11 (3):387-402. [Medline].

Souter WA. The problem of boutonniere deformity. Clin Orthop. 1974 Oct. 0(104):116-33. [Medline].

Kim JP, Go JH, Hwang CH, Shin WJ. Restoration of the central slip in congenital form of boutonniere deformity: case report. J Hand Surg Am. 2014 Oct. 39 (10):1978-81. [Medline].

Feldon P, Terrono AL, Nalebuff EA, Millender LH. Rheumatoid arthritis and other connective tissue diseases. Wolfe SW, Hotchkiss RN, Pederson WC, Kozin SH, eds. Green's Operative Hand Surgery. 6th ed. Philadelphia: Elsevier; 2011. 2: 2052-6.

Muir IFK, Barclay TL. Burns and Their Treatment. London: Lloyd-Luke; 1962. 109.

Grishkevich VM. Surgical treatment of postburn boutonniere deformity. Plast Reconstr Surg. 1996 Jan. 97 (1):126-32. [Medline].

Tsuge K. Congenital aplasia or hypoplasia of the finger extensors. Hand. 1975 Feb. 7 (1):15-21. [Medline].

Carneiro RS. Congenital attenuation of the extensor tendon central slip. J Hand Surg Am. 1993 Nov. 18 (6):1004-7. [Medline].

Elson RA. Rupture of the central slip of the extensor hood of the finger. A test for early diagnosis. J Bone Joint Surg Br. 1986 Mar. 68 (2):229-31. [Medline].

Boyes JH. Bunnell's Surgery of the Hand. 5th ed. Philadelphia: JB Lippincott; 1971. 393.

Griffin M, Hindocha S, Jordan D, Saleh M, Khan W. Management of extensor tendon injuries. Open Orthop J. 2012. 6:36-42. [Medline].

Strickland JW. Flexor Tendon Injuries: I. Foundations of Treatment. J Am Acad Orthop Surg. 1995 Jan. 3 (1):44-54. [Medline].

Burton RI. Extensor tendons--late reconstruction. Green DP, ed. Operative Hand Surgery. New York: Churchill Livingstone; 1988. 2073-116.

Littler JW, Eaton RG. Redistribution of forces in the correction of Boutonniere deformity. J Bone Joint Surg Am. 1967 Oct. 49 (7):1267-74. [Medline].

Meadows SE, Schneider LH, Sherwyn JH. Treatment of the chronic boutonniere deformity by extensor tenotomy. Hand Clin. 1995 Aug. 11 (3):441-7. [Medline].

Stern PJ. Extensor tenotomy: a technique for correction of posttraumatic distal interphalangeal joint hyperextension deformity. J Hand Surg Am. 1989 May. 14 (3):546-9. [Medline].

Curtis RM, Reid RL, Provost JM. A staged technique for the repair of the traumatic boutonniere deformity. J Hand Surg Am. 1983 Mar. 8 (2):167-71. [Medline].
Medscape Reference © 2011 WebMD, LLC