Carpal Fractures Treatment & Management
Author: Robert R Schenck, MD; Chief Editor: Harris Gellman, MD more...
Updated: Oct 29, 2015
What would you like to print?
Approach Considerations
The accepted indications for surgical intervention in the treatment of carpal fractures include the presence of an unstable or displaced fracture, an open fracture, and failure of nonoperative treatment with established nonunion. Treatment of carpal fractures has no absolute contraindications. The key to treatment is to obtain and maintain anatomic alignment with the most appropriate method.
Operative fracture repair has traditionally revolved around the use metal implants, including pins, plates, and screws. In most cases, this hardware is later removed, sometimes with an open procedure. The future of bone fixation may involve resorbable prosthetic implants. Most bioabsorbable implants are made of polymers that degrade slowly over time, eliminating the need for a second retrieval operation. Bioresorbable materials with mechanical properties comparable to those of traditional pins, plates, and screws are being investigated. These may perhaps provide an alternative approach to carpal fracture fixation.
Surgical Therapy
Options for specific fractures
Scaphoid fractures
Scaphoid fractures are classified as fractures of the proximal pole, wrist, distal one third, or distal tubercle. They are then further categorized as stable or unstable. Stable fractures are nondisplaced and have minimal comminution, whereas unstable fractures are displaced and have considerable comminution. A standard series of radiographs, including those in the anteroposterior (AP), lateral, and oblique views, are necessary to evaluate a scaphoid fracture (see Workup).[21]
A stable scaphoid fracture is usually treated with cast immobilization.[22] On average, a period of 12 weeks is required for union of the scaphoid to occur. If radiographic evidence of scaphoid nonunion persists after 4 months of immobilization, operative intervention may be indicated.[23]
Should a strong clinical suspicion be present, even in the presence of apparently normal radiographic findings, a possible scaphoid fracture should be diagnosed on the basis of the history and clinical findings. When a scaphoid fracture is suspected without radiographic confirmation, treatment consists of cast immobilization for 2-3 weeks followed by repeat radiographic examination. If plain radiographic findings are equivocal after 2 weeks, the scaphoid can be evaluated with comuted tomography (CT).
An unstable scaphoid fracture and scaphoid nonunion should be treated surgically with open reduction and internal fixation (ORIF; see the image below). The scaphoid is approached volarly through a longitudinal incision beginning several centimeters proximal to the flexion crease of the wrist. The incision is made along the tendon sheath of the flexor carpi radialis. It is then curved radially toward the trapezium. The sheath of the flexor carpi radialis is opened, and the tendon is retracted radially. The radioscaphocapitate ligament is identified and divided sharply in such a way that it can later be repaired. The scaphoid is located deep to this ligament.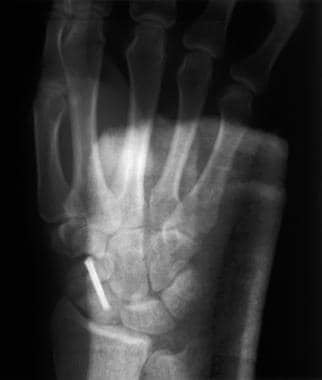 Open reduction and internal fixation of displaced scaphoid fracture.
With the fracture exposed, the appropriate procedure should be chosen. Repair may involve Kirschner-wire (K-wire) fixation, screw fixation, bone grafting, or a combination of these techniques.[24, 25]
After fixation is achieved, it should be confirmed intraoperatively with fluoroscopy to ensure full reduction. Postoperative immobilization is then provided for 6-12 weeks with application of a thumb spica cast.
Lunate fractures
Lunate fracture patterns are classified into the following four stages on the basis of radiographic findings:
Stage I demonstrates no significant radiographic changes

Stage II is characterized by the presence of some degree of bone fragmentation without evidence of collapse

Stage III shows fragmentation and collapse

Stage IV demonstrates evidence of fragmentation, collapse, and arthritis
Treatment of lunate fractures varies according to the stage of the disease. Most treatment options revolve around stress reduction, revascularization, or replacement of the lunate. Salvage procedures are reserved for advanced disease.
Treatment options for stage I include no treatment or immobilization. The remaining stages are surgically treated with a variety of techniques. In stages II and III, the treatment options are surgical and include stress reduction, revascularization, and lunate replacement. Stage IV is also treated surgically with salvage procedures, such as scaphocapitate arthrodesis, total wrist arthrodesis, or proximal row carpectomy.
Triquetral fractures
Triquetral fractures are radiologically separated into peripheral chip fractures or body fractures. Standard AP, lateral, and oblique radiographs are usually sufficient for their diagnosis.
Triquetral chip fractures are treated symptomatically with 2-3 weeks of immobilization if discomfort becomes significant. Once symptoms resolve or become less significant, range-of-motion exercises can be initiated. Fractures of the body of the triquetrum require more significant attention. If the fracture is minimally displaced, it should be treated with cast immobilization for 4-6 weeks, with range-of-motion (ROM) exercises beginning after cast removal.
Displaced triquetral chip fractures that fail to unite after conservative immobilization are rarely symptomatic enough to warrant surgical excision. On the contrary, displaced fractures involving the body of the triquetrum should be surgically treated with either closed reduction and percutaneous pinning or ORIF.[26]
Pisiform fractures
The pisiform fracture patterns commonly include transverse body fractures, comminuted fractures, or avulsion fractures. Standard radiographs, including AP, lateral, and oblique views, are usually sufficient for diagnosis. Pisiform fractures are almost universally treated conservatively with cast immobilization for 6 weeks. ROM exercises should be initiated after cast removal.
Trapezial fractures
Trapezial fractures involve either the body or the trapezial ridge. Fractures of the body are either comminuted or vertical in orientation. Trapezial ridge fractures have been separated into two types as follows:
Type I fractures occur through the base of the trapezial ridge

Type II fractures involve the tip of the trapezial ridge
Standard radiographs, including carpal tunnel views, may help in making the diagnosis.
Nondisplaced trapezial body fractures are treated conservatively with the application of a thumb spica cast for 6 weeks. Displaced trapezial body fractures require surgical attention. Both type I and type II trapezial ridge fractures are treated conservatively with closed reduction in a thumb spica cast for 6 weeks. Displaced trapezial fractures are approached volarly. Trapezial body fractures are treated with ORIF by using K-wire fixation. If symptoms persist despite conservative treatment, small type II fractures involving the trapezial ridge may be excised.
Capitate fractures
Capitate fractures are classified into the following two categories:
A fracture pattern known as scaphocapitate syndrome, consisting of a scaphoid wrist fracture and a proximal capitate fracture

An isolated capitate fracture
Plain radiography is usually sufficient to make the diagnosis. Isolated capitate fractures may be difficult to diagnose with standard plain radiography, and CT is often required to establish the diagnosis.
Nondisplaced capitate fractures should be treated with closed reduction and immobilization. Displaced capitate fractures require operative reduction and internal fixation. The capitate is usually approached dorsally. Alignment is typically achieved and maintained by using K-wire or screw fixation. If comminution is extensive, bone grafting may be performed concomitantly.
Hamate fractures
Fractures involving the hamate are separated into two categories as follows:
Hamate hook fractures

Hamate body fractures
AP, lateral, and oblique radiographs usually depict the fracture. Carpal tunnel views are useful in diagnosing hamate hook fractures, but CT may provide the most definitive findings.
Nondisplaced hamate hook fractures (see the image below) and nondisplaced hamate body fractures are both treated conservatively and immobilized with a cast for 6 weeks. ROM exercises are started when the cast is removed. Displaced hamate hook fractures and displaced hamate body fractures are treated surgically with ORIF. Hamate hook fractures are approached volarly. Hook fractures are surgically reduced, and alignment is maintained with K-wire fixation. In contrast, hamate body fractures are approached dorsally. Typically, K-wire fixation is used to maintain alignment.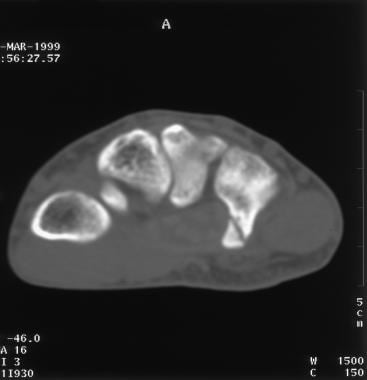 Nondisplaced fracture of the hook of the hamate.
Postoperative immobilization is maintrained for 8 weeks for hamate hook fractures, whereas hamate body fractures may heal after 6 weeks of immobilization.
Procedural details
The treating physician must carefully consider the patient's age and occupation and the nature of the injury before selecting the appropriate fixation method. Furthermore, obtaining written informed consent is imperative. This means that the patient understands the complexity of the injury and the estimated time required for healing. The operative risks and potential complications, including nonunion, risk of infection, and the need to later remove hardware (if indicated), should also be discussed. Thorough patient education cannot be overemphasized, because it is critical to the success of treatment.
With the upper extremity anesthetized, the arm is prepared and draped in the standard fashion. A pneumatic tourniquet on the upper arm is inflated to maintain a bloodless operative field. Depending on the nature and location of the fracture, a volar or dorsal approach may be used to expose the injury. Reduction may be achieved by using K-wires as joysticks. Fixation may proceed with either K-wires or a bone screw. Bone grafting may be considered for injuries with extensive comminution. Intraoperative fluoroscopy is used to determine the effectiveness of the reduction. After the wound is closed, a protective cast is then applied for immobilization.
Postoperative care
Various postoperative management strategies exist. Bone healing after internal fixation may take 6-12 weeks and, in a few cases, longer. Postoperative cast immobilization is maintained until healing is confirmed radiographically or clinically. K-wires can be removed after radiographs show evidence of bony union. Mobilization is initiated once the fixation is deemed stable. Thereafter, ROM and strengthening exercises can be initiated with the supervision and guidance of a physical therapist.
Complications
Nonunion is the most common complication after scaphoid fracture treatment, and it may occur in as many as 5-10% of cases despite proper treatment. Over several years or longer, patients may then experience pain, instability, and eventual collapse that leads to intercarpal or radiocarpal arthritis. Observation alone has no role in the treatment of scaphoid nonunion, and all cases should be corrected surgically.[27, 28]
Most pisiform fractures heal with conservative measures. However, chronic pain at the pisotriquetral joint may persist as a result of pisotriquetral joint degenerative changes. Pisotriquetral arthrosis is suspected when pain symptoms persist after a period of immobilization. Pisiform excision is the accepted treatment for this condition.
The incidence of nonunion is higher with fractures involving the tip of the trapezial ridge than with fractures of the base of the trapezial ridge. The accepted treatment for painful nonunion of either type is excision, which is generally well tolerated.
Nonunion of the hamate hook is a potential complication after operative reduction and fixation. Excision is the accepted treatment for symptomatic hamate hook nonunion.
References
Suh N, Ek ET, Wolfe SW. Carpal fractures. J Hand Surg Am. 2014 Apr. 39 (4):785-91; quiz 791. [Medline].

Chloros GD, Wiesler ER, Poehling GG. Current concepts in wrist arthroscopy. Arthroscopy. 2008 Mar. 24(3):343-54. [Medline].

Khanchandani P, Badia A. Functional outcome of arthroscopic assisted fixation of distal radius fractures. Indian J Orthop. 2013 May. 47(3):288-94. [Medline]. [Full Text].

Gelberman RH, Menon J. The vascularity of the scaphoid bone. J Hand Surg [Am]. 1980 Sep. 5(5):508-13. [Medline].

Simank HG, Schiltenwolf M, Krempien W. The etiology of Kienbock's disease-a histopathologic study. J Hand Surg. 1998. 3:63-69.

Sauder DJ, Athwal GS, Faber KJ, Roth JH. Perilunate injuries. Hand Clin. 2010 Feb. 26(1):145-54. [Medline].

Geissler WB. Carpal fractures in athletes. Clin Sports Med. 2001 Jan. 20(1):167-88. [Medline].

Pierre-Jerome C, Moncayo V, Albastaki U, Terk MR. Multiple occult wrist bone injuries and joint effusions: prevalence and distribution on MRI. Emerg Radiol. 2010 May. 17(3):179-84. [Medline].

Jørgsholm P, Thomsen NO, Björkman A, Besjakov J, Abrahamsson SO. The incidence of intrinsic and extrinsic ligament injuries in scaphoid waist fractures. J Hand Surg Am. 2010 Mar. 35(3):368-74. [Medline].

Dennis HH, Sze AC, Murphy D. Prevalence of carpal fracture in singapore. J Hand Surg Am. 2011 Feb. 36(2):278-83. [Medline].

Hove LM. Fractures of the hand. Distribution and relative incidence. Scand J Plast Reconstr Surg Hand Surg. 1993 Dec. 27(4):317-9. [Medline].

Barnaby W. Fractures and dislocations of the wrist. Emerg Med Clin North Am. 1992 Feb. 10(1):133-49. [Medline].

Cohen MS. Fractures of the carpal bones. Hand Clin. 1997 Nov. 13(4):587-99. [Medline].

Seitz WH, Papandrea RF. Fractures and dislocations of the wrist. In: Rockwood and Green's Fractures in Adults. 5th ed. Phliadelphia, Pa: Lippincott, Williams & Wilkins; 2001:749-799.

Watson HK, Weinzweig J. Physical examination of the wrist. Hand Clin. 1997 Feb. 13(1):17-34. [Medline].

Botchu R, Bianchi S. Sonography of trapezial ridge fractures. J Clin Ultrasound. 2013 Aug 27. [Medline].

Welling RD, Jacobson JA, Jamadar DA, Chong S, Caoili EM, Jebson PJ. MDCT and radiography of wrist fractures: radiographic sensitivity and fracture patterns. AJR Am J Roentgenol. 2008 Jan. 190(1):10-6. [Medline].

Murthy NS. The role of magnetic resonance imaging in scaphoid fractures. J Hand Surg Am. 2013 Oct. 38(10):2047-54. [Medline].

Carpenter CR, Pines JM, Schuur JD, Muir M, Calfee RP, Raja AS. Adult scaphoid fracture. Acad Emerg Med. 2014 Feb. 21 (2):101-21. [Medline].

Eckert K, Tröbs RB, Schweiger B, Liedgens P, Radeloff E, Ackermann O. [Diagnostically Approach to Pediatric Carpal Fractures: a Retrospective Analysis]. Z Orthop Unfall. 2015 Oct 15. [Medline].

Calandra JJ, Goldner RD, Hardaker WT Jr. Scaphoid fractures: assessment and treatment. Orthopedics. 1992 Aug. 15(8):931-7. [Medline].

Adolfsson L, Lindau T, Arner M. Acutrak screw fixation versus cast immobilisation for undisplaced scaphoid wrist fractures. J Hand Surg [Br]. 2001 Jun. 26(3):192-5. [Medline].

Trumble TE, Gilbert M, Murray LW, et al. Displaced scaphoid fractures treated with open reduction and internal fixation with a cannulated screw. J Bone Joint Surg Am. 2000 May. 82(5):633-41. [Medline].

Panchal A, Kubiak EN, Keshner M, Fulkerson E, Paksima N. Comparison of fixation methods for scaphoid nonunions: a biomechanical model. Bull NYU Hosp Jt Dis. 2007. 65(4):271-5. [Medline].

Pensy RA, Richards AM, Belkoff SM, Mentzer K, Andrew Eglseder W. Biomechanical comparison of two headless compression screws for scaphoid fixation. J Surg Orthop Adv. 2009 Winter. 18(4):182-8. [Medline].

Leung F, Tu YK, Chew WY, Chow SP. Comparison of external and percutaneous pin fixation with plate fixation for intra-articular distal radial fractures. A randomized study. J Bone Joint Surg Am. 2008 Jan. 90(1):16-22. [Medline].

Arora R, Lutz M, Zimmermann R, Krappinger D, Niederwanger C, Gabl M. Free vascularised iliac bone graft for recalcitrant avascular nonunion of the scaphoid. J Bone Joint Surg Br. 2010 Feb. 92(2):224-9. [Medline].

Moon ES, Dy CJ, Derman P, Vance MC, Carlson MG. Management of nonunion following surgical management of scaphoid fractures: current concepts. J Am Acad Orthop Surg. 2013 Sep. 21(9):548-57. [Medline].
Medscape Reference © 2011 WebMD, LLC