Carpal Fractures Workup
Author: Robert R Schenck, MD; Chief Editor: Harris Gellman, MD  more...
Updated: Oct 29, 2015
What would you like to print?
Imaging Studies
Standard radiographs, including the anteroposterior (AP), lateral, and oblique views, are usually sufficient to diagnose carpal fractures.[16]  If such fractures are not adequately depicted with standard radiographs, additional imaging studies, including bone scanning, computed tomography (CT), and magnetic resonance imaging (MRI), may help confirm them.[17, 18, 19]  A retrospective study of pediatric carpal fractures by Eckert et al suggested that MRI may be the imaging method of choice for children with persistent symptoms.[20]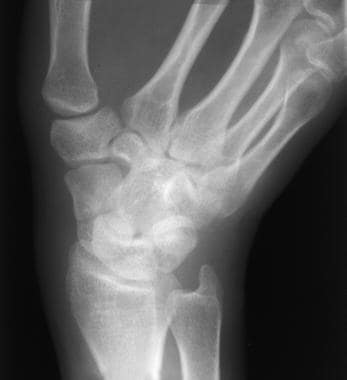 Nondisplaced scaphoid fracture.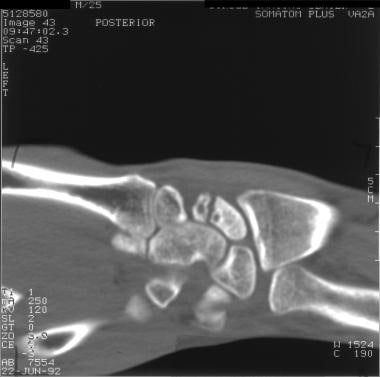 Scaphoid fracture with minimal displacement.
References
Suh N, Ek ET, Wolfe SW. Carpal fractures. J Hand Surg Am. 2014 Apr. 39 (4):785-91; quiz 791. [Medline].

Chloros GD, Wiesler ER, Poehling GG. Current concepts in wrist arthroscopy. Arthroscopy. 2008 Mar. 24(3):343-54. [Medline].

Khanchandani P, Badia A. Functional outcome of arthroscopic assisted fixation of distal radius fractures. Indian J Orthop. 2013 May. 47(3):288-94. [Medline]. [Full Text].

Gelberman RH, Menon J. The vascularity of the scaphoid bone. J Hand Surg [Am]. 1980 Sep. 5(5):508-13. [Medline].

Simank HG, Schiltenwolf M, Krempien W. The etiology of Kienbock's disease-a histopathologic study. J Hand Surg. 1998. 3:63-69.

Sauder DJ, Athwal GS, Faber KJ, Roth JH. Perilunate injuries. Hand Clin. 2010 Feb. 26(1):145-54. [Medline].

Geissler WB. Carpal fractures in athletes. Clin Sports Med. 2001 Jan. 20(1):167-88. [Medline].

Pierre-Jerome C, Moncayo V, Albastaki U, Terk MR. Multiple occult wrist bone injuries and joint effusions: prevalence and distribution on MRI. Emerg Radiol. 2010 May. 17(3):179-84. [Medline].

Jørgsholm P, Thomsen NO, Björkman A, Besjakov J, Abrahamsson SO. The incidence of intrinsic and extrinsic ligament injuries in scaphoid waist fractures. J Hand Surg Am. 2010 Mar. 35(3):368-74. [Medline].

Dennis HH, Sze AC, Murphy D. Prevalence of carpal fracture in singapore. J Hand Surg Am. 2011 Feb. 36(2):278-83. [Medline].

Hove LM. Fractures of the hand. Distribution and relative incidence. Scand J Plast Reconstr Surg Hand Surg. 1993 Dec. 27(4):317-9. [Medline].

Barnaby W. Fractures and dislocations of the wrist. Emerg Med Clin North Am. 1992 Feb. 10(1):133-49. [Medline].

Cohen MS. Fractures of the carpal bones. Hand Clin. 1997 Nov. 13(4):587-99. [Medline].

Seitz WH, Papandrea RF. Fractures and dislocations of the wrist. In: Rockwood and Green's Fractures in Adults. 5th ed. Phliadelphia, Pa: Lippincott, Williams & Wilkins; 2001:749-799.

Watson HK, Weinzweig J. Physical examination of the wrist. Hand Clin. 1997 Feb. 13(1):17-34. [Medline].

Botchu R, Bianchi S. Sonography of trapezial ridge fractures. J Clin Ultrasound. 2013 Aug 27. [Medline].

Welling RD, Jacobson JA, Jamadar DA, Chong S, Caoili EM, Jebson PJ. MDCT and radiography of wrist fractures: radiographic sensitivity and fracture patterns. AJR Am J Roentgenol. 2008 Jan. 190(1):10-6. [Medline].

Murthy NS. The role of magnetic resonance imaging in scaphoid fractures. J Hand Surg Am. 2013 Oct. 38(10):2047-54. [Medline].

Carpenter CR, Pines JM, Schuur JD, Muir M, Calfee RP, Raja AS. Adult scaphoid fracture. Acad Emerg Med. 2014 Feb. 21 (2):101-21. [Medline].

Eckert K, Tröbs RB, Schweiger B, Liedgens P, Radeloff E, Ackermann O. [Diagnostically Approach to Pediatric Carpal Fractures: a Retrospective Analysis]. Z Orthop Unfall. 2015 Oct 15. [Medline].

Calandra JJ, Goldner RD, Hardaker WT Jr. Scaphoid fractures: assessment and treatment. Orthopedics. 1992 Aug. 15(8):931-7. [Medline].

Adolfsson L, Lindau T, Arner M. Acutrak screw fixation versus cast immobilisation for undisplaced scaphoid wrist fractures. J Hand Surg [Br]. 2001 Jun. 26(3):192-5. [Medline].

Trumble TE, Gilbert M, Murray LW, et al. Displaced scaphoid fractures treated with open reduction and internal fixation with a cannulated screw. J Bone Joint Surg Am. 2000 May. 82(5):633-41. [Medline].

Panchal A, Kubiak EN, Keshner M, Fulkerson E, Paksima N. Comparison of fixation methods for scaphoid nonunions: a biomechanical model. Bull NYU Hosp Jt Dis. 2007. 65(4):271-5. [Medline].

Pensy RA, Richards AM, Belkoff SM, Mentzer K, Andrew Eglseder W. Biomechanical comparison of two headless compression screws for scaphoid fixation. J Surg Orthop Adv. 2009 Winter. 18(4):182-8. [Medline].

Leung F, Tu YK, Chew WY, Chow SP. Comparison of external and percutaneous pin fixation with plate fixation for intra-articular distal radial fractures. A randomized study. J Bone Joint Surg Am. 2008 Jan. 90(1):16-22. [Medline].

Arora R, Lutz M, Zimmermann R, Krappinger D, Niederwanger C, Gabl M. Free vascularised iliac bone graft for recalcitrant avascular nonunion of the scaphoid. J Bone Joint Surg Br. 2010 Feb. 92(2):224-9. [Medline].

Moon ES, Dy CJ, Derman P, Vance MC, Carlson MG. Management of nonunion following surgical management of scaphoid fractures: current concepts. J Am Acad Orthop Surg. 2013 Sep. 21(9):548-57. [Medline].
Medscape Reference © 2011 WebMD, LLC