Radial Head Fractures Treatment & Management
Author: Steven I Rabin, MD; Chief Editor: Harris Gellman, MD more...
Updated: Oct 02, 2015
What would you like to print?
Approach Considerations
The goal of treatment of radial head fractures and dislocations, as with all orthopedic injuries, is a successful functional outcome. A successful outcome correlates directly with accuracy of anatomic reduction, restoration of mechanical stability that allows early motion, and attention to the soft tissues. Treatment can be closed, with immediate early motion to prevent stiffness in stable fractures, or it may be open, with surgical reconstruction depending on the fracture type. Specific surgical indications are discussed below (see Surgical Therapy).
No contraindications to treatment exist. Contraindications for surgical treatment are discussed below as indications for nonoperative treatment (see Medical Therapy).
The treatment of radial head fractures and dislocations is relatively uncontroversial. Less prominent implants are being devised to decrease problems from hardware. Fixed-angle locking screw plates are gaining a role, especially when interfragmentary compression cannot be adequately achieved. Whereas internal fixation that fixes the whole head is currently the treatment of choice, partial internal fixation (where the head cannot be fully reconstructed) may have worse results than excision or replacement in terms of elbow function but better results in terms of distal radioulnar function. The specific indications for replacement or excision versus internal fixation continue to be studied.
Radial head replacement designs, such as bipolar designs and radial head and capitellar replacements are currently available, but there have been limited studies concerning results with these designs.[8]
Medical Therapy
Treatment options for radial head fractures or dislocations include the following:
Closed reduction with casting or early motion

Open reduction with internal fixation (ORIF), replacement, or resection
Closed reduction and casting often has associated high rates of stiffness, and closed reduction and early motion may still have high rates of nonunion and malunion in comminuted or unstable fractures, resulting in generally poor functional results. Open treatment (involving internal fixation, replacement, or excision, depending on the fracture) is associated with better long-term function.
The condition of the soft tissues is as important as the condition of the bone in determining the eventual functional outcome (see the image below). Schatzker's general observation concerning fracture care is especially relevant for elbow injuries: "Long term disability following a fracture is almost never the result of damage to the bone. It is the result of damage to the soft tissues and stiffness of neighboring joints."[9]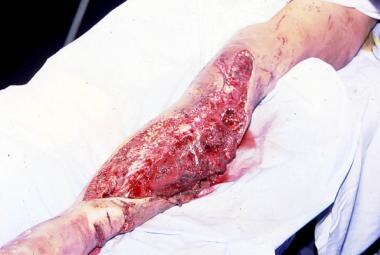 Soft tissue injury. Soft tissues are as important as bone in determining functional outcome.
An isolated radial head dislocation is almost always treated with closed reduction and early motion (see the image below). If closed reduction cannot be achieved, open reduction is indicated. Congenital radial head dislocations do not require treatment.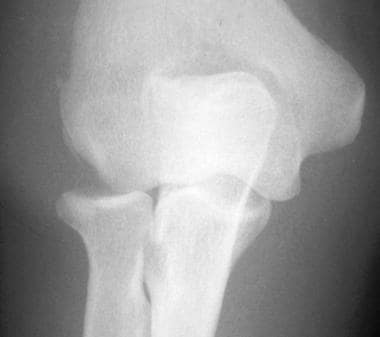 Isolated radial head dislocation is almost always treated closed.
Nonsurgical treatment of isolated radial head fractures is indicated if minimal displacement, minimal angulation, and minimal head involvement are noted (see the image below). Early motion with a functional brace is encouraged to minimize elbow stiffness. Adequate follow-up is essential to be sure late displacement is not missed. (If displacement occurs, operative intervention is usually indicated.)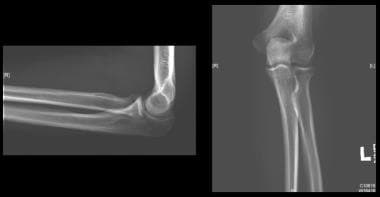 Minimally displaced radial head/neck fractures can be treated with early motion.
For isolated radial head fractures, the Mason classification guides treatment.[1, 3, 8, 10] This classification may be summarized as follows:
Type I (undisplaced) - This type generally is treated nonoperatively

Type II (single fragment displaced) - This type may be treated nonoperatively if the displacement is minimal; the rule of threes is followed, according to which nonsurgical treatment can be considered if the fracture involves less than one third of the articular surface, if there is less than 30° of angulation, and if displacement is less than 3 mm

Type III (comminuted) - This type usually requires operative intervention but may occasionally be treated closed with early motion if the radial head is not reconstructible; if a mechanical block to motion is present, then nonsurgical treatment cannot be used

[1, 3, 8, 10]
Fracture-dislocations of the radial head can rarely be treated with closed reduction and splinting, but better results are expected in most cases with operative stabilization and early motion.
Patients whose medical condition is too unstable to allow safe surgery when surgery would otherwise be indicated can also be treated with splinting followed by early motion, but the prognosis is guarded for achieving optimal function.
Joint aspiration to relieve pressure has been employed as an initial treatment measure, but its efficacy is unclear.[11]
Surgical Therapy
Indications for surgery
Surgical treatment is indicated for all unstable radial head (and neck) fractures and dislocations. As described above, the rule of threes can be used for determining the need for surgical intervention: Surgery is required if the fracture involves more than 33% of the articular surface, is angulated more than 30°, or is displaced more than 3 mm. A mechanical block to motion always requires open treatment to remove the blocking bone or osteochondral fragment or fragments.
Open fractures are also surgical emergencies. They require surgical irrigation and debridement in an operating room with appropriate antibiotics even if the wound is small. At the same time, immediate stabilization of the bone injury is also performed.
Monteggia fracture-dislocations are a special variety of radial head injury. They are commonly classifed into four types (see Table 1 below).
Table 1. Classification of Monteggia fracture-dislocations (Open Table in a new window)
Classically, Monteggia fractures are ulna fractures in the proximal one third with associated radial head dislocation (see the images below). Instead of the radial head dislocation, the radial head or neck may be fractured as an equivalent injury. The injury pattern is similar to both-bone forearm fractures. Monteggia fracture-dislocations are included here because of the importance of not missing either injury. The isolated injuries (radial head dislocation by itself or ulna [nightstick] fracture by itself) are often treated by closed treatment with good results, but the combined injury can almost never be treated by closed methods if good results are expected. Appropriate treatment requires diagnosing both (see Workup, Imaging Studies).
Floating elbow injuries are another special case that can include radial head injury. Floating elbow injuries include associated ipsilateral forearm and humerus fractures. They are severe high-energy injuries. The best outcome almost always requires fixation at both levels. Standard fixation methods for the individual fractures are used (see the image below). Surgical treatment options include ORIF with plates and screws, excision of fragments, or radial head replacement.
Surgical treatment of so-called terrible triad injuries of the elbow (elbow dislocations with concomitant fractures of the radial head and the coronoid process) is controversial. Replacement appears to have advantages over repair in this setting, but further study is desirable.[12, 13]
Procedural details
Adequate preoperative planning is essential. If replacement is a possibility on the basis of imaging studies demonstrating excessive comminution with distal radioulnar joint instability, then the surgeon needs to be sure that an adequate stock of radial head replacement implants is available. Similarly, a wide range of minifragment plates and screws should be available to accomplish fixation.
The radial head is approached posteriorly. The surgeon must be aware of the posterior interosseous nerve, which winds around the neck of the radius and lies directly on the bone. During the approach (and throughout the procedure), the surgeon should attempt to use indirect reduction techniques, preserving soft-tissue attachments. Periosteal stripping must be minimized. Narrow retractors are used, and the surgeon must avoid penetrating the interosseous membrane to avoid the complication of synostosis, which can cause severe limitation of motion that is difficult or impossible to treat (see Complications).
For isolated radial head dislocations, reduction of the head is usually stable, and no specific repair is necessary. If it is unstable, the annular ligament is repaired (if instability is still present, the surgeon should look for a missed forearm fracture).
Once the fracture is opened, the final decision is made regarding whether to carry out fixation, replacement, or excision. When possible, the best results are obtained with anatomic reduction and fixation. As with any surgical fracture treatment, if fixation is chosen, the first step is reduction of the bone fragments. The surgeon reduces and provisionally fixes the intra-articular fragments first, then attaches the construct to the shaft. In some cases, the radial head is removed and assembled on the back table, but if possible, fixing the fracture in place is preferable to preserve the blood supply provided through the remaining soft-tissue attachments.
Fixation options include minifragment plates and screws and Herbert screws.[14] Usually, 2.7-mm implants are used with interfragmentary lag screw fixation of individual fragments. Bone graft is included if the bone is significantly comminuted or if bone loss is preventing stable fixation. If more than 33% of the cortical circumference is lost, interfragmentary compression becomes impossible. Examples of radial head fracture fixation in an adult are presented in the series of five images below.
Children require anatomic reduction with the same indications as adults, but additionally, the surgeon must be aware of potential growth plate injury and late deformity. Treatment of a radial head fracture in a child is illustrated in the two images below.
If repair is not possible, excision of comminuted radial head fragments can be considered. The surgeon must test for valgus instability and, if necessary, repair the medial collateral ligament to restore stability if excision is chosen. If instability persists, replacement with a radial head spacer is the appropriate treatment instead of excision alone (see the images below). The surgeon must also be aware of the Essex-Lopresti lesion (ipsilateral injury to the distal radioulnar joint) and repair or fixate the distal radioulnar joint as necessary.
When radial head excision is chosen, the surgeon must not excise distal to the annular ligament, because this results in an unstable proximal radioulnar joint (see the images below).
If comminution extends distal to the annular ligament, then replacement with a spacer should be strongly considered (see the image below). Silicone was the standard material for the spacers, but manufacturers subsequently moved to titanium. The silicone implants were easier to place because of their flexibility, but concerns over silicone synovitis, late fragmentation, and loosening led to the development of the metal implants.[8, 15]
For Monteggia fracture-dislocations, best treatment includes ORIF of the ulna diaphyseal fracture. The ulna fracture is approached and reduced first. The radial head dislocation then usually reduces indirectly and is stable. (More than 90% of radial head dislocations are stable after fixation of the ulna.) If it is stable, then the radial head dislocation is treated closed. An irreducible radial head usually occurs because the diaphyseal ulna fracture has been poorly reduced, and this should be reassessed carefully, both radiographically and clinically. If it is unstable or irreducible (and the ulna is anatomic), then open reduction of the joint is required. The annular ligament is repaired during the open reduction.
Failure of the radial head to reduce with the ulna reduction is usually due to interposed annular ligament or, rarely, to interposed radial nerve. The image below shows a patient who presented after an unsuccessful attempt at open reduction of both components of the injury. If the radial head or neck is fractured and stable, then the choice of open versus closed treatment can be made as if the radial head injury were isolated, using the indications for open surgery as described above.
If the radial head or neck is fractured and unstable, it is approached and dealt with by means of an open surgical approach as described above (see the images below).
Elbow fracture-dislocations are usually due to more violent trauma and are usually unstable after reduction. ORIF is required. All efforts should be made to salvage the radial head because it is a secondary stabilizer of the elbow. The goal is stable fixation for early motion.
The wound can usually be closed, or skin grafts may be used for open wounds within 3-5 days.
Complications
Early complications of radial head or neck fractures or dislocations include the following:
Neurovascular injury

Infection
Late complications include the following:
Nonunion

Hardware failure

Malunion

Infection

Synostosis

Persistent pain
Compartment syndrome after isolated radial head fracture is unlikely but could occur with Monteggia fractures, floating elbow injuries, and associated crush injuries to the forearm. Compartment syndromes usually occur in high-energy trauma but can occur with prolonged low-energy injuries and gunshot injuries. Predisposing factors include vascular injury, coagulopathy, and limb compression. Prevent iatrogenic compartment syndrome during surgery by obtaining good hemostasis and by not closing the fascia at surgery.
Early diagnosis is necessary. The treating physician needs to have a high index of suspicion, remembering the standard signs and symptoms of increased compartment pressure: pain on passive stretch, palpable firmness or tightness of the compartment, altered sensation or paresthesias, pain out of proportion to that expected, pallor, pulselessness, and less than 30 mm Hg difference between compartment pressure and diastolic pressure. All affected compartments should be released.
Neurovascular injury after radial head fracture or dislocation is not common but occurs more often if the fracture is open. Iatrogenic injury is more frequent. The surgeon needs to remember the location of the posterior interosseous nerve as it travels along the neck of the radius. If no recovery occurs, the nerve usually is explored at 3 months.
Infection after radial head fracture can occur either early or late. Treatment requires irrigation and debridement and appropriate antibiotics (usually administered intravenously). If the fracture is healed or the hardware is loose, the hardware should be removed. If the fracture has not healed and the hardware is stable, the hardware is maintained.
Persistent pain after radial head fracture may be due to the hardware, intra-articular cartilage injury and posttraumatic arthritis, adhesions, malalignment, or associated nerve or muscle injuries. Hardware removal may be helpful, but potential complications, including iatrogenic nerve injury when dissecting through scar, may outweigh the benefits. Persistent pain may be due to nonunion. The images below show a patient who had persistent painful clicking after his radial head fixation, which resolved after hardware removal.
Nonunion and resultant hardware failure after radial head fracture are usually due to poor biomechanics. Poor biology is the result of poor initial fracture characteristics and damage to the soft tissue envelope. An open injury or an extensive surgical reconstruction with periosteal stripping predisposes to slow healing. Poor surgical technique with overaggressive iatrogenic damage to soft tissues is a contributing factor. Poor mechanics occurs when the surgeon is unable to obtain a stable construct. (This occurs with too few screws or failure to obtain interfragmentary compression.)
Treatment of nonunion requires restoration of normal biomechanics with stable internal fixation or radial head excision or replacement, depending on the fracture and wrist and elbow stability.
One study postoperatively evaluated 13 patients who had undergone radial head resection. Using physical examination findings, the Disabilities of the Arm, Shoulder, and Hand [DASH] questionnaire, Mayo Elbow Performance Score [MEPS], and the pain Visual Analog Scales [VAS] questionnaire, the results found that 72 months after surgery, the proximal radial stump had significant migration both medially and posteriorly compared with the opposite side. Radial head resection often leads to posterior and medial drift of the proximal radial stump, resulting in nonanatomic alignment with the capitellum; proximal radius resection length of greater than 2 cm was associated with larger amounts of drifting.[16]
Stiffness is common after elbow injuries, especially if they have been immobilized. Motion is difficult to recover even with extensive physical therapy, dynamic bracing, manipulation, or open release of adhesions. Avoiding the problem by early motion is preferable to trying to deal with it after contracture has already occurred.
Synostosis after radial head fracture or dislocation can be a disabling complication because it limits motion, especially rotation of the forearm. Risks include closed head injury, surgical delay longer than 2 weeks, and penetration of the interosseous membrane by bone graft or screws, bone fragments, or surgical instruments.
Treatment by resection with an interposition spacer restores motion in about 50% of patients. Generally, the surgeon should wait at least a year or until the bone is metabolically inactive on bone scanning. Surgery should generally be completed before 3 years. The first image below shows an example of a patient who developed synostosis. The second image below shows the synostosis. The synostosis was resected, and an interposition fat spacer was used with early motion. Significantly increased motion was obtained and maintained, as seen in the third image below.
Long-Term Monitoring
Rehabilitation with range-of-motion exercises is begun as soon as the wound is healed, depending on the type of fracture and stability of fixation. The typical time to union is 6-8 weeks. Casting with the elbow in 90° of flexion is rarely needed to maintain the radial head reduction, but if the radial head is unstable, the surgeon needs to search for other causes, such as interposed annular ligament or osteochondral fragment or poorly reduced fracture.
References
Struijs PA, Smit G, Steller EP. Radial head fractures: effectiveness of conservative treatment versus surgical intervention. A systematic review. Arch Orthop Trauma Surg. 2007 Feb. 127(2):125-30. [Medline].

Jackson JD, Steinmann SP. Radial head fractures. Hand Clin. 2007 May. 23(2):185-93, vi. [Medline].

Tejwani NC, Mehta H. Fractures of the radial head and neck: current concepts in management. J Am Acad Orthop Surg. 2007 Jul. 15(7):380-7. [Medline].

Rosenblatt Y, Athwal GS, Faber KJ. Current recommendations for the treatment of radial head fractures. Orthop Clin North Am. 2008 Apr. 39(2):173-85, vi. [Medline].

Pike JM, Athwal GS, Faber KJ, King GJ. Radial head fractures--an update. J Hand Surg [Am]. 2009 Mar. 34(3):557-65. [Medline].

O'Driscoll SW, Jupiter JB, Cohen MS, et al. Difficult elbow fractures: pearls and pitfalls. Instr Course Lect. 2003. 52:113-34. [Medline].

Duckworth AD, Wickramasinghe NR, Clement ND, Court-Brown CM, McQueen MM. Long-term outcomes of isolated stable radial head fractures. J Bone Joint Surg Am. 2014 Oct 15. 96 (20):1716-23. [Medline].

Cooney WP. Radial head fractures and the role of radial head prosthetic replacement: current update. Am J Orthop. 2008 Aug. 37(8 Suppl 1):21-5. [Medline].

Schatzker J. The Rationale of Operative Fracture Care. New York, NY:. Springer Verlag. 1987.

Malmvik J, Herbertsson P, Josefsson PO, et al. Fracture of the radial head and neck of Mason types II and III during growth: a 14-25 year follow-up. J Pediatr Orthop B. 2003 Jan. 12(1):63-8. [Medline].

Foocharoen T, Foocharoen C, Laopaiboon M, Tiamklang T. Aspiration of the elbow joint for treating radial head fractures. Cochrane Database Syst Rev. 2014 Nov 22. 11:CD009949. [Medline].

Watters TS, Garrigues GE, Ring D, Ruch DS. Fixation versus replacement of radial head in terrible triad: is there a difference in elbow stability and prognosis?. Clin Orthop Relat Res. 2014 Jul. 472 (7):2128-35. [Medline].

Yan M, Ni J, Song D, Ding M, Liu T, Huang J. Radial head replacement or repair for the terrible triad of the elbow: which procedure is better?. ANZ J Surg. 2015 Sep. 85 (9):644-8. [Medline].

Capo JT, Svach D, Ahsgar J, Orillaza NS, Sabatino CT. Biomechanical stability of different fixation constructs for ORIF of radial neck fractures. Orthopedics. 2008 Oct. 31(10):[Medline].

Stuffmann E, Baratz ME. Radial head implant arthroplasty. J Hand Surg [Am]. 2009 Apr. 34(4):745-54. [Medline].

Schiffern A, Bettwieser SP, Porucznik CA, Crim JR, Tashjian RZ. Proximal radial drift following radial head resection. J Shoulder Elbow Surg. 2011 Mar. 20(3):426-33. [Medline].

Boyer MI, Galatz LM, Borrelli J, et al. Intra-articular fractures of the upper extremity: new concepts in surgical treatment. Instr Course Lect. 2003. 52:591-605. [Medline].

Harrington IJ, Sekyi-Otu A, Barrington TW, et al. The functional outcome with metallic radial head implants in the treatment of unstable elbow fractures: a long-term review. J Trauma. 2001 Jan. 50(1):46-52. [Medline].

Ikeda M, Yamashina Y, Kamimoto M, Oka Y. Open reduction and internal fixation of comminuted fractures of the radial head using low-profile mini-plates. J Bone Joint Surg Br. 2003 Sep. 85(7):1040-4. [Medline].

Judet T. Results of acute excision of the radial head in elbow radial head fracture-dislocations. J Orthop Trauma. 2001 May. 15(4):308-9. [Medline].

Judet T. The importance of rotational seating of radial head prostheses in achieving valgus stability of the elbow. J Bone Joint Surg Am. 2002 Nov. 84-A(11):2102; author reply 2102. [Medline].

Liow RY, Cregan A, Nanda R, Montgomery RJ. Early mobilisation for minimally displaced radial head fractures is desirable. A prospective randomised study of two protocols. Injury. 2002 Nov. 33(9):801-6. [Medline].

Moro JK, Werier J, MacDermid JC, et al. Arthroplasty with a metal radial head for unreconstructible fractures of the radial head. J Bone Joint Surg Am. 2001 Aug. 83-A(8):1201-11. [Medline].

Rabin SI, Rabin SL. Indications for radial head replacement following elbow trauma. Medscape Orthopaedics and Sports Medicine eJournal [serial online]. September 1997;1(5). Available at: http://www.medscape.com.

Ring D, Jupiter JB, Zilberfarb J. Posterior dislocation of the elbow with fractures of the radial head and coronoid. J Bone Joint Surg Am. 2002 Apr. 84-A(4):547-51. [Medline].

Ring D, Quintero J, Jupiter JB. Open reduction and internal fixation of fractures of the radial head. J Bone Joint Surg Am. 2002 Oct. 84-A(10):1811-5. [Medline].

Sanchez-Sotelo J, Romanillos O, Garay EG. Results of acute excision of the radial head in elbow radial head fracture-dislocations. J Orthop Trauma. 2000 Jun-Jul. 14(5):354-8. [Medline].

Stabile KJ, Pfaeffle HJ, Tomaino MM. The Essex-Lopresti fracture-dislocation factors in early management and salvage alternatives. Hand Clin. 2002 Feb. 18(1):195-204. [Medline].
Table 1. Classification of Monteggia fracture-dislocations
Type
Description
Equivalent(s)
%
Type I
Anterior dislocation of the radial head and anterior angulation of the ulna fracture
Radial head or neck fracture instead of dislocation
60
Type II
Posterior dislocation of the radial head and posterior angulation of the ulna fracture
Posterior elbow dislocation



Radial head or neck fracture instead of dislocation




105
Type III
Lateral dislocation of the radial head with proximal ulna fracture
Radial head or neck fracture instead of dislocation
20
Type IV
Anterior dislocation of the radial head and proximal shafts of both bones fractured at same level
Radial head or neck fracture instead of dislocation
5
Medscape Reference © 2011 WebMD, LLC