Rolando Fracture Treatment & Management
Author: John J Walsh, IV, MD; Chief Editor: Harris Gellman, MD more...
Updated: Jan 15, 2014
What would you like to print?
Surgical Therapy
If open reduction is thought to be a reasonable choice for the patient with a Rolando fracture, a curvilinear incision is made at the thumb base. Branches of the superficial radial nerve dorsally and lateral antebrachial cutaneous nerve volarly are identified with loupe magnification, isolated, and protected. The periosteum is split along the first metacarpal shaft, and the joint is entered in the interval between the abductor pollicis longus and extensor pollicis brevis tendons. Large articular fragments are identified. The articular surface is reconstructed in a piecemeal fashion with fine Kirschner wires (K-wires) and then secured to the metacarpal shaft using a small T plate (see image below). Obtain intraoperative radiographs to confirm a satisfactory reduction, and place the limb in a thumb spica splint.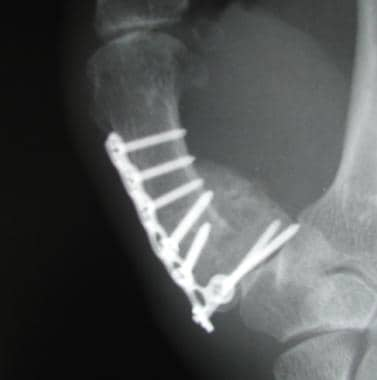 Radiograph of a healed Rolando fracture following fixation of the articular surface and neutralization with a small plate.
Comminuted metacarpal base fractures that cannot be secured with pins or screws can be treated with external fixation.[9, 11, 12, 13, 14] One technique involves a quadrilateral frame with 2 pins each in the thumb and index metacarpal, limited K-wire fixation of the articular surface, and bone grafting of any metaphyseal void that has been created after length restoration. Another technique involves placing fixator pins in the trapezium and metacarpal shaft to maintain distraction.
Byrne et al recommended dynamic "S"-Quattro (Stockport Serpentine Spring System) as a primary and definitive treatment modality for external fixation of complex fractures of the base of the thumb when conservative and other surgical interventions have failed.[11]
Spangberg and Thoren described the use of oblique K-wire traction in the treatment of Bennett fracture.[15] Gelberman expanded this to include comminuted metacarpal base fractures and trapezial fractures.[16] The technique involves use of a single K-wire that is passed from the metacarpal base out of the thumb web, with a small hook on the proximal end of the wire. The distal end is then attached to an outrigger through rubber bands. Active motion is started to mold the joint surface. This traction neutralizes displacing muscle forces and maintains reduction through ligamentotaxis.
Follow-up
Secure plate fixation can allow early motion of the joint surface. However, if the comminution requires grafting and stability is a concern, immobilization in a thumb spica cast for 4-6 weeks is the safest course of action. External fixation and/or K-wires can be removed at approximately 6 weeks postoperatively, and active motion can begin.
Complications
Complications are often directly related to the extent of the comminution. Hardware-related issues can develop, such as pin tract infection or screw pullout with resultant loss of fixation. Soft-tissue complications include damage to the nerve branches of the superficial radial or lateral antebrachial cutaneous nerve. Some degree of joint stiffness is inevitable, given the articular nature of the fracture.
Outcome and Prognosis
In a study by Langhoff et al, 16 patients had a mean follow-up of 5.8 years following open reduction with fine K-wires.[17] Nine had no residual symptoms, 6 had symptoms with moderate activity, and 1 had significant symptoms that required a change in occupation. Reduced range of motion was noted in 8 patients, and 3 had a visible deformity of the thenar base region that was related to large residual angulations of 35-55 degrees. Of the 11 patients with radiographs at follow-up, osteoarthritic changes were present in 6 (55%); this did not appear to correlate with the quality of reduction or with late symptoms.
Proubasta reported the results of 5 patients treated with a mini–external fixator.[18] Pins were placed in the trapezium and thumb metacarpal shaft, and the fracture was reduced with distraction. At short-term follow-up at 3 months, no complications were noted, and the patients all were free from pain and had a full range of thumb movements.
Buchler and coauthors reviewed their experience in the management of 13 complex thumb metacarpal base fractures in which multiple fragments were involved.[19] The authors treated the fractures with external fixation between the index and thumb metacarpals and limited internal fixation of the joint surface using pins and/or screws. Buchler et al performed bone grafting of the metaphyseal void present after distraction.
The average duration of follow-up was 35 months. No significant complications developed, and no loss of reduction, malalignment, or secondary subluxation developed. Grip and pinch strength were 81% and 88% of the contralateral side, respectively. Rotation of the thumb metacarpal was 79% of the unaffected side. No diffuse degenerative changes developed.
Future and Controversies
Future research will help to identify fractures that safely can be managed with internal fixation alone, as well as help to differentiate these injuries from the more severely comminuted fractures that need external fixation for ligamentotaxis and protection of the fracture.
References
Breen TF, Gelberman RH, Jupiter JB. Intra-articular fractures of the basilar joint of the thumb. Hand Clin. 1988 Aug. 4(3):491-501. [Medline].

Foster RJ, Hastings H 2nd. Treatment of Bennett, Rolando, and vertical intraarticular trapezial fractures. Clin Orthop Relat Res. 1987 Jan. (214):121-9. [Medline].

Howard FM. Fractures of the basal joint of the thumb. Clin Orthop Relat Res. 1987 Jul. (220):46-51. [Medline].

Peterson JJ, Bancroft LW. Injuries of the fingers and thumb in the athlete. Clin Sports Med. 2006 Jul. 25(3):527-42, vii-viii. [Medline].

Stern P. Fractures of the metacarpals and phalanges. In: Green D, Hotchkiss R, Pederson WC, eds. Green's Operative Hand Surgery. 4th ed. New York, NY: Churchill Livingstone; 1999. Vol 2: 763-4.

Rolando S. Fracture of the base of the first metacarpal and a variation that has not yet been described. 1910. Clin Orthop Relat Res. 1996 Jun. (327):4-8. [Medline].

Rolando S. Fracture of the base of the first metacarpal and a variation that has not yet been described: 1910. (Translated by Roy A. Meals). Clin Orthop Relat Res. 2006 Apr. 445:15-8. [Medline].

Huang JI, Fernandez DL. Fractures of the base of the thumb metacarpal. Instr Course Lect. 2010. 59:343-56. [Medline].

De Kesel R, Burny F, Schuind F. Mini external fixation for hand fractures and dislocations: The current state of the art. Hand Clin. 2006 Aug. 22(3):307-15. [Medline].

Kent R, Stacey S, Parenteau C. Dynamic pinch tolerance of the phalanges and interphalangeal joints. Traffic Inj Prev. 2008 Mar. 9(1):83-8. [Medline].

Byrne AM, Kearns SR, Morris S, Kelly EP. "S" Quattro external fixation for complex intra-articular thumb fractures. J Orthop Surg (Hong Kong). 2008 Aug. 16(2):170-4. [Medline].

Edmunds JO. Traumatic dislocations and instability of the trapeziometacarpal joint of the thumb. Hand Clin. 2006 Aug. 22(3):365-92. [Medline].

Geissler WB. Cannulated percutaneous fixation of intra-articular hand fractures. Hand Clin. 2006 Aug. 22(3):297-305, vi. [Medline].

Greeven AP, Alta TD, Scholtens RE, de Heer P, van der Linden FM. Closed reduction intermetacarpal Kirschner wire fixation in the treatment of unstable fractures of the base of the first metacarpal. Injury. 2012 Feb. 43(2):246-51. [Medline].

Spangberg O, Thoren L. Bennett''s fracture. A method of treatment with oblique traction. J Bone Joint Surg Br. 1963 Nov. 45:732-6. [Medline]. [Full Text].

Gelberman RH, Vance RM, Zakaib GS. Fractures at the base of the thumb: treatment with oblique traction. J Bone Joint Surg Am. 1979 Mar. 61(2):260-2. [Medline]. [Full Text].

Langhoff O, Andersen K, Kjaer-Petersen K. Rolando's fracture. J Hand Surg [Br]. 1991 Nov. 16(4):454-9. [Medline].

Proubasta IR. Rolando''s fracture of the first metacarpal. Treatment by external fixation. J Bone Joint Surg Br. 1992 May. 74(3):416-7. [Medline]. [Full Text].

Buchler U, McCollam SM, Oppikofer C. Comminuted fractures of the basilar joint of the thumb: combined treatment by external fixation, limited internal fixation, and bone grafting. J Hand Surg [Am]. 1991 May. 16(3):556-60. [Medline].

Brüske J, Bednarski M, Niedzwiedz Z, Zyluk A, Grzeszewski S. The results of operative treatment of fractures of the thumb metacarpal base. Acta Orthop Belg. 2001 Oct. 67(4):368-73. [Medline].

Kontakis GM, Katonis PG, Steriopoulos KA. Rolando's fracture treated by closed reduction and external fixation. Arch Orthop Trauma Surg. 1998. 117(1-2):84-5. [Medline].

Pehlivan O, Cilli F, Mahirogullari M, Ozyurek S. Management of combined open fractures of thumb metacarpal and trapezium (surgical tip). Hand (N Y). 2007 Jun. 2(2):48-50. [Medline].

Pelissier P, Sawaya E, Sabri E. Re: "inside screw" wire-frame for internal fixation of intraarticular fracture. J Hand Surg Eur Vol. 2008 Apr. 33(2):223-4. [Medline].

Schramm JM, Nguyen M, Wongworawat MD, Kjellin I. Does thumb immobilization contribute to scaphoid fracture stability?. Hand (N Y). 2008 Mar. 3(1):41-3. [Medline].

Soyer AD. Fractures of the base of the first metacarpal: current treatment options. J Am Acad Orthop Surg. 1999 Nov-Dec. 7(6):403-12. [Medline].
Medscape Reference © 2011 WebMD, LLC