Mallet Finger Workup
Author: Roy A Meals, MD; Chief Editor: Harris Gellman, MD  more...
Updated: Aug 19, 2015
What would you like to print?
Radiography
Posteroanterior (PA) and lateral radiographs centered at the distal interphalangeal (DIP) joint of the affected finger are required. These radiographs are used to differentiate between a bony mallet injury (see the first image below) and a tendinous one. They also reveal any associated metaphyseal, shaft, or tuft fractures of the distal phalanx. Perhaps most important, lateral radiographs reveal the presence of volar subluxation of the distal phalanx (see the second image below). In addition, these radiographic views reveal rare condylar fractures of the middle phalanx.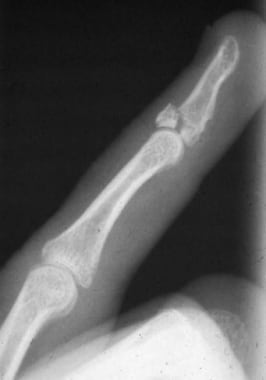 This radiograph depicts a large, dorsal-lip avulsion fracture from the distal phalanx, a bony mallet injury.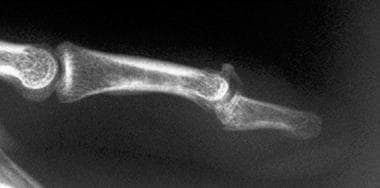 Mallet fracture with volar subluxation of the distal phalanx.
Radiographs of the whole hand do not suffice in the evaluation of mallet finger, because parallax of the x-ray beams creates an uninterpretable oblique view of the DIP joint. No imaging studies other than radiography are indicated in mallet finger.
References
Tuttle HG, Olvey SP, Stern PJ. Tendon avulsion injuries of the distal phalanx. Clin Orthop Relat Res. 2006 Apr. 445:157-68. [Medline].

Browner BD, Jupiter JB, Levine AM, Trafton PG, eds. Skeletal Trauma: Fractures, Dislocations, Ligamentous Injuries. Philadelphia, Pa: WB Saunders Co; 1992. 13(3): 329-34.

Wang QC, Johnson BA. Fingertip injuries. Am Fam Physician. 2001 May 15. 63(10):1961-6. [Medline].

Anderson D. Mallet finger - management and patient compliance. Aust Fam Physician. 2011 Jan-Feb. 40(1-2):47-8. [Medline].

Husain SN, Dietz JF, Kalainov DM, Lautenschlager EP. A biomechanical study of distal interphalangeal joint subluxation after mallet fracture injury. J Hand Surg [Am]. 2008 Jan. 33(1):26-30. [Medline].

Alla SR, Deal ND, Dempsey IJ. Current concepts: mallet finger. Hand (N Y). 2014 Jun. 9(2):138-44. [Medline]. [Full Text].

Okafor B, Mbubaegbu C, Munshi I, Williams DJ. Mallet deformity of the finger. Five-year follow-up of conservative treatment. J Bone Joint Surg Br. 1997 Jul. 79(4):544-7. [Medline]. [Full Text].

Valdes K, Naughton N, Algar L. Conservative treatment of mallet finger: A systematic review. J Hand Ther. 2015 Jul-Sep. 28 (3):237-46. [Medline].

Shimura H, Wakabayashi Y, Nimura A. A novel closed reduction with extension block and flexion block using Kirschner wires and microscrew fixation for mallet fractures. J Orthop Sci. 2014 Mar. 19(2):308-12. [Medline]. [Full Text].

O'Brien LJ, Bailey MJ. Single blind, prospective, randomized controlled trial comparing dorsal aluminum and custom thermoplastic splints to stack splint for acute mallet finger. Arch Phys Med Rehabil. 2011 Feb. 92(2):191-8. [Medline].

Ulusoy MG, Karalezli N, Koçer U, et al. Pull-in suture technique for the treatment of mallet finger. Plast Reconstr Surg. 2006 Sep. 118(3):696-702. [Medline].

Jablecki J, Syrko M. Zone 1 extensor tendon lesions: current treatment methods and a review of literature. [Polish, English]. Ortop Traumatol Rehabil. 2007 Jan-Feb. 9(1):52-62. [Medline]. [Full Text].

Kardestuncer T, Bae DS, Waters PM. The results of tenodermodesis for severe chronic mallet finger deformity in children. J Pediatr Orthop. 2008 Jan-Feb. 28(1):81-5. [Medline].

Leibovic SJ. Arthrodesis of the interphalangeal joints with headless compression screws. J Hand Surg [Am]. 2007 Sep. 32(7):1113-9. [Medline].

Rocchi L, Genitiempo M, Fanfani F. Percutaneous fixation of mallet fractures by the "umbrella handle" technique. J Hand Surg [Br]. 2006 Aug. 31(4):407-12. [Medline].

Shin EK, Bae DS. Tenodermodesis for chronic mallet finger deformities in children. Tech Hand Up Extrem Surg. 2007 Dec. 11(4):262-5. [Medline].

Teoh LC, Lee JY. Mallet fractures: a novel approach to internal fixation using a hook plate. J Hand Surg Eur Vol. 2007 Feb. 32(1):24-30. [Medline].

Theivendran K, Mahon A, Rajaratnam V. A novel hook plate fixation technique for the treatment of mallet fractures. Ann Plast Surg. 2007 Jan. 58(1):112-5. [Medline].

Georgescu AV, Capota IM, Matei IR. A new surgical treatment for mallet finger deformity: Deepithelialised pedicled skin flap technique. Injury. 2013 Jan 19. [Medline].

Lee HJ, Jeon IH, Kim PT, Oh CW. Tension wire fixation for mallet fracture after extension block pinning failed. Arch Orthop Trauma Surg. 2014 May. 134(5):741-6. [Medline].

Wang L, Zhang X, Liu Z, Huang X, Zhu H, Yu Y. Tendon-bone graft for tendinous mallet fingers following failed splinting. J Hand Surg Am. 2013 Dec. 38(12):2353-9. [Medline].

Witherow EJ, Peiris CL. Custom made finger orthoses have fewer skin complications when compared to prefabricated finger orthoses in management of mallet injury: A systematic review and meta-analysis. Arch Phys Med Rehabil. 2015 Jul 8. [Medline].

Tocco S, Boccolari P, Landi A, Leonelli C, Mercanti C, Pogliacomi F, et al. Effectiveness of cast immobilization in comparison to the gold-standard self-removal orthotic intervention for closed mallet fingers: a randomized clinical trial. J Hand Ther. 2013 Jul-Sep. 26(3):191-200; quiz 201. [Medline].
Medscape Reference © 2011 WebMD, LLC