Wrist and Forearm Amputations
Author: Scott G Edwards, MD; Chief Editor: Harris Gellman, MD more...
Updated: Dec 23, 2015
What would you like to print?
Background
Amputations of the upper extremity largely follow the same basic principles as those of any amputated limb, some of which are covered in this article. However, the primary purpose of this article is to highlight the special considerations involved in acquired amputations at the wrist and forearm (below the elbow).[1, 2, 3, 4, 5] Amputations at or above the elbow, as well as the various hand and digital amputations, are discussed more fully elsewhere (see Elbow and Above-Elbow Amputations).
The true frequency of acquired amputation of the wrist and forearm is unknown. Published estimates of amputated limbs, including those of the upper extremities, vary significantly. Prevalences of 350,000-1,000,000 persons with amputations and annual incidence of 20,000-30,000 new amputations have been cited.
Although acquired amputations in children are discussed because this group of patients deserves special consideration,[6] congenital limb amputations and deficiencies are beyond the scope of this article.
Amputation remains one of the oldest surgical procedures. Archeologists have uncovered evidence of prehistoric people with amputations, both congenital and those acquired from surgery or trauma. Whereas the procedure has evolved significantly since the days of quickly severing a limb from an unanesthetized patient and dipping the stump in boiling oil to achieve hemostasis, it was not until World Wars I and II that modern ideas of amputation and prosthetics developed.
Particularly within the last three decades, prosthetic research and rehabilitation engineering centers supported by federal funding have disseminated new information regarding biomechanics and prosthetic design. With the advent of physical and rehabilitative medicine, surgeons now realize that the care for the person with an amputation does not end with removal of sutures.
As medical technology and surgical techniques are improved in the areas of peripheral vascular disease, diabetes, microsurgery, and limb salvage, the number of amputations will consequently decrease. Ethical questions of "technology over reason" will come to the forefront.
An example of this debate can be observed with the advent of upper-extremity transplantation.[7] Although transplantation offers an attractive alternative to amputation, further discussion is needed to evaluate the risks and benefits of such procedures. Does the functional gain of transplantation justify the use of resources involved and commitment of the patient to lifelong immunosuppressive therapy?
Although the surgical technique of amputation has stabilized and is not likely to undergo radical advances in the near future, prosthetic advances are likely to lead to improvements in function and quality of life of an individual with an amputation. Likewise, much research has focused on gaining a better understanding of the problem of phantom sensations as it relates to the reorganizational changes in the somatosensory system. Unfortunately, many questions remain unanswered.
Indications
Irreparable loss of the blood supply of a diseased or injured upper extremity is the only absolute indication for amputation regardless of all other circumstances (see the image below). Severe peripheral vascular disease, traumatic injury, thermal and electrical injury, and frostbite commonly require amputation.[8, 9, 10, 11] Not only has the part been rendered useless, but it is also a threat to the life of the individual because the toxic products of tissue destruction are disseminated systemically. It is important to remember that no injury severity score exists as a guide for severe upper-extremity trauma. Much of the decision-making is left to the judgment of the surgeon.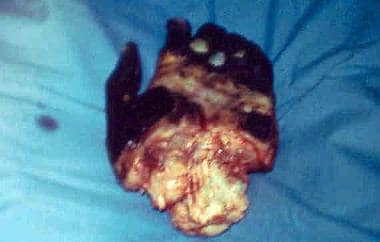 Amputation of a hand because of tissue necrosis.
Likewise, in individuals with systemic sepsis, amputations are necessary to control an otherwise rampant infection. Occasionally, an injury or condition that does not directly affect the vasculature has disabled the upper extremity to the extent that a prosthesis would be functionally superior to sparing the limb. An indication for amputation after nerve injury is the development of uncontrolled trophic ulcers in an anesthetic upper extremity. Amputation is indicated rarely in persons with quadriplegia, even if the upper extremities have no residual function. Often the upper extremities help maintain balance while sitting and serve to distribute the forces of weightbearing over a larger area, thus minimizing pressure sores.
In general, amputations in the upper extremity are also indicated for persons with malignant tumors without evidence of metastases.[12] Even after metastases, amputation may be necessary to relieve pain when a neoplasm has become ulcerated and infected or has caused a pathologic fracture. In these oncologic cases, the indications for amputations versus limb salvage procedures are evolving constantly and require individual consideration beyond the scope of this article.
Contraindications
The only absolute contraindication to amputation is a spared limb or part of a limb that would be functionally superior to its amputation. Many factors regarding the functional potential of a spared limb or part of a limb must be considered, including tactile and protective sensation, range of motion, pain, and the intended purpose of the limb or part.
Technical Considerations
Anatomy
The distal third of the forearm and wrist lack much of the bulky vascular musculature located more proximally. An envelope consisting largely of capsule, ligaments, tendon, and fascia surrounds the distal radius and ulna. Muscle bellies of the flexor pollicis longus and pronator quadratus may be encountered; however, they provide very little in the way of stump padding. Radial and ulnar vessels are identified at this level under the flexor carpi radialis and flexor carpi ulnaris, respectively. The median nerve is located between the volar fascia and flexor tendons, and the ulnar nerve lies under the flexor carpi ulnaris just medial to the ulnar artery.[13]
Special attention should be given to identifying and properly addressing the more superficial palmar cutaneous branch of the median nerve and the dorsal cutaneous branch of the ulnar nerve to prevent painful neuroma formation. Unlike at the level of the median and ulnar nerves and their associated branches, at this level, the radial nerve has fragmented into several branches; some are small filaments, crossing the dorsum of the hand and thumb, and are often difficult to isolate. (See Wrist Joint Anatomy for more information.)
In the distal forearm, the anterior and posterior interosseous nerves and vessels may be identified running along their respective courses anterior and posterior to the interosseous membrane toward the elbow. Proximally, the forearm becomes divided into distinct anterior and posterior muscular compartments. These compartments, combined with thicker skin and subcutaneous tissue, create healthier flaps for closure and stump padding. The radial artery courses down the lateral aspect of the forearm, with the superficial branch of the radial nerve in the interval between the brachioradialis and the flexor carpi radialis.
The median nerve passes deep to the fibrous arch of the origin of the flexor digitorum superficialis, where it continues distally in the middle of the anterior compartment. Just deep to the median nerve lies the anterior interosseous nerve and artery. The ulnar artery and nerve travel together deep to the flexor carpi ulnaris and flexor digitorum superficialis for most of the forearm length. However, near the elbow, the artery leaves the ulnar nerve laterally and travels toward its bifurcation from the brachial artery just distal to the antebrachial fossa.
For more proximal forearm amputations, care must be taken to preserve the pronator teres, which originates from the medial epicondyle of the humerus and the medial aspect of the coronoid and inserts on the middle third of the lateral radius. Not only do a significant number of essential neurovascular structures pass through or in close proximity to the muscle, but also, if a Krukenberg procedure is being considered, the pronator teres serves as the only motor unit for function.
Procedural planning
The surgeon faces many challenges over the course of treatment of the individual with an amputation. As with any potential amputation, the surgeon must decide the salvageability of a limb; this decision is often made quickly in cases of trauma or sepsis. Once the decision to amputate has been made, the level of amputation must be determined.
Knowledge of the functional limitations of amputation levels and prosthetic designs, as well as the patient's emotional, physical, and vocational background, must be carefully considered. This is especially true with the upper extremity. As a result, the surgeon walks a tightrope. Preservation of length in the upper extremity is paramount, but not at the cost of lost stump viability, appropriate bone coverage and padding, and optimal prosthetic fitting.
The surgery itself has its own risks of anesthesia and cardiovascular collapse, as well as early postoperative infections and pulmonary embolism. Later, and perhaps more specific to individuals with amputations, are occurrences of joint contractures, phantom limb pain, neuroma formation, stump breakdown, and, in children, bony overgrowth.
Individuals with amputations should undergo comprehensive physical and emotional rehabilitation. A person with an amputation is a patient for life. Close coordination with a team of specialists in physiatry or rehabilitative medicine, prosthetist, physical therapist, and psychologist is ideal. Unfortunately, with shrinking medical reimbursements and funds to support such endeavors, the surgeon is often left to direct all rehabilitative efforts alone. This is a formidable task for anyone, especially for a surgeon who frequently has no training, experience, or interest in the area.
The following are major goals of amputation surgery in the upper extremity:
Preservation of functional length

Durable coverage

Preservation of useful sensation

Prevention of symptomatic neuromas

Prevention of adjacent joint contractures

Controlled short-term morbidity

Early prosthetic fitting, when applicable

Early patient return to work and play
Outcomes
Persons with amputations at the appropriate level with proper surgical technique do very well. Complications outlined previously are generally prevented and managed successfully. A patient's preamputation attitude, motivation, and desire strongly influence the overall outcome. However, if proper follow-up care and rehabilitation are not coordinated with a multispecialty team of surgeons, physical therapists, physiatrists, prosthetists, and psychologists, then a less optimal result is inevitable.[14]
Generally, the longer the residual stump, the greater the residual function with or without a prosthesis. A study examining the outcomes of upper-extremity amputations found that individuals with below-the-elbow amputations performed two-handed activities more easily than did persons with above-the-elbow amputations; however, there was no significant difference between the two groups in performing activities of daily living. Although all attempts should be made to preserve elbow function, this finding suggests that perhaps the quality of life of the person with an upper-extremity amputation is not as dependent on the elbow as had previously been believed.[15, 16, 17]
References
Louis DS, Jebson PJL, Graham TJ. Amputations. In: Green DP, Hotchkiss RN, Pederson WC, eds. Green's Operative Hand Surgery. 4th ed. New York, NY: Churchill Livingstone; 1999:48-94.

Tooms RE. General Principles of Amputations. In: Canale ST, ed. Campbell's Operative Orthopaedics. 9th ed. St. Louis, Mo: CV Mosby; 1998:521-531.

Tooms RE. Amputations of Upper Extremity. In: Canale ST, ed. Campbell's Operative Orthopaedics. 9th ed. St. Louis, Mo: CV Mosby; 1998:550-560.

Levy CE, Bryant PR, Spires MC. Acquired limb deficiencies. 4. Troubleshooting. Arch Phys Med Rehabil. 2001 Mar. 82(3 Suppl 1):S25-30. [Medline].

Pandian G, Huang ME, Duffy DA. Acquired limb deficiencies. 2. Perioperative management. Arch Phys Med Rehabil. 2001 Mar. 82(3 Suppl 1):S9-S16. [Medline].

Williams AA, Lochner HV. Pediatric hand and wrist injuries. Curr Rev Musculoskelet Med. 2013 Mar. 6(1):18-25. [Medline]. [Full Text].

Jones NF, Schneeberger S. Arm transplantation: prospects and visions. Transplant Proc. 2009 Mar. 41(2):476-80. [Medline].

Atroshi I, Rosberg HE. Epidemiology of amputations and severe injuries of the hand. Hand Clin. 2001 Aug. 17(3):343-50, vii. [Medline].

DeBono R. A histological analysis of a high voltage electric current injury to an upper limb. Burns. 1999 Sep. 25(6):541-7. [Medline].

Glatstein MM, Ayalon I, Miller E, Scolnik D. Pediatric electrical burn injuries: experience of a large tertiary care hospital and a review of electrical injury. Pediatr Emerg Care. 2013 Jun. 29(6):737-40. [Medline].

Tarim A, Ezer A. Electrical burn is still a major risk factor for amputations. Burns. 2013 Mar. 39(2):354-7. [Medline].

Theunissen CI, Bras J, Lienden KP, Obdeijn MC. Malignant giant cell tumor in the carpal tunnel: a case report and review of literature. J Wrist Surg. 2013 Aug. 2 (3):271-5. [Medline].

Hoppenfield S, deBoer P. The forearm. In: Surgical Exposures in Orthopaedics: The Anatomic Approach. 2nd ed. Philadelphia, Pa: JB Lippincott; 1994:117-146:

Blume P, Salonga C, Garbalosa J, Pierre-Paul D, Key J, Gahtan V, et al. Predictors for the healing of transmetatarsal amputations: retrospective study of 91 amputations. Vascular. 2007 May-Jun. 15(3):126-33. [Medline].

Spikowska A, Stryla W. Analysis of quality of life in persons after arm amputations. Chir Narzadow Ruchu Ortop Pol. 2000. 65(6):665-73. [Medline].

Li G, Kuiken TA. EMG pattern recognition control of multifunctional prostheses by transradial amputees. Conf Proc IEEE Eng Med Biol Soc. 2009. 2009:6914-7. [Medline].

Castellini C, Fiorilla AE, Sandini G. Multi-subject/daily-life activity EMG-based control of mechanical hands. J Neuroeng Rehabil. 2009 Nov 17. 6:41. [Medline]. [Full Text].

Lutz BS, Klauke T, Dietrich FE. Late results after microvascular reconstruction of severe crush and avulsion injuries of the upper extremity. J Reconstr Microsurg. 1997 Aug. 13(6):423-9. [Medline].

Affleck DG, Edelman L, Morris SE. Assessment of tissue viability in complex extremity injuries: utility of the pyrophosphate nuclear scan. J Trauma. 2001 Feb. 50(2):263-9. [Medline].

Malone JM, Fleming LL, Roberson J. Immediate, early, and late postsurgical management of upper-limb amputation. J Rehabil Res Dev. 1984 May. 21(1):33-41. [Medline].

Grunert BK, Hargarten SW, Matloub HS. Predictive value of psychological screening in acute hand injuries. J Hand Surg [Am]. 1992 Mar. 17(2):196-9. [Medline].

Louis DS, Hunter LY, Keating TM. Painful neuromas in long below-elbow amputees. Arch Surg. 1980 Jun. 115(6):742-4. [Medline].

Martini A, Fromm B. A new operation for the prevention and treatment of amputation neuromas. J Bone Joint Surg Br. 1989 May. 71(3):379-82. [Medline].

Jones ML, Blair WF. Salvage of a below-elbow amputation stump with a free latissimus dorsi muscle flap: a case report. J Hand Surg [Am]. 1994 Mar. 19(2):207-8.

Swanson AB, Swanson GD. The Krukenberg procedure in the juvenile amputee. Clin Orthop. 1980 May. (148):55-61. [Medline].

Nathan PA, Trung NB. The Krukenberg operation: a modified technique avoiding skin grafts. J Hand Surg [Am]. 1977 Mar. 2(2):127-30. [Medline].

Garst RJ. The Krukenberg hand. J Bone Joint Surg Br. 1991 May. 73(3):385-8. [Medline].

Dettmers C, Adler T, Rzanny R, et al. Increased excitability in the primary motor cortex and supplementary motor area in patients with phantom limb pain after upper limb amputation. Neurosci Lett. 2001 Jul 13. 307(2):109-12. [Medline].

Karl A, Birbaumer N, Lutzenberger W. Reorganization of motor and somatosensory cortex in upper extremity amputees with phantom limb pain. J Neurosci. 2001 May 15. 21(10):3609-18. [Medline].

Kawashima N, Mita T. Metal bar prevents phantom limb motion: case study of an amputation patient who showed a profound change in the awareness of his phantom limb. Neurocase. 2009 Dec. 15(6):478-84. [Medline].

De Graaf JB, Jarrassé N, Nicol C, Touillet A, Coyle T, Maynard L, et al. Phantom hand and wrist movements in upper limb amputees are slow but naturally controlled movements. Neuroscience. 2015 Nov 10. 312:48-57. [Medline].

Viana R, Payne MW. Use of calcitonin in recalcitrant phantom limb pain complicated by heterotopic ossification. Pain Res Manag. 2015 Sep-Oct. 20 (5):229-33. [Medline].

Speer DP. The pathogenesis of amputation stump overgrowth. Clin Orthop. 1981 Sep. (159):294-307. [Medline].
Medscape Reference © 2011 WebMD, LLC