Discoid Meniscus Treatment & Management
Author: Ralph DiLibero, MD; Chief Editor: Thomas M DeBerardino, MD more...
Updated: Jul 27, 2015
What would you like to print?
Approach Considerations
Abnormalities of knee function, pain, and effusion are indications for surgical treatment. Surgical treatment varies according to the type of lateral discoid meniscus present. Arthroscopic procedures are quite successful and are somewhat more technically demanding than are routine meniscal tear excisions because of the younger age, the tighter joints, and reduced room available to manipulate arthroscopic equipment.[15, 16]
An otherwise asymptomatic knee with the incidental finding of discoid meniscus is a contraindication for surgical treatment.
Surgical Therapy
Surgical techniques for treatment of discoid menisci range from sculpting and partial meniscectomy to complete removal, starting with removal of the anterior portion for better arthroscopic visualization.[17, 18] (See the images below.)
Arthroscopic appearance of a complete discoid lateral meniscus. The probe is showing the medial extent of the lateral meniscus, which completely covers the lateral tibial plateau. Image courtesy of Robert D. Bronstein, MD.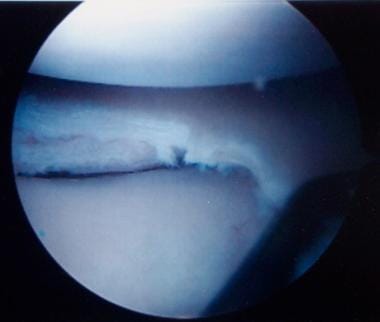 Arthroscopic photograph following saucerization of a discoid lateral meniscus. The edge of a horizontal tear that traversed the meniscus can be observed. Image courtesy of Robert D. Bronstein, MD.
Arthroscopic removal of a torn, normally configured lateral meniscus, in its entirety, is accomplished by first releasing the anterior horn, then releasing the attachment to the popliteal tendon, and then partially releasing the posterior horn. Finally, the meniscus is displaced into the intercondylar notch to complete the posterior release and remove the entire meniscus.[19]
A discoid lateral meniscus often has a continuous attachment from the popliteal tendon to the posterior horn. Removal of the anterior horn is necessary; the remainder of the discoid meniscus is then removed in a piecemeal fashion. An arthroscopic Bovie or other type of coagulation system should be available to stop possible bleeding from a branch of the lateral geniculate artery.
Because of the hypermobility of the entire meniscus in the Wrisberg (type III) deformity, sculpting the meniscus is ineffective, and better results have been reported with a near-complete to complete meniscectomy. Some attempts have been made to avoid total meniscectomy by tying down the meniscus through drill holes in the tibia to correct the anatomic defect.[20, 21]
In terms of the Watanabe classification, the indicated treatment for tears of discoid meniscus type I (complete), type II (incomplete), and the central-holed or ring-shaped version is removal of the central discoid and ring portions, including any areas of tearing, followed by arthroscopic sculpting of the remaining meniscus.[22]
Ahn et al evaluated the long-term clinical and radiographic results of arthroscopic reshaping, with or without peripheral meniscus repair, in 38 children (48 knees; mean age, 9.9 years) with symptomatic discoid lateral meniscus.[23] The surgical procedure performed was arthroscopic partial meniscectomy alone (22 knees), partial meniscectomy with repair (18 knees), or subtotal meniscectomy (8 knees). At a mean follow-up of 10.1 years, progression of degenerative changes was significantly greater in the group treated with subtotal meniscectomy than in either of the partial meniscectomy groups.
Complications
Possible complications include the following:
Bleeding from a branch of lateral geniculate artery

Damage to the articular surface of the joint

Incomplete removal of the tear

Rigid high border in unsculpted removal, resulting in further tearing

Postoperative hemarthrosis

Phlebitis
References
Lee BI, Min KD. Abnormal band of the lateral meniscus of the knee. Arthroscopy. 2000 Sep. 16(6):11. [Medline].

Choi NH, Kim NM, Kim HJ. Medial and lateral discoid meniscus in the same knee. Arthroscopy. 2001 Feb. 17(2):E9. [Medline].

Akgun I, Heybeli N, Bagatur E, et al. Bilateral discoid medial menisci: an adult patient with symmetrical radial tears in both knees. Arthroscopy. 1998 Jul-Aug. 14(5):512-7. [Medline].

Kim EY, Choi SH, Ahn JH, Kwon JW. Atypically thick and high location of the Wrisberg ligament in patients with a complete lateral discoid meniscus. Skeletal Radiol. 2008 Sep. 37(9):827-33. [Medline].

Klingele KE, Kocher MS, Hresko MT. Discoid lateral meniscus: prevalence of peripheral rim instability. J Pediatr Orthop. 2004 Jan-Feb. 24(1):79-82. [Medline].

Clark CR, Ogden JA. Development of the menisci of the human knee joint. Morphological changes and their potential role in childhood meniscal injury. J Bone Joint Surg Am. 1983 Apr. 65(4):538-47. [Medline].

Ryu KN, Kim IS, Kim EJ, et al. MR imaging of tears of discoid lateral menisci. AJR Am J Roentgenol. 1998 Oct. 171(4):963-7. [Medline].

Ikeuchi H. Arthroscopic treatment of the discoid lateral meniscus. Technique and long-term results. Clin Orthop. 1982 Jul. (167):19-28. [Medline].

Fung DA, Frey S, Markbreiter L. Bilateral symptomatic snapping biceps femoris tendon due to fibular exostosis. J Knee Surg. 2008 Jan. 21(1):55-7. [Medline].

Yoo WJ, Choi IH, Chung CY, Lee MC, Cho TJ, Park MS, et al. Discoid lateral meniscus in children: limited knee extension and meniscal instability in the posterior segment. J Pediatr Orthop. 2008 Jul-Aug. 28(5):544-8. [Medline].

Hart ES, Kalra KP, Grottkau BE, Albright M, Shannon EG. Discoid lateral meniscus in children. Orthop Nurs. 2008 May-Jun. 27(3):174-9; quiz 180-1. [Medline].

Krause FG, Haupt U, Ziebarth K, Slongo T. Mini-arthrotomy for lateral discoid menisci in children. J Pediatr Orthop. 2009 Mar. 29(2):130-6. [Medline].

Araki Y, Ashikaga R, Fujii K, et al. MR imaging of meniscal tears with discoid lateral meniscus. Eur J Radiol. 1998 May. 27(2):153-60. [Medline].

Connolly B, Babyn PS, Wright JG, et al. Discoid meniscus in children: magnetic resonance imaging characteristics. Can Assoc Radiol J. 1996 Oct. 47(5):347-54. [Medline].

Andrisani, Miller, Rubenstein. Surgical Management of Discoid Meniscus. Techniques in Knee Surgery. 2006. 128-33.

Good CR, Green DW, Griffith MH, Valen AW, Widmann RF, Rodeo SA. Arthroscopic treatment of symptomatic discoid meniscus in children: classification, technique, and results. Arthroscopy. 2007 Feb. 23(2):157-63. [Medline].

Smith CF, Van Dyk GE, Jurgutis J, Vangsness CT Jr. Cautious surgery for discoid menisci. Am J Knee Surg. 1999 Winter. 12(1):25-8. [Medline].

Ogata K. Arthroscopic technique: two-piece excision of discoid meniscus. Arthroscopy. 1997 Oct. 13(5):666-70. [Medline].

Yukawa T, Ochi M, Kobayashi T, Adachi N, Nakamura M, Yamada K. Magnetic force-assisted meniscal resection under arthroscopy. Knee Surg Sports Traumatol Arthrosc. 2008 Oct. 16(10):916-20. [Medline].

Ahn JH, Lee SH, Yoo JC, Lee YS, Ha HC. Arthroscopic partial meniscectomy with repair of the peripheral tear for symptomatic discoid lateral meniscus in children: results of minimum 2 years of follow-up. Arthroscopy. 2008 Aug. 24(8):888-98. [Medline].

Adachi N, Ochi M, Uchio Y. Torn discoid lateral meniscus treated using partial central meniscectomy and suture of the peripheral tear. Arthroscopy. 2004 May. 20(5):536-42. [Medline].

Monllau JC, Leon A, Cugat R, Ballester J. Ring-shaped lateral meniscus. Arthroscopy. 1998 Jul-Aug. 14(5):502-4. [Medline].

Ahn JH, Kim KI, Wang JH, Jeon JW, Cho YC, Lee SH. Long-term results of arthroscopic reshaping for symptomatic discoid lateral meniscus in children. Arthroscopy. 2015 May. 31 (5):867-73. [Medline].
Medscape Reference © 2011 WebMD, LLC