Floating Knee Treatment & Management
Author: Srinivasa Vidyadhara, MBBS, MS, DNB; Chief Editor: Carlos J Lavernia, MD more...
Updated: Jan 15, 2014
What would you like to print?
Medical Therapy
Medical therapy for adults
Early reports favored a nonsurgical approach to 1 or both fractures in a floating knee because of the unavailability of internal fixation. High infection rates and lack of knowledge of posttraumatic critical care further delayed the acceptance of internal fixation in this tough clinical situation. However, conservative methods entailed considerable risks of fracture-related shortening and angulation, with delays in fracture union and return to normal activities. As a result of these drawbacks, nonsurgical methods became unfavorable and were gradually replaced by internal fixation techniques.
Medical therapy for children
Nonsurgical treatment for children consists of skeletal traction for the femoral fracture with closed reduction and casting or splinting for the tibial fracture. A hip spica cast is applied when sufficient femoral healing has occurred.[10, 11]
The incidence of complications of fracture healing is high in older children treated with conservative methods. Malunion, nonunion, refracture, and limb-length discrepancy are documented in almost 50% of patients receiving closed treatment.[8]
Surgical Therapy
Surgical therapy for adults
Most surgeons currently recommend aggressive treatment with early stabilization of both fractures, integrated with a multisystem approach that emphasizes early mobilization of the patient to facilitate better care and quicker recovery.[7, 10, 11, 12, 13, 14]
At present, the use of intramedullary nails on either side of the knee joint is the best modality for fracture management. An antegrade technique is usually performed when the nails are applied. The procedure is performed after adequate resuscitation and physiologic stabilization is accomplished.
If immediate intramedullary nailing is not possible, a spanning external fixator can be applied to stabilize the entire limb. This fixator can be replaced with internal fixation when the patient's general condition is stable and/or when neurovascular lesions and soft tissue coverage are managed.
The technique of antegrade nailing does have drawbacks, such as difficulties in positioning the patient, the need for 2 incisions, prolonged anaesthesia and surgical time, and an inability to perform other surgical procedures at the same time.
To overcome these concerns, retrograde intramedullary nailing of the femur with antegrade nailing of the tibia through the same incision has been proposed as an alternative. The fracture of the femoral shaft is always addressed first, for 2 reasons. First, stabilization of the femur permits mobilization of the patient without traction if the patient has decompensation during the operation that requires abandonment of the second procedure. The extremity with the tibial fracture can be placed in a splint or cast, or an external fixator can be applied quickly. Second, stabilization of the femoral shaft fracture allows the surgeon to sufficiently flex the knee to access the starting point in the proximal tibia. In addition, it provides a stable proximal limb for support.
When the fracture pattern involves the metaphyseal region of the tibia and/or femur with or without intra-articular extension, stabilization can be achieved by using locking plates. Plate fixation can offer anatomic reduction of the articular surface; this method allows for rigorous mobilization and maximizes the functional outcome.
The nailing of a proximal femoral fracture and a less invasive stabilization system for distal femur (LISS-DF) fixation of a distal one could be a reliable and effective approach to handle ipsilateral concomitant fractures of a proximal extracapsular and distal femur.[15]
Early diagnosis of ligamentous injuries is essential to facilitate appropriate rehabilitation. Conservative treatment is preferred for an isolated injury to the medial collateral ligament. If necessary, reconstruction of anterior or posterior cruciate ligament tears may be delayed until union of the fractures occurs. Injuries to the posterolateral corner and avulsion fractures of the cruciate ligaments from either the femur or the tibia should be repaired at the time of the initial procedure or in the early postoperative period.
Surgical therapy for children
Most authors suggest operative treatment of at least the femoral fracture in patients older than 10 years. Surgical treatment reduces complications, hospital stays, and the time to unsupported walking. Therefore, many authors recommend surgical treatment for both the femoral fracture and the tibial fracture in all age groups.[10, 11, 12, 13]
Even in patients younger than 9 years, at least 1 fracture must be rigidly fixed. With the advent of newer pediatric fracture treatment methods, including flexible nail fixation of pediatric femur fractures, fixation of the femur fracture should be performed. This allows mobilization of the patient and patient discharge whether the tibia is also surgically stabilized or is treated closed.
Preoperative Details
Adequate resuscitation and physiologic stabilization is important in patients with a high Injury Severity Score due to associated injuries.
Intraoperative Details
Positioning for surgery is illustrated in Image 6.
Postoperative Details
Early joint mobilization is the key to success. Early weight bearing may be helpful in patients with diaphyseal fractures, and delayed weight bearing is preferred for those with intra-articular or metaphyseal fractures.
Complications
Delayed union, nonunion, malunion, and stiffness of the knee are more prevalent in patients with the floating-knee combination of fractures than in patients with isolated femoral or tibial fractures.[7, 11, 16]
For patients in general, factors such as older age, an increased number of pack-years of cigarettes smoked at the time of injury, a high Injury Severity Score, and the presence of open and comminuted fractures adversely affect the bony union time and the reoperation rate.[17]
Complications unique to children
In the pediatric population, open growth plates present an additional dynamic factor that leads to complications unique to children. Examples of such complications include overgrowth of the bone after a fracture and premature closure of the ipsilateral physis, genu valgum, and physeal arrest.
Mean overgrowths of the femur and tibia are 1.4 and 1.1 cm, respectively. The incidence of leg-length discrepancy is increased in patients younger than 9 years and in those treated nonoperatively. However, subjective limps and length discrepancies of the lower extremities can occur regardless of the type of fracture, the extent of soft tissue injury, or the treatment method.
Pediatric patients and their parents must be informed of these possible outcomes and counseled. Patients should be followed up until they reach skeletal maturity to monitor for signs of these complications.
Infection
The incidence of infection and incidence of osteomyelitis are relatively high in floating knee injuries, especially in patients with open or type II fracture patterns. Strategies that have led to the eradication of infections in most cases include meticulous debridement, continuous suction and irrigation drainage, and use of polymethylmethacrylate beads or sticks impregnated with antibiotics.
Knee stiffness
Delayed rehabilitation and associated injuries around the knee result in limitation of knee movement.
Outcome and Prognosis
Using the criteria of Karlstrom and Olerud,[6, 7, 18] most authors of published series describe excellent-to-good results in as many as 65% of surgically treated patients. After conservative treatment, success rates decrease to 29%. The complication rate is associated with fracture type (open fracture), Fraser type IIc, tibial plateau, and distal tibia.[19]
In children, good-to-excellent results have been reported with both conservative and surgical methods. Fixation of 1 or 2 fractures in children aged 9 years or younger offers superior results and minimizes the incidence of long-term dysfunction of the extremity.
Regarding intra-articular (type II) injuries, good or excellent results are reported in 24% of patients. The difficulty in obtaining satisfactory function after type II injuries may result from severe injuries to the soft tissue, damage to the knee joint, and/or the complexities of achieving stable reconstruction.
Apart from knee involvement and open type III femoral fractures, other significant factors that affect functional outcomes after floating knee injuries are the following:[18]
Involvement of the knee joint

Severity of soft tissue injury in the tibia

Fixation time after injury in the tibia

AO fracture grade in the femur and tibia

Fixation time after injury in the femur and severity of open femoral fractures
Future and Controversies
Patients with ipsilateral femoral and tibial fractures present after high-energy trauma. These injuries are associated with an increased risk of morbidity and mortality.
Isolated fractures in stable patients can be treated acutely. By contrast, temporary stabilization of the fractures with external fixation is indicated for unstable patients or those in extremis, according to the concepts of damage-control orthopedics. When the patient's physiologic state is stabilized, conversion to internal fixation is desirable (see image below).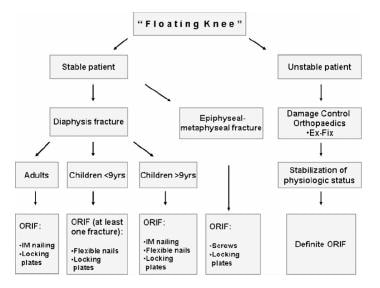 Treatment protocol for floating knee injuries. Ex-Fix = external fixation; IM = intramedullary; ORIF = open reduction and internal fixation.
Involvement of the knee joint, severe trauma to the soft tissues, fracture comminution, and open fractures are associated with increased complication rates resulting in worsened functional outcomes.
In children, when the physis is involved, the possibility of leg-length discrepancy must always be considered.
Medscape Reference © 2011 WebMD, LLC