Floating Knee Workup
Author: Srinivasa Vidyadhara, MBBS, MS, DNB; Chief Editor: Carlos J Lavernia, MD more...
Updated: Jan 15, 2014
What would you like to print?
Imaging Studies
See the list below:
Radiography

Obtain anteroposterior and lateral views of the femur and tibia, including views of the joint above and below.
Order radiographs showing the pelvis and both hips.
Obtain anteroposterior and lateral views of the affected knee.

Magnetic resonance imaging

MRI of the knee joint is advocated in patients with suspected injuries to the intra- or extra-articular ligaments.
MRI findings may in help in planning management of ligamentous injuries.

Computed tomography scanning: CT scans of the metaphyseal fractures may be useful for understanding the 3-dimensionsal configuration of the fracture fragments.

Other imaging studies: Generalized radiologic screening of suspected skeletal injuries may be undertaken.

None of the investigations should hinder the surgical management in emergency situations. In these circumstances, intraoperative examination under anaesthesia after stabilization of the fractures may be more appropriate.
Staging
Staging in adults
Blake and McBryde used the terms true (or type I) injury and variant (or type II) injury to classify the floating-knee fracture pattern.[2, 4]
Type I is a pure diaphyseal fracture of the femur and tibia.
Fraser et al classified floating knee injuries in a similar way by analyzing knee involvement (see image below).[5]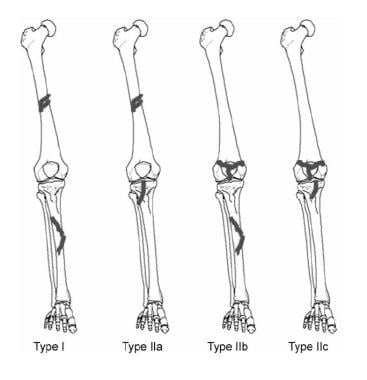 Fraser classification of floating knee injuries.
See the list below:
Type I is the same as the true injury Blake and McBryde described,

[2]

with extra-articular fractures of both bones.

Type II is subdivided into 3 groups, as follows:

Type IIa involves femoral shaft and tibial plateau fractures.
Type IIb includes fractures of the distal femur and the shaft of the tibia.
Type IIc indicates fractures of the distal femur and tibial plateau.
In both classification systems described above, type II fractures with intra-articular involvement have been linked with higher complication rates and poorer functional results than those observed with type I injuries.
The criteria Karlstrom and Olerud established are widely accepted for evaluating functional outcomes.[6, 7] The following data are recorded and characterized as excellent, good, acceptable, or poor (see image below):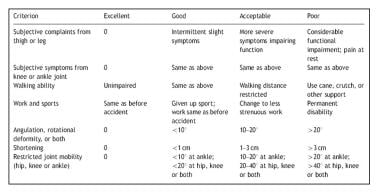 Karlstrom and Olerud's criteria for assessing functional outcomes after a floating knee injury.
See the list below:
Subjective symptoms from the thigh or leg

Subjective symptoms from the knee or ankle joint

Walking ability

Participation in work and sports

Angulation and/or rotational deformity

Shortening

Restricted mobility of the hip, knee, or ankle joint
Staging in children
In children, floating knee injuries are classified according to the Bohn–Durbin or Letts classification systems.
In the Bohn–Durbin classification, floating knee injuries are described as follows:
Type I - Double-shaft pattern of fracture

Type II - Juxta-articular pattern

Type III - Epiphyseal
The Bohn–Durbin system does not account for open fractures and cannot be used to predict complications and prognoses.
Unacceptable findings are femoral union in a position of greater than 30° anterior angulation, 15° valgus angulation, and 5° posterior or varus angulation, or greater than 2 cm of shortening. Tibial malunion is defined as greater than 5° angulation in any plane or greater than 1 cm of shortening. Rotational malunion is defined as any internal rotational deformity exceeding findings on the unaffected side or greater than 20° external rotation of the extremity, as detected during walking or standing.
Letts et al designed a new classification system in which they recognized diaphyseal, metaphyseal, or epiphyseal knee fractures (types A, B, C) and also open fractures (types D and E) (see image below). The drawback of their classification system is that they do not indicate how to classify patients with epiphyseal separation in the distal femur and tibia or how to describe the location of open fractures in the epiphysis, metaphysis, or diaphysis.[8]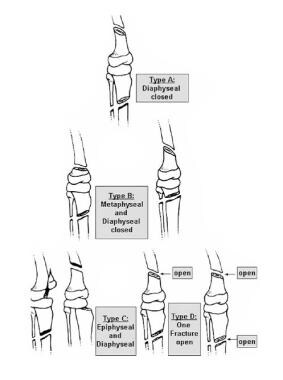 Letts and Vincent classification system for floating knee injuries in children.
Subjective outcomes of floating knee injuries can be evaluated by using the criteria Yue et al reported.[9] Their criteria are as follows:
Excellent - No complaints or limitations secondary to the injury to the extremity

Good - Occasional, minor pain in the extremity or a decreased ability to participate in athletic activities

Fair - Intermittent, moderate pain in the extremity but the patient is able to perform all activities of daily living and most recreational activities

Poor - Constant pain in the extremity and an inability to perform activities of daily living because of the injury to the extremity
Medscape Reference © 2011 WebMD, LLC