Patellar Tendon Rupture
Author: Christopher C Annunziata, MD; Chief Editor: Thomas M DeBerardino, MD more...
Updated: Nov 17, 2014
What would you like to print?
Background
The patellar tendon ruptures relatively infrequently. However, the complications of an untreated rupture to the extensor mechanism can be extremely disabling. Surgical intervention allows for excellent recovery of motion and strength, provided that the injury is diagnosed in a timely fashion and repaired immediately. The focus of this article is acute patellar tendon ruptures, especially those associated with acute sports-related injuries.
Patellar tendon ruptures also can occur as a complication of total knee arthroplasty,[1] anterior cruciate ligament (ACL) reconstruction using the patellar tendon as an autograft,[2] or excision of chronic tendinosis. However, the etiology and treatment in these circumstances are beyond the scope of this article.
History of the Procedure
In the past, the surgical technique for acute rupture of the patellar tendon was primary suture repair. Augmentation of the repair was believed to be necessary and was achieved by using a cerclage of wire, suture, or autogenous graft (eg, semitendinosus) in order to reinforce the repair.[3] Routinely, the knee was kept locked in extension for up to 6 weeks to prevent undue stress on the repair.
Earlier and more aggressive rehabilitation techniques are now available. Krackow introduced a novel interlocking stitch technique,[4] and Marder and Timmerman demonstrated that repair alone is equally durable without augmentation.[5]
Problem
The patellar tendon serves as the distal extent of the quadriceps insertion. Rupture of the patellar tendon usually occurs at the osseotendinous junction and causes complete derangement of the knee extensor mechanism. This is a disabling injury in an active person, resulting in an inability to actively obtain and maintain full knee extension.
If the tendon does not heal properly and at the correct length and tension, knee range of motion and strength can be altered significantly, leading to early fatigue,[6] patellofemoral pain, and, possibly, instability, which can thereby prevent return to preinjury status. Immediate surgical repair is recommended for optimal return of knee function and power.
Epidemiology
Frequency
The true incidence of patellar tendon rupture is not known, but this injury is observed less frequently than rupture of the quadriceps tendon and usually occurs in those younger than 40 years. It is the third most common injury to the extensor mechanism of the knee, following patellar fracture and quadriceps tendon rupture.[7, 8]
Etiology
Patellar tendon rupture often occurs in the setting of long-standing patellar tendon irritation. The rupture is the final result of chronic tendon degeneration due to repetitive microtrauma. Histopathologically, ruptured tendons studied by Kannus et al demonstrated changes consistent with chronic inflammation and degeneration.[9]
Ruptures also may occur after local injection of corticosteroid near the inferior pole of the patella as treatment for patellar tendinitis (ie, jumper's knee). This complication, first reported in 1969 by Ismail et al[10] and later elucidated by Kennedy et al,[11] is probably a result of steroid-induced breakdown of collagen organization and strength. In a series by Kelly et al, nearly 60% of patients who sustained patellar tendon ruptures had received an average of two or three steroid injections around the patellar tendon before rupture.[12, 1]
Patellar tendon rupture is usually unilateral and is the result of a traumatic athletic injury. The typical mechanism is a sudden eccentric contraction of the quadriceps, usually with the foot planted and the knee flexed as the person falls. However, in the setting of systemic inflammatory disease, diabetes mellitus, or chronic renal failure, bilateral ruptures can occur with lower-energy stress.[13, 14, 15, 16] Additionally, patellar tendon ruptures can result form a posterior knee dislocation.[17]
Systemic disorders are related to an increased incidence of tendon ruptures. Pritchard et al found that tendon ruptures in systemic lupus erythematosus (SLE) appear to be associated with extended disease duration, long-term corticosteroid therapy, evidence of steroid-induced musculoskeletal complications, minimal disease activity at the time of rupture, and deforming hand arthropathy.[18]
Inflammatory changes have been noted at the site of rupture in patients with SLE,[19] amyloid deposition has been noted at the site in patients with chronic renal failure undergoing dialysis,[20] and elastosis has been noted in patients with chronic acidosis.[21]
Anatomically, the patellar tendon tends to tear in the midsubstance in patients with systemic disease, rather than at the osseotendinous junction, as typically occurs in acute traumatic injury. After a tear of the midsubstance, tendon repair and rehabilitation can be especially difficult and is exacerbated further by the preexisting comorbid condition.
Patellar tendon ruptures also can occur after surgery for total knee arthroplasty, procedures using the central third of the patellar tendon as an autograft, or excision of patellar tendinosis.
Pathophysiology
Unilateral traumatic ruptures of the patellar tendon tend to occur when a violent contraction of the quadriceps is resisted by the flexed knee (eg, during landing after a jump). The estimated force required to disrupt the extensor mechanism has been reported to be as high as 17.5 times body weight.
In the flexed knee position, the patellar tendon sustains greater stress than the quadriceps tendon, and the tensile load is much higher at the insertion sites than in the midsubstance of the tendon. Therefore, the patellar tendon most commonly ruptures near its proximal end, off the inferior pole of the patella.
Given that considerable force is needed to rupture a healthy tendon, it is likely that ruptures occur in areas of preexisting disease.
Presentation
In most instances, the history, the physical examination, and standard radiographs suffice for making a diagnosis of acute patellar tendon rupture.
Disruption of the patellar tendon is associated with immediate, disabling pain. Acute rupture frequently results in an immediate "pop" or tearing sensation. The patient usually notes immediate swelling and difficulty with rising and bearing weight after the injury.
On physical examination, diffuse swelling in the anterior knee with ecchymosis, hemarthrosis, and patella alta is observed. Tenderness exists along the anterior knee and retinacula, and a defect at the level of the rupture is usually palpable (see the image below), though significant swelling can make this difficult to appreciate initially. The patella may also feel proximally displaced as compared with the contralateral side.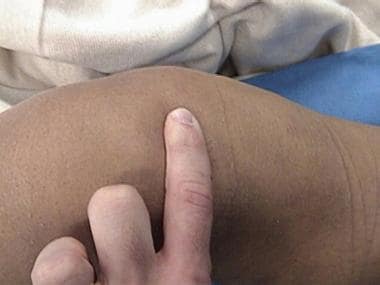 Patellar tendon rupture. This image depicts the defect within the patellar tendon at the inferior pole of the patella.
The patient is usually unable to bear weight, especially in a single-leg stance, and has a tense hemarthrosis. With a tendon rupture extending through the medial and lateral retinacula, active extension is completely lost, and the patient is unable to maintain the passively extended knee against gravity. If the rupture involves only the tendon and the retinacular fibers remain intact, some extension is possible, though an extensor lag is noted.
Occasionally, a deceleration injury can cause a disruption of the extensor mechanism. In this setting, it is also important to assess both the integrity of the meniscal cartilage with palpation of the joint line and the anterior cruciate ligament (ACL) with a Lachman test.[22]
If the diagnosis of tendon rupture is delayed, scar tissue may obliterate what previously had been a palpable defect. In this scenario, some degree of active extension may be possible, but with weakness and some degree of extensor lag. Quadriceps atrophy may also be noted, with considerable weakness, especially with weightbearing, stair climbing, and rising from a seated position. The weakness can exist to such a degree that the patient performs a forward thrusting motion of the limb in the swing phase of gait and complains of stance instability.
Indications
Early diagnosis and definitive treatment provide the best results. The type of treatment depends predominantly on the extent of the tear. The most common injury involves acute complete disruption of the tendon with subsequent dysfunction of the extensor mechanism. In this setting, surgical repair is the treatment of choice. In general, repair should be performed as soon as possible after the injury to limit the degree of quadriceps atrophy and prevent any contractures that might make the procedure more difficult.
In some situations, a partial tear of the patellar tendon may occur. The patient may be able to maintain full, active extension and normal patellar height. This individual can potentially be treated nonoperatively with immobilization until the tendon has healed. However, one must be certain that the tear is, in fact, partial before initiating this program. Magnetic resonance imaging (MRI) may be useful in this situation (see Imaging Studies).
The chronicity of the tear is another factor that must be considered. After approximately 6 weeks, direct repair becomes challenging, if possible at all, with native tissue; other techniques may be necessary to establish continuity of the extensor mechanism.
In a prospective study that included 17 patients (average age, 30 years; range, 22-36 years), Abdou investigated the use of hamstring tendon autograft in the treatment of chronic rupture of the patellar tendon.[23] Patients underwent regular follow-up (average, 21 months; range, 12-30 months) after clinical and radiographic preoperative and postoperative evaluation. The author concluded that hamstring tendon autograft is safe and effective for patellar tendon reconstruction and that it affords good ligament reconstruction.
Regardless of the timing, repair or reconstruction is still the optimal treatment in a patient who has sustained a patellar tendon tear with subsequent patella alta and extensor mechanism dysfunction.
Relevant Anatomy
The patellar tendon is actually a ligament connecting two bones, the tibia and the patella. The extensor mechanism of the knee starts proximally as the quadriceps femoris muscle group. Anteriorly, the fibers of the rectus femoris tendon traverse the patella and condense inferior to the patella to insert on the tibial tubercle as the patellar tendon.
The fibers of the vastus lateralis expand to the superolateral border of the patella and proximal tibia to form the lateral retinaculum. Similarly, the tendons of the vastus medialis insert into the superomedial border of the patella and tibia to form the medial retinaculum. The retinacula converge into the patellar tendon. Injuries to the tendon usually involve the adjacent retinacula as well, causing dysfunction of the entire extensor hood.
Contraindications
With disruption of the extensor mechanism of the knee, no absolute contraindications have been cited for the acute traumatic patellar tendon rupture. Perhaps in the case of an open, grossly contaminated wound, the need for a staged reconstruction following surgical debridements can be entertained. Nonetheless, the need for reestablishment of the extensor mechanism cannot be underestimated.
References
Brooks P. Extensor mechanism ruptures. Orthopedics. 2009 Sep. 32(9):[Medline].

Bonamo JJ, Krinick RM, Sporn AA. Rupture of the patellar ligament after use of its central third for anterior cruciate reconstruction. A report of two cases. J Bone Joint Surg Am. 1984 Oct. 66(8):1294-7. [Medline].

Jablonski JJ, Jarmuziewicz P, Druzbicki M. Reconstruction of chronic patellar tendon rupture with semitendinosus tendon: case report. Ortop Traumatol Rehabil. 2011 Dec 30. 13(6):607-15. [Medline].

Krackow KA, Thomas SC, Jones LC. A new stitch for ligament-tendon fixation. Brief note. J Bone Joint Surg Am. 1986 Jun. 68(5):764-6. [Medline].

Marder RA, Timmerman LA. Primary repair of patellar tendon rupture without augmentation. Am J Sports Med. 1999 May-Jun. 27(3):304-7. [Medline].

Andarawis-Puri N, Sereysky JB, Sun HB, Jepsen KJ, Flatow EL. Molecular response of the patellar tendon to fatigue loading explained in the context of the initial induced damage and number of fatigue loading cycles. J Orthop Res. 2012 Jan 6. [Medline].

Ramseier LE, Werner CM, Heinzelmann M. Quadriceps and patellar tendon rupture. Injury. 2006 Jun. 37(6):516-9. [Medline].

Scuderi GS, Easley ME. Quadriceps and patellar tendon disruptions. In: Scott WN, ed. Surgery of the Knee. 3rd ed. WB Saunders Co. 2001:1074-1086.

Kannus P, Jozsa L. Histopathological changes preceding spontaneous rupture of a tendon. A controlled study of 891 patients. J Bone Joint Surg Am. 1991 Dec. 73(10):1507-25. [Medline].

Ismail AM, Balakrishnan R, Rajakumar MK, Lumpur K. Rupture of patellar ligament after steroid infiltration. Report of a case. J Bone Joint Surg Br. 1969 Aug. 51(3):503-5. [Medline].

Kennedy JC, Willis RB. The effects of local steroid injections on tendons: a biomechanical and microscopic correlative study. Am J Sports Med. 1976 Jan-Feb. 4(1):11-21. [Medline].

Kelly DW, Carter VS, Jobe FW, Kerlan RK. Patellar and quadriceps tendon ruptures--jumper's knee. Am J Sports Med. 1984 Sep-Oct. 12(5):375-80. [Medline].

Giblin P, Small A, Nichol R. Bilateral rupture of the ligamentum patellae: two case reports and a review of the literature. Aust N Z J Surg. 1982 Apr. 52(2):145-8. [Medline].

Rose PS, Frassica FJ. Atraumatic bilateral patellar tendon rupture, A case report and review of the literature. J Bone Joint Surg Am. 2001 Sep. 83-A(9):1382-6. [Medline].

Taylor BC, Tancev A, Fowler T. Bilateral patellar tendon rupture at different sites without predisposing systemic disease or steroid use. Iowa Orthop J. 2009. 29:100-4. [Medline]. [Full Text].

Alexa O, Cozma T. Traumatic bilateral rupture of the patellar tendon in an apparently healthy patient. Chirurgia (Bucur). 2009 Mar-Apr. 104(2):231-4. [Medline].

Ozkan C, Kalaci A, Tan I, Sarpel Y. Bilateral dislocation of the knee with rupture of both patellar tendons. A case report. Knee. 2006 Aug. 13(4):333-6. [Medline].

Pritchard CH, Berney S. Patellar tendon rupture in systemic lupus erythematosus. J Rheumatol. 1989 Jun. 16(6):786-8. [Medline].

Furie RA, Chartash EK. Tendon rupture in systemic lupus erythematosus. Semin Arthritis Rheum. 1988 Nov. 18(2):127-33. [Medline].

Kurer MH, Baillod RA, Madgwick JC. Musculoskeletal manifestations of amyloidosis. A review of 83 patients on haemodialysis for at least 10 years. J Bone Joint Surg Br. 1991 Mar. 73(2):271-6. [Medline].

Finlayson GR, Smith JG Jr, Moore MJ. Effects of chronic acidosis on connective tissue. JAMA. 1964. 187:659-662.

Costa-Paz M, Muscolo DL, Makino A, Ayerza MA. Simultaneous acute rupture of the patellar tendon and the anterior cruciate ligament. Arthroscopy. 2005 Sep. 21(9):1143. [Medline].

Abdou YE. Reconstruction of a chronic patellar tendon rupture with semitendinosus autograft. Arch Orthop Trauma Surg. 2014 Sep 2. [Medline].

Yu JS, Petersilge C, Sartoris DJ, et al. MR imaging of injuries of the extensor mechanism of the knee. Radiographics. 1994 May. 14(3):541-51. [Medline].

Blazina ME, Kerlan RK, Jobe FW, et al. Jumper's knee. Orthop Clin North Am. 1973 Jul. 4(3):665-78. [Medline].

Burks RT, Edelson RH. Allograft reconstruction of the patellar ligament. A case report. J Bone Joint Surg Am. 1994 Jul. 76(7):1077-9. [Medline].

Emerson RH Jr, Head WC, Malinin TI. Reconstruction of patellar tendon rupture after total knee arthroplasty with an extensor mechanism allograft. Clin Orthop. 1990 Nov. (260):154-61. [Medline].

Williams RJ 3rd, Brooks DD, Wickiewicz TL. Reconstruction of the patellar tendon using a patella-quadriceps tendon autograft. Orthopedics. 1997 Jun. 20(6):554-8. [Medline].

Futch LA, Garth WP, Folsom GJ, Ogard WK. Acute rupture of the anterior cruciate ligament and patellar tendon in a collegiate athlete. Arthroscopy. 2007 Jan. 23(1):112.e1-4. [Medline].

Krushinski EM, Parks BG, Hinton RY. Gap formation in transpatellar patellar tendon repair: pretensioning Krackow sutures versus standard repair in a cadaver model. Am J Sports Med. 2009 Sep 15. [Medline].

Ong BC, Sherman O. Acute patellar tendon rupture: A new surgical technique. Arthroscopy. 2000 Nov. 16(8):869-70. [Medline].

Ecker ML, Lotke PA, Glazer RM. Late reconstruction of the patellar tendon. J Bone Joint Surg Am. 1979 Sep. 61(6A):884-6. [Medline].

Evans PD, Pritchard GA, Jenkins DH. Carbon fibre used in the late reconstruction of rupture of the extensor mechanism of the knee. Injury. 1987 Jan. 18(1):57-60. [Medline].

Mandelbaum BR, Bartolozzi A, Carney B. A systematic approach to reconstruction of neglected tears of the patellar tendon. A case report. Clin Orthop. 1988 Oct. (235):268-71. [Medline].

McNally PD, Marcelli EA. Achilles allograft reconstruction of a chronic patellar tendon rupture. Arthroscopy. 1998 Apr. 14(3):340-4. [Medline].

Larson RV, Simonian PT. Semitendinosus augmentation of acute patellar tendon repair with immediate mobilization. Am J Sports Med. 1995 Jan-Feb. 23(1):82-6. [Medline].

Miskew DB, Pearson RL, Pankovich AM. Mersilene strip suture in repair of disruptions of the quadriceps and patellar tendons. J Trauma. 1980 Oct. 20(10):867-72. [Medline].

Levy M, Goldstein J, Rosner M. A method of repair for quadriceps tendon or patellar ligament (tendon) ruptures without cast immobilization. Preliminary report. Clin Orthop. 1987 May. (218):297-301. [Medline].

Takebe K, Hirohata K. Old rupture of the patellar tendon. A case report. Clin Orthop. 1985 Jun. (196):253-5. [Medline].

Wascher DC, Summa CD. Reconstruction of chronic rupture of the extensor mechanism after patellectomy. Clin Orthop. 1998 Dec. (357):135-40. [Medline].

Van der Bracht H, Verdonk R, Stuyts B. Augmentation of a patellar tendon repair with an autologous semitendinosus graft. Acta Orthop Belg. 2009 Jun. 75(3):417-9. [Medline].

Vadalà A, Iorio R, Bonifazi AM, Bolle G, Ferretti A. Re-revision of a patellar tendon rupture in a young professional martial arts athlete. J Orthop Traumatol. 2011 Oct 19. [Medline].

Hsu KY, Wang KC, Ho WP, Hsu RW. Traumatic patellar tendon ruptures: a follow-up study of primary repair and a neutralization wire. J Trauma. 1994 May. 36(5):658-60. [Medline].

Kuechle DK, Stuart MJ. Isolated rupture of the patellar tendon in athletes. Am J Sports Med. 1994 Sep-Oct. 22(5):692-5. [Medline].

Larsen E, Lund PM. Ruptures of the extensor mechanism of the knee joint. Clinical results and patellofemoral articulation. Clin Orthop. 1986 Dec. (213):150-3. [Medline].

Siwek CW, Rao JP. Ruptures of the extensor mechanism of the knee joint. J Bone Joint Surg Am. 1981 Jul. 63(6):932-7. [Medline].

Shelbourne KD, Darmelio MP, Klootwyk TE. Patellar tendon rupture repair using Dall-Miles cable. Am J Knee Surg. 2001 Winter. 14(1):17-20; discussion 20-1. [Medline].

Matava MJ. Patellar Tendon Ruptures. J Am Acad Orthop Surg. 1996 Nov. 4(6):287-296. [Medline].

West JL, Keene JS, Kaplan LD. Early motion after quadriceps and patellar tendon repairs: outcomes with single-suture augmentation. Am J Sports Med. 2008 Feb. 36(2):316-23. [Medline].

Bushnell BD, Byram IR, Weinhold PS, Creighton RA. The use of suture anchors in repair of the ruptured patellar tendon: a biomechanical study. Am J Sports Med. 2006 Sep. 34(9):1492-9. [Medline].

Bushnell BD, Tennant JN, Rubright JH, Creighton RA. Repair of patellar tendon rupture using suture anchors. J Knee Surg. 2008 Apr. 21(2):122-9. [Medline].
Table 1. Standard Postoperative Protocol
Time After Surgery
Weightbearing
Immobilization
Therapy
0-3 d
None, with use of crutches
Hinged knee brace locked in extension
1. Motion - None



2. Modalities and/or exercises - None




4-13 d
Toe touch with crutches
Hinged knee brace locked in extension
1. Motion - Active flexion to 45° and passive extension to 0° (no active extension) 3 times a day



2. Modalities and/or exercises - Swelling control with ice, gentle medial and lateral patellar mobilization, gentle isometric hamstring exercises, contralateral isometric quadriceps exercises 3 times a day




2-4 wk
Partial (25-50%) with crutches
Hinged knee brace locked in extension
1. Motion - Active flexion to progress to 90° and passive extension to 0° (no active extension) 3 times a day



2. Modalities and/or exercises - Swelling control with ice, gentle medial and lateral patellar mobilization, gentle (~25%) isometric quadriceps exercises (sets, no straight leg raises), continue with ipsilateral hamstring exercises and contralateral quadriceps exercises 3 times a day




4-6 wk
Progress to weightbearing as tolerated, crutches discontinued when good quadriceps control is obtained
Hinged knee brace locked in extension
1. Motion - Active flexion to progress as tolerated and passive extension to 0° (no active extension) 3 times a day



2. Modalities and/or exercises - Swelling control with ice, gentle medial and lateral patellar mobilization, gentle (~25%) isometric quadriceps exercises (sets, no straight leg raises), continue with ipsilateral hamstring exercises and contralateral quadriceps exercises 3 times a day




6-12 wk
Weightbearing as tolerated
Hinged knee brace locked in extension until good active quadriceps control and normal gait are obtained
1. Motion - Progress to full 3 times a day



2. Modalities and/or exercises - Swelling control with ice, more aggressive medial and lateral patellar mobilization, begin straight leg raises without resistance, continue with ipsilateral hamstring exercises and contralateral quadriceps exercises 3 times a day; start stationary cycling at 8 weeks




12-16 wk
Complete weightbearing
No immobilization
Progress with quadriceps strengthening (isokinetic) exercises and start neuromuscular retraining
16-24 wk
Complete weightbearing
No immobilization
May start running and sport-specific training
>6 mo
Complete weightbearing
No immobilization
May return to jumping and contact sports when obtain 85-90% of strength of contralateral extremity on isokinetic strength testing
Medscape Reference © 2011 WebMD, LLC