Knee Dislocation Surgery Workup
Author: John R Green III, MD; Chief Editor: Thomas M DeBerardino, MD more...
Updated: Jun 10, 2016
What would you like to print?
Imaging Studies
Standard anteroposterior (AP) and lateral radiographs can be obtained to detect a knee dislocation (see the image below).[14] After reduction, repeat AP and lateral radiographs are obtained to confirm reduction. Oblique views after reduction may delineate small avulsion or rim fractures and osteochondral fractures.[15]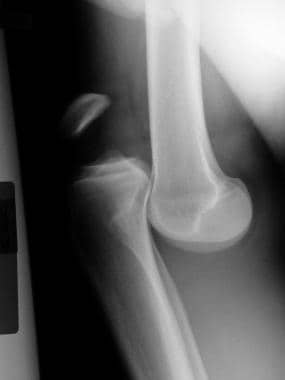 Knee dislocations. Lateral radiograph of anterior knee dislocation.
With technological advances in Doppler imaging, the need for arteriography in postreduction limbs that have normal vascular examination findings is controversial.[16] Some argue that unremarkable findings on Doppler obviate the need for arteriography, which is more expensive and is associated with a low but real risk of complications.[17] The authors had a patient who was discharged home 2 days after initial unremarkable findings on arterial Doppler study and returned the next day with an acute occlusion of the popliteal artery from an intimal flap. The authors continue to strongly recommend routine arteriography in these cases.
For ligament injuries of the knee, magnetic resonance imaging (MRI) can be used to assess the extent and location of ligament disruption, meniscal tears, and subtle injuries to the bone, as well as to determine which tears are repairable.[18, 19]
References
Girgis FG, Marshall JL, Monajem A. The cruciate ligaments of the knee joint. Anatomical, functional and experimental analysis. Clin Orthop. 1975 Jan-Feb. (106):216-31. [Medline].

Seroyer ST, Musahl V, Harner CD. Management of the acute knee dislocation: The Pittsburgh experience. Injury. 2008 Jul. 39(7):710-8. [Medline].

Wood MB. Peroneal nerve repair. Surgical results. Clin Orthop. 1991 Jun. (267):206-10. [Medline].

Moore TM. Fracture--dislocation of the knee. Clin Orthop. 1981 May. (156):128-40. [Medline].

Kennedy JC. Complete Dislocation of the Knee Joint. J Bone Joint Surg. 1963. 45(5):889-904.

Frassica FJ, Sim FH, Staeheli JW, Pairolero PC. Dislocation of the knee. Clin Orthop. 1991 Feb. (263):200-5. [Medline].

Eranki V, Begg C, Wallace B. Outcomes of operatively treated acute knee dislocations. Open Orthop J. 2010 Jan 19. 4:22-30. [Medline]. [Full Text].

Oetgen ME, Walick KS, Tulchin K, Karol LA, Johnston CE. Functional results after surgical treatment for congenital knee dislocation. J Pediatr Orthop. 2010 Apr-May. 30(3):216-23. [Medline].

Wascher DC, Becker JR, Dexter JG, Blevins FT. Reconstruction of the anterior and posterior cruciate ligaments after knee dislocation. Results using fresh-frozen nonirradiated allografts. Am J Sports Med. 1999 Mar-Apr. 27(2):189-96. [Medline].

Shapiro MS, Freedman EL. Allograft reconstruction of the anterior and posterior cruciate ligaments after traumatic knee dislocation. Am J Sports Med. 1995 Sep-Oct. 23(5):580-7. [Medline].

Yeh WL, Tu YK, Su JY, Hsu RW. Knee dislocation: treatment of high-velocity knee dislocation. J Trauma. 1999 Apr. 46(4):693-701. [Medline].

Taylor AR, Arden GP, Rainey HA. Traumatic dislocation of the knee. A report of forty-three cases with special reference to conservative treatment. J Bone Joint Surg Br. 1972 Feb. 54(1):96-102. [Medline].

Zoys GN. Knee dislocations. Orthopedics. 2001 Mar. 24(3):294-9; quiz 300-1. [Medline].

Shearer D, Lomasney L, Pierce K. Dislocation of the knee: imaging findings. J Spec Oper Med. 2010 Winter. 10(1):43-7. [Medline].

Kaufman SL, Martin LG. Arterial injuries associated with complete dislocation of the knee. Radiology. 1992 Jul. 184(1):153-5. [Medline].

Lynch K, Johansen K. Can Doppler pressure measurement replace "exclusion" arteriography in the diagnosis of occult extremity arterial trauma?. Ann Surg. 1991 Dec. 214(6):737-41. [Medline].

Applebaum R, Yellin AE, Weaver FA, et al. Role of routine arteriography in blunt lower-extremity trauma. Am J Surg. 1990 Aug. 160(2):221-4; discussion 224-5. [Medline].

Bui KL, Ilaslan H, Parker RD, Sundaram M. Knee dislocations: a magnetic resonance imaging study correlated with clinical and operative findings. Skeletal Radiol. 2008 Jul. 37(7):653-61. [Medline].

Weber-Spickschen TS, Spang J, Kohn L, Imhoff AB, Schottle PB. The relationship between trochlear dysplasia and medial patellofemoral ligament rupture location after patellar dislocation: An MRI evaluation. Knee. 2010 May 20. [Medline].

Hill JA, Rana NA. Complications of posterolateral dislocation of the knee: case report and literature review. Clin Orthop. 1981 Jan-Feb. (154):212-5. [Medline].

Jones RE, Smith EC, Bone GE. Vascular and orthopedic complications of knee dislocation. Surg Gynecol Obstet. 1979 Oct. 149(4):554-8. [Medline].

McCutchan JD, Gillham NR. Injury to the popliteal artery associated with dislocation of the knee: palpable distal pulses do not negate the requirement for arteriography. Injury. 1989 Sep. 20(5):307-10. [Medline].

Treiman GS, Yellin AE, Weaver FA, et al. Examination of the patient with a knee dislocation. The case for selective arteriography. Arch Surg. 1992 Sep. 127(9):1056-62; discussion 1062-3. [Medline].

Kirby L, Abbas J, Brophy C. Recanalization of an occluded popliteal artery following posterior knee dislocation. Ann Vasc Surg. 1999 Nov. 13(6):622-4. [Medline].

Patterson BM, Agel J, Swiontkowski MF, Mackenzie EJ, Bosse MJ. Knee dislocations with vascular injury: outcomes in the Lower Extremity Assessment Project (LEAP) Study. J Trauma. 2007 Oct. 63(4):855-8. [Medline].

Bonnevialle P, Chaufour X, Loustau O, Mansat P, Pidhorz L, Mansat M. [Traumatic knee dislocation with popliteal vascular disruption: retrospective study of 14 cases]. Rev Chir Orthop Reparatrice Appar Mot. 2006 Dec. 92(8):768-77. [Medline].

Thomsen PB, Rud B, Jensen UH. Stability and motion after traumatic dislocation of the knee. Acta Orthop Scand. 1984 Jun. 55(3):278-83. [Medline].

Hughston JC, Jacobson KE. Chronic posterolateral rotatory instability of the knee. J Bone Joint Surg Am. 1985 Mar. 67(3):351-9. [Medline].

Mariani PP, Santoriello P, Iannone S, et al. Comparison of surgical treatments for knee dislocation. Am J Knee Surg. 1999 Fall. 12(4):214-21. [Medline].

Bin SI, Nam TS. Surgical outcome of 2-stage management of multiple knee ligament injuries after knee dislocation. Arthroscopy. 2007 Oct. 23(10):1066-72. [Medline].

Hirschmann MT, Zimmermann N, Rychen T, Candrian C, Hudetz D, Lorez LG, et al. Clinical and radiological outcomes after management of traumatic knee dislocation by open single stage complete reconstruction. BMC Musculoskelet Disord. 2010 May 27. 11(1):102. [Medline].

Sisto DJ, Warren RF. Complete knee dislocation. A follow-up study of operative treatment. Clin Orthop. 1985 Sep. (198):94-101. [Medline].

Noyes FR, Barber-Westin SD. Reconstruction of the anterior and posterior cruciate ligaments after knee dislocation. Use of early protected postoperative motion to decrease arthrofibrosis. Am J Sports Med. 1997 Nov-Dec. 25(6):769-78. [Medline].

Whelan DB, Dold AP, Trajkovski T, Chahal J. Risk factors for the development of heterotopic ossification after knee dislocation. Clin Orthop Relat Res. 2014 Sep. 472(9):2698-704. [Medline]. [Full Text].
Medscape Reference © 2011 WebMD, LLC