Plica Syndrome Treatment & Management
Author: Tracy Lee Bigelow, DO; Chief Editor: Thomas M DeBerardino, MD more...
Updated: Aug 27, 2015
What would you like to print?
Approach Considerations
The most common symptomatic plica is medial parapatellar plica. Surgical intervention for plica syndrome should be considered when symptoms have persisted and efforts at nonoperative management have failed for a period typically approaching 6 months. Permanent modification of athletic activity is usually another option, but patients rarely find this option acceptable. Moreover, surgical treatment offers such predictable results that withholding treatment could arguably be considered ethically questionable. Longer periods between symptom onset and surgical treatment appear to be associated with cartilage damage.[38]
Patients with absolute contraindications for surgical treatment include those who are considered unfit for surgery from a medical standpoint. Active soft-tissue infection around the knee that precludes the use of standard arthroscopic portals is another contraindication. Relative contraindications include hypercoagulability syndromes that predispose the patient to thrombotic complications, as well as excessive risk for reflex sympathetic dystrophy (RSD).
Medical Therapy
Medical treatment of plica syndrome has been driven largely by empiric evidence. A structured program of stretching and strengthening exercises often leads to some improvement. This may include short-arc quadriceps extension exercises (terminal approximately 20° of extension). These exercises are aimed at optimizing patellofemoral biodynamic relationships in an effort to control symptoms.
A patellar knee sleeve worn during sporting activities (usually a neoprene-type brace) may also be a useful adjunct for many athletes. In addition, nonsteroidal anti-inflammatory medications are a time-tested and confirmed aid for many athletes with plica syndrome.
Surgical Therapy
Surgical therapy for plica syndrome is virtually always arthroscopic. The arthroscopic surgeon must exclude other potential intra-articular causes of knee pain and then address any pathologic plicae. Plica resection may be performed with arthroscopic hand instruments, a motorized soft-tissue resector, or certain commercially available electrothermal devices.
Procedure
The preoperative phase of treatment involves optimizing the patient's knee strength and flexibility in an effort to streamline postoperative rehabilitation. Preoperative preparation of the patient also involves education and appropriate goal setting. For instance, the patient should understand that therapeutic exercises typically begin shortly after surgery (hours to days) and that a full return to sports can be realized soon thereafter (days to weeks). Patients who know this in advance tend to achieve these goals quite readily.
After arthroscopic evaluation establishes that no other intra-articular abnormalities must be addressed, the plica can be resected. With whatever tools work best, the plica should be resected back to a point where it no longer impinges on articular structures. With beefy synovitic plicae extending into the patellofemoral joint space (typically ≥ 50%; see the first image below), this may require extensive debridement (see the second image below). With tough, fibrotic plicae draping over the medial femoral condyle, this may involve little more than disruption of the tight band.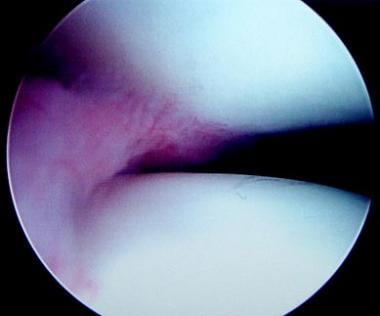 Plica syndrome. Preoperative appearance of medial parapatellar plica (a 4+ plica by the Jee classification, extending across more than two thirds of the medial facet of the patella).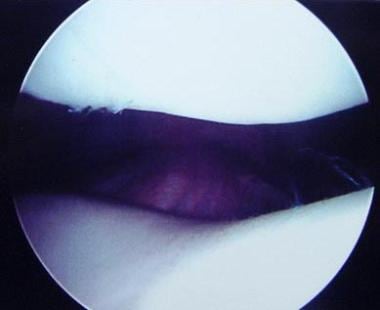 Plica syndrome. Postoperative appearance of the same patient as in Image 5 after plical resection.
At times, even a suprapatellar plica may lead to symptoms. Strover et al reported on an arthroscopic technique demonstrating the pathomechanics of such suprapatellar plicae.[39] They recommended that the arthroscope should be inserted through a lateral suprapatellar portal. Proximal visualization is then optimized.
In those patients whose suprapatellar plica is symptomatic, progressive flexion of the knee results in the plical tissue becoming taut. It also makes contact with the medial femoral condyle and even becomes entrapped between the quadriceps tendon and the medial femoral condyle.[39]
Postoperative care
Postoperatively, the patient is started on a structured course of therapeutic exercise that initially emphasizes reestablishment of active quadriceps control and firing. This progresses to regaining full range of motion and then full strength. The patient concludes therapeutic recovery by gradually performing more and more sport-specific exercises until a controlled reentry to the sport is achieved.
Complications
Complications of surgical treatment of plica syndrome are really complications associated with arthroscopic surgery of the knee. These include septic arthritis, neurapraxias or neuromas, and synovial fistulae. RSD may also occur after such surgery. The incidence of each of these complications is extremely low (< 1% in most cases). Only patients with particular risk factors (eg, diabetes, steroid dependence, or history of RSD) may be at significantly higher risk.
Long-Term Monitoring
Follow-up care focuses on confirmation that symptoms have abated. True recurrence of the original plical pathology is quite rare and is more likely to represent either an incomplete resection or entirely new knee pathology. Continued use of a patellar stabilizing-type brace is preferred by many patients.
References
Patel D. Plica as a cause of anterior knee pain. Orthop Clin North Am. 1986 Apr. 17(2):273-7. [Medline].

Ewing JW. Plica: Pathologic or Not?. J Am Acad Orthop Surg. 1993 Nov. 1(2):117-121. [Medline].

Jackson RW. History of arthroscopy. In: Diagnostic and Operative Arthroscopy. Philadelphia, Pa: WB Saunders Co; 1997:3-6.

Rang M. The Story of Orthopaedics. Philadelphia, Pa: WB Saunders Co; 2000:493-497.

Morelli V, Braxton TM Jr. Meniscal, plica, patellar, and patellofemoral injuries of the knee: updates, controversies and advancements. Prim Care. 2013 Jun. 40(2):357-82. [Medline].

Schindler OS. 'The Sneaky Plica' revisited: morphology, pathophysiology and treatment of synovial plicae of the knee. Knee Surg Sports Traumatol Arthrosc. 2014 Feb. 22 (2):247-62. [Medline].

Dupont JY. Synovial plicae of the knee. Controversies and review. Clin Sports Med. 1997 Jan. 16(1):87-122. [Medline].

Kent M, Khanduja V. Synovial plicae around the knee. Knee. 2010 Mar. 17(2):97-102. [Medline].

Pipkin G. Knee injuries: the role of the suprapatellar plica and suprapatellar bursa in simulating internal derangements. Clin Orthop. 1971 Jan. 74:161-76. [Medline].

Sznajderman T, Smorgick Y, Lindner D, Beer Y, Agar G. Medial plica syndrome. Isr Med Assoc J. 2009 Jan. 11(1):54-7. [Medline].

Mine T, Ihara K, Kawamura H, Seto T, Umehara K. Shelf syndrome of the knee in elderly people: a report of three cases. J Orthop Surg (Hong Kong). 2012 Aug. 20(2):269-71. [Medline].

Bellary SS, Lynch G, Housman B, Esmaeili E, Gielecki J, Tubbs RS, et al. Medial plica syndrome: a review of the literature. Clin Anat. 2012 May. 25(4):423-8. [Medline].

Kim SJ, Min BH, Kim HK. Arthroscopic anatomy of the infrapatellar plica. Arthroscopy. 1996 Oct. 12(5):561-4. [Medline].

Kim SJ, Choe WS. Arthroscopic findings of the synovial plicae of the knee. Arthroscopy. 1997 Feb. 13(1):33-41. [Medline].

Schindler OS. The Sneaky Plica' revisited: morphology, pathophysiology and treatment of synovial plicae of the knee. Knee Surg Sports Traumatol Arthrosc. 2014 Feb. 22(2):247-62. [Medline].

Broom MJ, Fulkerson JP. The plica syndrome: a new perspective. Orthop Clin North Am. 1986 Apr. 17(2):279-81. [Medline].

Bae DK, Nam GU, Sun SD, Kim YH. The clinical significance of the complete type of suprapatellar membrane. Arthroscopy. 1998 Nov-Dec. 14(8):830-5. [Medline].

O'Dwyer KJ, Peace PK. The plica syndrome. Injury. 1988 Sep. 19(5):350-2. [Medline].

Blok A, Weiss W, Dolata T, Szczepaniec M. Medial synovial plica. Ortop Traumatol Rehabil. 2005 Aug 30. 7(4):397-400. [Medline].

O'Keeffe SA, Hogan BA, Eustace SJ, Kavanagh EC. Overuse injuries of the knee. Magn Reson Imaging Clin N Am. 2009 Nov. 17(4):725-39, vii. [Medline].

Nakayama A, Sugita T, Aizawa T, Takahashi A, Honma T. Incidence of medial plica in 3,889 knee joints in the Japanese population. Arthroscopy. 2011 Nov. 27(11):1523-7. [Medline].

Kurosaka M, Yoshiya S, Yamada M, Hirohata K. Lateral synovial plica syndrome. A case report. Am J Sports Med. 1992 Jan-Feb. 20(1):92-4. [Medline].

Hardaker WT, Whipple TL, Bassett FH 3rd. Diagnosis and treatment of the plica syndrome of the knee. J Bone Joint Surg Am. 1980 Mar. 62(2):221-5. [Medline].

Kinnard P, Levesque RY. The plica syndrome. A syndrome of controversy. Clin Orthop. 1984 Mar. (183):141-3. [Medline].

Vaughan-Lane T, Dandy DJ. The synovial shelf syndrome. J Bone Joint Surg Br. 1982. 64(4):475-6. [Medline].

Johnson DP, Eastwood DM, Witherow PJ. Symptomatic synovial plicae of the knee. J Bone Joint Surg Am. 1993 Oct. 75(10):1485-96. [Medline].

Kasim N, Fulkerson JP. Resection of clinically localized segments of painful retinaculum in the treatment of selected patients with anterior knee pain. Am J Sports Med. 2000 Nov-Dec. 28(6):811-4. [Medline].

Tindel NL, Nisonson B. The plica syndrome. Orthop Clin North Am. 1992 Oct. 23(4):613-8. [Medline].

Lipton R, Roofeh J. The medial plica syndrome can mimic recurring acute haemarthroses. Haemophilia. 2008 Mar 19. [Medline].

Rovere GD, Nichols AW. Frequency, associated factors, and treatment of breaststroker''s knee in competitive swimmers. Am J Sports Med. 1985 Mar-Apr. 13(2):99-104. [Medline].

Shetty VD, Vowler SL, Krishnamurthy S, Halliday AE. Clinical diagnosis of medial plica syndrome of the knee: a prospective study. J Knee Surg. 2007 Oct. 20(4):277-80. [Medline].

Muse GL, Grana WA, Hollingsworth S. Arthroscopic treatment of medial shelf syndrome. Arthroscopy. 2010 Mar. 26(3):391-2. [Medline].

Paczesny L, Kruczynski J. Medial plica syndrome of the knee: diagnosis with dynamic sonography. Radiology. 2009 May. 251(2):439-46. [Medline].

Monabang CZ, De Maeseneer M, Shahabpour M, Lenchik L, Pouliart N. MR imaging findings in patients with a surgically significant mediopatellar plica. JBR-BTR. 2007 Sep-Oct. 90(5):384-7. [Medline].

Jee WH, Choe BY, Kim JM, et al. The plica syndrome: diagnostic value of MRI with arthroscopic correlation. J Comput Assist Tomogr. 1998 Sep-Oct. 22(5):814-8. [Medline].

Munzinger U, Ruckstuhl J, Scherrer H, Gschwend N. Internal derangement of the knee joint due to pathologic synovial folds: the mediopatellar plica syndrome. Clin Orthop. 1981 Mar-Apr. (155):59-64. [Medline].

Pessler F, Dai L, Diaz-Torne C, Gomez-Vaquero C, Paessler ME, Zheng DH, et al. The synovitis of "non-inflammatory" orthopaedic arthropathies: a quantitative histological and immunohistochemical analysis. Ann Rheum Dis. 2008 Aug. 67(8):1184-7. [Medline].

Kan H, Arai Y, Nakagawa S, Inoue H, Hara K, Minami G, et al. Characteristics of medial plica syndrome complicated with cartilage damage. Int Orthop. 2015 Apr 22. [Medline].

Strover AE, Rouholamin E, Guirguis N, Behdad H. An arthroscopic technique of demonstrating the pathomechanics of the suprapatellar plica. Arthroscopy. 1991. 7(3):308-10. [Medline].

Rovere GD, Adair DM. Medial synovial shelf plica syndrome. Treatment by intraplical steroid injection. Am J Sports Med. 1985 Nov-Dec. 13(6):382-6. [Medline].

Subotnick SI, Sisney P. The plica syndrome. A cause of knee pain in the athlete. J Am Podiatr Med Assoc. 1986 May. 76(5):292-3. [Medline].
Medscape Reference © 2011 WebMD, LLC