Tibial Nonunions Workup
Author: Minoo Patel, MBBS, PhD, MS, FRACS; Chief Editor: Thomas M DeBerardino, MD more...
Updated: Jun 10, 2016
What would you like to print?
Approach Considerations
The most critical step in the workup is to review the patient's prior history carefully, through evaluation of previous records, imaging studies, and discussion with the patient and previous treating physicians. Most often, the nonunion has occurred despite appropriate care, and rushing into treatment without a good understanding of why the nonunion occurred and how treatment will overcome these obstacles is a mistake.
Laboratory Studies
The role of the diagnostic workup is threefold, as follows:
To determine whether the patient is able to undergo successful surgery

To evaluate the patient for any signs of infection

To assess the fracture deformity (see Imaging Studies)
Evaluation of suitability for surgery obviously implies a routine preoperative assessment, but more specific laboratory tests may be indicated to determine whether any systemic factors are contributing to the failure of union. Laboratory assessment to determine the patient's nutritional status may be indicated. The total lymphocyte count and Rainey-MacDonald nutritional index may be helpful in identifying patients who may (or may not) develop infections after long-bone fractures.[13, 14]
In looking for signs of infection, evaluation with a routine complete blood count (CBC), erythrocyte sedimentation rate (ESR), and C-reactive protein (CRP) may be helpful. The CRP is the most accurate indicator of infection, but it is not necessarily specific for infection.[15] Cultures may be helpful, but findings are often negative, especially if the patient has been treated with antibiotics.
Imaging Studies
For assessing fracture deformity, plain radiography is typically the most helpful tool. The deformity must be assessed in both anteroposterior (AP) and lateral planes, with resolution of the plane and degree of maximum deformity (see the images below).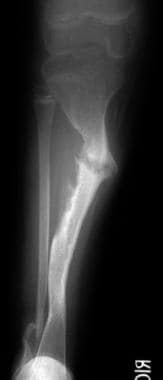 Tibial nonunions. Anteroposterior radiograph of pseudarthrosis with nonunion.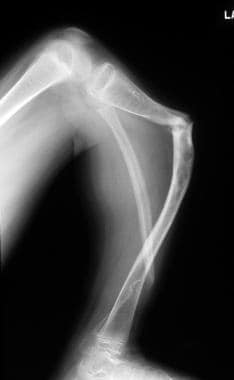 Tibial nonunions. Lateral radiograph of pseudarthrosis with nonunion.
Any rotational component must be assessed either clinically or with computed tomography (CT). Leg-length equality should be determined clinically or, more accurately, with scanography. Finally, fracture stability must be determined. Often, the fracture nonunion is difficult to assess on plain radiography; fluoroscopy, CT, or tomography may be helpful. Assessment of the fibula is important to determine whether it is preventing tibial union.
Magnetic resonance imaging (MRI) is probably the most sensitive and specific study for osteomyelitis, with an accuracy greater than 90%.[16] It also provides additional information regarding the anatomy and location of infected bone, sinus tracks, and sequestrums. Unfortunately, MRI is less effective if residual hardware is present, and other studies may be more appropriate.
Technetium-99m diphosphonate bone scanning has been used in an attempt to identify infections, but it is not specific for infection. However, combining this scan with indium-111–labeled leukocyte imaging increases the accuracy to 82%.[17]
Other Tests
Vascular studies may be indicated if prior injury is a concern or if a free soft-tissue transfer is indicated. Consultation with a plastic surgeon may be warranted. Careful assessment and documentation of skin integrity and motor and sensory function are critical for surgical planning.
Histologic Findings
A histologic assessment may be helpful and has been shown to have a high sensitivity (87%) and specificity (100%) when assessing nonunion for the possibility of infection, especially when microbiologic findings are inconclusive.[18]
References
Reed LK, Mormino MA. Distal tibia nonunions. Foot Ankle Clin. 2008 Dec. 13(4):725-35. [Medline].

Wiss DA, Stetson WB. Tibial Nonunion: Treatment Alternatives. J Am Acad Orthop Surg. 1996 Oct. 4(5):249-257. [Medline].

McQueen MM, Christie J, Court-Brown CM. Acute compartment syndrome in tibial diaphyseal fractures. J Bone Joint Surg Br. 1996 Jan. 78(1):95-8. [Medline].

Audigé L, Griffin D, Bhandari M, Kellam J, Rüedi TP. Path analysis of factors for delayed healing and nonunion in 416 operatively treated tibial shaft fractures. Clin Orthop Relat Res. 2005 Sep. 438:221-32. [Medline].

Will RE, Fleming ME, Lafferty PM, Fletcher JW, Cole PA. Low complication rate associated with raising mature flap for tibial nonunion reconstruction. J Trauma. 2011 Dec. 71(6):1709-14. [Medline].

Fong K, Truong V, Foote CJ, Petrisor B, Williams D, Ristevski B, et al. Predictors of nonunion and reoperation in patients with fractures of the tibia: an observational study. BMC Musculoskelet Disord. 2013 Mar 22. 14:103. [Medline]. [Full Text].

Schmitz MA, Finnegan M, Natarajan R. Effect of smoking on tibial shaft fracture healing. Clin Orthop. 1999 Aug. 184-200. [Medline].

Gardner MJ, Toro-Arbelaez JB, Hansen M, Boraiah S, Lorich DG, Helfet DL. Surgical treatment and outcomes of extraarticular proximal tibial nonunions. Arch Orthop Trauma Surg. 2008 Aug. 128(8):833-9. [Medline].

Weber BG, Cech O. Pseudoarthrosis: Pathology, Biomechanics, Therapy, Results. Berne, Switzerland:. Hans Huber Medical Publisher. 1976.

Johnston CE, Birch JG. A tale of two tibias: a review of treatment options for congenital pseudarthrosis of the tibia. J Child Orthop. 2008 Mar. 2(2):133-49. [Medline].

Martus JE, Johnston CE 2nd. Isolated congenital pseudoarthrosis of the fibula: a comparison of fibular osteosynthesis with distal tibiofibular synostosis. J Pediatr Orthop. 2008 Dec. 28(8):825-30. [Medline].

Vander Have KL, Hensinger RN, Caird M, Johnston C, Farley FA. Congenital pseudarthrosis of the tibia. J Am Acad Orthop Surg. 2008 Apr. 16(4):228-36. [Medline].

Puskarich CL, Nelson CL, Nusbickel FR. The use of two nutritional indicators in identifying long bone fracture patients who do and do not develop infections. J Orthop Res. 1990 Nov. 8(6):799-803. [Medline].

Rainey-Macdonald CG, Holliday RL, Wells GA, Donner AP. Validity of a two-variable nutritional index for use in selecting candidates for nutritional support. JPEN J Parenter Enteral Nutr. 1983 Jan-Feb. 7(1):15-20. [Medline].

Chan YL, Liao HC, Tsay PK. C-reactive protein as an indicator of bacterial infection of adult patients in the emergency department. Chang Gung Med J. 2002 Jul. 25(7):437-45. [Medline].

Mason MD, Zlatkin MB, Esterhai JL, Dalinka MK, Velchik MG, Kressel HY. Chronic complicated osteomyelitis of the lower extremity: evaluation with MR imaging. Radiology. 1989 Nov. 173(2):355-9. [Medline].

Nepola JV, Seabold JE, Marsh JL. Diagnosis of infection in ununited fractures. Combined imaging with indium-111-labeled leukocytes and technetium-99m methylene diphosphonate. J Bone Joint Surg Am. 1993 Dec. 75(12):1816-22. [Medline].

Simpson AH, Wood MK, Athanasou NA. Histological assessment of the presence or absence of infection in fracture non-union. Injury. 2002 Mar. 33(2):151-5. [Medline].

Valdes MA, Thakur NA, Namdari S, Ciombor DM, Palumbo M. Recombinant bone morphogenic protein-2 in orthopaedic surgery: a review. Arch Orthop Trauma Surg. 2009 Mar 12. [Medline].

Emara KM, Allam MF. Ilizarov external fixation and then nailing in management of infected nonunions of the tibial shaft. J Trauma. 2008 Sep. 65(3):685-91. [Medline].

Sarmiento A, Burkhalter WE, Latta LL. Functional bracing in the treatment of delayed union and nonunion of the tibia. Int Orthop. 2003. 27(1):26-9. [Medline].

Brighton CT, Shaman P, Heppenstall RB, et al. Tibial nonunion treated with direct current, capacitive coupling, or bone graft. Clin Orthop. 1995 Dec. (321):223-34. [Medline].

Guerkov HH, Lohmann CH, Liu Y, Dean DD, Simon BJ, Heckman JD, et al. Pulsed electromagnetic fields increase growth factor release by nonunion cells. Clin Orthop Relat Res. 2001 Mar. 265-79. [Medline].

Griffin XL, Warner F, Costa M. The role of electromagnetic stimulation in the management of established non-union of long bone fractures: what is the evidence?. Injury. 2008 Apr. 39(4):419-29. [Medline].

Khan Y, Laurencin CT. Fracture repair with ultrasound: clinical and cell-based evaluation. J Bone Joint Surg Am. 2008 Feb. 90 Suppl 1:138-44. [Medline].

Busse JW, Bhandari M, Kulkarni AV. The effect of low-intensity pulsed ultrasound therapy on time to fracture healing: a meta-analysis. CMAJ. 2002 Feb 19. 166(4):437-41. [Medline].

Sim R, Liang TS, Tay BK. Autologous marrow injection in the treatment of delayed and non-union in long bones. Singapore Med J. 1993 Oct. 34(5):412-7. [Medline].

Sugaya H, Mishima H, Aoto K, Li M, Shimizu Y, Yoshioka T, et al. Percutaneous autologous concentrated bone marrow grafting in the treatment for nonunion. Eur J Orthop Surg Traumatol. 2014 Jul. 24(5):671-8. [Medline].

Heckman JD, Boyan BD, Aufdemorte TB. The use of bone morphogenetic protein in the treatment of non-union in a canine model. J Bone Joint Surg Am. 1991 Jun. 73(5):750-64. [Medline].

Vaccaro AR, Chiba K, Heller JG. Bone grafting alternatives in spinal surgery. Spine J. 2002 May-Jun. 2(3):206-15. [Medline].

Dahabreh Z, Calori GM, Kanakaris NK, Nikolaou VS, Giannoudis PV. A cost analysis of treatment of tibial fracture nonunion by bone grafting or bone morphogenetic protein-7. Int Orthop. 2008 Dec 4. [Medline].

Wu CC, Shih CH, Chen WJ, Tai CL. High success rate with exchange nailing to treat a tibial shaft aseptic nonunion. J Orthop Trauma. 1999 Jan. 13(1):33-8. [Medline].

Bhandari M, Guyatt G, Tornetta P 3rd, Schemitsch EH, Swiontkowski M, Sanders D, et al. Randomized trial of reamed and unreamed intramedullary nailing of tibial shaft fractures. J Bone Joint Surg Am. 2008 Dec. 90(12):2567-78. [Medline].

Wiss DA, Johnson DL, Miao M. Compression plating for non-union after failed external fixation of open tibial fractures. J Bone Joint Surg Am. 1992 Oct. 74(9):1279-85. [Medline].

Harvey EJ, Henley MB, Swiontkowski MF. The use of a locking custom contoured blade plate for peri-articular nonunions. Injury. 2003 Feb. 34(2):111-6. [Medline].

Rozbruch SR, Pugsley JS, Fragomen AT, Ilizarov S. Repair of tibial nonunions and bone defects with the Taylor Spatial Frame. J Orthop Trauma. 2008 Feb. 22(2):88-95. [Medline].

Tall M, Bonkoungou D, Sawadogo M, Da SC, Toe MF. Treatment of nonunion in neglected long bone shaft fractures by osteoperiosteal decortication. Orthop Traumatol Surg Res. 2014 Oct. 100(6 Suppl):S299-303. [Medline].

Hak DJ. Management of aseptic tibial nonunion. J Am Acad Orthop Surg. 2011 Sep. 19(9):563-73. [Medline].

Wu CC, Shih CH. Comparison of dynamic compression plating and reamed intramedullary nailing in the treatment of aseptic tibial shaft nonunions. Contemp Orthop. 1994 Jan. 28(1):28-33. [Medline].

Törnqvist H. Tibia nonunions treated by interlocked nailing: increased risk of infection after previous external fixation. J Orthop Trauma. 1990. 4(2):109-14. [Medline].
Medscape Reference © 2011 WebMD, LLC