Anterior Cruciate Ligament Pathology Workup
Author: John Maguire, MBBS, MSc, FRACS; Chief Editor: Thomas M DeBerardino, MD more...
Updated: Jun 10, 2016
What would you like to print?
Laboratory Studies
Routine laboratory studies are not required. However, infection, crystal arthropathy, and inflammatory arthropathy must be excluded in routine fashion when suspected.
Imaging Studies
Radiography
Radiologic examination should be undertaken in all cases. Radiographs are needed to exclude fracture, tumor, chondrocalcinosis, crystalline arthropathy, and osteoarthrosis. Routine series should include an anteroposterior (AP) view, a lateral view at 30°, notch view, a patellofemoral view, and a weightbearing posteroanterior (PA) view in extension and 45° in chronic cases or in older individuals who may be at risk of osteoarthritis.
Computed tomography
In cases associated with fracture or avulsions of the cruciates, computed tomography (CT) can add valuable information. The location and origin of bony loose bodies can be identified well with this modality.
MRI
Magnetic resonance imaging (MRI; see the image below) is a useful tool when the diagnosis is unclear or when nonoperative management of the anterior cruciate ligament (ACL) tear is being considered.[7] Cruciate integrity is well visualized in T1- and T2-weighted images. In the acute phase, when pain and apprehension can cloud clinical signs, an accurate diagnosis can be made in 98% of cases.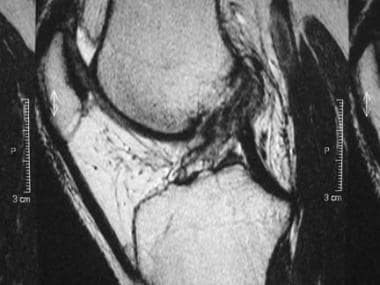 MRI is used as an aid to diagnose anterior cruciate ligament injury. MRI has a sensitivity of 95%.
Meniscal pathology also can be identified. With more than 50% of cases having a meniscal tear, some surgeons find this information of use in choosing a management plan. Bone bruising commonly is seen, particularly of the lateral femoral condyle. The long-term influence this may have on the outcome is not yet known.
Radionuclide scanning
Radionuclide scanning is not used routinely. Its major uses in the setting of ACL injury are to identify and quantify degeneration in chronic cases. Radionuclide scanning also is used to help make the diagnosis in cases of suspected postoperative infection.
Other Tests
A number of mechanical devices (eg, KT1000) are available on the market that are used in some centers to assist in diagnosis. Most centers do not use these devices on a routine basis in acute assessment. They are widely used in research to help quantify the degree of tibial translation.
Strength assessment using specific muscle testing units is a tool commonly involved in research. Muscle testing also can be used in the rehabilitation phase to compare strength in opposite legs. This can aid some practitioners in deciding when return to play is possible.
Diagnostic Procedures
In the postinjury workup, few procedures are used.
Aspiration and drainage of a large hemarthrosis can aid diagnosis and assist in providing pain relief. If crystal arthropathy is suspected, assessment can be made to exclude this. Fracture creates fatty deposits in the hemarthrosis. Therefore, aspiration can aid in making a diagnosis in these cases. The authors do not recommend this as a routine measure.
Some practitioners use arthroscopy to assist in making a diagnosis. If the diagnosis is unclear after other testing, accurate assessment can be made by means of arthroscopy. Meniscal pathology and cruciate stump impingement also can be dealt with at the time of arthroscopy. This may be the only requirement for patients who are not planning to undergo early reconstruction. Results of meniscal repair are improved if the procedure is combined with cruciate reconstruction. Therefore, the authors recommend a single procedure if reconstruction is planned.
References
Hunt JA, Callaghan JT. Polymer-hydroxyapatite composite versus polymer interference screws in anterior cruciate ligament reconstruction in a large animal model. Knee Surg Sports Traumatol Arthrosc. 2008 Jul. 16(7):655-60. [Medline].

Spalazzi JP, Dagher E, Doty SB, Guo XE, Rodeo SA, Lu HH. In vivo evaluation of a multiphased scaffold designed for orthopaedic interface tissue engineering and soft tissue-to-bone integration. J Biomed Mater Res A. 2008 Jul. 86(1):1-12. [Medline].

Altman GH, Horan RL, Weitzel P, Richmond JC. The use of long-term bioresorbable scaffolds for anterior cruciate ligament repair. J Am Acad Orthop Surg. 2008 Apr. 16(4):177-87. [Medline].

Kimura Y, Hokugo A, Takamoto T, Tabata Y, Kurosawa H. Regeneration of anterior cruciate ligament by biodegradable scaffold combined with local controlled release of basic fibroblast growth factor and collagen wrapping. Tissue Eng Part C Methods. 2008 Mar. 14(1):47-57. [Medline].

Sasaki K, Kuroda R, Ishida K, Kubo S, Matsumoto T, Mifune Y, et al. Enhancement of tendon-bone osteointegration of anterior cruciate ligament graft using granulocyte colony-stimulating factor. Am J Sports Med. 2008 Aug. 36(8):1519-27. [Medline].

Casteleyn PP, Handelberg F. Non-operative management of anterior cruciate ligament injuries in the general population. J Bone Joint Surg Br. 1996 May. 78(3):446-51. [Medline].

Farshad-Amacker NA, Potter HG. MRI of knee ligament injury and reconstruction. J Magn Reson Imaging. 2013 Oct. 38(4):757-73. [Medline].

Daniel DM, Fithian DC. Indications for ACL surgery. Arthroscopy. 1994 Aug. 10(4):434-41. [Medline].

Daniel DM, Stone ML, Dobson BE. Fate of the ACL-injured patient. A prospective outcome study. Am J Sports Med. 1994 Sep-Oct. 22(5):632-44. [Medline].

Gerber JP, Marcus RL, Dibble LE, Greis PE, Burks RT, LaStayo PC. Effects of early progressive eccentric exercise on muscle size and function after anterior cruciate ligament reconstruction: a 1-year follow-up study of a randomized clinical trial. Phys Ther. 2009 Jan. 89(1):51-9. [Medline].

Shelbourne KD, Nitz P. Accelerated rehabilitation after anterior cruciate ligament reconstruction. Am J Sports Med. 1990 May-Jun. 18(3):292-9. [Medline].

Swenson TM, Harner CD. Knee ligament and meniscal injuries. Current concepts. Orthop Clin North Am. 1995 Jul. 26(3):529-46. [Medline].

Bedi A, Musahl V, Steuber V, et al. Transtibial versus anteromedial portal reaming in anterior cruciate ligament reconstruction: an anatomic and biomechanical evaluation of surgical technique. Arthroscopy. 2011 Mar. 27(3):380-90. [Medline].

Mohtadi NG, Chan DS, Dainty KN, Whelan DB. Patellar tendon versus hamstring tendon autograft for anterior cruciate ligament rupture in adults. Cochrane Database Syst Rev. 2011 Sep 7. 9:CD005960. [Medline].

Reid JS, Hanks GA, Kalenak A. The Ellison iliotibial-band transfer for a torn anterior cruciate ligament of the knee. Long-term follow-up. J Bone Joint Surg Am. 1992 Oct. 74(9):1392-402. [Medline].

Leys T, Salmon L, Waller A, Linklater J, Pinczewski L. Clinical results and risk factors for reinjury 15 years after anterior cruciate ligament reconstruction: a prospective study of hamstring and patellar tendon grafts. Am J Sports Med. 2012 Mar. 40(3):595-605. [Medline].

Shelbourne KD, Wilckens JH, Mollabashy A. Arthrofibrosis in acute anterior cruciate ligament reconstruction. The effect of timing of reconstruction and rehabilitation. Am J Sports Med. 1991 Jul-Aug. 19(4):332-6. [Medline].

Chhadia AM, Inacio MC, Maletis GB, Csintalan RP, Davis BR, Funahashi TT. Are meniscus and cartilage injuries related to time to anterior cruciate ligament reconstruction?. Am J Sports Med. 2011 Sep. 39(9):1894-9. [Medline].

Zaffagnini S, Bonanzinga T, Marcheggiani Muccioli GM, Giordano G, Bruni D, Bignozzi S, et al. Does chronic medial collateral ligament laxity influence the outcome of anterior cruciate ligament reconstruction?: a prospective evaluation with a minimum three-year follow-up. J Bone Joint Surg Br. 2011 Aug. 93(8):1060-4. [Medline].

Shea KG, Grimm NL, Belzer JS. Volumetric Injury of the Distal Femoral Physis During Double-Bundle ACL Reconstruction in Children: A Three-Dimensional Study with Use of Magnetic Resonance Imaging. J Bone Joint Surg Am. 2011 Jun 1. 93(11):1033-8. [Medline].

Arneja S, McConkey MO, Mulpuri K, Chin P, Gilbart MK, Regan WD, et al. Graft tensioning in anterior cruciate ligament reconstruction: a systematic review of randomized controlled trials. Arthroscopy. 2009 Feb. 25(2):200-7. [Medline].

Bushnell BD, Sakryd G, Noonan TJ. Hamstring donor-site block: evaluation of pain control after anterior cruciate ligament reconstruction. Arthroscopy. 2010 Jul. 26(7):894-900. [Medline].

Järvelä T, Moisala AS, Paakkala T, Paakkala A. Tunnel enlargement after double-bundle anterior cruciate ligament reconstruction: a prospective, randomized study. Arthroscopy. 2008 Dec. 24(12):1349-57. [Medline].

Arnoczky S. Biology of anterior cruciate ligament reconstructions. Smith and Nephew Winter Meeting Gold Coast:. 1997.

Scheffler SU, Unterhauser FN, Weiler A. Graft remodeling and ligamentization after cruciate ligament reconstruction. Knee Surg Sports Traumatol Arthrosc. 2008 Sep. 16(9):834-42. [Medline].
Medscape Reference © 2011 WebMD, LLC