Scurvy Clinical Presentation
Author: Lynne Goebel, MD; Chief Editor: George T Griffing, MD more...
Updated: Sep 23, 2015
What would you like to print?
History
Symptoms and signs of scurvy may be remembered by the 4 Hs: hemorrhage, hyperkeratosis, hypochondriasis, and hematologic abnormalities.
The initial symptoms of scurvy are nonspecific and include the following:
Malaise

Lethargy

Loss of appetite

Peevishness (ill-tempered)

Poor weight gain

Diarrhea

Tachypnea

Fever
After 1-3 months of severe or total vitamin C deficiency, patients develop shortness of breath and bone pain. Myalgias may occur because of reduced carnitine production. Skin changes with roughness, easy bruising and petechiae, gum disease, loosening of teeth, poor wound healing, and emotional changes occur. Dry mouth and dry eyes similar to Sjögren syndrome may occur.
Other symptoms include the following:
Irritability

Pain and tenderness of the legs

Pseudoparalysis

Swelling over the long bones

Hemorrhage
In the late stages, jaundice, generalized edema, oliguria, neuropathy, fever, and convulsions can be seen. Left untreated scurvy progresses, with potentially fatal complications, including cerebral hemorrhage or hemopericardium.
Infantile scurvy
Infantile scurvy is uncommon before age 7 months, and clinical and radiographic manifestations rarely occur in infants younger than 3 months. Early clinical manifestations consist of pallor, irritability, and poor weight gain.
In advanced infantile scurvy, the major clinical manifestation is extreme pain and tenderness of the arms and, particularly, the legs. The baby is miserable and tends to remain in a characteristic immobilized posture from subperiosteal pain, with semiflexion of the hips and the knees ("frog leg posture"), as described by Thomas Barlow in 1884.
The body is both wasted and edematous, and petechiae and ecchymoses are commonly present. Hyperkeratosis, corkscrew hair, and sicca syndrome are typically observed in adult scurvy but rarely occur in infantile scurvy. The case of an infant with diffuse, nonscarring alopecia of the scalp and radiologic features of scurvy was reported in India in 2008.[23] . Three cases of scurvy presenting as difficulty with walking have been reported in the US, with only 1 out of 3 patients having classic gingival lesions at presentation.[24]
Circulatory system
Hypotension may be observed late in the disease. This may be due to an inability of the resistance vessels to constrict in response to adrenergic stimuli. Heart complications include cardiac enlargement, electrocardiographic (ECG) changes (reversible ST-segment and T-wave changes), hemopericardium, and sudden death. Bleeding into the myocardium and pericardial space has been reported. High-output heart failure due to anemia can be observed.
Two case reports of pulmonary hypertension in patients with vitamin C deficiency have been described, with complete reversal after vitamin C replacement.[25, 26] .
Anemia develops in 75% of patients, resulting from blood loss into tissue, coexistent dietary deficiencies (folate deficiency), altered absorption and metabolism of iron and folate, gastrointestinal blood loss, and intravascular hemolysis. The anemia is most often characterized as normochromic and normocytic.
Nervous system
Ocular features include those of Sjögren syndrome, subconjunctival hemorrhage, and bleeding within the optic nerve sheath. Scleral icterus (late, probably secondary to hemolysis); and pale conjunctiva are seen. Funduscopic changes include cotton flame-shaped hemorrhages, and cotton-wool spots may be seen. Bleeding into the periorbital area, eyelids, and retrobulbar space also can be seen. Proptosis of the eyeball secondary to orbital hemorrhage is a sign of scurvy.
Integumentary and skeletal system
Perifollicular hyperkeratotic papules, perifollicular hemorrhages, purpura, and ecchymoses are seen most commonly on the legs and buttocks where hydrostatic pressure is the greatest. The central hairs are twisted like corkscrews, and they may become fragmented. Poor wound healing and breakdown of old scars may be seen. Capillary fragility can be checked by inflating a blood pressure cuff and looking for petechiae on the forearm. In the nails, splinter hemorrhages may occur.
Alopecia may occur secondary to reduced disulfide bonding.
In advanced cases, clinically detectable beading may be present at the costochondral junctions of the ribs. This finding is known as the scorbutic rosary (ie, sternum sinks inward) and may occur in children. The scorbutic rosary is distinguished from rickety rosary (which is knobby and nodular) by being more angular and having a step-off at the costochondral junction. Fractures, dislocations, and tenderness of bones are common in children.
Bleeding into the joints causes exquisitely painful hemarthroses. Subperiosteal hemorrhage may be palpable, especially along the distal portions of the femurs and the proximal parts of the tibias of infants. Bleeding into the femoral sheaths may cause femoral neuropathies, and bleeding into the muscles of the arms and the legs may cause woody edema.
A case of a 6-year-old boy with feeding difficulties and a monoarticular lesion of the distal femur mimicking a bone tumor was reported in India. After full assessment and investigation, he was found to have scurvy with significant improvement following vitamin C replacement.[27]
Gastrointestinal system
Gum hemorrhage occurs only if teeth have erupted and usually involve the tissue around the upper incisors. The gums have a bluish-purple hue and feel spongy. Gum swelling, friability, bleeding, and infection with loose teeth also occur, as do mucosal petechiae.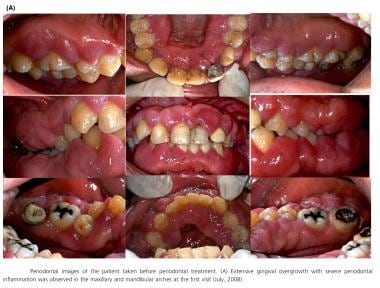 Periodontal images of the patient taken before periodontal treatment. Extensive gingival overgrowth with severe periodontal inflammation was observed in the maxillary and mandibular arches at the first visit (July, 2008). Image from open access article Omori K, Hanayama Y, Naruishi K, Akiyama K, Maeda H, Otsuka F, Takashiba S. Gingival overgrowth caused by vitamin C deficiency associated with metabolic syndrome and severe periodontal infection: a case report. Clin Case Rep. 2014 Dec; 2(6):286-95.

Treatment protocol for above patient with extensive gingival overgrowth with severe periodontal inflammation in the maxillary and mandibular arches. Image from open access article Omori K, Hanayama Y, Naruishi K, Akiyama K, Maeda H, Otsuka F, Takashiba S. Gingival overgrowth caused by vitamin C deficiency associated with metabolic syndrome and severe periodontal infection: a case report. Clin Case Rep. 2014 Dec; 2(6):286-95.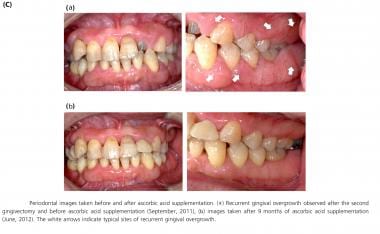 Periodontal images taken before and after ascorbic acid supplementation. (A) Recurrent gingival overgrowth observed after the second gingivectomy and before ascorbic acid supplementation (September, 2011), (B) images taken after 9 months of ascorbic acid supplementation (June, 2012). The white arrows indicate typical sites of recurrent gingival overgrowth. Image from open access article Omori K, Hanayama Y, Naruishi K, Akiyama K, Maeda H, Otsuka F, Takashiba S. Gingival overgrowth caused by vitamin C deficiency associated with metabolic syndrome and severe periodontal infection: a case report. Clin Case Rep. 2014 Dec; 2(6):286-95.
Loss of weight secondary to anorexia is common. Upper endoscopy may show submucosal hemorrhage. Rarely, hematuria, hematochezia, and melena are noted.
In both animal and human studies, vitamin C deficiency has been linked to possible pathogenesis of nonalcoholic fatty liver disease, given its anti-oxidant properties and inverse correlation with BMI.[28]
References
Leger D. Scurvy: reemergence of nutritional deficiencies. Can Fam Physician. 2008 Oct. 54(10):1403-6. [Medline]. [Full Text].

Delanghe JR, Langlois MR, De Buyzere ML, Torck MA. Vitamin C deficiency and scurvy are not only a dietary problem but are codetermined by the haptoglobin polymorphism. Clin Chem. 2007 Aug. 53(8):1397-400. [Medline].

Jenny C. Evaluating infants and young children with multiple fractures. Pediatrics. 2006 Sep. 118(3):1299-303. [Medline].

Gan R, Eintracht S, Hoffer LJ. Vitamin C deficiency in a university teaching hospital. J Am Coll Nutr. 2008 Jun. 27(3):428-33. [Medline].

Mosdol A, Erens B, Brunner EJ. Estimated prevalence and predictors of vitamin C deficiency within UK's low-income population. J Public Health (Oxf). 2008 Dec. 30(4):456-60. [Medline].

Mayland CR, Bennett MI, Allan K. Vitamin C deficiency in cancer patients. Palliat Med. 2005 Jan. 19(1):17-20. [Medline].

Biesalski HK. Parenteral ascorbic acid in haemodialysis patients. Curr Opin Clin Nutr Metab Care. 2008 Nov. 11(6):741-6. [Medline].

Singer R, Rhodes HC, Chin G, et al. High prevalence of ascorbate deficiency in an Australian peritoneal dialysis population. Nephrology (Carlton). 2008 Feb. 13(1):17-22. [Medline].

Hansen EP, Metzsche C, Henningsen E, Toft P. Severe scurvy after gastric bypass surgery and a poor postoperative diet. J Clin Med Res. 2012 Apr. 4(2):135-7. [Medline]. [Full Text].

Yousef GM, Goebel LJ. Vitamin C deficiency in an anticoagulated patient. JGIM. [Full Text].

Scheers NM, Sandberg AS. Iron regulates the uptake of scorbic acid and the expression of sodium-dependent vitamin C transporter1 (SVCT1) in human intestinal Caco-2 cells. Br J Nutr. 2011/03. 21:1-7.

Mahdavi R, Faramarzi E, Seyedrezazadeh E, Mohammad-Zadeh M, Pourmoghaddam M. Evaluation of oxidative stress, antioxidant status and serum vitamin C levels in cancer patients. Biol Trace Elem Res. 2009 Jul. 130(1):1-6. [Medline].

Hampl JS, Taylor CA, Johnston CS. Vitamin C deficiency and depletion in the United States: the Third National Health and Nutrition Examination Survey, 1988 to 1994. Am J Public Health. 2004 May. 94(5):870-5. [Medline]. [Full Text].

Centers for Disease Control and Prevention. NHANES 2005-2006. Available at http://www.cdc.gov/nchs/nhanes/nhanes2005-2006/lab05_06.htm. Accessed: September 14, 2012.

Noble JM, Mandel A, Patterson MC. Scurvy and rickets masked by chronic neurologic illness: revisiting "psychologic malnutrition". Pediatrics. 2007 Mar. 119(3):e783-90. [Medline].

Duggan CP, Westra SJ, Rosenberg AE. Case records of the Massachusetts General Hospital. Case 23-2007. A 9-year-old boy with bone pain, rash, and gingival hypertrophy. N Engl J Med. 2007 Jul 26. 357(4):392-400. [Medline].

Arron ST, Liao W, Maurer T. Scurvy: a presenting sign of psychosis. J Am Acad Dermatol. 2007 Aug. 57(2 Suppl):S8-10. [Medline].

Hercberg S, Preziosi P, Galan P, et al. Vitamin status of a healthy French population: dietary intakes and biochemical markers. Int J Vitam Nutr Res. 1994. 64(3):220-32. [Medline].

Ratanachu-Ek S, Sukswai P, Jeerathanyasakun Y. Scurvy in pediatric patients: a review of 28 cases. J Med Assoc Thai. Aug 2003. 86 Suppl 3:S734-40. [Medline].

Toffanello ED, Inelmen EM, Minicuci N, et al. Ten-year trends in vitamin intake in free-living healthy elderly people: the risk of subclinical malnutrition. J Nutr Health Aging. 2011 Feb. 15(2):99-103. [Medline].

USDA Agriculture Research Service. What we eat in America, NHANES 2007-2008. Available at http://www.ars.usda.gov/ba/bhnrc/fsrg. Accessed: September 14, 2012.

Tveden-Nyborg P, Lykkesfeldt J. Does vitamin C deficiency result in impaired brain development in infants?. Redox Rep. 2009. 14(1):2-6. [Medline].

Ragunatha S, Inamadar AC, Palit A, et al. Diffuse nonscarring alopecia of scalp: an indicator of early infantile scurvy?. Pediatr Dermatol. 2008 Nov-Dec. 25(6):644-6. [Medline].

Kitcharoensakkul M, Schulz CG, Kassel R, Khanna G, Liang S, Ngwube A, et al. Scurvy revealed by difficulty walking: three cases in young children. J Clin Rheumatol. 2014 Jun. 20 (4):224-8. [Medline].

Kupari M, Rapola J. Reversible pulmonary hypertension associated with vitamin C deficiency. Chest. 2012 Jul. 142(1):225-7. [Medline].

Duvall MG, Pikman Y, Kantor DB, Ariagno K, Summers L, Sectish TC, et al. Pulmonary hypertension associated with scurvy and vitamin deficiencies in an autistic child. Pediatrics. 2013 Dec. 132 (6):e1699-703. [Medline].

Haq RU, Dhammi IK, Jain AK, Mishra P, Kalivanan K. Infantile scurvy masquerading as bone tumour. Ann Acad Med Singapore. 2013 Jul. 42 (7):363-5. [Medline].

Ipsen DH, Tveden-Nyborg P, Lykkesfeldt J. Does vitamin C deficiency promote fatty liver disease development?. Nutrients. 2014 Dec 1. 6 (12):5473-99. [Medline].

World Health Organization/NHD 99.11 Scurvy and its prevention and control in major emergencies. World Health Organization. Available at http://www.who.int/nutrition/publications/emergencies/WHO_NHD_99.11/en/. Accessed: July 28, 2011.

Emadi-Konjin P, Verjee Z, Levin AV, Adeli K. Measurement of intracellular vitamin C levels in human lymphocytes by reverse phase high performance liquid chromatography (HPLC). Clin Biochem. 2005 May. 38(5):450-6. [Medline].

Dietary Reference Intakes from the Food and Nutrition Board, Institute of Medicine, National Academies. Available at http://iom.edu/Activities/Nutrition/SummaryDRIs/~/media/Files/Activity%20Files/Nutrition/DRIs/RDA%20and%20AIs_Vitamin%20and%20Elements.pdf. Accessed: July 28, 2011.

Geber J, Murphy E. Scurvy in the Great Irish Famine: evidence of vitamin C deficiency from a mid-19th century skeletal population. Am J Phys Anthropol. 2012 Aug. 148(4):512-24. [Medline].
Medscape Reference © 2011 WebMD, LLC