Chondromyxoid Fibroma Workup
Author: Michael S Clarke, MD; Chief Editor: Harris Gellman, MD more...
Updated: Dec 11, 2014
What would you like to print?
Imaging Studies
Radiography
On radiographs,[20, 21] CMFs are well-defined, eccentric, elongated, radiolucent lesions. Like many bone tumors, CMFs occur most frequently in the metaphysis of the proximal tibia and the distal femur. Epiphyseal occurance has not been reported. Other reported locations are the pelvis and the first metacarpal.
A common appearance is a bubbly, expansile, eccentric, elongated, metaphyseal, lytic lesion. A rare diagnostic feature is a eccentric, nearly hemispherical "bite" from the cortical margin without periosteal reaction (see the image below). The greatest dimension of a CMF is less than 10 cm. The margins are usually sclerotic with scalloped borders and may demonstrate mild cortical expansion. The lesions can extend into the diaphysis but do not cross the physeal plate.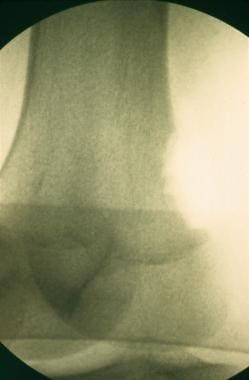 Radiograph showing the "bite" out of the metaphyseal cortex that is a diagnostic feature of chondromyxoid fibroma.
Trabeculations within the tumor, which reflect bony ridges formed around a lobulated tumor may be visible on radiographs. Matrix calcifications are unusual.[22]
When CMF involves the vertebrae (quite rare) radiographs may show a more aggressive appearance.[23] CMFs of the small bones of the hands or feet (rare) are more central and expansile. CMFs may have associated or secondary ABCs (aneurysmal bone cysts).
Computed tomography
On computed tomography (CT), mild cortical expansion may be observed, and the lesions have a density greater than fluid throughout. CT scans also exhibit characteristic lack of mineralization within CMFs.
Magnetic resonance imaging
Chondroid and myxoid tissues, as well as any normal hyaline cartilage within the lesion, have an intermediate-to-high signal on proton-density and T2-weighted magnetic resonance imaging (MRI) and a low signal on T1-weighted images (see the image below).[24, 25] Fibrous tissue components have a variable appearance, depending on their vascularity. Because of their diverse tissue components, CMFs have a heterogeneous appearance. They are typically solid but can have cystic areas. Secondary ABCs have typical septations and fluid-fluid levels.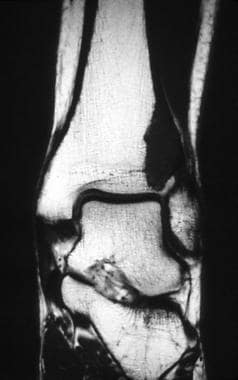 Magnetic resonance imaging (MRI) scan of chondromyxoid fibroma (T1 image).
Bone scanning
CMFs usually have increased activity on bone scintigraphy.
Procedures
Biopsy is used for histologic examination.[26] A generous tissue sample is required for an accurate diagnosis, because small biopsies may not be representative.
Histologic Findings
Microscopically, CMFs are lobulated or pseudolobulated, with peripheral condensation of more cellular tissue within the lobules. Composed of myxoid or chondroid tissue, the center of each lobule is hypocellular. The surrounding stroma is denser, with spindle-shaped cells, blood vessels, and occasional multinucleate giant cells.
Tumor nuclei may be hyperchromatic, are of moderate size, and may lie in chondroid lacunae. Nuclear atypia can be observed, but mitoses are rare or absent. Microcalcification is present in 15-20% of cases, with an increased incidence in older patients. (See the image below.)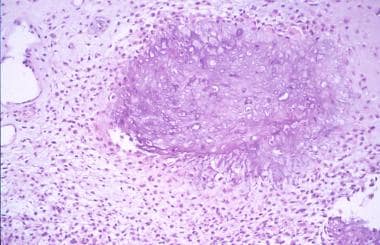 Close-up of a lobule of a chondromyxoid fibroma.
Scattered areas of hyalinization, xanthomatous changes, cholesterol clefts, and cystic degeneration may be noted, including secondary ABCs. The tumors have a heterogeneous immunohistochemical staining pattern, with the central chondroid areas staining positively for S-100 protein and the peripheral, hypercellular tissue staining diffusely for muscle and smooth muscle actin.[27, 28] None of the cells express desmin.
Staging
Local staging typically includes plain radiography and MRI or CT. Because CMF does not metastasize, there is no need for routine chest radiographs or other systemic staging studies. A total skeletal bone scan is generally advisable during the initial evaluation to assess local activity and to confirm the solitary nature of the tumor.
Laboratory Studies
Chondromyxoid fibroma (CMF) does not cause any laboratory abnormalities; thus, there are no laboratory studies that are specifically helpful.
References
McGrory BJ, Inwards CY, McLeod RA, et al. Chondromyxoid fibroma. Orthopedics. 1995 Mar. 18(3):307-10. [Medline].

Ralph LL. Chondromyxoid fibroma of bone. J Bone and Joint Surg. 1962. 44B(1):7-24.

Schutt PG, Frost HM. Chondromyxoid fibroma. Clin Orthop Relat Res. 1971. 78:323-9. [Medline].

White PG, Saunders L, Orr W, et al. Chondromyxoid fibroma. Skeletal Radiol. 1996 Jan. 25(1):79-81. [Medline].

Jaffe HL, Lichtenstein L. Chondromyxoid fibroma of bone: a distinctive benign tumor likely to be mistaken especially for chondrosarcoma. Arch Path. 1943. 19:541-51.

Baker AC, Rezeanu L, O'Laughlin S, et al. Juxtacortical chondromyxoid fibroma of bone: a unique variant: a case study of 20 patients. Am J Surg Pathol. 2007 Nov. 31(11):1662-8. [Medline].

Romeo S, Hogendoorn PC, Dei Tos AP. Benign cartilaginous tumors of bone: from morphology to somatic and germ-line genetics. Adv Anat Pathol. 2009 Sep. 16(5):307-15. [Medline].

Romeo S, Oosting J, Rozeman LB, et al. The role of noncartilage-specific molecules in differentiation of cartilaginous tumors: lessons from chondroblastoma and chondromyxoid fibroma. Cancer. 2007 Jul 15. 110(2):385-94. [Medline].

Blackwell JB, Norma M, Curnow P. Benign bone tumours in Western Australia, 1972-1996. Pathology. 2007 Dec. 39(6):567-74. [Medline].

Wu CT, Inwards CY, O''Laughlin S, et al. Chondromyxoid fibroma of bone: a clinicopathologic review of 278 cases. Hum Pathol. 1998 May. 29(5):438-46. [Medline].

Wu KK. Chondromyxoid fibroma of the foot bones. J Foot Ankle Surg. 1995 Sep-Oct. 34(5):513-9. [Medline].

Granter SR, Renshaw AA, Kozakewich HP, et al. The pericentromeric inversion, inv (6)(p25q13), is a novel diagnostic marker in chondromyxoid fibroma. Mod Pathol. 1998 Nov. 11(11):1071-4. [Medline].

Yasuda T, Nishio J, Sumegi J, Kapels KM, Althof PA, Sawyer JR, et al. Aberrations of 6q13 mapped to the COL12A1 locus in chondromyxoid fibroma. Mod Pathol. 2009 Nov. 22(11):1499-506. [Medline]. [Full Text].

Dadfarnia T, Velagaleti GV, Carmichael KD, Eyzaguirre E, Eltorky MA, Qiu S. A t(1;9)(q10;q10) translocation with additional 6q23 and 9q22 rearrangements in a case of chondromyxoid fibroma. Cancer Genet. 2011 Dec. 204(12):666-70. [Medline].

Nord KH, Lilljebjörn H, Vezzi F, Nilsson J, Magnusson L, Tayebwa J, et al. GRM1 is upregulated through gene fusion and promoter swapping in chondromyxoid fibroma. Nat Genet. 2014 May. 46(5):474-7. [Medline].

Heydemann J, Gillespie R, Mancer K. Soft tissue recurrence of chondromyxoid fibroma. J Pediatr Orthop. 1985 Nov-Dec. 5(6):725-7. [Medline].

Kyriakos M. Soft tissue implantation of chondromyxoid fibroma. Am J Surg Pathol. 1979 Aug. 3(4):363-72. [Medline].

Dahlin DC. Chondromyxoid fibroma of bone, with emphasis on its morphological relationship to benign chondroblastoma. Cancer. 1956 Jan-Feb. 9(1):195-203. [Medline].

Sakayama K, Sugawara Y, Kidani T, et al. Diagnostic and therapeutic problems of giant cell tumor in the proximal femur. Arch Orthop Trauma Surg. 2007 Dec. 127(10):867-72. [Medline].

Marin C, Gallego C, Manjon P, et al. Juxtacortical chondromyxoid fibroma: imaging findings in three cases and a review of the literature. Skeletal Radiol. 1997 Nov. 26(11):642-9. [Medline].

Merine D, Fishman EK, Rosengard A, et al. Chondromyxoid fibroma of the fibula. J Pediatr Orthop. 1989 Jul-Aug. 9(4):468-71. [Medline].

Yamaguchi T, Dorfman HD. Radiographic and histologic patterns of calcification in chondromyxoid fibroma. Skeletal Radiol. 1998 Oct. 27(10):559-64. [Medline].

Cabral CE, Romano S, Guedes P, et al. Chondromyxoid fibroma of the lumbar spine. Skeletal Radiol. 1997 Aug. 26(8):488-92. [Medline].

Murata H, Horie N, Matsui T, Akai T, Ueda H, Oshima Y, et al. Clinical usefulness of thallium-201 scintigraphy and magnetic resonance imaging in the diagnosis of chondromyxoid fibroma. Ann Nucl Med. 2008 Apr. 22(3):221-4. [Medline].

Kim HS, Jee WH, Ryu KN, Cho KH, Suh JS, Cho JH, et al. MRI of chondromyxoid fibroma. Acta Radiol. 2011 Oct 1. 52(8):875-80. [Medline].

Bergman S, Madden CR, Geisinger KR. Fine-needle aspiration biopsy of chondromyxoid fibroma: an investigation of four cases. Am J Clin Pathol. 2009 Nov. 132(5):740-5. [Medline].

Nielsen GP, Keel SB, Dickersin GR, et al. Chondromyxoid fibroma: a tumor showing myofibroblastic, myochondroblastic, and chondrocytic differentiation. Mod Pathol. 1999 May. 12(5):514-7. [Medline].

Konishi E, Nakashima Y, Iwasa Y, Nakao R, Yanagisawa A. Immunohistochemical analysis for Sox9 reveals the cartilaginous character of chondroblastoma and chondromyxoid fibroma of the bone. Hum Pathol. 2009 Oct 2. [Medline].

Durr HR, Lienemann A, Nerlich A, et al. Chondromyxoid fibroma of bone. Arch Orthop Trauma Surg. 2000. 120(1-2):42-7. [Medline].

Hristov B, Shokek O, Frassica DA. The role of radiation treatment in the contemporary management of bone tumors. J Natl Compr Canc Netw. 2007 Apr. 5(4):456-66. [Medline].

Gherlinzoni F, Rock M, Picci P. Chondromyxoid fibroma. The experience at the Istituto Ortopedico Rizzoli. J Bone Joint Surg Am. 1983 Feb. 65(2):198-204. [Medline].

Mikulowski P, Ostberg G. Recurrent chondromyxoid fibroma. Acta Orthop Scand. 1971. 42(5):385-90. [Medline].

Zillmer DA, Dorfman HD. Chondromyxoid fibroma of bone: thirty-six cases with clinicopathologic correlation. Hum Pathol. 1989 Oct. 20(10):952-64. [Medline].

Bhamra JS, Al-Khateeb H, Dhinsa BS, Gikas PD, Tirabosco R, Pollock RC, et al. Chondromyxoid fibroma management: a single institution experience of 22 cases. World J Surg Oncol. 2014 Sep 12. 12:283. [Medline]. [Full Text].
Medscape Reference © 2011 WebMD, LLC