Fibrous Cortical Defect Workup
Author: Bernardo Vargas, MD; Chief Editor: Harris Gellman, MD more...
Updated: Nov 02, 2015
What would you like to print?
Imaging Studies
Plain radiographs
Usually, the diagnosis can be established based on plain radiographs, as in the images below, and biopsy is not necessary.[14, 15, 16]
The classic picture is that of an elliptical radiolucent lesion eccentrically located within the metaphyseal cortex of long bones, especially the femur. The margins are sharply demarcated, and the appearance is often septated.
CT scan
CT scan should not be performed unless a strong doubt about diagnosis is present, except to confirm a pathologic fracture, as in the image below. This lesion is located eccentrically, and CT scans should depict a central lucency. CT scans may confirm a minimally displaced fracture.[14, 15, 16]
CT scan could help in preoperative planning for FCDs in unusual locations, such as the femoral neck.
Bone scan
This study is not indicated for diagnosis. Nevertheless, in some cases, a methylene diphosphonate (MDP) technetium bone scan can help to appreciate biologic activity of the lesion.[14, 15, 16]
Minimal increased uptake can be seen in, as in the image below. In associated fractures, this study is not useful.
Diagnostic Procedures
See the list below:
Biopsy is rarely needed because radiographs typically are diagnostic.

[13]
Histologic Findings
Histologic analysis of FCD reveals a predominantly bland fibroblastic component with a few histiocytes, myofibroblast cells, and giant cells, as in the image below. The lesion is marked by proliferations of spindle cells arranged in a storiform pattern. Hemosiderin deposits also are found. Around the lesion, some leukocyte infiltration may be present.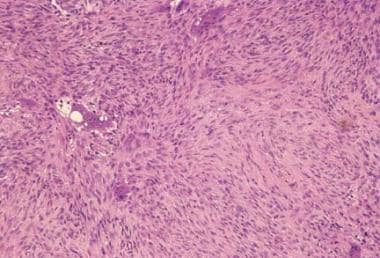 Histologic section of a fibrous cortical defect demonstrating a bland fibrous stroma in the absence of nuclear atypia or mitoses; a few giant cells are scattered within the stroma.
Fractures through an FCD may change the histologic pattern. In these cases, blood deposits due to the fracture and formation of new bone are seen. Care must be taken not to confuse early callus with osteogenic sarcoma.
References
Sontag L, Pyle S. The appearance and nature of cyst-like areas in the distal metaphyses of children. Am. J. Roentgenol. 1941. 46:185-188.

Jaffe H., Liechtenstein L. Non-osteogenic fibroma of the bone. Am J Pathol. 1942. 18:205-221.

Mallet JF, Rigault P, Padovani JP, Touzet P, Nezelof C. Non-ossifying fibroma in children: a surgical condition ?. Chir Pediatr. 1980. 21:179-89. [Medline].

Arata M, Peterson H, Dahlin D. Pathological fractures through Non-Ossifying Fibromas. Review of the Mayo Clinic experience. J Bone J Surg. 1981. 63A:980 - 988.

Sakamoto A, Tanaka K, Yoshida T, Iwamoto Y. Nonossifying fibroma accompanied by pathological fracture in a 12-year-old runner. J Orthop Sports Phys Ther. 2008 Jul. 38(7):434-8. [Medline].

Campanacci M, Laus M, Boriani S. Multiple non-ossifying fibromata with extraskeletal anomalies: a new syndrome?. J Bone J Surg. 1983. 65B:627-632. [Medline].

Hoeffel C, Panuel M,, Plenat F, Mainard L, Hoeffel JC. Pathological fracture in non-ossifying fibroma with histological features simulating aneurysmal bone cyst. Eur Radiol. 1999. 9(4):669-71. [Medline].

Peuchmaur M, Forest M, Tomeno B, Abelanet R. Multifocal nonosteogenic fibroma: report of a case with ultrastructural findings. Hum Pathol. 1985 Jul. 16(7):751-3. [Medline].

Skrede O. Non-osteogenic fibroma of bone. Acta Orthop Scand1970;41(4):362-80. [Medline].

Faure C, Laurent JM, Schmit P, Sirinelli D. Multiple and large non-ossifying fibromas in children with neurofibromatosis. Ann Radiol (Paris). 1986. 29(3-4):369-73. [Medline].

Hetts SW, Hilchey SD, Wilson R, Franc B. Case 110: Nonossifying fibroma. Radiology. 2007 Apr. 243(1):288-92. [Medline].

Cherix S, Bildé Y, Becce F, Letovanec I, Rüdiger HA. Multiple non-ossifying fibromas as a cause of pathological femoral fracture in Jaffe-Campanacci syndrome. BMC Musculoskelet Disord. 2014 Jun 26. 15:218. [Medline]. [Full Text].

Wodajo FM. Top five lesions that do not need referral to orthopedic oncology. Orthop Clin North Am. 2015 Apr. 46 (2):303-14. [Medline].

Huzjan R, Vukelic-Markovic M, Brkljacic B, Ivanac G. The value of ultrasound in diagnosis and follow-up of fibrous cortical defect. Ultraschall Med. 2005 Oct. 26(5):420-3. [Medline].

Loberant N, Samovsky M, Papura S. Gray-scale and Doppler characteristics of fibrous cortical defects in a child. J Clin Ultrasound. 2003 Sep. 31(7):369-74. [Medline].

von Falck C, Rosenthal H, Gratz KF, Galanski M. Nonossifying fibroma can mimic residual lymphoma in FDG PET: additional value of combined PET/CT. Clin Nucl Med. 2007 Aug. 32(8):640-2. [Medline].
Medscape Reference © 2011 WebMD, LLC