Orthopedic Surgery for Fibrous Dysplasia Workup
Author: Bernardo Vargas, MD; Chief Editor: Harris Gellman, MD more...
Updated: Nov 20, 2014
What would you like to print?
Imaging Studies
Plain radiography
In both monostotic and polyostotic forms of fibrous dysplasia, the most common site of involvement is the femur.[10] Lesions in the long bones are medullary and usually affect the diaphysis and extend toward the metaphysis (see the image below).
Typically, the matrix of the lesion has a ground-glass appearance. The lesion produces endosteal scalloping with a thin intact cortical shell. The contour of the bone may be expanded by the lesion. The classic deformity that results with involvement of the proximal femur is described as a shepherd's crook deformity on the basis of the deformation into varus.
Technetium-99m methylene diphosphonate bone scan
Increased uptake of the label that corresponds to osteoblastic activity is noted in the area of involvement seen on radiographs (see the image below). This study is useful in determining whether disease is monostotic or polyostotic.
Computed tomography
Computed tomography (CT) confirms a lesion confined to the interior of bone with no soft-tissue component. (See the image below.) It is helpful in distinguishing fibrous dysplasia from a malignancy.[23, 24] CT can show a homogeneous matrix.
Magnetic resonance imaging
With magnetic resonance imaging (MRI),[24, 25] intermediate signal intensity is present on T1-weighted images (see the first image below). High signal intensity is present on T2-weighted images (see the second image below).
Diagnosis with imaging alone vs biopsy
Fusconi et al conducted a literary review to determine the feasibility of diagnosing fibrous dysplasia on the basis of imaging (CT and MRI with and without contrast) alone, without biopsy.[26] They concluded that it is not possible to make the diagnosis purely on the basis of imaging. A ground-glass appearance on radiography, though characteristic of fibrous dysplasia, is not pathognomonic. The authors recommended that histologic examination or follow-up imaging be conducted in cases of suspected fibrous dysplasia.
Diagnostic Procedures
Needle biopsy is used to establish the diagnosis of fibrous dysplasia, especially in monostotic cases. Open biopsy should be performed only as part of a multidisciplinary team approach, with personnel experienced in the management of both benign and malignant bone and soft-tissue sarcomas.
Histologic Findings
The gross findings of fibrous dysplasia include a centrally located, tan-to-gray-white, gritty-feeling lesion. The microscopic appearance shows a fibrous/collagenous matrix with randomly oriented bone or fiber trabeculae that are formed by osseous metaplasia of spindled stromal cells (see the image below).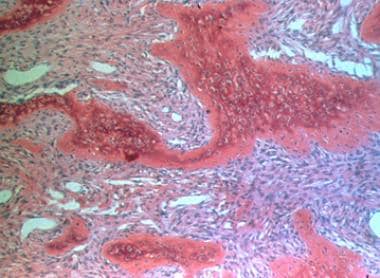 Intermediate-power view of typical histology of fibrous dysplasia. Note the bland fibrous stromal tissue with islands of disorganized, immature osteoid. A key feature is the absence of rimming osteoblasts around the osteoid. While not present in this slide, foci of cartilage also may occasionally be present.
The spicules of immature bone that are produced are short and irregular and are not lined by osteoblasts. The appearance has been described as that of Chinese letters (see the image below). Small nodules of cartilage are found within the fibrous matrix in 10% of cases.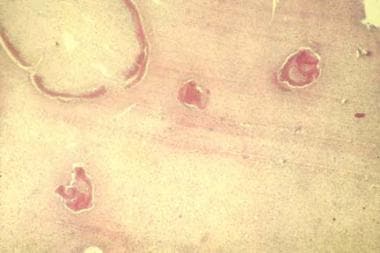 The metaplastic bone formed by fibrous dysplasia has the appearance of Chinese letters.
Staging
Monostotic fibrous dysplasia is active while it is growing but often becomes inactive after puberty. It may reactivate during pregnancy. Polyostotic disease typically remains active throughout life.
Laboratory Studies
Molecular diagnosis using the techniques of polymerase chain reaction (PCR) analysis with peptide nucleic acid (PNA) has shown that fibrous dysplasia patients have blood cells with the G protein gene (GNAS) mutation. Diagnosis of fibrous dysplasia or McCune-Albright syndrome could be helped by identification of this mutation in the peripheral blood.[22] The utility of this technique is still being evaluated.
Serum alkaline phosphatase levels are often elevated during active phases of this disease. This test could be useful to asses the evolution of disease in patients treated with bisphosphonates.
About 25% of patients may have a vitamin D deficiency.[19] Serum calcium, phosphate, and vitamin D levels are useful to exclude rickets. Pituitary gonadotropins and gonadosteroids are assessed to assist in the workup of precocious puberty.
Patients with the polyostotic form of fibrous dysplasia, particularly McCune-Albright syndrome, must be evaluated to exclude hyperthyroidism, pituitary gigantism, or hypercortisolism (possible autonomous endocrine hyperfunction).
References
Lichtenstein L, Jaffe HL. Fibrous dysplasia of bone: a condition affecting one, several or many bones, the graver cases of which may present abnormal pigmentation of skin, premature sexual development, hyperthyroidism or still other extraskeletal abnormalities. Arch Pathol. 1942. 33:777-816.

Albright F, Butler AM, Hampton AO. Syndrome characterized by osteitis fibrosa disseminata, areas of pigmentation and endocrine dysfunction, with precocious puberty in females. N Engl J Med. 1937. 216:727-46.

Fraser WD, Walsh CA, Birch MA. Parathyroid hormone-related protein in the aetiology of fibrous dysplasia of bone in the McCune Albright syndrome. Clin Endocrinol. 2000;. 53(5):621-8. [Medline].

Parekh SG, Donthineni-Rao R, Ricchetti E, Lackman RD. Fibrous dysplasia. J Am Acad Orthop Surg. 2004 Sep-Oct. 12(5):305-13. [Medline].

Santos CT, Choo CT, Loh AH. Orbital fibrous dysplasia with soft tissue hamartoma--a variant of Mazabraud's syndrome. Orbit. 2008. 27(3):207-9. [Medline].

Chapurlat RD, Orcel P. Fibrous dysplasia of bone and McCune-Albright syndrome. Best Pract Res Clin Rheumatol. 2008 Mar. 22(1):55-69. [Medline].

Alman BA, Greel DA, Wolfe HJ. Activating mutations of Gs protein in monostotic fibrous lesions of bone. J Orthop Res. Mar 1996;. 14(2):311-5. [Medline].

DiCaprio MR, Enneking WF. Fibrous dysplasia. Pathophysiology, evaluation, and treatment. J Bone Joint Surg Am. 2005 Aug. 87(8):1848-64. [Medline].

Marie P. Dysplasie fibreuse: aspects tissulaires, cellulaires et moléculaires. Revue du Rhumatisme. 2003. 7:681-6.

Ippolito E, Bray EW, Corsi A, De Maio F, Exner UG, Robey PG, et al. Natural history and treatment of fibrous dysplasia of bone: a multicenter clinicopathologic study promoted by the European Pediatric Orthopaedic Society. J Pediatr Orthop B. 2003 May. 12(3):155-77. [Medline].

Ruggieri P, Sim FH, Bond JR, Unni KK. Malignancies in fibrous dysplasia. Cancer. 1994. 73(5):1411-24. [Medline].

Yabut SM Jr, Kenan S, Sissons HA, Lewis MM. Malignant transformation of fibrous dysplasia. A case report and review of the literature. Clin Orthop. 1988. 228:281-9. [Medline].

Marie PJ, de Pollak C, Chanson P, Lomri A. Increased proliferation of osteoblastic cells expressing the activating Gs alpha mutation in monostotic and polyostotic fibrous dysplasia. Am J Pathol. 1997 Mar. 150(3):1059-69. [Medline]. [Full Text].

Guille JT, Kumar SJ, MacEwen GD. Fibrous dysplasia of the proximal part of the femur. Long-term results of curettage and bone-grafting and mechanical realignment. J Bone Joint Surg Am. May 1998. 80(5):648-58. [Medline].

McCune DJ. Osteitis fibrosa cystica: the case of a nine year old girl who also exhibits precocious puberty, multiple pigmentation of the skin and hyperthyroidism. Am J Dis Child. 1936. 52:743-747.

Stanton RP, Diamond L. Surgical management of fibrous dysplasia in McCune-Albright syndrome. Pediatr Endocrinol Rev. 2007 Aug. 4 Suppl 4:446-52. [Medline].

Kumta SM, Leung PC, Griffith JF, et al. Vascularised bone grafting for fibrous dysplasia of the upper limb. J Bone Joint Surg Br. Apr 2000;. 82(3):409-12. [Medline].

Chapurlat RD, Hugueny P, Delmas PD, Meunier PJ. Treatment of fibrous dysplasia of bone with intravenous pamidronate: long-term effectiveness and evaluation of predictors of response to treatment. Bone. 2004 Jul. 35(1):235-42. [Medline].

Liens D, Delmas PD, Meunier PJ. Long-term effects of intravenous pamidronate in fibrous dysplasia of bone. Lancet. 1994 Apr 16. 343(8903):953-4. [Medline].

Zacharin M, O'Sullivan M. I. Intravenous pamidronate treatment of polyostotic fibrous dysplasia associated with the McCune Albright syndrome. J Pediatr. 2000. 137(3):403-9. [Medline].

DiMeglio LA. Bisphosphonate therapy for fibrous dysplasia. Pediatr Endocrinol Rev. 2007 Aug. 4 Suppl 4:440-5. [Medline].

Lietman SA, Ding C, Levine MA. A highly sensitive polymerase chain reaction method detects activating mutations of the GNAS gene in peripheral blood cells in McCune-Albright syndrome or isolated fibrous dysplasia. J Bone Joint Surg Am. 2005 Nov. 87(11):2489-94. [Medline].

Murray DJ, Edwards G, Mainprize JG, Antonyshyn O. Advanced technology in the management of fibrous dysplasia. J Plast Reconstr Aesthet Surg. 2008 Aug. 61(8):906-16. [Medline].

Li P, Zhang ZR, Jiang Y, Xia XD, Wang D, Li XF. MR and CT findings of cyst degeneration of sphenoid bone in McCune-Albright syndrome: a case report. Cases J. 2009 Dec 22. 2:9376. [Medline]. [Full Text].

Ferreira EC, Brito CC, Domingues RC, Bernardes M, Marchiori E, Gasparetto EL. Whole-body MR imaging for the evaluation of McCune-albright syndrome. J Magn Reson Imaging. 2010 Mar. 31(3):706-10. [Medline].

Fusconi M, Conte M, Pagliarella M, De Vincentiis C, De Virgilio A, Benincasa AT, et al. Fibrous dysplasia of the maxilla: diagnostic reliability of the study image. Literature review. J Neurol Surg B Skull Base. 2013 Dec. 74(6):364-8. [Medline]. [Full Text].

Kim YH, Song JJ, Choi HG, Lee JH, Oh SH, Chang SO, et al. Role of surgical management in temporal bone fibrous dysplasia. Acta Otolaryngol. 2009 Dec. 129(12):1374-9. [Medline].

Tomasik P, Spindel J, Miszczyk L, Chrobok A, Koczy B, Widuchowski J, et al. Surgical treatment of dysplasia fibrosa and defectus fibrosus with bone allografts. Ortop Traumatol Rehabil. 2010 Jan-Feb. 12(1):58-66. [Medline].

Gui H, Zhang S, Shen SG, Wang X, Bautista JS, Voss PJ. Real-time image-guided recontouring in the management of craniofacial fibrous dysplasia. Oral Surg Oral Med Oral Pathol Oral Radiol. 2013 Dec. 116(6):680-5. [Medline].

Bridge JA, Rosenthal H, Sanger W. Desmoplastic fibroma arising in fibrous dysplasia. Clin Orthop. 1998;. 247:272-8. [Medline].
Medscape Reference © 2011 WebMD, LLC