Neurilemmoma Workup
Author: Ian D Dickey, MD, FRCSC; Chief Editor: Harris Gellman, MD more...
Updated: Nov 21, 2014
What would you like to print?
Imaging Studies
Findings on plain radiography generally are not specific. The rare intraosseous lesion presents as a benign-appearing, well-circumscribed lesion. Differential diagnoses for these lesions include giant cell tumors, chordomas (when involving the spine), and chondroblastomas. Massive bony destruction may be present, especially when the lesion involves the sacrum.
Special studies to consider are those employing computed tomography (CT) scanning or magnetic resonance imaging (MRI). MRI is particularly useful (see the image below); it shows a usually round or oval mass with a moderately bright signal on T1-weighted images and a bright, heterogeneous signal on T2-weighted images.[5] The mass is usually less than 2.5 cm in size. The lesion enhances uniformly with gadolinium contrast.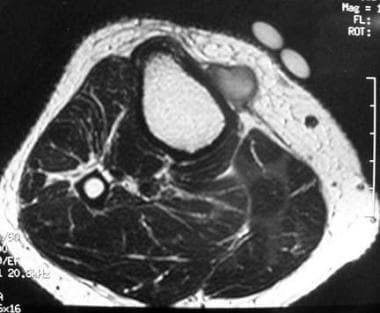 Neurilemmomas have very distinctive appearances on magnetic resonance images. Many investigators believe that the presence of a target sign on a peripheral nerve is diagnostic for a neurilemmoma.
Wu et al conducted a study to determine the value of ultrasonography in the diagnosis of neurilemmoma and to determine whether the presence of a round or roundlike shape on the ultrasound image is diagnostically useful.[6] They concluded that ultrasonography is capable of diagnosing neurilemmomas with a high degree of accuracy but that round or roundlike shape and the ratio of longitudinal maximal diameter to short maximal diameter (L/S) are of little value in identifying neurilemmomas of the limbs.
Diagnostic Procedures
Biopsy may be needed to clearly define the tissue type. For bone lesions and for particularly large soft-tissue lesions, biopsy is prudent to ensure correct diagnosis and management. Whenever a biopsy is considered, strict biopsy guideline principles must be followed.
Histologic Findings
Lesions of the spinal cord often have a dumbbell shape; otherwise, they are fusiform in shape. They have an epineurium encapsulation, frequently with overlying vessels. The cut surface is pink or white. In very large masses, degenerative cysts, hemorrhage, or dystrophic calcification may be present.
Neurilemmomas have a well-defined, fibrous capsule. Histologically, there are two distinct regions, as follows:
Antoni A areas - These are cellular regions with predominantly benign spindle cells in many intersecting bundles; they may palisade around eosinophilic regions that are called Verocay bodies, and they are positive for S100 staining

Antoni B areas - These are much less cellular and have a background of loose connective tissue that is myxomatous in appearance
Occasionally, a more aggressive histologic appearance may predominate, but such forms usually lack mitotic figures.
Staging
Neurilemmomas are commonly classified according to the Enneking system for benign lesions, as follows:
Grade 1 - These lesions are inactive

Grade 2 - These lesions deform the surrounding tissues but are not destructive or locally aggressive

Grade 3 - These lesions are locally aggressive and may invade local tissues but do not have metastatic potential
Generally, neurilemmomas are grade 2 or 3.
Laboratory Studies
Laboratory studies generally are not beneficial.
References
Roche PH, Bouvier C, Chinot O, Figarella-Branger D. Genesis and biology of vestibular schwannomas. Prog Neurol Surg. 2008. 21:24-31. [Medline].

Guerrissi JO. Solitary benign schwannomas in major nerve systems of the head and neck. J Craniofac Surg. 2009 May. 20(3):957-61. [Medline].

Bakar B, Sumer MM, Cila A, Tekkok IH. An extreme lateral lumbar disc herniation mimicking L4 schwannoma. Acta Neurol Belg. 2009 Jun. 109(2):155-8. [Medline].

Ichinose T, Takami T, Yamamoto N, Tsuyuguchi N, Ohata K. Intratumoral hemorrhage of spinal schwannoma of the cauda equina manifesting as acute paraparesis--case report. Neurol Med Chir (Tokyo). 2009 Jun. 49(6):255-7. [Medline].

Fortnum H, O'Neill C, Taylor R, Lenthall R, Nikolopoulos T, Lightfoot G, et al. The role of magnetic resonance imaging in the identification of suspected acoustic neuroma: a systematic review of clinical and cost effectiveness and natural history. Health Technol Assess. 2009 Mar. 13(18):iii-iv, ix-xi, 1-154. [Medline].

Wu S, Liu G, Tu R. Value of ultrasonography in neurilemmoma diagnosis: the role of round shape morphology. Med Ultrason. 2012 Sep. 14(3):192-6. [Medline].

Yousem SA, Colby TV, Urich H. Malignant epithelioid schwannoma arising in a benign schwannoma. A case report. Cancer. 1985 Jun 15. 55(12):2799-803. [Medline].

Tan M, Myrie OA, Lin FR, Niparko JK, Minor LB, Tamargo RJ, et al. Trends in the management of vestibular schwannomas at Johns Hopkins 1997-2007. Laryngoscope. 2010 Jan. 120(1):144-9. [Medline].

Kida Y, Yoshimoto M, Hasegawa T. Radiosurgery for facial schwannoma. J Neurosurg. 2007 Jan. 106(1):24-9. [Medline].

Rutten I, Baumert BG, Seidel L, et al. Long-term follow-up reveals low toxicity of radiosurgery for vestibular schwannoma. Radiother Oncol. 2007 Jan. 82(1):83-9. [Medline].

Sade B, Mohr G, Dufour JJ. Vascular complications of vestibular schwannoma surgery: a comparison of the suboccipital retrosigmoid and translabyrinthine approaches. J Neurosurg. 2006 Aug. 105(2):200-4. [Medline].

Strauss C, Prell J, Rampp S, et al. Split facial nerve course in vestibular schwannomas. J Neurosurg. 2006 Nov. 105(5):698-705. [Medline].

Kondziolka D, Lunsford LD. Future perspectives in acoustic neuroma management. Prog Neurol Surg. 2008. 21:247-54. [Medline].

Pillai P, Sammet S, Ammirati M. Image-guided, endoscopic-assisted drilling and exposure of the whole length of the internal auditory canal and its fundus with preservation of the integrity of the labyrinth using a retrosigmoid approach: a laboratory investigation. Neurosurgery. 2009 Dec. 65(6 Suppl):53-9; discussion 59. [Medline].

Kano H, Kondziolka D, Khan A, Flickinger JC, Lunsford LD. Predictors of hearing preservation after stereotactic radiosurgery for acoustic neuroma. J Neurosurg. 2009 Oct. 111(4):863-73. [Medline].

Beggs I. Pictorial review: imaging of peripheral nerve tumours. Clin Radiol. 1997 Jan. 52(1):8-17. [Medline].

Belding RH. Neurilemoma of the lateral plantar nerve producing tarsal tunnel syndrome: a case report. Foot Ankle. 1993 Jun. 14(5):289-91. [Medline].

Campanacci M. Bone and Soft Tissue Tumors: Clinical Features, Imaging, Pathology and Treatment. 2nd ed. New York, NY: Springer-Verlag; 1999.

Cerofolini E, Landi A, DeSantis G, et al. MR of benign peripheral nerve sheath tumors. J Comput Assist Tomogr. 1991 Jul-Aug. 15(4):593-7. [Medline].

Idler RS. Benign and malignant nerve tumors. Hand Clin. 1995 May. 11(2):203-9. [Medline].

Mikami Y, Hidaka T, Akisada T, et al. Malignant peripheral nerve sheath tumor arising in benign ancient schwannoma: a case report with an immunohistochemical study. Pathol Int. 2000 Feb. 50(2):156-61. [Medline].

Stull MA, Moser RP, Kransdorf MJ, et al. Magnetic resonance appearance of peripheral nerve sheath tumors. Skeletal Radiol. 1991. 20(1):9-14. [Medline].

Woodruff JM, Selig AM, Crowley K, et al. Schwannoma (neurilemoma) with malignant transformation. A rare, distinctive peripheral nerve tumor. Am J Surg Pathol. 1994 Sep. 18(9):882-95. [Medline].
Medscape Reference © 2011 WebMD, LLC