Fibrosarcoma Workup
Author: Ian D Dickey, MD, FRCSC; Chief Editor: Harris Gellman, MD more...
Updated: Nov 20, 2014
What would you like to print?
Imaging Studies
Plain radiography
Plain radiographs of the involved anatomic region are needed to evaluate for primary or secondary involvement of bone. (See the image below.) Typically, an osteolytic area of destruction with a permeative or moth-eaten appearance is present. Little periosteal reaction or reactive sclerosis is depicted.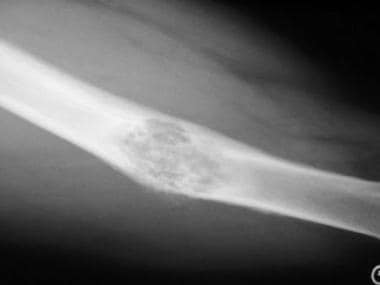 Although fibrosarcoma of bone can arise anywhere, it is found most commonly about the knee and femur. The radiograph here shows a typical appearance of a lesion in bone.
For bony lesions, plain radiographs often greatly assist in diagnosis and the determination of location, size, and local extent of involvement. For soft-tissue masses, size often can be estimated, any bone involvement can be seen, and intralesional content (matrix) can sometimes be determined.
Computed tomography
For sarcomas arising in bone, computed tomography (CT) is used to delineate bone involvement, bone destruction, or bone reaction. The density of fibrosarcomas is similar to that of surrounding normal muscle. Signs of fracture or impending fracture may be seen, and the tumor can be more accurately localized. CT of the chest may be appropriate. CT is highly sensitive for metastatic disease.
Magnetic resonance imaging
Magnetic resonance imaging (MRI) may be the best modality overall for examining soft-tissue masses and for detecting the intraosseous and extraosseous extent of many bony sarcomas.[4] It is useful in providing information about the local extent, lesion size, and involvement of the neurovascular structures. Fibrosarcoma of bone typically has extraosseous extension.
Canale et al performed a retrospective review of MRI features in six cases of infantile fibrosarcoma (patient age range, 0-6 months).[2] A well-circumscribed single mass was the most common finding (five patients), and all the tumors were on limbs. The initial tumor signal was isointense to muscle on T1-weighted images and hyperintense on T2-weighted images, with all tumors being well circumscribed and half of them containing internal fibrous septa.
In three patients, the internal signal was homogeneous; in the other three, it was heterogeneous.[2] An intense enhancement was seen in the three contrast-enhanced images that were available: heterogeneous in two and homogeneous in one. There was osseous erosion observed in the patient with distant metastasis. The tumors in all cases disappeared with chemotherapy and limited surgery.[2]
Bone scanning
Bone scanning with technetium-99m is a very useful adjunct in the evaluation of tumor stage.
It aids in the detection of bone metastatic or polyostotic disease. For fibrosarcoma, bone scanning has largely been supplanted by MRI. The main limitation of bone scanning is that it often is nonspecific.
Other modalities
Some authors have suggested the use of gallium and ultrasound scans for diagnosis. At present, the value of these tests for staging of sarcomas remains limited.
Diagnostic Procedures
Ultimately, the diagnosis of fibrosarcoma is made with tissue obtained from a biopsy. Biopsy should be thought of as the first step toward treatment, rather than the last step in diagnosis. Biopsy should always follow a full radiographic workup.
Biopsy is best performed by the treating surgeon because that physician will be responsible for any final tumor resection and reconstruction. In addition, it is best performed at a center where a team approach is used in treating these rare tumors. At such centers, groups of oncologists, pathologists, radiologists, and surgeons, all with a specific interest in these problems, often are present. This broad pool of experience contributes greatly to the interpretation of tests and to the ultimate treatment outcome.
Any biopsy performed must include an adequate volume of tissue. In centers with expert interpretation, core-needle biopsy or fine-needle aspiration may be acceptable.
The biopsy must be performed in a way that avoids compromising any planned surgical excision or reconstruction. It must not contaminate significant neurovascular structures.
Histologic Findings
Fibrosarcomas are tumors of malignant fibroblasts and collagen. They vary in histologic grade.
Well-differentiated forms have multiple plump fibroblasts with deeply staining nuclei in a rich collagen background. Intermediate-grade tumors have the typical herringbone pattern, showing the diagnostic parallel sheets of cells arranged in intertwining whorls (see the image below). A slight degree of cellular pleomorphism exists.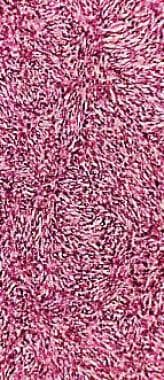 Most pathologists describe the histologic picture of fibrosarcoma as a herringbone pattern. It is an interlacing pattern of sheets of spindle-shaped fibroblasts in a collagen background. This pattern is very distinctive and usually confirms the diagnosis of fibrosarcoma.
High-grade lesions are very cellular, with marked cellular atypia and mitotic activity. The matrix is sparse. No malignant osteoid formation should be present. Higher grades are extremely anaplastic and pleomorphic, with bizarre nuclei that bring to mind the histologic features of malignant fibrous histiocytoma. In fact, some pathologists believe that the division between malignant fibrous histiocytoma, high-grade osteosarcoma, and fibrosarcoma may be artificial.
Wojcik et al assessed clinicopathologic and immunohistochemical features of primary sclerosing epithelioid fibrosarcoma (SEF) in eight patients (median age, 52 years; range, 25-73 years).[5] Tumors mostly involved long bones of the extremities, were predominantly lytic, and were poorly marginated. Histologically, six tumors had pure SEF morphology; two had hybrid SEF/low-grade fibromyxoid sarcoma morphology; one showed focal dystrophic mineralization (limited to areas of necrosis); and none showed the lacelike mineralization pattern typical of osteosarcoma.
The majority of the tumors (6/8) strongly expressed MUC4.[5] All but one patient tested negative for SATB2; in that case, variable weak to moderate staining occurred in approximately 50% of nuclei. The authors concluded that the combination of morphology, MUC4 expression, and the absence of SATB2 expression was highly useful in helping to establish the correct diagnosis.
Staging
Several staging systems are used for tumors of the musculoskeletal system. The two most common systems are that of the Musculoskeletal Tumor Society and that of the American Joint Committee on Cancer. Both systems include histologic grade, tumor site, and presence or absence of metastasis. Other factors that may be important in staging are the size and depth of the tumor.
Laboratory Studies
Laboratory studies generally are not helpful during the initial evaluation.
References
Russell H, Hicks MJ, Bertuch AA, Chintagumpala M. Infantile fibrosarcoma: clinical and histologic responses to cytotoxic chemotherapy. Pediatr Blood Cancer. 2009 Jul. 53(1):23-7. [Medline].

Canale S, Vanel D, Couanet D, Patte C, Caramella C, Dromain C. Infantile fibrosarcoma: magnetic resonance imaging findings in six cases. Eur J Radiol. 2009 Oct. 72(1):30-7. [Medline].

DeComas AM, Heinrich SD, Craver R. Infantile fibrosarcoma successfully treated with chemotherapy, with occurrence of calcifying aponeurotic fibroma and pleomorphic/spindled celled lipoma at the site 12 years later. J Pediatr Hematol Oncol. 2009 Jun. 31(6):448-52. [Medline].

Stein-Wexler R. MR imaging of soft tissue masses in children. Magn Reson Imaging Clin N Am. 2009 Aug. 17(3):489-507, vi. [Medline].

Wojcik JB, Bellizzi AM, Dal Cin P, Bredella MA, Fletcher CD, Hornicek FJ, et al. Primary sclerosing epithelioid fibrosarcoma of bone: analysis of a series. Am J Surg Pathol. 2014 Nov. 38(11):1538-44. [Medline].

Sulkowski JP, Raval MV, Browne M. Margin status and multimodal therapy in infantile fibrosarcoma. Pediatr Surg Int. 2013 Aug. 29(8):771-6. [Medline].

Abbott JJ, Erickson-Johnson M, Wang X. Gains of COL1A1-PDGFB genomic copies occur in fibrosarcomatous transformation of dermatofibrosarcoma protuberans. Mod Pathol. 2006 Nov. 19(11):1512-8. [Medline].

Antonescu CR, Erlandson RA, Huvos AG. Primary fibrosarcoma and malignant fibrous histiocytoma of bone—a comparative ultrastructural study: evidence of a spectrum of fibroblastic differentiation. Ultrastruct Pathol. 2000 Mar-Apr. 24(2):83-91. [Medline].

Hadjipavlou A, Zucker J. Sarcoma in Paget's disease of bone. In: Current Concepts of Diagnosis and Treatment of Bone and Soft Tissue Tumors. Berlin:. Springer-Verlag. 1984: 383-94.

Hinarejos P, Escuder MC, Monllau JC. Fibrosarcoma at the site of a metallic fixation of the tibia—a case report and literature review. Acta Orthop Scand. 2000 Jun. 71(3):329-32. [Medline].

Inwards CY, Unni KK. Classification and grading of bone sarcomas. Hematol Oncol Clin North Am. 1995 Jun. 9(3):545-69. [Medline].

Lilleng PK, Monge OR, Walloe A, et al. Fibrosarcoma in children—a rare tumour with long-term survival even with advanced disease—a report of 3 cases. Acta Oncol. 1997. 36(4):438-40. [Medline].

Lin CN, Chou SC, Li CF. Prognostic factors of myxofibrosarcomas: implications of margin status, tumor necrosis, and mitotic rate on survival. J Surg Oncol. 2006 Mar 15. 93(4):294-303. [Medline].

Loss L, Zeitouni NC. Management of scalp dermatofibrosarcoma protuberans. Dermatol Surg. 2005 Nov. 31(11 Pt 1):1428-33. [Medline].

Menon AG, Anderson KM, Riccardi VM, et al. Chromosome 17p deletions and p53 gene mutations associated with the formation of malignant neurofibrosarcomas in von Recklinghausen neurofibromatosis. Proc Natl Acad Sci U S A. 1990 Jul. 87(14):5435-9. [Medline]. [Full Text].

Nakanishi H, Tomita Y, Ohsawa M, et al. Tumor size as a prognostic indicator of histologic grade of soft tissue sarcoma. J Surg Oncol. 1997 Jul. 65(3):183-7. [Medline].

Papagelopoulos PJ, Galanis E, Frassica FJ, et al. Primary fibrosarcoma of bone. Outcome after primary surgical treatment. Clin Orthop Relat Res. 2000 Apr. 88-103. [Medline].

Peabody TD, Gibbs CP, Simon MA. Evaluation and staging of musculoskeletal neoplasms. J Bone Joint Surg Am. 1998 Aug. 80(8):1204-18. [Medline].

Sangüeza OP, Requena L. Neoplasms with neural differentiation: a review. Part II: malignant neoplasms. Am J Dermatopathol. 1998 Feb. 20(1):89-102. [Medline].

Toro JR, Travis LB, Wu HJ. Incidence patterns of soft tissue sarcomas, regardless of primary site, in the surveillance, epidemiology and end results program, 1978-2001: an analysis of 26,758 cases. Int J Cancer. 2006 Dec 15. 119(12):2922-30. [Medline].

Weatherby RP, Dahlin DC, Ivins JC. Postradiation sarcoma of bone: review of 78 Mayo Clinic cases. Mayo Clin Proc. 1981 May. 56(5):294-306. [Medline].

Wee A, Pho RW, Ong LB. Infantile fibrosarcoma: report of cases. Arch Pathol Lab Med. 1979 May. 103(5):236-8. [Medline].

Willems SM, Debiec-Rychter M, Szuhai K. Local recurrence of myxofibrosarcoma is associated with increase in tumour grade and cytogenetic aberrations, suggesting a multistep tumour progression model. Mod Pathol. 2006 Mar. 19(3):407-16. [Medline].
Medscape Reference © 2011 WebMD, LLC