Achondroplasia Clinical Presentation
Author: Shital Parikh, MD; Chief Editor: Jeffrey D Thomson, MD more...
Updated: Mar 29, 2016
What would you like to print?
History
Gross motor development frequently is delayed. Motor milestones (eg, head control and independent sitting, standing, and ambulation) may lag by 3-6 months. Speech and language problems may be caused by tongue thrust (due to an abnormal maxillomandibular relationship) but often resolve spontaneously. Some 20% of patients experience delayed speech acquisition. Cognitive skills are preserved, and the intelligence level is within normal limits. Cranial enlargement and poor head control place the infant at risk for extension injuries.
An Australian study assessed the functional milestones of achondroplasia children aged 3-7 years. The data showed that whereas milestones were delayed across all ages studied, functioning improved between the ages of 3 and 5 years, though not subsequently. Access to clinicians skilled in achondroplasia management may assist these children to become more independent.[13, 14]
Standing height is below the third percentile for both sexes. The mean adult standing height for men is 132 cm (52 in.), and that for women is 125 cm (49 in.). Sitting height, a reflection of trunk length, is within normal limits.
About 75% of patients have otitis media when younger than 5 years. Recurrent otitis media is common because of poor drainage of the eustachian tubes from underdevelopment of the midface, relative hypertrophy of tonsils and adenoids, and temporal bone abnormalities. Conductive hearing loss is present due to ossicular chain stiffness, and may be either congenital or acquired as a result of recurrent otitis media. Sensorineural hearing loss may be present in a few patients. Maxillary hypoplasia may lead to dental crowding and malocclusion.
Upper-airway obstruction, small chest wall, pectus excavatum, and neurogenic effects from brainstem compression reduce the vital capacity. Incidence of pneumonia, cyanotic spells, apnea, and other respiratory complications is increased. Symptoms of airway obstruction include snoring and sleeping with the neck in a hyperextended position.
Abnormal development of the base of the skull results in a foramen magnum that is smaller than in average individuals. Narrowing of the foramen magnum compresses the cervicomedullary region, causing symptoms of respiratory insufficiency, apnea, cyanotic episodes, feeding problems, quadriparesis, and sudden death. These symptoms are common in the first several years of life because of the failure of the anticipated enlargement of foramen magnum during infancy and childhood. Chronic brain stem compression also may be a cause of hypotonia observed in the first 2 years of life.
Stenosis of the spinal canal and intervertebral foramen leads to symptoms such as low back pain, leg pain, dysesthesia, paresthesia, paraparesis, incontinence, and neurogenic claudication. Claudication may present as vague symptoms of aching or tiredness of the lower extremities induced by walking or standing. Symptoms may progress with a sensation of tingling and numbness and, eventually, weakness. Often, the pain is alleviated if the patient assumes a squatting position or bends forward.
More than 50% of patients experience symptoms of lower-extremity radiculopathy from nerve root compression or cauda equina syndrome. The mean age of onset of back or lower extremity symptoms is 26 years; one third of patients are younger than 15 years at onset.
Symptoms due to abnormal curvature of the spine (eg, kyphosis, lordosis, or scoliosis) may be present, such as deformity, back pain, respiratory dysfunction, neurologic involvement, or symptoms of spinal stenosis. The incidence of kyphoscoliosis may be as high as 33-50% in adults. However, the curve magnitude is generally less than 30° and generally does not necessitate treatment.
Joint laxity may be present in children. Genu recurvatum is common. As the child grows, genu varum (tibial bowing) and lateral tibial torsion become apparent.
Macrocephaly represents ventriculomegaly or arrested hydrocephalus.
Mild but annoying neurologic disturbances can be attributed to local anatomic abnormalities and abnormal stretching of nerves. Examples include hip and knee pain from meralgia paresthetica, ankle pain from irritation of the peroneal nerve, or facial pain due to trigeminal neuralgia.
Fibromyalgia (trigger points located in the lower part of the back) and trochanteric bursitis can be seen in some patients.
Physical Examination
Achondroplasia is evident at birth as a disproportionate short-limb dwarfing condition (see the image below). Characteristics include an enlarged neurocranium, frontal bossing, flattening of the nasal bridge, midface hypoplasia, and a relatively prominent mandible. The anteroposterior diameter of the chest is flattened, the lower ribs are flared, and the abdomen protrudes.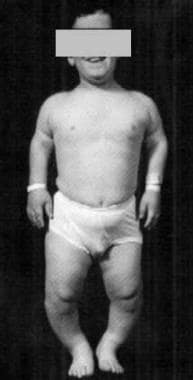 Typical features of person with achondroplastic dwarfism, including normal trunk with rhizomelic shortening and genu varum.
Before walking, the child has a thoracolumbar kyphosis and lordosis in the interscapular thoracic region.[15] The kyphosis can be severe in the sitting position and may not reduce completely in the prone position. Once independent ambulation is established, an exaggerated lumbar lordosis with forward rotation of the pelvis develops, and the spinal deformity is associated with hip flexion contractures and a prominent abdomen and buttocks. However, some degree of kyphosis persists in 25% of adults.
Upper-extremity involvement is rhizomelic, with the proximal segments more severely affected than the distal segments. The shoulders appear broad because of the normal development of clavicle and well-developed musculature. The short arms may contribute to bulky muscle mass and apparent increased strength in such individuals. Loss of full extension of the elbow, in the range of 15-30°, is present. A trident hand is common and is characterized by a persistent space between the long and ring fingers when approximation of the fingers is attempted in full extension. The fingertips reach the level of the hips, which causes difficulty with hygiene and dressing.
Lower-extremity involvement is rhizomelic, with hip flexion contractures, ligamentous laxity and external rotation of the extremity, and genu recurvatum before walking age. The tibia is bowed, resulting in significant genu varum and some degree of ankle varus. Frequently, gaping of the lateral compartment or lateral translation of the tibia on the femur can be seen during the stance phase. Occasionally, a valgus deformity may develop. The gait is usually a waddling gait, and circumduction motion of the hips and lower extremities occurs when running is attempted.
Spinal deformities are the most common and potentially disabling problems.[16, 17, 18] Spinal canal stenosis and stenosis of the intervertebral foramen are secondary to short thickened pedicles, interpedicular narrowing, thickened laminae, intervertebral disc herniation, degenerative spondylolysis, excessive lumbar lordosis, or anterior wedging of the vertebral bodies from thoracolumbar kyphosis. Sensory deficits, posterior column dysfunction, lower and upper motor neuron signs, and signs of neurologic claudication may be present. Signs of lower-extremity radiculopathy from nerve root compression or cauda equina syndrome are present in more than 50% of patients.
Macrocephaly is present as a consequence of triventricular enlargement and hydrocephalus.[19] However, intracranial pressure is not elevated significantly. In infants, a rough estimate of the pressure can be made by palpating the fontanelles.
References
Smoker WR, Khanna G. Imaging the craniocervical junction. Childs Nerv Syst. 2008 Oct. 24(10):1123-45. [Medline].

J. M. Parrot. Les malformations achondrodysplasiques. Bulletins de la Société d'anthropologie de Paris, 1878. 1878.

Bailey JA 2nd. Orthopaedic aspects of achondroplasia. J Bone Joint Surg Am. 1970 Oct. 52(7):1285-301. [Medline].

Nelson MA. Orthopaedic aspects of the chondrodystrophies. The dwarf and his orthopaedic problems. Ann R Coll Surg Engl. 1970 Oct. 47(4):185-210. [Medline].

Horton WA, Hall JG, Hecht JT. Achondroplasia. Lancet. 2007 Jul 14. 370(9582):162-72. [Medline].

Laederich MB, Horton WA. Achondroplasia: pathogenesis and implications for future treatment. Curr Opin Pediatr. 2010 Aug. 22(4):516-23. [Medline].

Baitner AC, Maurer SG, Gruen MB, Di Cesare PE. The genetic basis of the osteochondrodysplasias. J Pediatr Orthop. 2000 Sep-Oct. 20(5):594-605. [Medline].

Wang Q, Green RP, Zhao G, Ornitz DM. Differential regulation of endochondral bone growth and joint development by FGFR1 and FGFR3 tyrosine kinase domains. Development. 2001 Oct. 128(19):3867-76. [Medline].

Carakushansky G, Rosembaum S, Ribeiro MG, et al. Achondroplasia associated with Down syndrome. Am J Med Genet. 1998 May 1. 77(2):168-9. [Medline].

Wynn J, King TM, Gambello MJ, Waller DK, Hecht JT. Mortality in achondroplasia study: A 42-year follow-up. Am J Med Genet A. 2007 Nov 1. 143(21):2502-11. [Medline].

Hoover-Fong JE, McGready J, Schulze KJ, Barnes H, Scott CI. Weight for age charts for children with achondroplasia. Am J Med Genet A. 2007 Oct 1. 143(19):2227-35. [Medline].

Hoover-Fong JE, Schulze KJ, McGready J, Barnes H, Scott CI. Age-appropriate body mass index in children with achondroplasia: interpretation in relation to indexes of height. Am J Clin Nutr. 2008 Aug. 88(2):364-71. [Medline].

Ireland PJ, McGill J, Zankl A, et al. Functional performance in young Australian children with achondroplasia. Dev Med Child Neurol. 2011 Oct. 53(10):944-50. [Medline].

Ireland PJ, Johnson S, Donaghey S, Johnston L, Ware RS, Zankl A, et al. Medical management of children with achondroplasia: Evaluation of an Australasian cohort aged 0-5 years. J Paediatr Child Health. 2011 Nov 23. [Medline].

Lonstein JE. Treatment of kyphosis and lumbar stenosis in achondroplasia. Basic Life Sci. 1988. 48:283-92. [Medline].

Cohen ME, Rosenthal AD, Matson DD. Neurological abnormalities in achondroplastic children. J Pediatr. 1967 Sep. 71(3):367-76. [Medline].

Modaff P, Horton VK, Pauli RM. Errors in the prenatal diagnosis of children with achondroplasia. Prenat Diagn. 1996 Jun. 16(6):525-30. [Medline].

Morgan DF, Young RF. Spinal neurological complications of achondroplasia. Results of surgical treatment. J Neurosurg. 1980 Apr. 52(4):463-72. [Medline].

Erdincler P, Dashti R, Kaynar MY, et al. Hydrocephalus and chronically increased intracranial pressure in achondroplasia. Childs Nerv Syst. 1997 Jun. 13(6):345-8. [Medline].

Lugo N, Becker J, Van Bosse H, et al. Lung volume histograms after computed tomography of the chest with three-dimensional imaging as a method to substantiate successful surgical expansion of the rib cage in achondroplasia. J Pediatr Surg. 1998 May. 33(5):733-6. [Medline].

Song HR, Choonia AT, Hong SJ, Lee SH, Suh SW, Cha IH. Rotational profile of the lower extremity in achondroplasia: computed tomographic examination of 25 patients. Skeletal Radiol. 2006 Dec. 35(12):929-34. [Medline].

Jeong ST, Song HR, Keny SM, Telang SS, Suh SW, Hong SJ. MRI study of the lumbar spine in achondroplasia. A morphometric analysis for the evaluation of stenosis of the canal. J Bone Joint Surg Br. 2006 Sep. 88(9):1192-6. [Medline].

Rollins N, Booth T, Shapiro K. The use of gated cine phase contrast and MR venography in achondroplasia. Childs Nerv Syst. 2000 Sep. 16(9):569-75; discussion 575-7. [Medline].

Moritani T, Aihara T, Oguma E, Makiyama Y, Nishimoto H, Smoker WR. Magnetic resonance venography of achondroplasia: correlation of venous narrowing at the jugular foramen with hydrocephalus. Clin Imaging. 2006 May-Jun. 30(3):195-200. [Medline].

Mehta A, Hindmarsh PC. The use of somatropin (recombinant growth hormone) in children of short stature. Paediatr Drugs. 2002. 4(1):37-47. [Medline].

Bell DF, Boyer MI, Armstrong PF. The use of the Ilizarov technique in the correction of limb deformities associated with skeletal dysplasia. J Pediatr Orthop. 1992 May-Jun. 12(3):283-90. [Medline].

Brooks WC, Gross RH. Genu Varum in Children: Diagnosis and Treatment. J Am Acad Orthop Surg. 1995 Nov. 3(6):326-335. [Medline].

Gil Z, Tauman R, Sivan J, et al. [Neurosurgical aspects in achondroplasia: evaluation and treatment]. Harefuah. 2001 Nov. 140(11):1026-31, 1118. [Medline].

Kashiwagi N, Suzuki S, Seto Y, Futami T. Bilateral humeral lengthening in achondroplasia. Clin Orthop. 2001 Oct. (391):251-7. [Medline].

Mamada K, Nakamura K, Matsushita T, et al. The diameter of callus in leg lengthening: 28 tibial lengthenings in 14 patients with achondroplasia. Acta Orthop Scand. 1998 Jun. 69(3):306-10. [Medline].

Paley D. Current techniques of limb lengthening. J Pediatr Orthop. 1988 Jan-Feb. 8(1):73-92. [Medline].

Peretti G, Memeo A, Paronzini A, Marzorati S. Staged lengthening in the prevention of dwarfism in achondroplastic children: a preliminary report. J Pediatr Orthop B. 1995. 4(1):58-64. [Medline].

Pyeritz RE, Sack GH Jr, Udvarhelyi GB. Thoracolumbosacral laminectomy in achondroplasia: long-term results in 22 patients. Am J Med Genet. 1987 Oct. 28(2):433-44. [Medline].

Ravenscroft A, Rout C. Epidural anaesthesia for caesarean section in an achondroplastic dwarf. Br J Anaesth. 1999 Feb. 82(2):301-3. [Medline].

Lee SH, Modi HN, Song HR, Hazra S, Suh SW, Modi C. Deceleration in maturation of bone during adolescent age in achondroplasia-a retrospective study using RUS scoring system. Skeletal Radiol. 2008 Jul 16. [Medline].

Lee ST, Song HR, Mahajan R, Makwana V, Suh SW, Lee SH. Development of genu varum in achondroplasia: relation to fibular overgrowth. J Bone Joint Surg Br. 2007 Jan. 89(1):57-61. [Medline].

Kim SJ, Agashe MV, Song SH, Choi HJ, Lee H, Song HR. Comparison between upper and lower limb lengthening in patients with achondroplasia: a retrospective study. J Bone Joint Surg Br. 2012 Jan. 94(1):128-33. [Medline].

Schiedel F, Rödl R. Lower limb lengthening in patients with disproportionate short stature with achondroplasia: a systematic review of the last 20 years. Disabil Rehabil. 2011 Nov 23. [Medline].

Koczewski P, Shadi M. [Surgical treatment of short stature of different etiology by the Ilizarov method]. Endokrynol Diabetol Chor Przemiany Materii Wieku Rozw. 2007. 13(3):143-6. [Medline].

American Academy of Pediatrics Committee on Genetics. Health supervision for children with achondroplasia. Pediatrics. 1995 Mar. 95(3):443-51. [Medline].
Medscape Reference © 2011 WebMD, LLC