Muscular Dystrophy Workup
Author: Twee T Do, MD; Chief Editor: Jeffrey D Thomson, MD more...
Updated: Dec 18, 2015
What would you like to print?
Laboratory Studies
A creatine phosphokinase (CPK) determination is the most specific test for muscular dystrophy (MD). Elevated CPK levels are indicative of muscle disease. Because the concentration of CPK is not significant in red blood cells, CPK levels are not affected by hemolysis. CPK is not affected by liver dysfunction, as are the other tested enzymes (eg, transaminases, aldolase, lactate dehydrogenase). High CPK levels represent leakage of the enzyme from the muscle cells only. This change is not exactly correlated with the severity of the disease.
All MDs result in some CPK elevation during the active phase of the disease. The finding of 3 elevated levels obtained 1 month apart is diagnostic for MD. Early in the disease process, CPK levels are 50-300 times greater than normal levels, but the levels tend to decrease as the muscle mass decreases. The CPK level is highest in Duchenne MD, with less elevation noted in Becker MD.
Enzyme levels that may be elevated but can be altered by liver dysfunction include the following:
Transaminase levels

Lactate dehydrogenase levels

Aldolase levels
The multiplex polymerase chain reaction (PCR) assay may be useful. PCR was developed by Chamberlain et al,[31] who noted that deletions of the dystrophin gene tend to cluster around two hot-spot regions: at exons 3-30 and at exons 44-55.[32] The PCR method rapidly screens for deletions of the dystrophin gene by applying PCR to amplify the DNA in the hot-spot regions and by simultaneously using a number of appropriate primers that flank these hot-spot regions. PCR can be used to detect more than 98% of existing deletions, and it can be performed within 24 hours.
Imaging Studies
Ultrasonography is a relatively noninvasive technique that is used for screening patients with muscular dystrophy; this modality is rapidly replacing electromyography (EMG) in centers that have appropriately trained staff. Even in the early stages of MD, ultrasonography shows increased echogenicity in the affected muscles, with a corresponding reduction in the underlying bone echo. Ultrasonography has the advantage of noninvasiveness, and it is reliable for continued monitoring of the disease course over time.
Other Tests
Electrocardiography (ECG) is expected to show a right ventricular strain, tall R waves, deep Q waves, and inverted T waves. A cardiologist should be consulted preoperatively because cardiac management may be necessary in the postoperative care of dystrophic patients.
Pulmonary function test (PFTs), including an analysis of arterial blood gases, and a hematologic workup are necessary as part of the preoperative workup. A pulmonologist may be consulted preoperatively because he or she can be helpful in managing the patient's airway in the postoperative period.
EMG usually demonstrates short-duration, polyphasic, motor-unit action potentials with decreased amplitudes. It should be kept in mind that this finding is common with all myopathic processes and does not specifically identify MDs.
Biopsy
Until the advent of molecular biology techniques, muscle biopsy was the definitive test for diagnosing and confirming muscular disease. Histologic changes depend on the stage of disease and the muscle selected. The optimal site for biopsy is the vastus lateralis, accessed via a small lateral thigh incision.
Histologic Findings
Histologic specimens from muscle biopsy samples obtained early in the muscular dystrophy disease show only variations in muscle fiber sizes with focal areas of degenerating or regenerating fibers. In later stages of MD, the changes are more obvious, with marked variations in muscle fiber sizes, degeneration, and regeneration. Rounded opaque fibers, internal nuclei, splitting of fibers, and a proliferation of connective and adipose tissues are also present. As the disease progresses, fewer and fewer regenerative fibers are seen. In the end phase, the muscle is mostly replaced by adipose tissue, with residual islets of muscle fibers in a sea of fat.
Histochemical staining with the standard adenosine triphosphatase (ATPase) reaction shows a predominance of type I muscle fibers, with loss of clear-cut distinction into the various fiber types. Electron microscopy demonstrates nonspecific degeneration of the fibers, and immunocytochemical techniques show a persistence of fetal and slow myosin in many of these fibers. (See the images below.)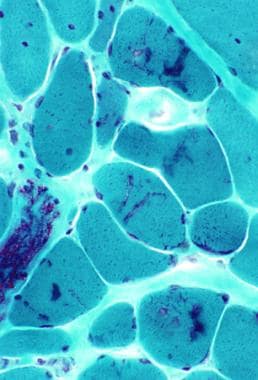 Gomori trichrome–stained section in patient with myofibrillar myopathy. Note the abnormal accumulations of blue-red material in several muscle fibers.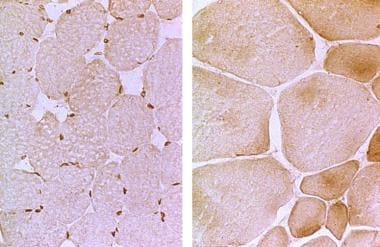 Left: The photomicrograph is a muscle biopsy with normal emerin immunostaining. Right: The micrograph is from a patient with X-linked Emery-Dreifuss muscular dystrophy. Note the absence of nuclear staining as well as the hypertrophied and atrophied muscle fibers.
References
Conte G, Gioja L. Scrofola del sistema muscolare. Annali Clinici dell'Ospedale degli Incurabili di Napoli. 1836. 2:66-79.

Meryon E. On granular and fatty degeneration of the voluntary muscles. Medico-Chirurgical Trans. 1852. 35:73-4.

Duchenne GBA. Recherches sur la paralysie musculaire pseudo-hypertrophique ou paralysie myo-sclerosique. Arch Gen Med. 1868. 11:5-25.

Yanagisawa A, Bouchet C, Quijano-Roy S, Vuillaumier-Barrot S, Clarke N, Odent S, et al. POMT2 intragenic deletions and splicing abnormalities causing congenital muscular dystrophy with mental retardation. Eur J Med Genet. 2008 Dec 27. [Medline].

Hoffman EP, Brown RH, Kunkel LM. Dystrophin: the protein product of the Duchenne muscular dystrophy locus. Cell. 1987 Dec 24. 51(6):919-28. [Medline].

Waite A, Tinsley CL, Locke M, Blake DJ. The neurobiology of the dystrophin-associated glycoprotein complex. Ann Med. 2009 Jan 26. 1-16. [Medline].

Banks GB, Chamberlain JS, Froehner SC. Truncated dystrophins can influence neuromuscular synapse structure. Mol Cell Neurosci. 2009 Jan 8. [Medline].

Bushby K. Genetics and the muscular dystrophies. Dev Med Child Neurol. 2000 Nov. 42(11):780-4. [Medline].

González-Herrera L, Gamas-Trujillo PA, García-Escalante MG, Castillo-Zapata I, Pinto-Escalante D. [Identifying deletions in the dystrophin gene and detecting carriers in families with Duchenne's/Becker's muscular dystrophy]. Rev Neurol. 2009 Jan 16-31. 48(2):66-70. [Medline].

Dickey RP, Ziter FA, Smith RA. Emery-Dreifuss muscular dystrophy. J Pediatr. 1984 Apr. 104(4):555-9. [Medline].

Miller RG, Layzer RB, Mellenthin MA, et al. Emery-Dreifuss muscular dystrophy with autosomal dominant transmission. Neurology. 1985 Aug. 35(8):1230-3. [Medline].

Dobrowski JM, Zajtchuk JT, LaPiana FG, Hensley SD Jr. Oculopharyngeal muscular dystrophy: clinical and histopathologic correlations. Otolaryngol Head Neck Surg. 1986 Sep. 95(2):131-42. [Medline].

Dubowitz V. Muscle Disorders in Childhood. 2nd ed. Philadelphia, Pa: WB Saunders. 1995: 34-132.

Emery AE. Duchenne's muscular dystrophy. In: Oxford Monographs on Medical Genetics Series #24. 2nd ed. Oxford, United Kingdom: Oxford University Press;. 1993.

Emery AE. Population frequencies of inherited neuromuscular diseases--a world survey. Neuromuscul Disord. 1991. 1(1):19-29. [Medline].

Shapiro F, Specht L. The diagnosis and orthopaedic treatment of inherited muscular diseases of childhood. J Bone Joint Surg Am. 1993 Mar. 75(3):439-54. [Medline].

Pratt MF, Meyers PK. Oculopharyngeal muscular dystrophy: recent ultrastructural evidence for mitochondrial abnormalities. Laryngoscope. 1986 Apr. 96(4):368-73. [Medline].

Donders J, Taneja C. Neurobehavioral Characteristics of Children with Duchenne Muscular Dystrophy. Child Neuropsychol. 2009 Jan 22. 1-10. [Medline].

Prosser EJ, Murphy EG, Thompson MW. Intelligence and the gene for Duchenne muscular dystrophy. Arch Dis Child. 1969 Apr. 44(234):221-30. [Medline].

Leibowitz D, Dubowitz V. Intellect and behaviour in Duchenne muscular dystrophy. Dev Med Child Neurol. 1981 Oct. 23(5):577-90. [Medline].

Pane M, Lombardo ME, Alfieri P, D'Amico A, Bianco F, Vasco G, et al. Attention Deficit Hyperactivity Disorder and Cognitive Function in Duchenne Muscular Dystrophy: Phenotype-Genotype Correlation. J Pediatr. 2012 May 4. [Medline].

Thompson GH, Berenson FR. Other neuromuscular disorders. In: Morrissy RT, Weinstein SL, Winter RB, eds. Lovell and Winter's Pediatric Orthopaedics. 5th ed. Lippincott Williams & Wilkins;. 2000: 540-51.

Sussman MD. Advantage of early spinal stabilization and fusion in patients with Duchenne muscular dystrophy. J Pediatr Orthop. 1984 Sep. 4(5):532-7. [Medline].

Weimann RL, Gibson DA, Moseley CF. Surgical stabilization of the spine in Duchenne muscular dystrophy. Spine. 1983 Oct. 8(7):776-80. [Medline].

Almenrader N, Patel D. Spinal fusion surgery in children with non-idiopathic scoliosis: is there a need for routine postoperative ventilation?. Br J Anaesth. 2006 Dec. 97(6):851-7. [Medline].

Kinali M, Messina S, Mercuri E, et al. Management of scoliosis in Duchenne muscular dystrophy: a large 10-year retrospective study. Dev Med Child Neurol. 2006 Jun. 48(6):513-8. [Medline].

Birnkrant DJ. New challenges in the management of prolonged survivors of pediatric neuromuscular diseases: a pulmonologist's perspective. Pediatr Pulmonol. 2006 Dec. 41(12):1113-7. [Full Text].

Miller RG, Chalmers AC, Dao H, et al. The effect of spine fusion on respiratory function in Duchenne muscular dystrophy. Neurology. 1991 Jan. 41(1):38-40. [Medline].

Miller F, Moseley CF, Koreska J, Levison H. Pulmonary function and scoliosis in Duchenne dystrophy. J Pediatr Orthop. 1988 Mar-Apr. 8(2):133-7. [Medline].

Thrush PT, Allen HD, Viollet L, Mendell JR. Re-examination of the electrocardiogram in boys with Duchenne muscular dystrophy and correlation with its dilated cardiomyopathy. Am J Cardiol. 2009 Jan 15. 103(2):262-5. [Medline].

Chamberlain JS, Gibbs RA, Ranier JE. Deletion screening of the Duchenne muscular dystrophy locus via multiplex DNA amplification. Nucleic Acids Res. 1988 Dec 9. 16(23):11141-56. [Medline]. [Full Text].

Miyazaki D, Yoshida K, Fukushima K, Nakamura A, Suzuki K, Sato T, et al. Characterization of deletion breakpoints in patients with dystrophinopathy carrying a deletion of exons 45-55 of the Duchenne muscular dystrophy (DMD) gene. J Hum Genet. 2009 Jan 9. [Medline].

Drachman DB, Toyka KV, Myer E. Prednisone in Duchenne muscular dystrophy. Lancet. 1974 Dec 14. 2(7894):1409-12. [Medline].

Mendell JR, Moxley RT, Griggs RC, et al. Randomized, double-blind six-month trial of prednisone in Duchenne's muscular dystrophy. N Engl J Med. 1989 Jun 15. 320(24):1592-7. [Medline].

McAdam LC, Mayo AL, Alman BA, Biggar WD. The Canadian experience with long-term deflazacort treatment in Duchenne muscular dystrophy. Acta Myol. 2012 May. 31 (1):16-20. [Medline].

Lebel DE, Corston JA, McAdam LC, Biggar WD, Alman BA. Glucocorticoid treatment for the prevention of scoliosis in children with Duchenne muscular dystrophy: long-term follow-up. J Bone Joint Surg Am. 2013 Jun 19. 95 (12):1057-61. [Medline].

Casey A, Constantin-Teodosiu D, Howell S, Hultman E, Greenhaff PL. Creatine ingestion favorably affects performance and muscle metabolism during maximal exercise in humans. Am J Physiol. 1996 Jul. 271(1 Pt 1):E31-7. [Medline].

Tarnopolsky MA, MacLennan DP. Creatine monohydrate supplementation enhances high-intensity exercise performance in males and females. Int J Sport Nutr Exerc Metab. 2000 Dec. 10(4):452-63. [Medline].

Tarnopolsky MA, Roy BD, MacDonald JR. A randomized, controlled trial of creatine monohydrate in patients with mitochondrial cytopathies. Muscle Nerve. 1997 Dec. 20(12):1502-9. [Medline].

Chung YL, Alexanderson H, Pipitone N, Morrison C, Dastmalchi M, Ståhl-Hallengren C, et al. Creatine supplements in patients with idiopathic inflammatory myopathies who are clinically weak after conventional pharmacologic treatment: Six-month, double-blind, randomized, placebo-controlled trial. Arthritis Rheum. 2007 May 15. 57(4):694-702. [Medline].

Klopstock T, Querner V, Schmidt F, Gekeler F, Walter M, Hartard M, et al. A placebo-controlled crossover trial of creatine in mitochondrial diseases. Neurology. 2000 Dec 12. 55(11):1748-51. [Medline].

Louis M, Lebacq J, Poortmans JR, Belpaire-Dethiou MC, Devogelaer JP, Van Hecke P, et al. Beneficial effects of creatine supplementation in dystrophic patients. Muscle Nerve. 2003 May. 27(5):604-10. [Medline].

Kley RA, Tarnopolsky MA, Vorgerd M. Creatine for treating muscle disorders. Cochrane Database Syst Rev. 2011 Feb 16. 2:CD004760. [Medline].

Hamed SA. Drug evaluation: PTC-124--a potential treatment of cystic fibrosis and Duchenne muscular dystrophy. IDrugs. 2006 Nov. 9(11):783-9. [Medline].

PTC Therapeutics, Inc. PTC124 FAQs: frequently asked questions about PTC124. Available at: http://www.ptcbio.com/2.4_faqs.aspx. Accessed: March 19, 2007. [Full Text].

Cirak S, Arechavala-Gomeza V, Guglieri M, et al. Exon skipping and dystrophin restoration in patients with Duchenne muscular dystrophy after systemic phosphorodiamidate morpholino oligomer treatment: an open-label, phase 2, dose-escalation study. Lancet. 2011 Aug 13. 378(9791):595-605. [Medline].

Ragot T, Vincent N, Chafey P, et al. Efficient adenovirus-mediated transfer of a human minidystrophin gene to skeletal muscle of mdx mice. Nature. 1993 Feb 18. 361(6413):647-50. [Medline].

Wang Z, Allen JM, Riddell SR. Immunity to adeno-associated virus-mediated gene transfer in a random-bred canine model of Duchenne muscular dystrophy. Hum Gene Ther. 2007 Jan. 18(1):18-26. [Medline].

Howell J, Lochmuller H, O'Hara A. High level dystrophin expression with adenovirus-mediated dystrophin minigene transfer to skeletal muscle of dystrophic dogs: prolongation of expression with immunosuppresion. Hum Gene Ther. 1998 Mar 20. 9(5):629-34. [Medline].

Griggs RC, Karparti G, eds. Myoblast Transfer Therapy (Advances in Experimental Medicine and Biology). Dordrecht, The Netherlands: Kluwer Academic Publishers;. 1990.

Rando TA. Non-viral gene therapy for Duchenne muscular dystrophy: Progress and challenges. Biochim Biophys Acta. 2007 Feb. 1772(2):263-71. [Medline].

Wells DJ. Therapeutic restoration of dystrophin expression in Duchenne muscular dystrophy. J Muscle Res Cell Motil. 2006. 27(5-7):387-98. [Medline].

Judge LM, Chamberlain JS. Gene therapy for Duchenne muscular dystrophy: AAV leads the way. Acta Myol. 2005 Dec. 24(3):184-93. [Medline].

Gurpur PB, Liu J, Burkin DJ, Kaufman SJ. Valproic Acid Activates the PI3K/Akt/mTOR Pathway in Muscle and Ameliorates Pathology in a Mouse Model of Duchenne Muscular Dystrophy. Am J Pathol. 2009 Jan 29. [Medline].

Brooke MH, Fenichel GM, Griggs RC, et al. Duchenne muscular dystrophy: patterns of clinical progression and effects of supportive therapy. Neurology. 1989 Apr. 39(4):475-81. [Medline].

Heckmatt JZ, Dubowitz V, Hyde SA, et al. Prolongation of walking in Duchenne muscular dystrophy with lightweight orthoses: review of 57 cases. Dev Med Child Neurol. 1985 Apr. 27(2):149-54. [Medline].

Drennan J. Neuromuscular disorders. In: Lowell WW, Morrissy RT, Winter RB, eds. Lovell and Winter's Pediatric Orthopaedics. 3rd ed. Philadelphia, Pa:. Lippincott Williams & Wilkins. 1990:381.

Yount CC. The role of tensor fascia femoris in certain deformities of the lower extremities. J Bone Joint Surg. 1926. 8:171-93.

Suk KS, Lee BH, Lee HM, Moon SH, Choi YC, Shin DE, et al. Functional outcomes in Duchenne muscular dystrophy scoliosis: comparison of the differences between surgical and nonsurgical treatment. J Bone Joint Surg Am. 2014 Mar 5. 96 (5):409-15. [Medline].

Brooks JT, Sponseller PD. What's New in the Management of Neuromuscular Scoliosis. J Pediatr Orthop. 2015 Apr 13. [Medline].

Jain A, Hassanzadeh H, Strike SA, Menga EN, Sponseller PD, Kebaish KM. Pelvic Fixation in Adult and Pediatric Spine Surgery: Historical Perspective, Indications, and Techniques: AAOS Exhibit Selection. J Bone Joint Surg Am. 2015 Sep 16. 97 (18):1521-8. [Medline].

Gaine WJ, Lim J, Stephenson W. Progression of scoliosis after spinal fusion in Duchenne's muscular dystrophy. J Bone Joint Surg Br. 2004 May. 86(4):550-5. [Medline].

Sengupta DK, Mehdian SH, McConnel JR. Pelvic or lumbar fixation for the surgical management of scoliosis in Duchenne muscular dystrophy. Spine. 2002 Sep 15. 27(18):2072-9. [Medline].

Mubarak SJ, Morin WD, Leach J. Spinal fusion in Duchenne muscular dystrophy-fixation and fusion to the sacropelvis?. J Pediatr Orthop. 1993 Nov-Dec. 13(6):752-7. [Medline].
Medscape Reference © 2011 WebMD, LLC