Polydactyly of the Foot Workup
Author: Cara Novick, MD; Chief Editor: Dennis P Grogan, MD  more...
Updated: Nov 11, 2014
What would you like to print?
Imaging Studies
It is imperative that radiographs (see the images below) be obtained before surgical treatment so that the anatomy can be accurately understood and careful preoperative planning can be undertaken.[16] Anteroposterior and lateral radiographs should provide needed information.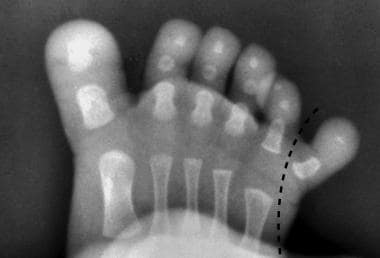 Postaxial polydactyly in a 1-year-old child. In this case, the duplicated sixth toe was excised (dotted line), and the broad distal fifth metatarsal was narrowed.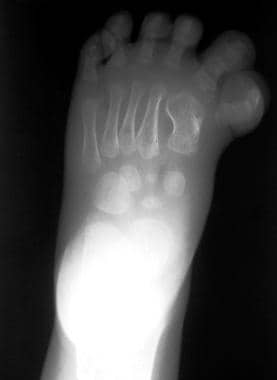 Preaxial polydactyly with longitudinal bracket epiphysis.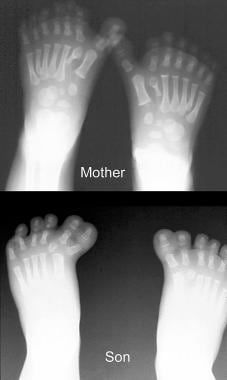 Mother and son with polydactyly. The patterns of deformity are different.
More sophisticated imaging studies (eg, magnetic resonance imaging) should be reserved for unusual cases.
References
Venn-Watson EA. Problems in polydactyly of the foot. Orthop Clin North Am. 1976 Oct. 7(4):909-27. [Medline].

Beaty JH. Polydactyly. In: Operative Pediatric Orthopaedics. 2nd ed. Mosby-Year Book. 1995:112-114.

Hart ES, Grottkau BE, Rebello GN, Albright MB. The newborn foot: diagnosis and management of common conditions. Orthop Nurs. 2005 Sep-Oct. 24(5):313-21; quiz 322-3. [Medline].

Herring JA. Polydactyly. In: Tachdjian's Pediatric Orthopaedics from the Texas Scottish Rite Hospital for Children. 3rd ed. WB Saunders Co. 2001:1021-1024.

Jones KL. Smith's Recognizable Patterns of Human Malformation. 5th ed. WB Saunders Co. 1997.

Lee HS, Park SS, Yoon JO, Kim JS, Youm YS. Classification of postaxial polydactyly of the foot. Foot Ankle Int. 2006 May. 27(5):356-62. [Medline].

Turra S, Gigante C, Bisinella G. Polydactyly of the foot. J Pediatr Orthop B. 2007 May. 16(3):216-20. [Medline].

Morrison BE, D''Mello SR. Polydactyly in mice lacking HDAC9/HDRP. Exp Biol Med (Maywood). 2008 Aug. 233(8):980-8. [Medline]. [Full Text].

Auyeung J, Bhattacharya R, Birla R, Hide G, Henman P. The occult toe: an unusual case of polydactyly in the foot. J Pediatr Orthop B. 2009 Aug 24. [Medline].

Klaassen Z, Shoja MM, Tubbs RS, Loukas M. Supernumerary and absent limbs and digits of the lower limb: A review of the literature. Clin Anat. 2011 Jan 3. [Medline].

Lim YJ, Teoh LC, Lee EH. Reconstruction of syndactyly and polysyndactyly of the toes with a dorsal pentagonal island flap: a technique that allows primary skin closure without the use of skin grafting. J Foot Ankle Surg. 2007 Mar-Apr. 46(2):86-92. [Medline].

Morley SE, Smith PJ. Polydactyly of the feet in children: suggestions for surgical management. Br J Plast Surg. 2001 Jan. 54(1):34-8. [Medline].

Mubarak SJ, O'Brien TJ, Davids JR. Metatarsal epiphyseal bracket: treatment by central physiolysis. J Pediatr Orthop. 1993 Jan-Feb. 13(1):5-8. [Medline].

Jenkins S, Morrell DS. Ellis-van Creveld syndrome: case report and review of the literature. Cutis. 2009 Jun. 83(6):303-5. [Medline].

Sund KL, Roelker S, Ramachandran V, Durbin L, Benson DW. Analysis of Ellis van Creveld syndrome gene products: implications for cardiovascular development and disease. Hum Mol Genet. 2009 May 15. 18(10):1813-24. [Medline]. [Full Text].

Yucel A, Kuru I, Bozan ME, Acar M, Solak M. Radiographic evaluation and unusual bone formations in different genetic patterns in synpolydactyly. Skeletal Radiol. 2005 Aug. 34(8):468-76. [Medline].

Adam MP, Hudgins L, Carey JC, Hall BD, Coleman K, Gripp KW, et al. Preaxial hallucal polydactyly as a marker for diabetic embryopathy. Birth Defects Res A Clin Mol Teratol. 2009 Jan. 85(1):13-9. [Medline].

Belthur MV, Linton JL, Barnes DA. The spectrum of preaxial polydactyly of the foot. J Pediatr Orthop. 2011 Jun. 31(4):435-47. [Medline].

Seok HH, Park JU, Kwon ST. New classification of polydactyly of the foot on the basis of syndactylism, axis deviation, and metatarsal extent of extra digit. Arch Plast Surg. 2013 May. 40(3):232-7. [Medline]. [Full Text].

Park GH, Jung ST, Chung JY, Park HW, Lee DH. Toe component excision in postaxial polydactyly of the foot. Foot Ankle Int. 2013 Apr. 34(4):563-7. [Medline].

Osborn EJ, Davids JR, Leffler LC, Gibson TW, Pugh LI. Central polydactyly of the foot: surgical management with plantar and dorsal advancement flaps. J Pediatr Orthop. 2014 Apr-May. 34(3):346-51. [Medline].

Nelman K, Weiner DS, Morscher MA, Jones KC. Multiplanar supramalleolar osteotomy in the management of complex rigid foot deformities in children. J Child Orthop. 2009 Feb. 3(1):39-46. [Medline]. [Full Text].
Medscape Reference © 2011 WebMD, LLC