Distal Clavicle Osteolysis Treatment & Management
Author: Brett D Owens, MD; Chief Editor: S Ashfaq Hasan, MD  more...
Updated: Mar 06, 2015
What would you like to print?
Medical Therapy
Distal clavicle osteolysis is a self-limiting disorder that typically resolves within 1-2 years with activity modification. Conservative management consists of rest and avoidance of symptomatic activity. Nonsteroidal anti-inflammatory drugs (NSAIDs) can also help alleviate symptoms. Corticosteroid injections are often given; however, they provide little long-term relief. Although most patients respond to conservative management (see the image below), symptoms often return with resumption of previous activity.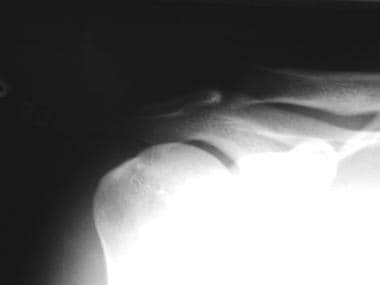 Anteroposterior radiograph of 26-year-old male weightlifter with symptomatic distal clavicle osteolysis that responded to conservative measures.
Surgical Therapy
The classic surgical treatment for distal clavicle osteolysis is distal clavicle resection, a reliable procedure with good-to-excellent results. Excellent results have been reported with arthroscopic distal clavicle resection.[10, 11, 12, 13, 14, 15, 16] This approach affords a more cosmetically appealing result, allows earlier return to activity, and provides a means of addressing concomitant intra-articular pathology. Arthroscopic resection can be performed through standard portals from the subacromial space, as well as via a direct superior portal (see the image below).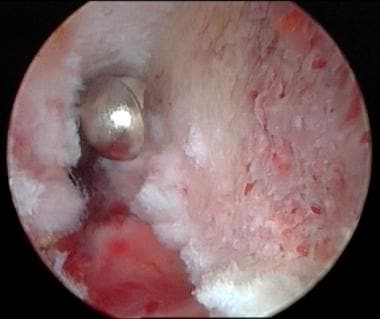 Left distal clavicle excision for distal clavicle osteolysis performed with bone-cutting shaver placed in anterior portal, as viewed from direct posterior-superior portal.
A randomized, controlled trial of 38 athletes with osteolysis of the distal clavicle or isolated posttraumatic arthrosis of the acromioclavicular (AC) joint addressed the question of whether the direct superior approach or the indirect subacromial approach was the better procedure for arthroscopic distal clavicle resection.[17] The authors found that both procedures had successful clinical outcomes, with insignificant differences at follow-up, but that the direct approach provided faster improvement and return to activity.
Intraoperative Details
The necessary extent of distal clavicle resection has been a subject of debate in the literature. Although Cahill reported excellent results with an open approach resecting 1-2 cm of bone, subsequent arthroscopic studies showed that resection of as little as 4 mm is effective.[1, 12, 14] The distal clavicle should be resected enough to prevent AC impingement through a full range of shoulder motion.
Postoperative Details
Early passive range of motion (ROM), including pendulum exercises, is important to prevent loss of shoulder motion. Because the open procedure requires partial detachment of the deltoid, active ROM is usually restricted in the early postoperative course. After arthroscopic treatment, activity is comparatively accelerated, with active ROM started within the first week.
Follow-up
Routine postoperative follow-up at 1-2 weeks is recommended.
Complications
Few complications from surgical treatment of distal clavicle osteolysis have been reported. One theoretical concern with aggressive distal clavicle resection is damage to the underlying neurovascular structures. A risk of infection always exists, though the risk is low in this setting. Potential development of frozen shoulder because of limited motion is a concern during the postoperative course.
Outcome and Prognosis
Although the outcome with conservative treatment is good, many patients are unable to limit their activities. These patients, as well as those in whom conservative treatment is ineffective, can expect good-to-excellent results from surgical intervention. Patients with an etiology of trauma may have an increased risk of unfavorable results. Patients can also develop symptoms in the contralateral extremity.
Medscape Reference © 2011 WebMD, LLC